While not ideal, eating out is certainly inevitable for most of us in this day and age.
And though being mindful that most meals you prepare at home can be healthier, less expensive, and tastier, the following diabetic restaurant tips will help guide you into making smart choices on those occasions you do eat out.
Plan Ahead
Probably the most important of all, doing your research before going out is key to having healthy options available. Most restaurants have their information (nutrition information as well as ingredients lists) available online for easy access or as an app, so be sure to choose a restaurant that provides this.
I can't stress enough how key this is–no matter how good you are at identifying healthy or unhealthy terms, you just can't know the nutrition information based on the item description.
Let's take an example: Perhaps you are in the mood for seafood and settle on going to Red Lobster. Now we know seafood is virtually free of carbs…so perhaps I order the "Dueling Lobster Tails" instead of the "Stuffed Lobster Tail Medallions" knowing that the word "stuffed" is a red flag.
Well, it turns out the latter was only 200 calories and 10 grams of carbs while the former (healthier sounding!) choice was….ready?  …1,100 calories and 73 grams of carbs! Obviously many ingredients were added that weren't evident from the description. 
Glance through the menu in advance, decide what you will order ahead of time and call ahead if you have any questions or special requests. This will take all the pressure off you when you arrive at the restaurant and have to make a choice.
If you wait until you are hungry and with a group of people to decide what you 'feel like' eating, you are much more likely to make a poor choice. Steer clear of buffets and all-you-can eat options, which always promote large quantities of food and "getting your money's worth."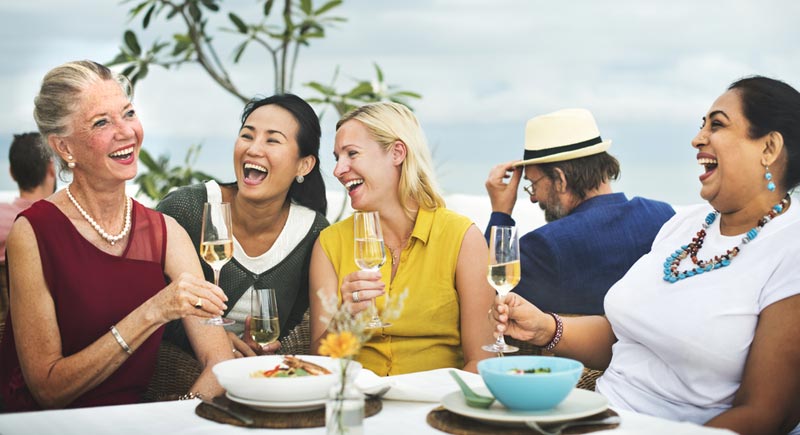 Hold Your Ground
Now that you've made your choice, stick with it! Don't let the atmosphere or mood throw you off your plan. Have a strategy ready if the group you are with is planning on ordering appetizers (which are notoriously horrible choices), or if there is a free starchy starter (such as bread, rolls, or chips).
Here's what WILL happen: you will have good intentions, but the smells and availability of tempting foods, combined with seeing everyone around you indulging in them and encouraging you to do the same, will present a huge challenge. So decide, specifically, what you are going to say and how to say it, then practice out loud at home.
This may sound silly, but some things that make sense in your head get jumbled and awkward by the time they come out. A good example is if someone offers you an appetizer, "Oh no thank you, I really want to save room for my meal–I've been waiting for this all week!"
Or if a bread basket is brought to the table, "Would you mind taking the bread back? I appreciate the offer, but I'm saving room for the good stuff!"
If others are with you, just pass it along until it is out of reach and not right in front of you.
Be Kind but Assertive
This ties closely in with the last point in that your attitude plays a strong role in whether or not you will succeed. No one likes to be "that person." You know what I mean, that obnoxious food snob that complicates everything and is an embarrassment to be around. That person who has a special request for everything and demands perfection. So don't be that person….but also don't be a doormat.
Be kind, but assertive. Ask questions about items on the menu and if substitutions are possible. Most places will substitute vegetables for the starchy sides even if it doesn't list it on the menu (ie. a salad for the fries).
Don't be shy about asking about items not specified on the menu. If I see grilled salmon that comes with a baked potato, and in a different section, I find steak with broccoli, I know they have broccoli. So there is no reason why I couldn't ask if they could swap out the potato for the broccoli.
If you receive the wrong order (for example your salad came pre-dressed when you asked for dressing on the side), kindly ask for a replacement. Remember you're paying for this meal and your meal should be correct. Being friendly with the wait staff and tipping well goes a long way in reducing tension of being "that person."
Order Strategically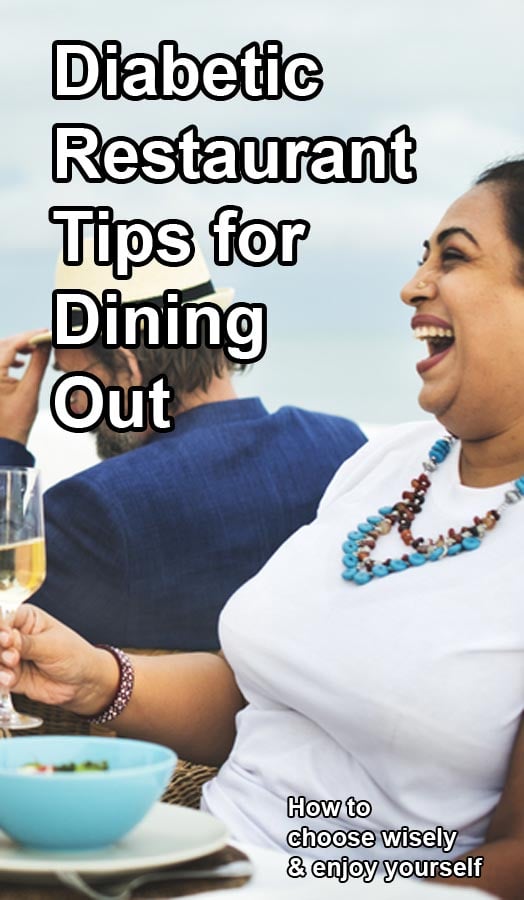 OK, so here's the key part! Be very specific about how you order.
Steer clear of pasta and rice based dishes as well as pizza or flour shells (ie burritos, wraps etc), which are high in carbs and not whole grain.
Avoid the following words: au gratin, breaded, cream or alfredo – cream based sauces & soups are usually through the roof in total calories.
Avoid deep fried, gravy, southern style, gravy, and battered. While fat isn't bad persay, these terms usually drown your food in it and it's usually the less healthy kind.
Good choices are meat, chicken or fish that is baked or grilled with sides of non starchy vegetables or large salads with protein toppings (meat, eggs, or beans).
Good words to look for include: baked, broiled, boiled, grilled, poached, roasted, steamed, or stir fried.
Most meals are too large for one person, so consider splitting a meal with a friend. Another great strategy is to ask for a 'to-go' container at the beginning of a meal and putting half of it in there from the start. That allows you to eat everything on the plate without worrying about when to stop.
Dine and Savor
Our values, when it comes to eating, have changed drastically in recent decades. Specifically, we've shifted our values from quality to convenience and quantity, which has resulted in quick, distracted meals of unwholesome, unhealthy food, and lots of it!
Historically, families would sit down together, pray over their home-cooked meals, and spend the next hour or longer enjoying the wonderful food and each others company. It wouldn't be uncommon for a French meal to last 2-3 hours with less consumption than what most of us eat today.
Michael Pollen, a food journalist accurately states, "The sheer abundance [and variety] of food in America [and Western world as a whole] as bred a vague indifference to food, manifested in a tendency to eat and run, rather than dine and savor."
Savor your food. Enjoy it. Make it last. You will find yourself more satisfied with a smaller amount if you can transition past "quick and easy" mode and into "dine and savor" mode.
Please share, pin, or tweet this post. 🙂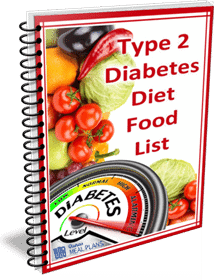 FREE DOWNLOAD
to grab your downloadable copy of this food list!