What was the last thing you ate?
Why did you eat it?
Okay, now think about what you ate yesterday…can you remember?
If so, how much thought and planning went into those choices?
If you can easily remember what you ate you are in the minority. If you planned what you ate intentionally and thoughtfully, you are even further in the minority. If you can barely recall what you ate and simply chose what you did out of habit or convenience, welcome to the majority!
The Difference Between Mindless Eating and Mindful Eating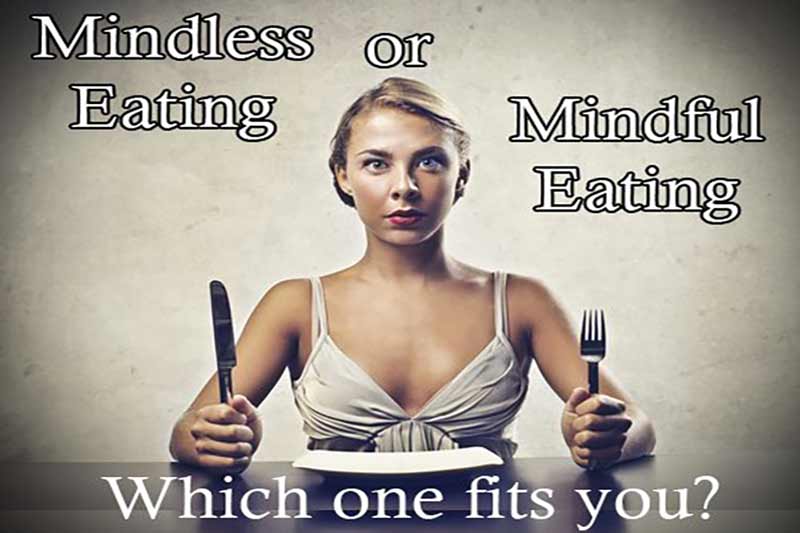 The difference between mindless eating and mindful eating are significant.
The difference lies in the level of participation you choose to engage. Think about the difference between watching a TV show and writing a paper. While neither have great physical demands, watching TV is very passive while writing a paper requires active engagement.
You have to think about what you're doing. And sadly, it seems most people don't do too much thinking anymore, especially when it comes to food.
This is an area that food psychologists have begun mapping out for us.
An excellent book describing this pattern is Mindless Eating by Brian Wansick.
It's a simple read and quite entertaining. In it he describes a multitude of experiments in which societal eating norms prove the passivity that has engulfed us.
Here's a favorite example of mine: He designed a study where he offered free popcorn to college students watching a movie. There were 4 groups. Two of the groups had stale popcorn, the other 2 had fresh popcorn.
Within each of those, 1 group was given large boxes and the other x-large size boxes. The popcorn was pre-weighed so they could measure the amount of popcorn consumed by each group.
Want to guess the results?
Those who were given the X-LARGE tubs ate 45-50% more!!!
…and here's the kicker: the results were the same for those who ate the stale popcorn!
Not only do people eat more when given bigger containers, but they do so even with foods they don't like. The researchers humorously pointed out that some of those given the stale popcorn went back to complain and request a refund before they remembered it was free. Yet that still ate it…and lots of it.
Another favorite is the refillable soup bowls: 54 participants were given a free meal: Soup.
Half were given a "normal" bowl, and the other half a "refillable" bowl. The refillable bowls were mounted to enclosed tables with a small tube that ran up to the stockpot that was kept at the same level…so that with each bite of soup, gravity would discreetly maintain the same volume in the bowl.
Those given the refillable bowls ate significantly more, BUT when asked, they thought they ate the same amount as everyone else.
We eat with our eyes, often based on visual or social cues rather than true hunger. We eat based on convenience rather than what is best for our bodies. And we eat out of habit rather than with an intentional plan. We eat mindlessly.
Why Do We Eat Mindlessly?

Food is everywhere!
If I pull up a map quest search within a few miles where I live, I always get a large variety of options–grocery stores, fast food, restaurants, gas stations–food is everywhere!!
Did you know gas stations once used food just to sell gasoline?
In 1940, two brothers (Richard and Maurice McDonald) decided to open up a small hamburger stand. At present, there are currently 36,538 McDonald's outlets located throughout 119 countries, serving 68 million customers daily. That's thirteen McDonald's per square mile in the US.
Crazy stuff!
And, we eat food everywhere!
It's estimated that over 40% of the food we eat is away from home–that means in a restaurant, at our desks, in our cars. We are expert multi-taskers.
I'm not going to lie, I'm actually eating (drinking) my smoothie at my desk as I type this! I confess. 🙂
Fifty years ago, nearly all foods were planned and consumed in the home, together in community with family and friends. People ate 3 balanced meals each day and the option to graze and snack all hours of the day and night were not available.
Portion Sizes are Out of Control
Here is an example of the changes to some common foods over the years:
| | | | | |
| --- | --- | --- | --- | --- |
| Food/Drink | Introduction | Size (oz) | 2002 Size (oz) | Calorie Difference |
| Budweiser | 1936 | 7 | 12, 22, 40 | 377 |
| Hershey Bar | 1908 | 0.6 | 1.6, 2.6, 4, 8 | 1,167 |
| BK Fries | 1954 | 2.6 | 2.6, 4.1, 5.7, 6.9 | 380 |
| McDonald's Burger | 1955 | 1.6 | 1.6, 3.2, 4, 8 | 535 |
| BK Soda | 1954 | 12; 16 | 12, 16, 22, 32, 42 | 347 |
Watch this interesting clip describing this issue.
While I disagree with the idea that it's okay to eat the types of foods they describe: a fast food diet everyday (we are not endorsing eating high carb chips, cookies, or burgers etc)!
But, the point is clear: we've always eaten some indulgent foods on occasion.
The main thing that has changed is that the social norm is not occasional or in moderation, it's now overindulge, eat more, double size, overeat and so forth – we have portion distortion!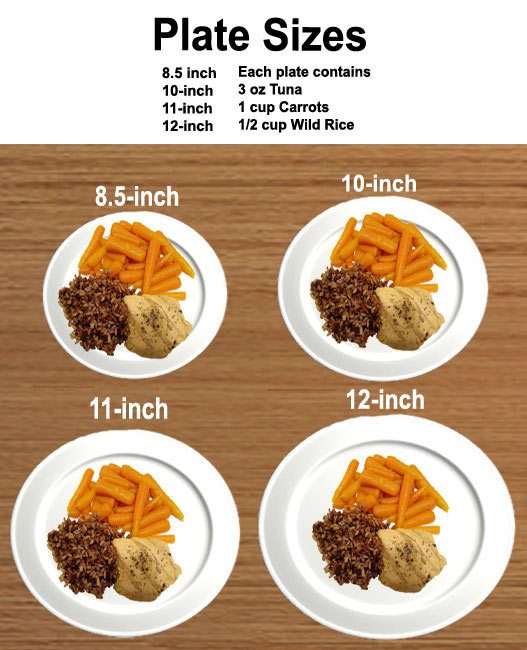 Our plate size has just grown and grown. How much bigger can it get?
It's also interesting to compare recipes and cookbooks: Recipes in 2006 have 35% more calories than those in 1936. The (same) famous Nestle Toll House Cookie recipe, which yielded 100 cookies when first written in 1949, now yields 60 cookies – as the expected cookie size has nearly doubled.
Neverending Marketing and Advertising

The food industry have become ultimate experts in advertising all kinds of foods and food products to us. They capitalize on everything we're exposed to, from TV and radio commercials, to billboards and signs, to magazines and free products that promote their brand.
This may feel subtle but you'd be surprised how strongly we are affected by it. And they start young with impressionable minds – children. More than $2 billion is spent on advertising to children alone.
Research has shown that children don't have the ability to separate advertisement from content (this is why putting favorite cartoon characters on cereal boxes and other packaged foods is very effective). And because formative years are crucial in developing habitual patterns, these messages and experiences stick with us.
As a result nearly 40% of children's diets include added sugars or unhealthy fat, and we now have a rising epidemic of childhood obesity, which once was a very rare condition. Type 2 diabetes used to be called 'adult onset diabetes.'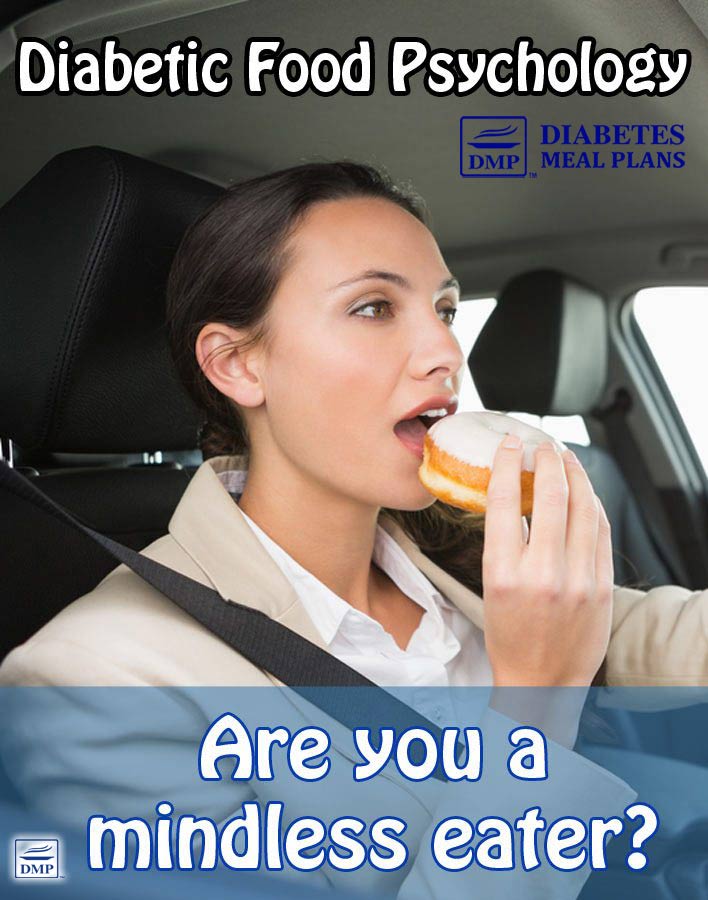 Please pin, share or tweet this post. 🙂
What Is Mindful Eating?
According to Psychology Today: "Mindful eating involves paying full attention to the experience of eating and drinking, both inside and outside the body. We pay attention to the colors, smells, textures, flavors, temperatures, and even the sounds (crunch!) of our food. We pay attention to the experience of the body."
It involves being 100% present with the eating experience. Not trying to do a million other things at the same time.
How Can You Increase Mindful Eating?
Here are some pearls of wisdom, based on food psychology research, that are effective at reducing mindless eating and encouraging mindful eating:
Use smaller plates, bowls and dishes
The bigger the container, the more you eat. This is one of the most consistent findings across a wide variety of people groups, including nutrition experts!
Chew your food well and eat slowly
It takes about 20 minutes from the first bite of food for stretch receptors in the stomach to activate and signal the brain to sense a feeling of fullness. Obese people are more likely to eat quickly and chew their food less per bite.
Eating slowly and chewing helps our brain and body signal the right hunger and appetite hormones, so slow down when you eat.
Pay attention to your body's cues
Parisians (French) were 1.5 times more likely to stop eating because of internal cues (ie. beginning to feel full). Whereas Chicagoans (US) were more likely to stop eating because of external cues (ie. the show is over or my plate is empty).
Eat at a table
Try to minimize eating in your car, in front of the TV, on the couch, in your bed, etc, all of which foster mindlessness.
Keep meal foods (or leftovers) in a separate location than where you're dining
Foods left out are eaten twice as much as those put away – in a cabinet, cupboard, refrigerator or freezer.
Keep snacks and tempting food out of the house/office
Candy dishes kept 6 feet away reduced consumption by ½ when compared to left on the desk.
Stock up on lots of fresh vegetables and other healthy foods
Keep a range of healthy veggies cut up in a container. Then they are attractive and ready to eat. You're 30% more likely to eat the first thing you see so keep the good stuff in plain sight!
Don't eat emotionally
Sad people eat junk food to repair their mood. Though, this is powerless to do. It pacifies us for a short period of time, and eventually has the opposite effect, inducing guilt and shame.
Instead, address the emotions head on–if you're upset, call a friend. If you're bored, work on a project. If you're stressed, work on some relaxation/mindset techniques. If you're tired, go to bed!
Eat real whole foods
Be sure you are choosing healthy, wholesome real foods in appropriately controlled portions for your best shot at avoiding mindless munching.
A Mindful Eating Exercise
Sit down at the table to eat and before you start eating look at your food. Notice it's colors and textures.
Smell the aromas, be grateful for the food because we are blessed to live in parts of the world where we have access to such abundance of good food.
Then start eating your food slowly.
Be conscious of the flavor and texture on your tongue and in your mouth.
Chew your food thoroughly and notice your feelings and thoughts about the process.
Try and do this regularly over a one week period and notice some of the differences in your behaviors or thoughts around food.
What changes do you notice?
Does it make you feel fuller? Do you eat less food when you practice mindful eating? Are you enjoying the food more? Have you noticed any changes in your eating habits? Have you stopped bingeing at night?
It's amazing what can happen when we are fully engaged in the process of eating and sometimes this simple exercise can bring extraordinary results!
Once you try this exercise come back to share some of your experiences around mindful eating. We'd love to hear how you go.
And while you're here, grab our freebie pack so you know what foods to stick to.