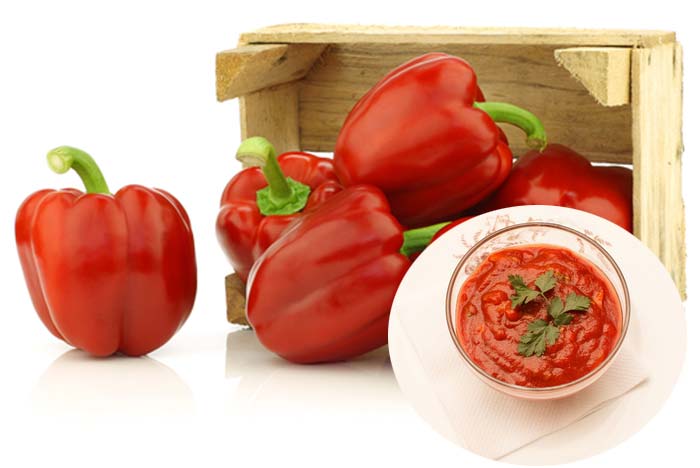 You will be pleasantly surprised at just how sweet this roasted red bell pepper sauce really is.
Many people we have given this sauce to have turned their nose up one minute, only to eat their words the next. It makes an excellent accompaniment to meats, vegetables, eggs, and anything you may have put ketchup/tomato sauce on before.
Best of all, it won't send your blood sugar soaring and can replace your sugar free ketchup and tomato sauce for good! 
This sauce will keep in the fridge for a few weeks so make a big batch and you'll be set to go.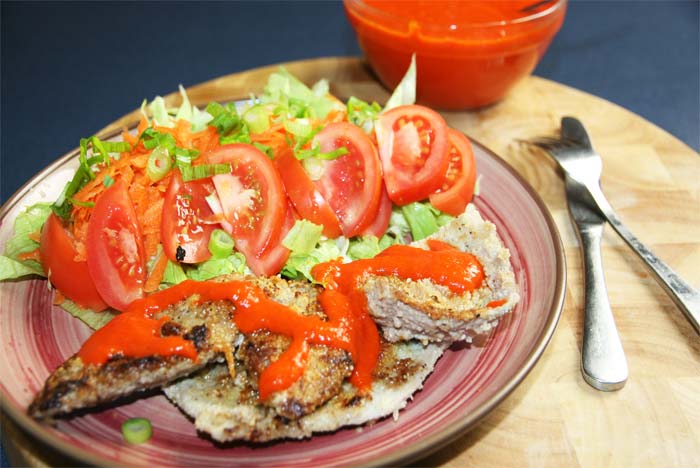 Roasted Red Bell Pepper Sauce
This sauce is a great accompaniment to meats, vegetables, eggs, and anything you may put ketchup/ tomato sauce on - and it's sugar free and low carb!
Total Carbs:
5g
Net Carbs:
3g
Total Carbs:

5g

Net Carbs:

3g
Preheat oven to 390°F (200°C)

Cut peppers in half and remove stalks and seeds

Place on a tray and pour some oil over the top

Using a pastry brush, coat the peppers on both sides with oil

Put in the oven and bake for 1 hour; remove and allow to cool

Peel off the skins as best as you can and put peeled peppers into a blender

Blend up until it forms a smooth paste/sauce

Top your favorite meats and dishes with the sauce
Storage - Store in the fridge for up to 3 weeks in an airtight jar or container. Can freeze, then defrost and use within 5 days.
Make it spicy - add chili flakes or a few drops of hot sauce to heat it up.
Nutrition Facts

Roasted Red Bell Pepper Sauce

Amount Per Serving

Calories 40

Calories from Fat 23

% Daily Value*

Total Fat 2.5g 4%

Total Carbohydrates 5g 2%

Protein 1g 2%

* Percent Daily Values are based on a 2000 calorie diet.
Kitchen Tools
You'll need a few simple baking tools – baking tray, pastry brush, food processor to get this smooth. A sharp knife will be essential but if your knife skills are no good, try using a smaller paring knife to remove the seeds and core of the peppers.
You'll LOVE this so make sure you give it a try!
Please pin, tweet or share this delicious recipe. Thanks 🙂
Save
Save