Asparagus is a very unique vegetable. We are most often familiar with long green spears narrowing out to beautiful budded tips.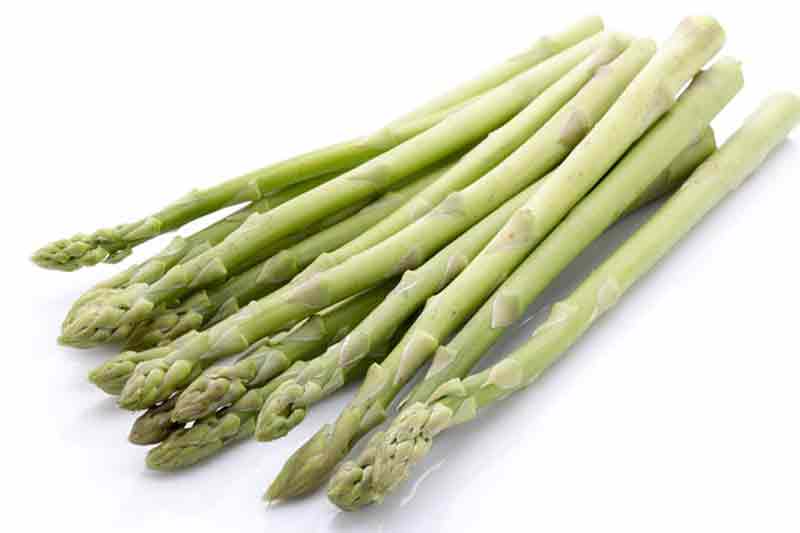 However, asparagus also grows in purple and white varieties and can come in many different sizes. Additionally, wild asparagus can be found in various climates worldwide, making it a nice treasure for foragers. In total, there are about 20 edible varieties of asparagus.
Asparagus Nutrition Facts
Asparagus is a low calorie food providing only 40 calories per cup cooked.
Asparagus is an excellent source of vitamin K .
Asparagus is a good source of many B vitamins including: folate, B1 and B2.
One serving of asparagus provides 18% of your daily value for vitamins C and E.
Asparagus has a very low glycemic index of 15.
Asparagus is a source of many important minerals including: copper, selenium, manganese, and phosphorous.
Most of the carbohydrates in asparagus are fiber.
Asparagus contains a decent about of protein for a vegetable (4-5 grams per cup).
Health Benefits of Asparagus
Vitamins C and E are both antioxidants that protect the body from free radical damage and promote healthy skin.
Vitamin K is essential for blood clotting and heart health.
Fiber is crucial for healthy digestion and bowel movements and can lower cholesterol.
B vitamins are essential for all of the body's many metabolic processes, including metabolism of sugars and starches.
Asparagus contains saponins, which are anti-inflammatory.
Protein helps stabilize blood sugar and promote satiety (your feeling of fullness).
Research on Asparagus Specific to T2 Diabetes
Anti-inflammatory and antioxidant components found in asparagus help reduce risk for diabetes and heart disease and their complications.
Asparagus may enhance insulin action leading to better glycemic control.
It seems to help promote healthy liver and reduced lipids in mice, so it may have some benefits for humans here also.
Asparagus promotes gut health because it contains naturally occurring inulin, a prebiotic fiber. This inulin helps feed healthy probiotic bacteria in the intestine.
Certain components in asparagus may be effective at reducing cancer risk.
Points for Consideration
Ok, so if you've never had asparagus before, prepare yourself for something that will otherwise be very awkward and possibly scary.
Your urine is probably going to smell weird. Not bad–just weird. This is not dangerous or problematic, simply a byproduct of metabolizing asparagus.
Asparagus and Diabetes Conclusion
Asparagus is a great vegetable to include in a healthy diet.
It is included as a non-starchy vegetable that can be eaten very liberally in our recommended foods list as well as our top 20 all-you-can-eat veggies.
Nosh away!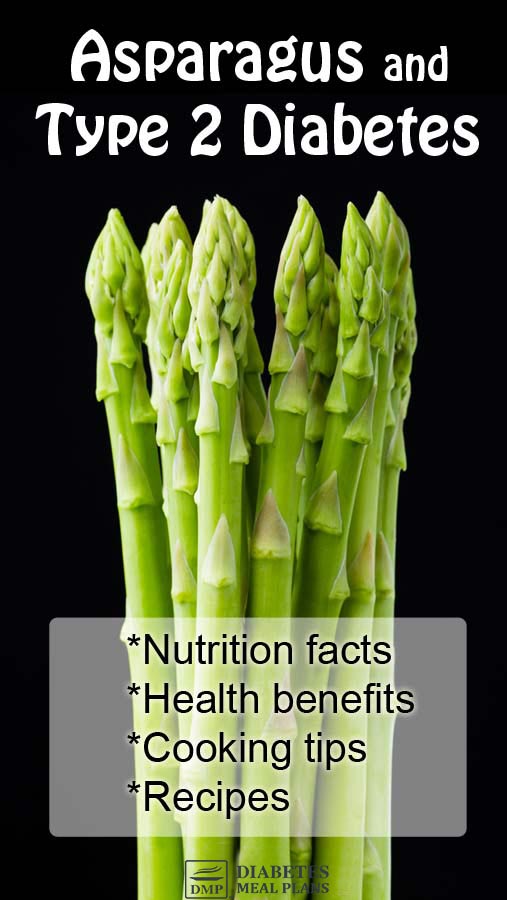 Asparagus in the Kitchen
Selection
Look for asparagus with firm, green stalks, thin and not woody (although the very ends may be a bit woody and can be cut off) and compact tips.
Storage
Wrap the ends of asparagus in a damp towel or cloth and store in the refrigerator. Optimally, try to use it with 2 days for maximum nutrition benefits, but it will store up to a week.
Uses
Asparagus can be added to salads, served as a side dish, tossed into a stir fry, added to omelettes or other egg dishes, or blended into a delicious soup.
Cooking
Wash asparagus in cold water to remove any dirt. Be sure to avoid overcooking asparagus. It should be slightly tender, yet still firm.
Saute asparagus in broth or olive oil 5 minutes
Steam asparagus 5-10 minutes.
Boil asparagus 4-5 minutes.
Roast asparagus 10-15 minutes.
Grill asparagus 1-2 minutes per side.
Microwave asparagus 1-2 minutes.
Cutting Techniques
Try to best determine where the asparagus is tough and woody and cut off the ends (otherwise these will keep you chewing endlessly). Then simply cut the stalks into smaller pieces or leave whole depending on your preferences. If the asparagus is particularly tough or woody, you may try peeling the stems.
Asparagus Recipes
Pesto Asparagus Salad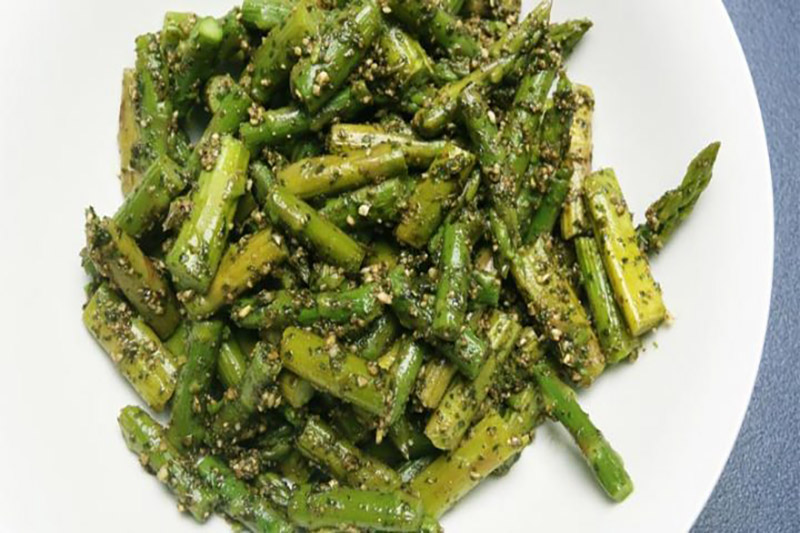 Other ways to eat asparagus:
Please pin, tweet or share this info. Thanks!