Pizza. Who doesn't love it. I dare say there wouldn't be many of us, including myself.
But, your regular pizza is jam packed with carbs. Let's check it out.
Little Caesars Pizza
Pepperoni Soft Pretzel Crust Pizza, 1 slice, 270 cal, 31 g carbs, 11 g protein, 11 g fat, 3.5 g sat fat.
Papa John's Pizza
BBQ Chicken Bacon Pizza, Original Crust for one: 240 cal, 30 g carbs, 12 g protein, 8 g fat, 3.5 g sat fat.
Pizza Hut
Meat Lover's® – Small Original Pan™ Slice, per 1 Slice: 180 cal, 15 g carbs, 8 g protein, 10 g fat, 4 g sat fat. Of course, it will depend on the size of the pizza and what type of base you choose too. As you can see, a stuffed super base packs on the calories and carbs.
Meat Lover's® – Large Original Stuffed Crust, per 1 slice, 430 cal, 35 g carbs, 19 g protein, 24 g fat, 10 g sat fat.
5 Incredible Low Carb Diabetic Pizza Recipes
Okay, it's pretty clear that the regular pizza options aren't really suited to you. All those carbs will send your blood sugar soaring. And eating just one slice…that's tough right? You always want a bit more pizza.
So, we've got some delicious low carb super tasty recipes.
I still wouldn't recommend pizza every day. It is relatively high in calories and fats compared to other diabetic meals. But at least you know you can safely eat it and keep your blood sugar in check. You can also adjust toppings to change the nutrition ratios too.
BON APPETIT!
Gourmet Pizza – Almond Meal-Based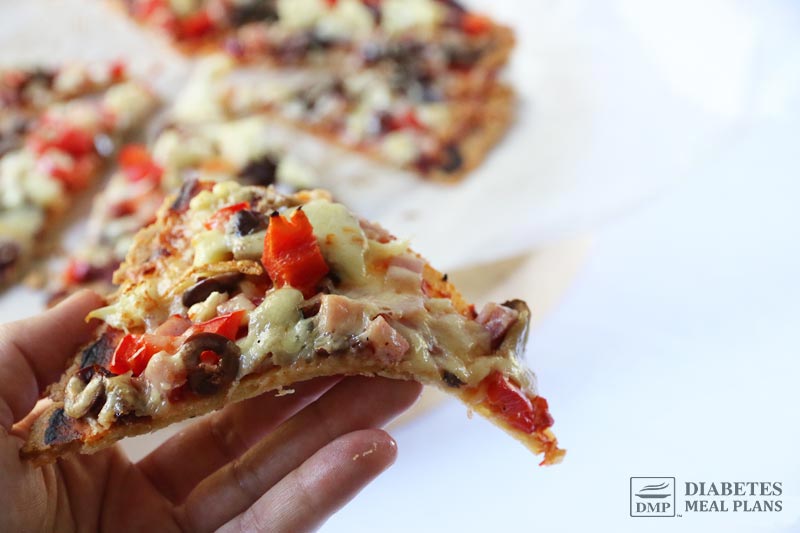 This almond meal base is absolutely incredible. One of my personal favorites. It's just like a regular thin base and maintains it's consistency when cooked – meaning it doesn't go soggy and can be thoroughly enjoyed like a regular pizza.
Top with all your favorite items and you'll be loving this one.
This is a high calorie pizza, at 650 cal per serve. The almond meal base (ground almonds) really push up the calories and fats in this one. But, you get 4 good sized slices per serve and you will be entirely satisfied by this meal. It's 19 g total carbs for the 4 slices.
Find our Gourmet Pizza over here – made with an almond meal base.
Zucchini Pizza Boats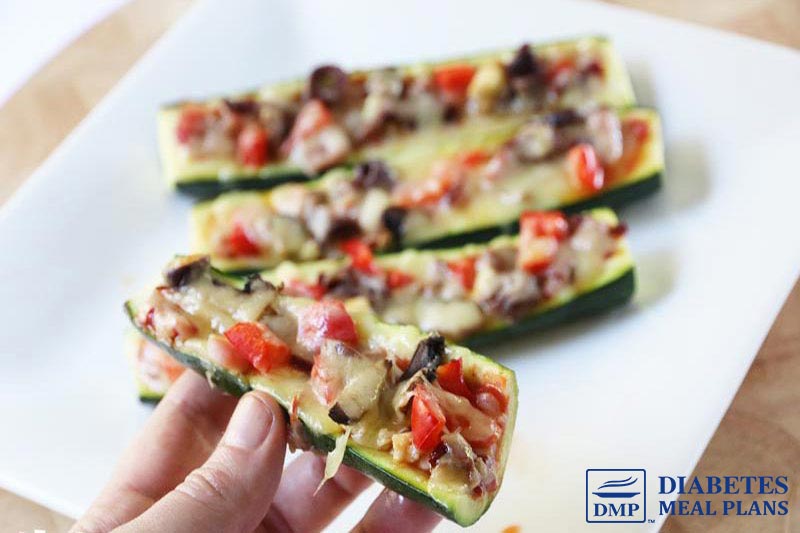 Zucchini is such a versatile veggie. You can make zoodles, bake it, steam it, put it in veggie bakes, and even make an alteration on pizza.
Scoop out the innards and load them up with your desired toppings. These are super amazing!
370 cal for 1.5 large halves of zucchini and comes in around 18 g total carbs.
Find the Zucchini Boat Pizza recipe here.
Cauliflower Crust Pizza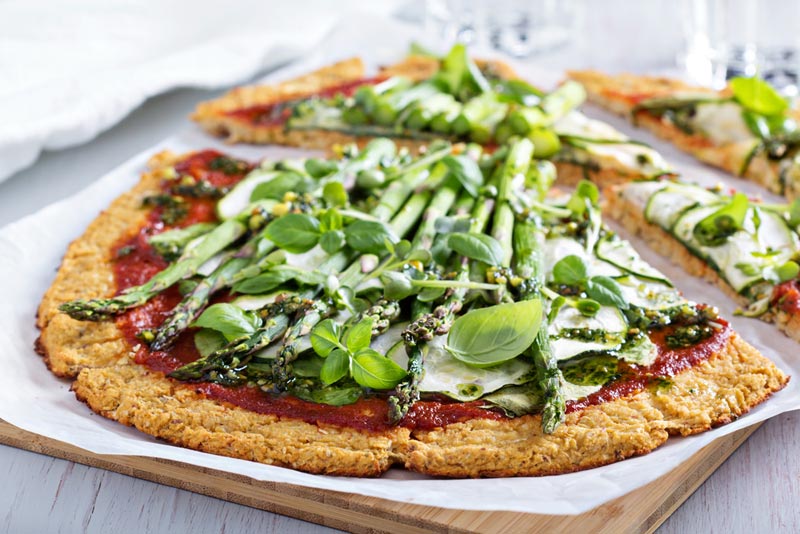 Cauliflower is another favorite versatile vegetable we love to use. Elizabeth whipped up this awesome cauli pizza crust. And while it does end up a bit soggy and needs to be eaten with a fork, it's still satisfies that pizza urge.
Without toppings it's around 199 calories and 17 g total carbs.
Find the Cauliflower Pizza Crust recipe here.
4. Eggplant Pizza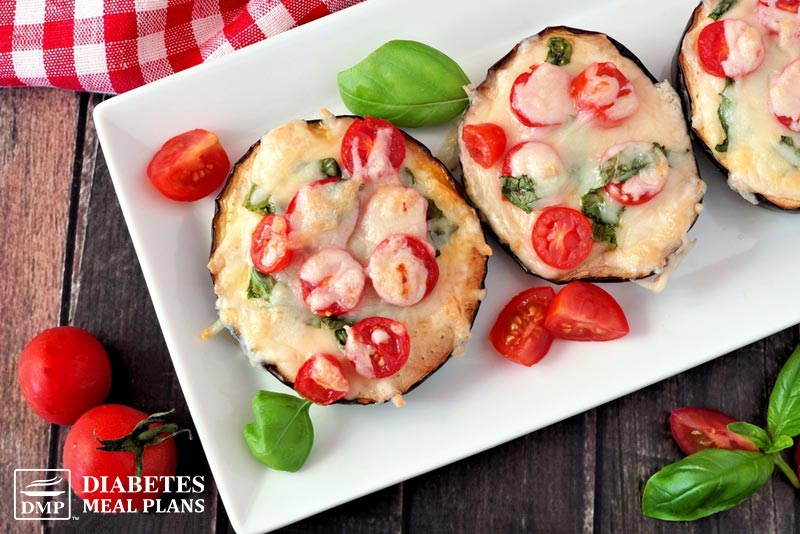 It's amazing that we can use all these veggies as pizza bases, which makes them more nutritious for us because they have additional vitamins and minerals we don't get from eating flour bases. And less carbs too. These little beauties come in around 220 calories and 13 total carbs for 3 slices of eggplant pizza.
Eggplant pizza recipe over here.
5. Breakfast Pizza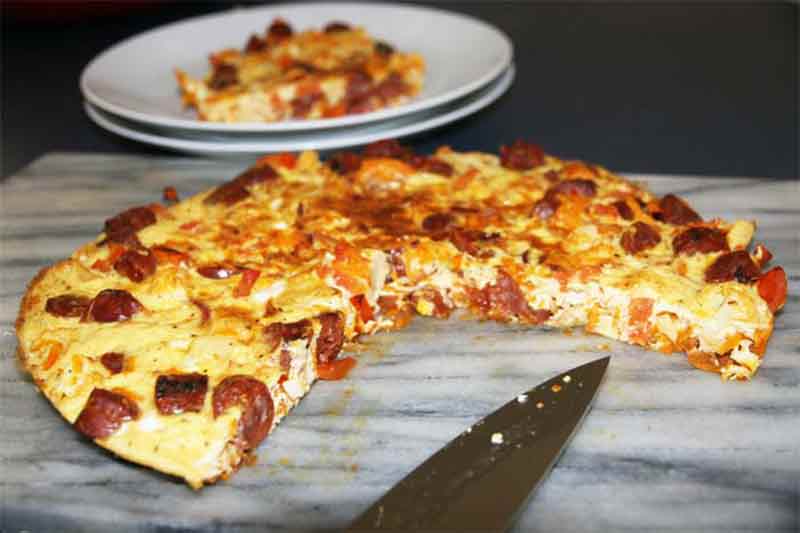 And who said you can't eat pizza for breakfast?
This is an egg-based pizza. Fill with sausage or pepperoni and add veggies if you want (or don't) and you'll have yourself a very satisfying, kind of naughty breakfast. 😉
Of course, you can eat this version for lunch or dinner too.
This one is just 286 calories and 14 g total carbs for 1/3 of the breakfast pizza.
Find the Breakfast Pizza recipe here.
Well, there you have it. Tons of low carb diabetic pizza options to enjoy.
Hope you give one of them a try!
Please pin, share or tweet these recipes to share the foodie love. 🙂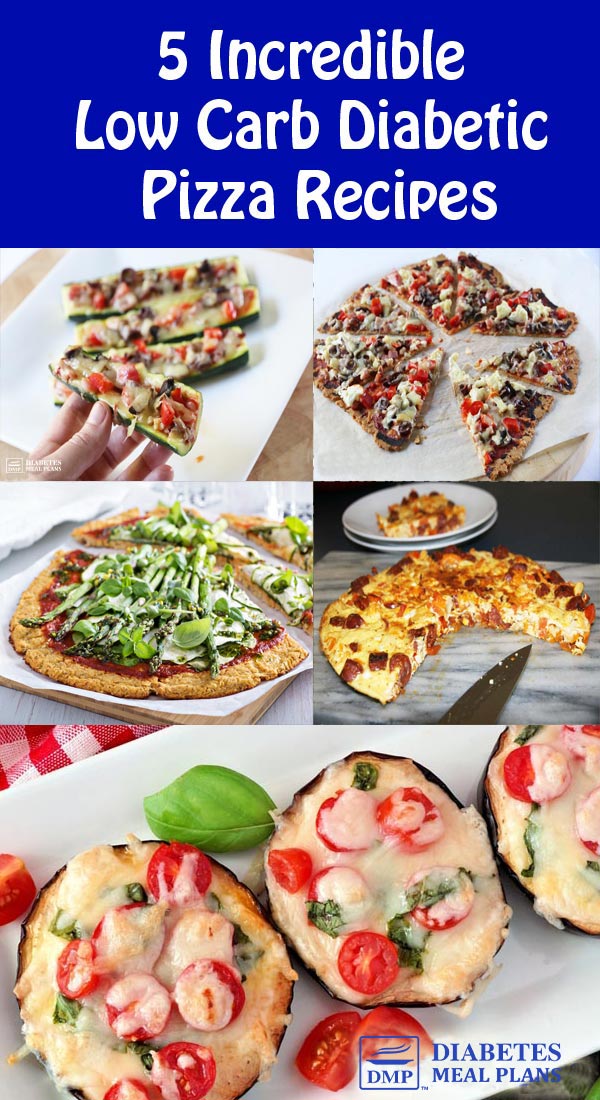 Essential Kitchen Items
While you're here, grab our freebie pack. We'll add you to our email list and send our weekly updates and free recipes. 🙂
Save