It's been suggested that walnuts are a heart healthy addition to any diet, including a diet for type 2 diabetes. And that's exactly what we're going to explore today.
Known for their unique wrinkly brain-like appearance, walnuts have a wide range of health benefits from boosting brain health to preventing heart disease to weight loss.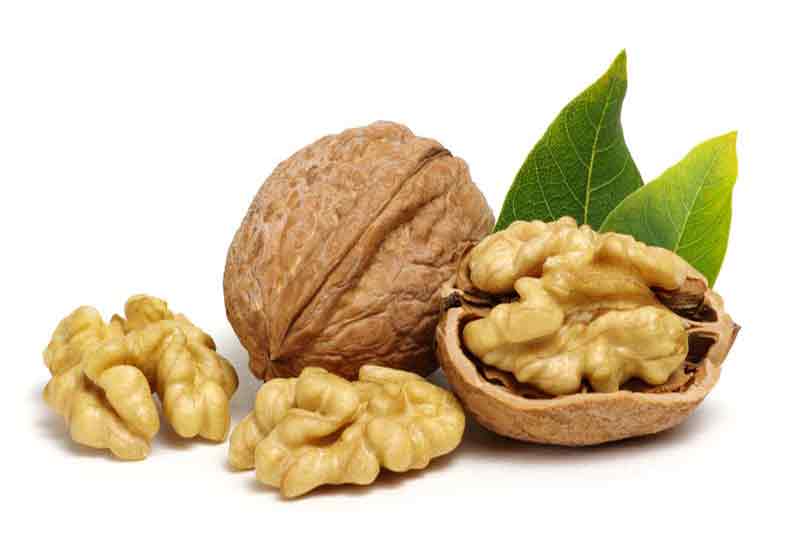 Let's take a closer look at what they can do for us:
What are Walnuts?
Walnuts are tree nuts that originated from India. Now walnuts are grown all over the globe, the largest growers being China and the US.
The two main types are: English Walnuts and Black Walnuts. The nutritional value does not vary significantly between the two.
If you've ever come across them whole, you'll know that walnuts have very hard shells that need to be cracked to access the nut. That's why we commonly buy them already cracked – it's easier!
Walnut Nutrition Facts
Walnuts are made up of around 15% protein and 65% fat. Their fat content is heart-healthy fat. For instance, a one ounce serve (28g, around a quarter cup) of walnuts contains around 16 grams of fat. This is made up of 11 grams polyunsaturated, 5 grams monounsaturated, and just a small amount of saturated fat, 1 gram.
Though polyunsaturated fats are lumped into the same category, there are actually two types – omega 6 and omega 3.
A quarter of a cup of walnuts contain more than 100% of the recommended daily intake for omega 3, a fat that is well known for it's anti-inflammatory powers.
Walnuts are very low in carbs (14%), with a one ounce serve coming in at just 2.7 grams total carbs. And they are high in fiber (1.9 g/oz) so they will have very little effect on your blood sugar levels. Walnuts also contain plant sterols, antioxidants, and many vitamins and minerals.
Because fat is higher in calories than protein or carbohydrates, this makes walnuts a higher calorie food. But since they are super healthy calories, there's nothing to be concerned about there.
Below you'll see walnuts compared to some other nuts. Most nuts do make a great addition to a low carb diabetic diet.
| | | | | |
| --- | --- | --- | --- | --- |
| Nut (1 oz/ 28g) | Calories | Carbs | Fat | Protein |
| Walnuts (14 halves) | 185 | 3.9 | 18 | 4.3 |
| Almonds (23 nuts) | 163 | 6 | 14 | 6 |
| Peanuts (28 whole) | 161 | 4.6 | 14 | 7 |
| Pecans (19 halves) | 196 | 3.9 | 20 | 2.6 |
| Pistachios (49 kernels) | 159 | 8 | 13 | 6 |
| Cashews (16-18 nuts) | 157 | 9 | 12 | 5 |
| Macadamia (10-12 kernels) | 204 | 3.9 | 21 | 2.2 |
| Brazil Nuts (6 kernels) | 186 | 3.5 | 19 | 4.1 |
Myths and Truths about Walnuts
Walnuts (as in all nuts) contain a substance called "phytic acid," along with some enzyme inhibitors, which can decrease absorption of certain minerals in the digestive tract. While this is not a major problem, there is a process called 'soaking' that helps decrease the phytic acid content and produce more enzyme action.
Here's the process to do it:
Measure out 4 cups of raw, unsalted, organic nuts/seeds into a medium sized bowl
Cover with filtered water so that nuts are submerged
Add 1-2 tablespoons unrefined salt
Allow to stand covered on the counter for about 7 hours, or overnight
Rinse nuts to remove salt residue and spread out in single layer on a rack to dehydrate.
Dry at a low temperature (generally no higher than 150°F, although there are exceptions) in dehydrator or oven for 12-24 hours or until nuts are slightly crispy.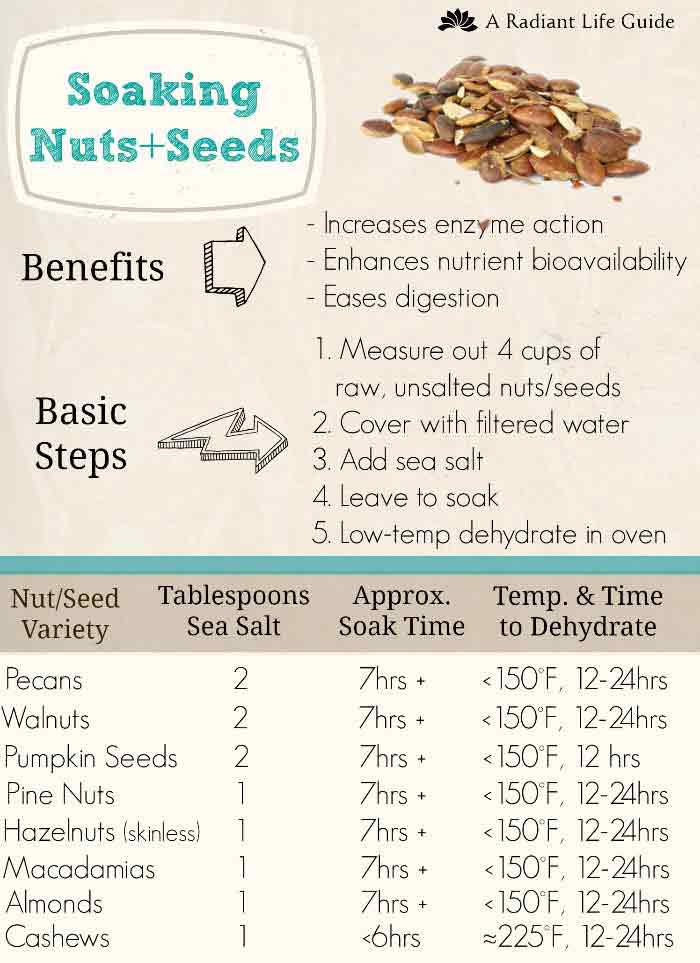 Image Credit: The Radiant Life
Another thing to be aware of is that all tree nuts can be major allergens. If you are allergic to tree nuts be very cautious around anything that may even have traces of nuts, as allergic reactions can be life-threatening.
The skins (not the shell) on walnuts can have a hint of bitterness and can cause skin irritation in some people. However, overall walnuts the skin is not harmful and does contain many of the antioxidants. So unless you strongly dislike the bitter flavor, it's best to eat the whole nut, skin and all.
Because walnuts are high in fat, they are prone to rancidity. Walnuts can also be prone to mold or fungus so be sure to store walnuts in a cool dry location – the refrigerator is best. Fresh nuts will keep for around 6 months when refrigerated and you can also keep them in the freezer, where they will keep up to a year.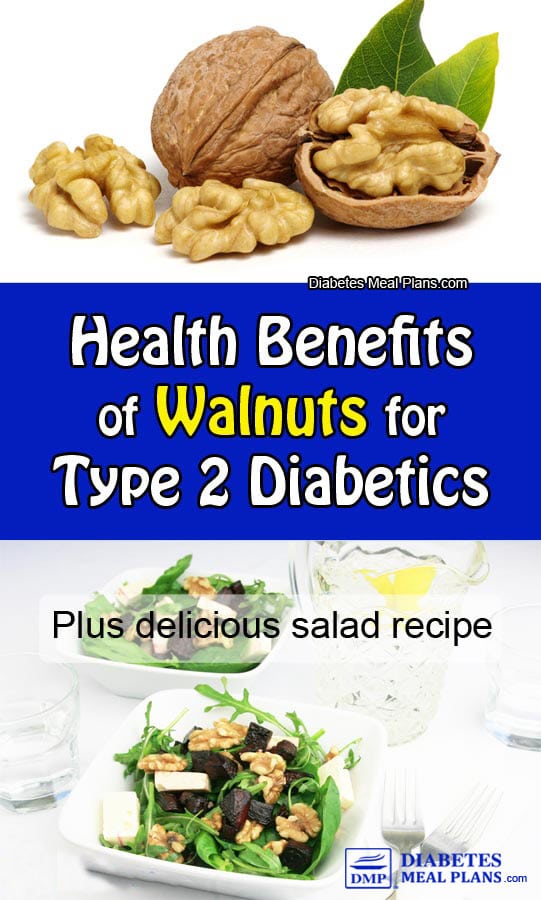 Research on Walnuts and Type 2 Diabetes
Eating walnuts has been shown to reduce risk of type 2 diabetes and improve cardiovascular markers.
Further research confirms cardiovascular benefits, reduction in hypertension, cancer, diabetes onset and gallstones.
Walnuts are a good source of omega-3 fatty acids and have been shown to reduce lipid levels and inflammation.
Walnuts are one of the highest antioxidant foods, which help prevent against free radical damage and oxidative stress.
Walnuts may improve brain health (mood, memory and prevention of cognitive decline) and prevent cancer.
Nuts, generally, produce great feelings of fullness from eating just small amounts, which causes people to eat less, helping them achieve and maintain a healthy weight.
Are Walnuts a Good Food to Eat?

Yes. Walnuts are a great addition to a healthy low carb diabetic diet.
They can be:
added to salads
ground and used as a 'breading' to crust meats
paired with fruit/vegetables for a snack
or eaten solo
Overall, walnuts are a nice low perishable option you can keep in your car or purse for those emergency situations. And the benefit is that very small portions can bring a lot of satiety (feelings of fullness), provide a great deal of nutrition, and help manage blood sugar and weight.
Beet, Walnut and Feta Salad
Give this delicious walnutty salad a try.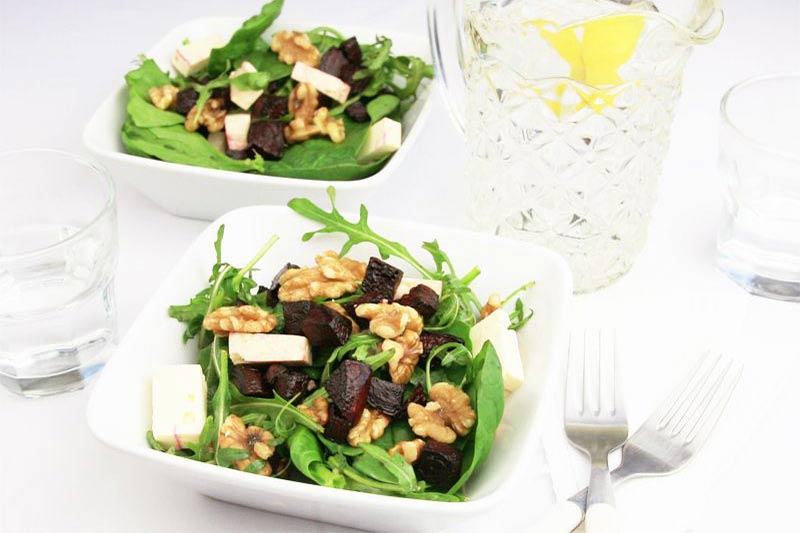 Enjoy your walnuts!
Please pin, tweet or share this info with your friends. Thanks. 🙂