Commonly known as the 'sunshine vitamin,' vitamin D is a fat-soluble vitamin that is in fact a hormone crucial for controlling calcium and phosphorus levels in our blood.
Aside from that, this essential vitamin is required for normal bone development, muscles, teeth, along with playing a role in immune, endocrine, and cardiovascular systems.
In fact, although vitamin D has long been thought to be mainly required for our bones and muscles, vitamin D levels are now being considered a causal factor in almost every disease, including cancer and diabetes.
You see, vitamin D deficiency is a BIG problem – lots of people are deficient. And as more and more scientific research becomes available, vitamin D, it seems, is far more important than previously thought, with some even dubbing this vitamin 'the elixir of life.'
For you as a diabetic, vitamin D is of critical importance.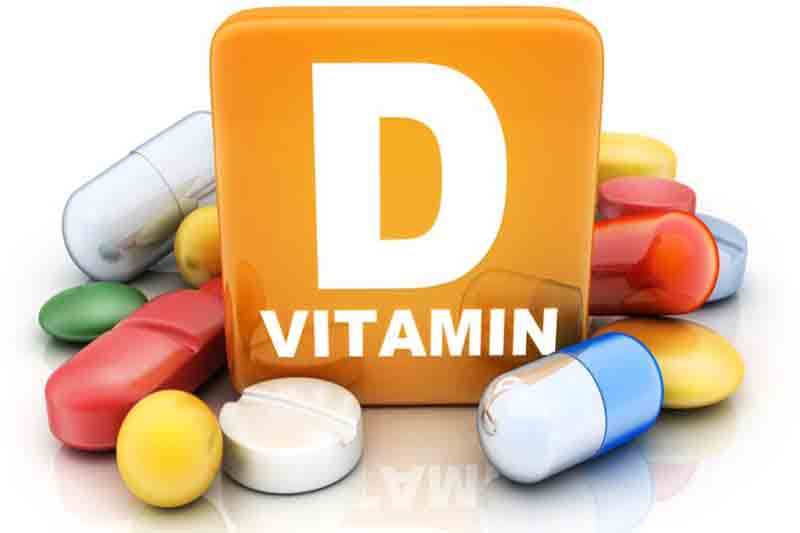 What should your vitamin D levels be?
According to the US Endocrine Society, your vitamin D status is measured as follows:
20 ng/mL (50 nmol/L) or below indicates deficiency
21-29 ng/mL (51-74 nmol/L) indicates insufficiency
30-100 ng/mL (75-250 nmol/L) should be standard
How much vitamin D per day?
The Recommend Dietary Allowance (RDA) of daily vitamin D is:
600 IU for children and adults under age 70
800 IU for adults older than 70
Note though, this is the level needed to maintain sufficient health. Since many people are now deficient or insufficient, higher levels are often being recommended.
For instance, the Vitamin D Council suggests if you are deficient or insufficient you could need anywhere from 500 IU to 2200 IU per day to improve your vitamin D status.
How do you obtain adequate amounts of vitamin D?
Vitamin D food sources
When it comes to foods, not too many contain vitamin D – the major dietary sources include fish, eggs, liver, mushrooms, along with margarine and dairy products fortified with this essential vitamin.
Sunshine
Being that vitamin D is called the 'sunshine vitamin' you can probably guess where your best source of vitamin D comes from… natural sunlight.
Ultraviolet radiation (UV) from the sun causes a series of complex reactions that ultimately lead to active vitamin D formation in your blood.
Being that we're now such indoorsy people, you begin to see why the rates of vitamin D deficiency are becoming so prevalent.
Try to get outside in the sunshine for at least 15 minutes a day when you can – with your skin exposed, without sunscreen. Sunscreen prevents the activation of vitamin D via the skin.
Supplements
For those that are deficient or insufficient, supplements are usually the best option.
The best form of vitamin D supplement is vitamin D3 or cholcecalciferol — this form is 87% more potent in raising vitamin D concentrations, than ergocalciferol or vitamin D2.
You will be required to have a blood test to determine your vitamin D levels, so in terms of supplement dosage, the best advice is to take the recommendations provided by your doctor.
Supplementing with vitamin D can have the following side effects if appropriate dosage is exceeded:
Allergic skin reactions
Hypercalcaemia (high levels of calcium in the blood)
That's why it's always important to consult your physician before starting any supplementation regime.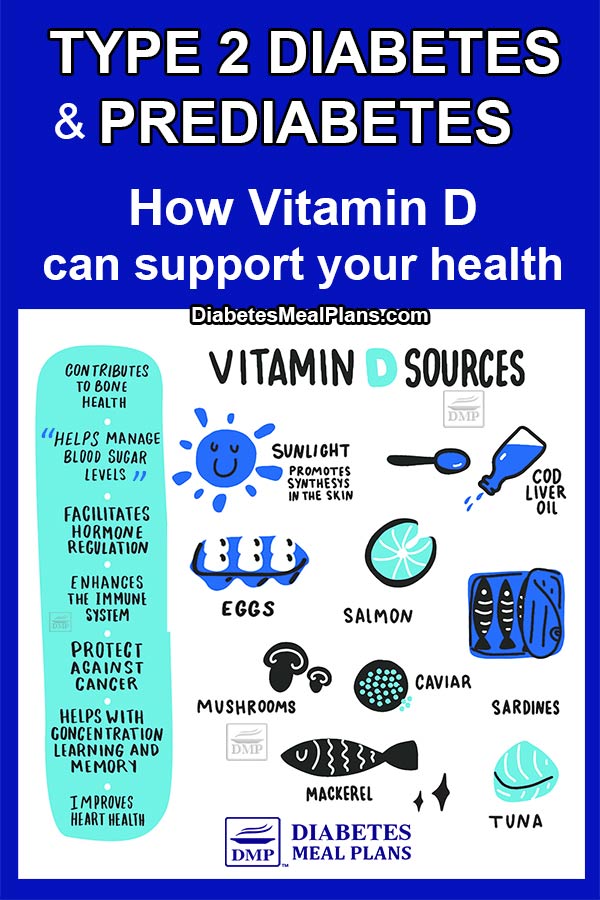 How does vitamin D work?
Once we get vitamin D and our body converts it to it's active form, it then acts by binding to specific receptors in target sites, called vitamin D receptors. In fact, vitamin D receptors are located in over 38 tissues throughout the body!
Through binding to the vitamin D receptors it then plays a role in regulating hundreds of genes. And in terms of type 2 diabetes, it is involved in pancreatic function and insulin production.
The beta-cells in the pancreas, responsible for secreting insulin, have been shown to have vitamin D receptors, as well as the 1 alpha hydroxylase enzyme — an enzyme involved in the metabolism of vitamin D.
This means that these insulin-secreting cells likely function more effectively when active vitamin D is available.
Vitamin D has also been shown to help regulate calcium levels within beta-cells. Calcium levels are crucial in regulating insulin secretion from these cells, therefore, low vitamin D may effect insulin secretion.
Vitamin D may help regulate blood sugar levels
Low vitamin D levels have been linked to impaired glucose metabolism.
In one study in elderly diabetic patients it was found that those with vitamin D levels below 50 nmol/L — indicative of vitamin D deficiency — had double the risk of being diagnosed with diabetes, which suggests that vitamin D may have a protective role against diabetes.
Another study showed that type 2 diabetics given high doses of vitamin D (50,000 IU) for 8 consecutive weeks had a significant reduction in blood sugar and insulin levels. This indicates that sufficient vitamin D levels may contribute to better blood glucose management.
And, though researchers are still unclear about the mechanisms behind it, higher vitamin D levels appear to result in increased efficiency of insulin in storing glucose.
Vitamin D may reduce inflammation and oxidative stress
Inflammation plays a significant role in the development of type 2 diabetes. And once you have diabetes, there is a low grade chronic inflammation throughout the bodies cells.
Studies have shown that vitamin D has properties that allow it to downgrade or 'switch off' key inflammatory molecules. Chronic low-grade inflammation can disrupt proper insulin signaling. And once inflammatory pathways are activated, these directly interfere with normal metabolism (of nutrients, cholesterol, blood pressure, etc). Pro-inflammatory molecules also increase the expression of inflammatory markers within cell membranes, which may further exacerbate insulin resistance.
Inflammation also triggers higher rates of oxidative stress, the offset of which are free radicals that cause more damage and dysfunction in the body. Thankfully, vitamin D has also been shown to act as an antioxidant that helps decrease oxidative stress.
Vitamin D may reduce risk of heart disease
Vitamin D is involved in regulating blood pressure and the dilation of blood vessels and arteries. And a recent review has shown that a vitamin D deficiency may significantly increase your risk of heart disease.
In fact, with each 10 ng/mL improvement in vitamin D status, your risk of heart disease decreases by an estimated 7-10% and 12% for hypertension. And of course, maintaining vitamin D status at adequate levels provides the best protection.
Vitamin D benefits
In summary, research linking vitamin D and type 2 diabetes indicates numerous benefits that may include:
Improved insulin resistance
Improved blood sugar regulation
Reduced inflammation and oxidative stress
Improved metabolic function
Decreased risk of heart disease
Conclusion
The message here is, maintaining vitamin D status at adequate levels is critical to managing your type 2 diabetes and for overall good health.
If you don't know what your vitamin D status is, request a blood test from your physician. Then you can take appropriate action should you be deficient or insufficient.
In the meantime, get a bit of sunshine. It not only provides vitamin D but puts a smile on your moods as well.
Please pin, tweet or share this info to help others. Thanks!