Alfalfa and sprouts are much more than just sandwich or salad toppers. In fact, their use dates back 6000 years to Iranian and Chinese medicine. And in the 1700s, sprouts provided sailors with valuable vitamin C to ward off scurvy.

Yep, both alfalfa and sprouts are vegetable fibers that contain a ton of essential nutrients. Alfalfa looks a lot like grass and may have small purple flowers, while other sprouts are cream colored and often have a white shoot – although they do come in a ton of different varieties (broccoli, fenugreek, sunflower, bean, radish, etc).
Regardless of their type, sprouts are low in calories and carbs and moderately high in fiber and protein, so they certainly fit well into a diabetes friendly diet.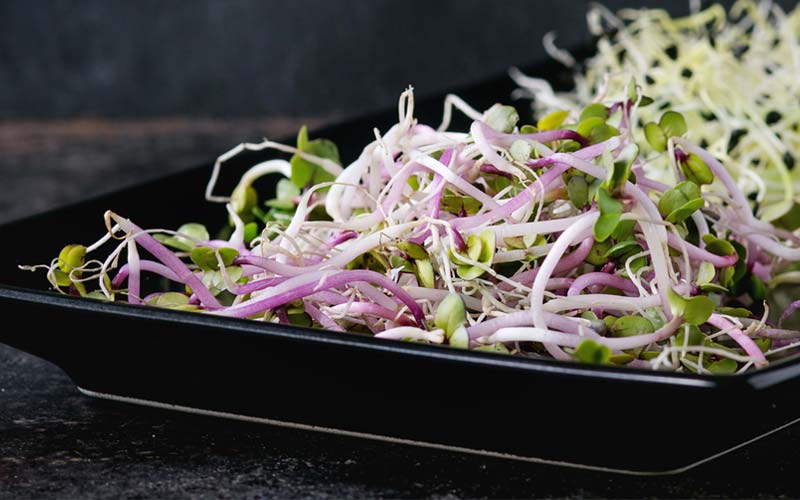 Alfalfa and Sprouts Nutrition Facts
Alfalfa contains 15 calories and 2 grams of carbs per ½ cup, while bean sprouts contain 25 calories and 4 grams carbs per ½ cup.

They're also high in fiber – alfalfa has 1 gram per ½ cup and bean sprouts have 1.9 grams per ½ cup.

They're a reasonable source of protein – alfalfa has 1.5 grams per ½ cup, while bean sprouts have 3 grams per ½ cup.

They're a fantastic source of vitamin C.
Alfalfa and sprouts have a low glycemic index.
Different Sprouts Compared
Let's take a closer look at how a few of the different kinds of sprouts stack up against each other! All nutritional values are per 1/2 cup.
| | | | | | |
| --- | --- | --- | --- | --- | --- |
|  Food Name | Calories | Net Carbs (g) | Total Carbs (g) | Fiber (g) | Protein (g) |
| Alfalfa | 15 | 2 | 3 | 1 | 1.5 |
| Bean sprouts | 25 | 4 | 5.9 | 1.9 | 3 |
| Soybean sprouts | 43 | 3.4 | 3.8 | 0.4 | 4.6 |
| Radish sprouts | 15 | 1.5 | 2.5 | 1 | 1.5 |
| Sunflower sprouts | 23 | 1 | 1.5 | 0.5 | 1 |
Health Benefits of Alfalfa and Sprouts
Vitamin C: This antioxidant plays an essential role in immune system support, and may help lower blood sugar and lipids in people with diabetes.

Fiber: Promotes satiety and healthy gut bacteria; along with preventing blood sugar spikes.
Glucosinolates: These phytochemicals are found almost exclusively in cruciferous vegetables, and they may lower your risk of cancer.
Research on Alfalfa and Sprouts Specific to Type 2 Diabetes
Animal studies show that alfalfa extract may be useful in the prevention and treatment of diabetes, as it seems to decrease blood glucose, total cholesterol, triglycerides and LDL, while increasing HDL ('good') cholesterol. It may even help with reconstruction of damaged liver and pancreatic cells.

Other studies have confirmed that not only can alfalfa consumption decrease blood glucose, it can also reduce overall cholesterol and triglyceride levels. All of these effects could help to prevent diabetic complications.
Consumption of several different kinds of sprouts (mung bean, broccoli, radish, and buckwheat) has been shown to have significant heart rate and/or total triglyceride-lowering effects. The sprouts' actions in the body may lead to a reduced overall risk of heart disease, which is especially significant for diabetics, who are at increased risk of cardiovascular complications.
Broccoli and radish sprouts are rich in powerful phytochemicals such as sulforaphane, which reduces oxidative stress and may prevent cancer development and proliferation. Sulforaphane has also shown blood pressure- and cholesterol-lowering effects.
However, just be aware that the quality and content of sulforaphane compounds is affected by storage temperature: sprouts' optimal storage temperature is 41°F/ 5°C.
Finally, consuming lentil sprouts may also reduce lipid levels in overweight and obese individuals with type 2 diabetes.
Points for Consideration
Sprouts have been associated with foodborne illnesses in the past, including Salmonella and E. coli. Children, elderly people, and pregnant women should consider avoiding sprouts for this reason.
Alfalfa, Sprouts, and Diabetes Conclusion
Sprouts are a fantastic addition to any healthy diabetic diet!
They're low carb vegetables, so of course we recommend them.
But more than that, they have some truly amazing health benefits, as discussed above, and they can be an amazing tool to help regulate your blood sugar – so munch away.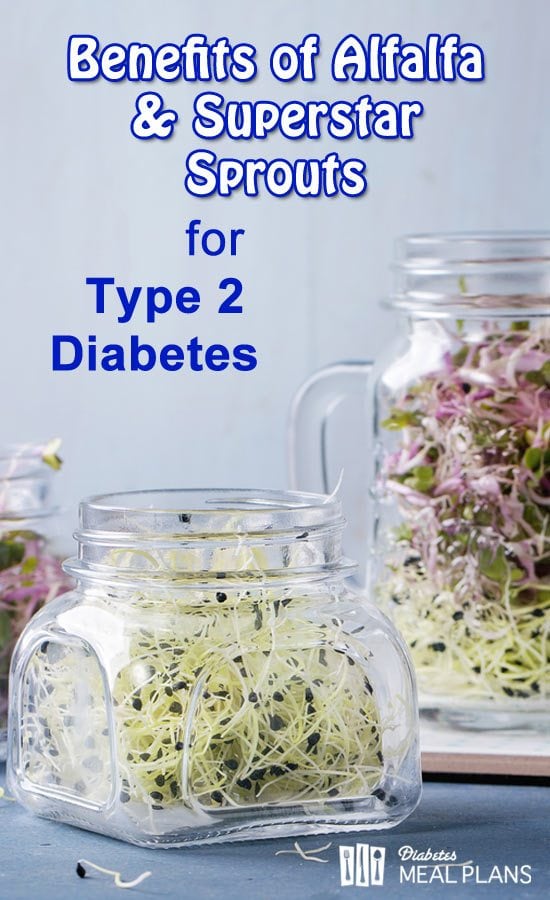 Alfalfa and Sprouts in the Kitchen
Selection
Choose fresh-looking alfalfa and/or sprouts – avoid any that look mushy or wet.
Storage
Alfalfa and sprouts can be refrigerated for 4 to 5 days in a breathable container. Check them often, and remove any that become slimy or discolored.
Uses
Sprouts and alfalfa should be rinsed before eating.
They taste great inside a low carb sandwich or atop literally any salad, stir fry, soup, stew or meat dish. They're incredibly versatile, and add a welcome crunch to any meal!
Cooking
If adding alfalfa or sprouts to a cooked dish, be sure to wait until the last few minutes of cooking to add them, to prevent excessive wilting.
Definitely make alfalfa and other types of sprouts part of your diet because they have a lot to offer. 😉
Please pin, tweet or share this info to help others. Thanks!