Leg cramps with diabetes – have you suffered those? Ouch!!
Muscle cramps can be a huge pain…literally!
While these cramps are common enough in the general population, they are even more prevalent among people with diabetes because of the nerve damage that often comes with chronically high blood sugar levels.
But don't worry! There are many ways to deal with a muscle cramp when it strikes, and even better, you can take steps to prevent muscle cramps from happening in the first place.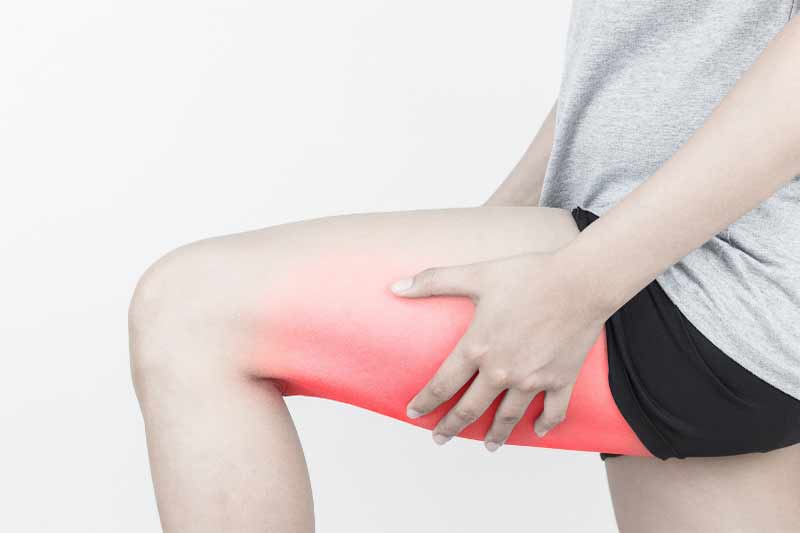 Electrolytes and Muscle Cramps
Muscle cramps are sudden, involuntary muscle contractions that can range from being a little uncomfortable to being extremely painful and disabling.
While muscle cramps can occur anywhere on the body, they most commonly occur in the legs, particularly in the back of the thigh (the hamstring) or in the calves (the lower leg).
These painful cramps are caused by a combination of factors but one of the main culprits is an electrolyte imbalance.
You have probably heard about electrolytes in the context of exercise, since you lose some electrolytes when you sweat). But you may still be wondering, what actually are they?
Electrolytes are a set of substances that have a big hand in regulating almost every system in the body. While there are more than three electrolytes, magnesium, sodium, and potassium are the "big 3" that everyone tends to talk about, especially when it comes to muscle cramps.
Unfortunately, people with type 2 diabetes are more likely to suffer with muscle cramps compared to other demographics.
A 2014 review found that 75.7% of the type 2 diabetics polled had experienced muscle cramps, while 57.7% of type 1 diabetics and 8-12% of the general population had experienced them. They also found that the type 2 diabetics reported more severe disabling cramps than the other groups did.
These statistics may not seem very fair, but there are some physiological reasons that explain why people with type 2 diabetes may experience more pain.
Leg Cramps with Diabetes: What's the Connection?
As we mentioned earlier a major cause of muscle cramping is an imbalance in electrolytes, and surprisingly, your blood sugar levels have an effect on electrolyte levels.
Blood sugar fluctuations cause substances like electrolytes to move in and out of cells through a process called osmosis. When you have high blood sugar levels it upsets the natural flow of water and electrolytes, which can then lead to an imbalance.
Further, when your blood sugar is high your body may excrete some of that excess sugar via the urinary tract, carrying precious electrolytes out with it.
On top of that, a few other factors that put diabetics at risk for muscle cramps include:
Renal (kidney) disease is a complication of diabetes. The kidneys are largely responsible for electrolyte balance in the body.
Medications like insulin, statins, and diuretics can deplete your electrolytes.
Neuropathy (nerve damage from poor circulation) causes nerves to get easily over-excited and increases your risk for muscle cramps.
Magnesium deficiency – research has found that people with type 2 diabetes are more likely to be deficient in magnesium, than the general population.
Potassium/sodium imbalance – diabetics may also experience levels of potassium and sodium that are either too low or too high depending on their individual chemistry.
These imbalances increase your risk for muscle cramps as well as conditions like restless leg syndrome.
What is Restless Leg Syndrome?
Restless leg syndrome (RLS) is a neurological condition in which you feel strange sensations in the legs along with sudden urges to move them. Some have described these unpleasant sensations as "crawling," "itching," or "tingling."
While RLS is technically a disorder of the nervous system, is has symptoms in common with muscle cramps and many people who experience muscle cramps also have restless legs. The symptoms of RLS are also very similar to those of peripheral diabetic neuropathy so the two conditions are difficult to tell apart.
The symptoms of RLS usually occur at night as you are falling asleep. The sudden, involuntary jerks in your lower body can prevent you from falling asleep and even wake you up from deep sleep. Thus, RLS can be a huge barrier to getting a good night's sleep.
A 2014 study involving over 30,000 adult women in various states of health found that 12% of the volunteers reported having RLS, so it is not an uncommon condition. They also found an increased prevalence of RLS among volunteers with vascular risk factors such as smoking, not exercising regularly, having a BMI greater than 30, and having a diabetes diagnosis.
Why Muscle Cramps Matter
Muscle cramps can be a bit painful and restless legs sound annoying but are they really that big of a deal?
Actually, yes, they are!
Not only are cramps and restless legs a nuisance but they can also mess with your sleep, limit your mobility, and keep you from exercising.
Sleep plays a role in regulating your blood sugar levels so missing out on deep sleep because of a leg cramp in the middle of the night is a major issue.
And exercising can be challenging enough without pain, but add in some muscle cramps and your motivation to get moving may fly right out the window.
Staying active can actually prevent leg cramps (as well as lower high blood sugar levels) so it's great to exercise regularly, but it can be hard to get started when you're in pain.
So, let's talk about some practical ways to deal with muscle pain and cramping.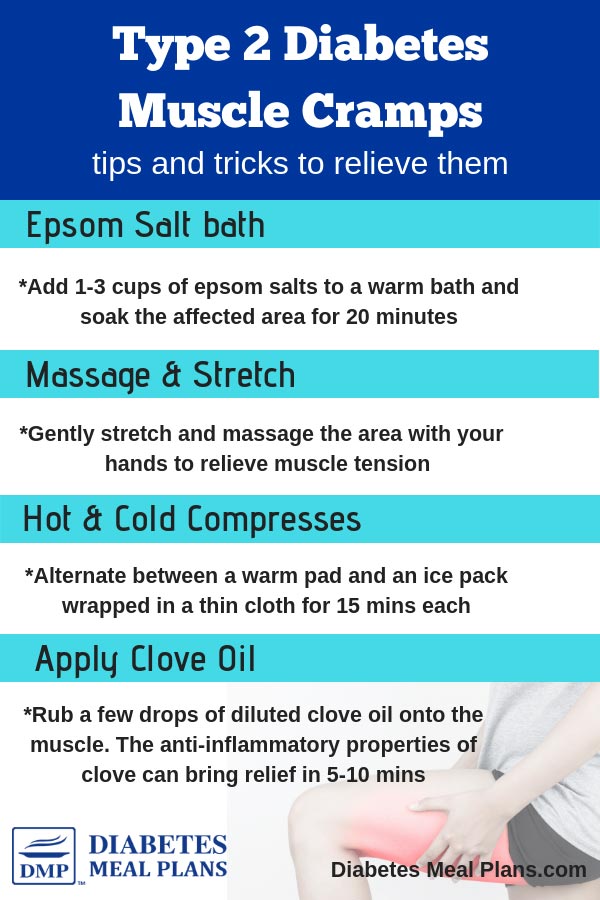 Tips for Easing Muscle Cramps and Restless Leg Syndrome
The best treatment is to prevent the problem from happening in the first place!
In addition to eating a healthy low carb diet, here are some ways to reduce your risk for muscle cramps and RLS:
What to do when a muscle/ leg cramp strikes
If a muscle cramp does strike, here are some simple remedies to help ease the pain:
Take an Epsom salt bath—draw a warm bath and dissolve 1 to 3 cups of Epsom salts in it. The magnesium from the Epsom salts will relax and sooth the affected area. You can soak just the affected body part in the water or submerge your entire body for 20 minutes. An Epsom salt bath right before bed is a great way to relax the mind and body!
Do a self-massage—gently stretch and palpate the area as you feel comfortable. Sometimes a manual massage is enough to release the muscle cramp, but if the cramp is severe try rubbing some topical magnesium (either lotion or gel) into the area for extra relief.
Try hot and cold compresses—switch between an ice pack and a warm pad every 15 minutes to increase blood flow to the muscle and reduce inflammation. And always make sure to wrap the cold or hot compress in a thin towel to avoid burning your skin.
Use clove oil—try rubbing some diluted clove oil onto the affected area. Coupled with massage, the anti-inflammatory and aneasthetic properties of clove can help to bring relief in 5 to 10 minutes.
As you can see, rather than dealing with the pain, there are effective methods to help you treat and prevent leg cramps with diabetes!