Turmeric has an active component known as curcumin, a powerful antioxidant that helps with loads of things, including diabetes.
And these wonderful benefits are exactly what we are going to explore together now.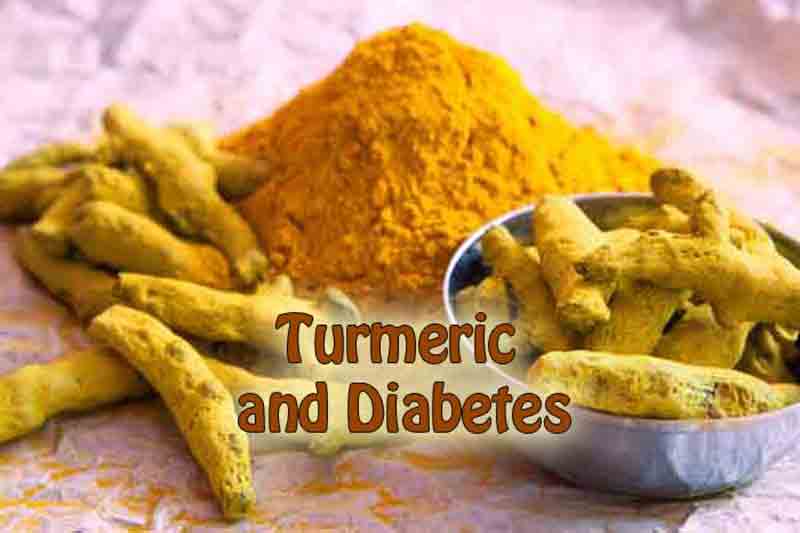 DISCLAIMER
Please note that this information is not an endorsement for turmeric. We are simply sharing the research surrounding it. You should always discuss supplementation with your doctor.
What Is Turmeric?
Turmeric a spice and a very interesting one at that!
It's an Indian spice, also known as curcumin and curcuma or curcuma longa, that has been used for centuries in Ayurvedic medicine, so that's already saying something right?
If you've never heard of Ayurvedic medicine, it's the ancient medical practice used in India for more than 3000 years. I think traditional/ alternative medicine used in places like India and China have a long and valid history and many of their practices are based on using herbs, spices, special diets, and natural therapies, which is really interesting. Well, at least, I find it interesting. 🙂
In any case, turmeric is one of those spices that has a very long history of use.
It's also found a very solid footing in modern medicine as well, being studied in more than 100 clinical trials, which means we have A LOT of evidence to support it's potential benefits.
What's In Turmeric That Makes It So Powerful?
Turmeric contains over 300 different components but one of the most beneficial components is called curcumin, it's a certain type of polyphenol.
It's this component that has been under the microscope in most of the scientific studies. And it's the curcumin that's associated with having various antioxidant, anti-inflammatory, anticancer, antiviral, and antibacterial activities. Curcumin is also a very powerful antioxidant and affects key signalling molecules in the body.
Turmerics Most Powerful Benefit
The most powerful benefit of turmeric is it's ability to reduce inflammation, and according to research, it has some pretty exceptional anti-inflammatory properties.

Researchers have rated turmeric second on what's known as the inflammatory index scale, establishing it as a potent anti-inflammatory agent. And according to the Cancer Research Foundation, it helps with ALL kinds of inflammation, even cancer, one of the toughest conditions to beat.
Since diabetes and inflammation are closely linked, anything that can help reduce it is of great benefit!
Personally, I've looked at multiple studies on turmeric and it has been reported to help with:
Improving pancreatic function
Aiding liver function or issues
Heart conditions
Preventing oxidation
Aiding respiratory issues
Reducing pain symptoms
And decreasing the rate of degenerative conditions and improving the symptoms associated with them
As you can see, many of these benefits can help with type 2 diabetes.
Turmeric May Reduce Pro-Inflammatory Molecules
Even though we imagine fat cells just sitting there doing nothing (but look unsightly), they are actually very metabolically active cells and produce lots of pro-inflammatory molecules that contribute to ill health. That's one reason losing weight can help improve your health on so many levels, because weight loss reduces inflammation in all your body's cells.
And thankfully, that's where turmeric can help.
When 117 participants with metabolic syndrome were divided into two groups, one receiving a placebo and the other receiving curcumin (1g/day) for 8 weeks, those taking the curcumin (turmeric) saw significant decreases in blood levels of several inflammatory markers (TNF-α, IL-6, TGF-β and MCP-1).
And one particularly fascinating benefit of turmeric, is that it directly reduces the inflammatory response in fat tissue and helps promote fatty acid oxidation. It also assists with targeting key immune signalling cells called macrophages, which stops the inflammatory cascade from getting worse.
Turmeric May Help Regulate A1c & Blood Glucose
A 2016 clinical trial featuring 70 type 2 diabetic patients, split the participants into two groups, receiving either a daily placebo or an 80 mg/day dose of curcumin for 3 months. The results showed that the curcumin group had an average fasting blood glucose reduction of 15.3 mg/dl (0.9 mmol/l) and an A1c reduction of 0.28%. The placebo group saw no such effects and in fact, saw a rise in fasting levels and A1c over the 3 month period.
A review from 2014 concluded that curcumin may lower blood sugar levels by reducing hepatic (liver) glucose production, suppressing inflammation, stimulating insulin secretion from pancreatic beta cells, assisting with improved pancreatic cell function, and by acting as an insulin sensitizer.
Another 2017 study in patients with non-alcoholic fatty liver disease (NAFLD), a condition related to diabetes, saw them consume either placebo or turmeric supplementation, 1000mg, 3 times daily for 12 weeks. The turmeric group saw an average 1.22% reduction in blood sugar levels, a 17.69% in insulin production, and a 19.48% reduction in insulin resistance.
Overall these studies indicate that turmeric assists with regulating blood glucose in several ways – lowering inflammation, sensitizing the body's cells to insulin (improving insulin sensitivity), improving the use of insulin throughout the body, and possibly improving pancreatic function, all of which subsequently helps glucose clear from the blood stream more efficiently.
Turmeric May Lower Cholesterol
In a recent review of 7 human clinical trials, researchers concluded that turmeric significantly reduces LDL cholesterol and triglycerides in patients with known heart disease risk factors.
This is good news for you since diabetes can increase cholesterol and puts you at higher risk for heart disease!
Collectively, clinical research suggests that taking 1 to 4 grams a day may help improve cholesterol levels.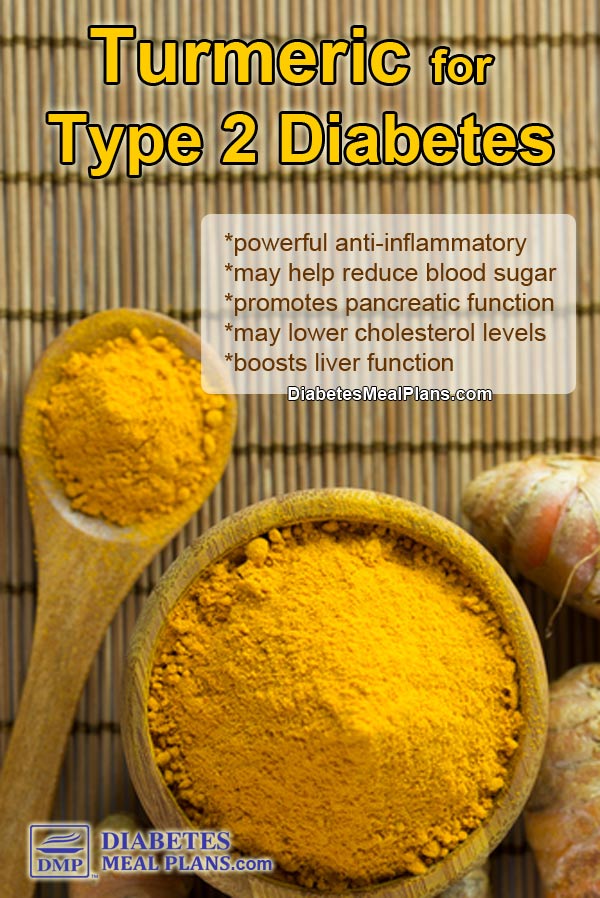 Turmeric Helps Reduce Oxidative Stress
Another area turmeric shines is in it's capacity to help reduce oxidative stress. Oxidative stress is the damage that can occur in the body at a cellular level due to the presence of too many free radicals.
So on the flip side of that, increasing your antioxidant status helps decrease oxidative stress. And that's where turmeric offers a lending hand.
In one study where rats were given turmeric supplements, their total oxidative stress levels reduced by 45%. And even where they were fed high sugar diets, the turmeric still helped reduce total oxidative stress levels by 25%.
One recent clinical trial tested the antioxidant effects of curcumin on 118 patients with type 2 diabetes. They gave the participants 1000 mg/day for 8 weeks. And not surprisingly, the group taking the curcumin had a significant elevation in their overall total antioxidant capacity and a reduction in their oxidative stress levels.
Tips On Choosing The Right Form of Turmeric
Although you can use turmeric as a spice to make deliciously smoky-flavored meals, to experience it's full potential, turmeric is best taken in supplement form because it is not fully bioavailable to the body when we consume it from the spice itself.
Bioavailability refers to the rate of absorption of a food, whereas when turmeric is taken in supplement form it is more readily absorbed. That's because curcumin supplements improve the bioavailability by encapsulating the curcumin in liposomes.
Liposomes are bilayer (double-layer), liquid-filled bubbles made from phospholipids. Many studies have shown that taking curcumin/ turmeric in supplemental form has a faster and more effective absorption rate, and therefore, a greater chance of producing all the wonderful benefits we just outlined above.
When looking for supplements look on the label to see if the turmeric is wrapped in phosopolipids. Or where the supplement says it contains a high level of curcuminoid. For example, the label might say 95% curcuminoids (most do these days). This means the turmeric has been modified to make the curcumin more soluble and more bioavailable to the body.
Another tip is to look for turmeric supplements that contain black pepper extracts or perperine, because this also helps facilitate better absorption.
Recommended Dosage

As for how much turmeric to take, the general recommendation is 500-1000 mg twice a day or as recommended on the product label, because they will all be slightly different.
In some cases, as we saw in the above studies, higher dosages can be beneficial. Always work with your doctor or healthcare team to discuss supplementation.
Precautions to Take with Turmeric
People with gallstones or gall bladder issues should not take turmeric, nor should pregnant women.
If you are taking medications of any kind, it is always advised that you check with your doctor or healthcare team for any contraindications before proceeding with supplementation.
Are There Any Side Effects To Turmeric?
There are currently no reported side effects of taking a turmeric supplement. So therefore, it is generally considered safe.
Human clinical trials have shown that it is safe to take up to 8 g/day, which is about 8000 mg. Most supplements only contain around 500-800 mg, so at the recommended dosage they will generally be safe to take.
However, before taking any kind of supplements, you should always seek medical advice and discuss supplementation with your doctor.
Using Turmeric Every Day
Turmeric can be bought as a dry spice, or as a turmeric root in the fresh food section, and both can be used for cooking and drinking, too. The bioavailability isn't as good as supplements, but it does still provide cumulative benefits.
Add the turmeric powder to curry mixtures, soups, casseroles, cakes, scones, stir fry's, and much more. Turmeric doesn't have a really over powering flavor so you can just add a bit to loads of things – even your breakfast cereal!
And try the following easy turmeric tea recipe that I've found to work very well.
One of the clients I was working with in the past, instantly noticed that her lower leg inflammation and swelling decreased when she started drinking this tea.
Turmeric Tea Recipe
Put 1/4 teaspoon of turmeric powder in a cup of green tea and drink a few cups a day – that's it!
Both the turmeric and the green tea are anti-inflammatory, so, make a great combo.
If you don't drink green tea or caffeine, try blending it in chamomile or even a lemon tea and it will be great, too.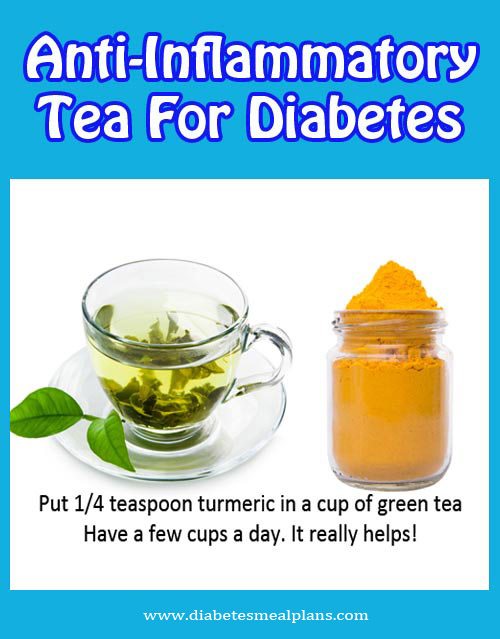 You can even purchase various types of turmeric tea from stores such as Amazon!
Please pin, share or tweet this info to help others. Thanks!