Table of Contents

[Hide]

[Show]
It's that one thing no one likes to talk about when it comes to type 2 diabetes–complications.
Most of us know of people who have had poorly controlled diabetes resulting in terrible outcomes–amputations, vision loss, kidney failure, or even death. Diabetes is the 8th leading cause of death worldwide.
Remember that diabetes is a condition that affects the blood vessels and blood vessels feed every organ of the body. Therefore the potential for diabetic damage is wholly systemic, meaning it affects every part of the body.
What is Neuropathy?
Diabetic neuropathy is damage to the nerve vessels resulting from chronically (meaning long-term–not a few high readings now and then) high blood sugar.
While this nerve damage can occur anywhere in the body, hands and feet are most commonly affected first causing discomfort in the fingers and toes. As the nerves are often damaged first, some people with nerve damage don't have any symptoms initially due to a loss of feeling.
This is one of the reasons it is especially important to visit your doctor minimally 4 times/year to do a monofilament test to check your nerve status. Neuropathy can also affect less "felt" nerves of the digestive system, urinary tract, blood vessels and heart.
Neuropathy is not something to take lightly. It is estimated that 60-70% of people with diabetes have mild to severe forms of nervous system damage. We also know that the vast majority of non-traumatic lower limb amputations are a result of diabetes. Like I said, neuropathy is not something to take lightly!
However, it is not something to fear if blood glucose is in good control and you are making smart lifestyle decisions!
Being informed about complications helps provide the knowledge and motivation to avoid them – by taking good care of your health!
Here's the rundown on the different types of neuropathy.
Types of Neuropathy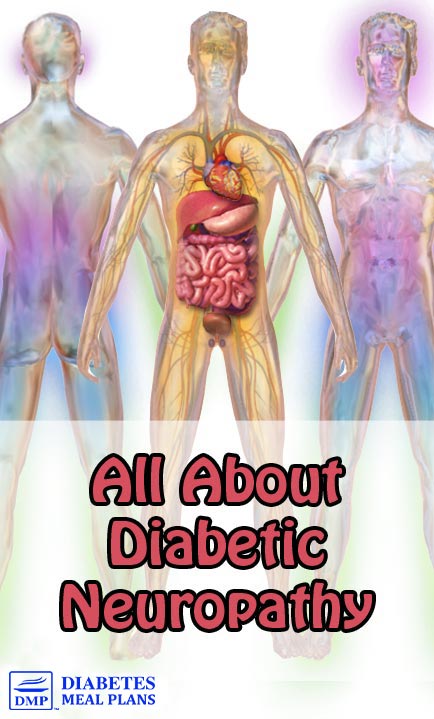 There are 4 types of neuropathy:
Peripheral
This is the most common form initially affecting the hands and feet, then later the arms and legs – numbness, tingling, burning, inability to feel heat/cold, sensitivity, muscle weakness, diminished coordination, and foot problems including ulcers. This is usually the first form of neuropathy people experience.
Autonomic
This type of neuropathy affects internal organs. Did you know you have nerve cells in your heart, bladder, intestines, lungs, stomach, eyes, and genitals?
Symptoms of this type include: constipation, slowed gastric emptying (known as 'gastroparesis'), difficulty swallowing, erectile dysfunction, vaginal dryness, rapid changes in blood pressure with decreased ability to detect, increased heart rate while sitting, always feeling too hot or cold, or loss of vision.
These types of problems are usually the result of many years of very poor sugar control and not likely to occur in the first couple of years of diagnosis.
Amyotrophy
Also called 'femoral' or proximal' neuropathy, this affects the thighs, hips, buttocks, or legs. Pain and weakness in any of these areas may result and over time, muscles in these regions begin to weaken and waste away. Again, this is more severe and doesn't occur apart from long term very poor blood sugar control.
Mononeuropathy
This last type is sometimes referred to as "focal" neuropathy and involves one single nerve–usually in the face, torso, or leg. Sharp pain may seem to come about suddenly, and then dissipate over time. It is often the result of a compressed nerve and doesn't usually cause long term damage (the pain subsides as the nerve is freed over time).
Preventing Neuropathy
The great news is that neuropathy can often be slowed down or even fully prevented through tight blood sugar control (80-120 mg/dL or 4.4-6.7 mmol/l if feasible)!
Keep in mind that all of the effects listed are a result of damage to cells stemming from excess glucose in the blood.
Daily monitoring, smart dietary choices (limiting carbs—especially sugar and refined flour forms), and regular exercise are key.
And take very good care of your feet!
Make sure to wear well fitted supported shoes (not tight fitting, especially in the toes–ladies, pointed shoes and heels are not supportive!) and white socks. Why white socks? Remember if you have nerve damage, you may not be able to detect cuts or sores. If there is any bleeding, it will show on white socks.
Be sure to trim and file your toenails so that there are no sharp edges and take a good look at your feet every day, use a long handled mirror or a spouse if you can't see the bottoms well! Look for cracked skin, bruises, cuts, sores, blisters, callouses or anything else abnormal. In addition, be sure to ask your doctor to check your feet at every office visit. Check out our foot treatment guide over here.
If overweight, weight loss will help decrease your risk of developing neuropathy.
Finally, be aware that other risk factors that damage blood vessels such as smoking and alcohol will increase your risk as well–so if you needed one more reason to quit, there you go!
Treating Neuropathy
If you start to have any signs or symptoms of neuropathy, schedule a doctor's appointment immediately.
Pretending like it's not an issue won't make it go away and the longer you wait, the worse it may get and the more irreversible the damage.
There are several tests your doctor can do to assess whether you have neuropathy and what stage it might be in. Most of them are very simple.
There are many different kinds of medication that can help with the pain and it's certainly better to have some mild intervention now, than an amputation down the road!
I know that this stuff is not nice to think about. But it is important that you are aware of how serious the complications can be, and therefore do everything you can to prevent them!
Please share, pin, or tweet this post. 🙂