Alpha lipoic acid (ALA) is a powerful antioxidant organic compound that has some key benefits for managing type 2 diabetes mellitus and prediabetes.
In general it's a key player in a chemical process called aerobic metabolism, in which our body turns nutrients into energy. This process occurs in the cell's mitochondria, which is the little "power generator" for almost every cell in the body.
And it mainly exerts it's influence via it's antioxidant power, with the ability to regenerate other antioxidants in the body, such as glutathione, vitamin E, vitamin C, and coenzyme Q.
This in itself is great news because it's thought that many of the complications associated with type 2 diabetes are driven by higher levels of oxidation/ free radicals in the body. Therefore, ALA's antioxidant capacity may downplay many of these effects.
ALA is also known as lipoic acid or thioctic acid, and according to research, it does have a number of beneficial effects.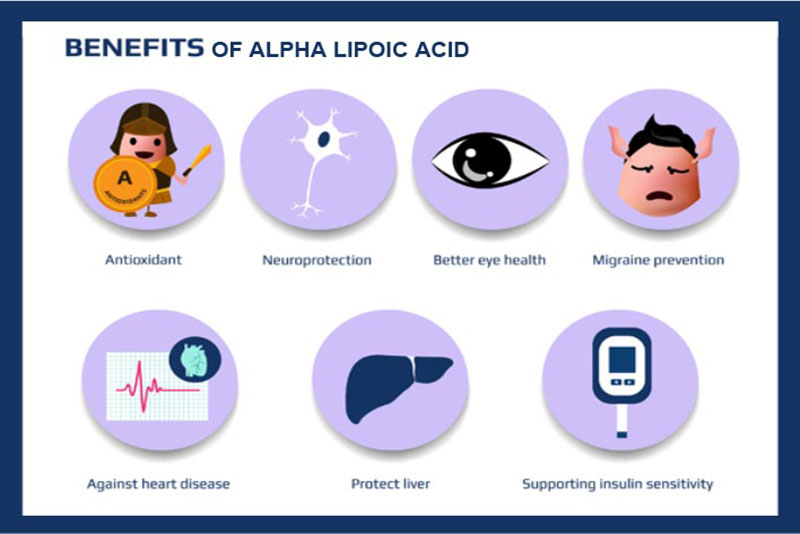 DISCLAIMER
Please note that this information is not an endorsement for alpha lipoic acid. We are simply sharing the research surrounding it. You should always discuss using dietary supplements with your doctor.
How Does Alpha Lipoic Acid Work?
ALA works to improve health by destroying free radicals and reducing inflammation, thereby slowing down cellular damage all over the body.
A certain level of free radical damage and oxidation occurs naturally just from living, moving, and eating. However, if the body accumulates too many free radicals due to factors like physical or emotional stress, environmental toxins, and the overuse of pharmaceuticals, you may start to develop symptoms and diseases.
Over time, the oxidation caused by free radicals can begin to cause deterioration in your health and appearance. For instance, you may start to see more rapid aging and wrinkly skin. And you may start to feel more tired and run down than usual.
Additionally, high blood glucose levels and insulin resistance can provoke a higher production of free radicals/ oxidative damage in the body, which can deteriorate your health more rapidly also.
Therefore, by loading up your body full of cleansing antioxidants (like ALA) you can hopefully reduce the complications of diabetes and even manage your blood sugar better.
So let's see what the research has to say about ALA…
Glycemic Control & Cholesterol Levels
The insulin resistance that often accompanies type 2 diabetes can make it difficult for the body to regulate blood sugar levels after a meal. Therefore, improving insulin sensitivity and glycemic control is a top goal for you as a diabetic.
And fortunately, ALA is proving to be a valid supplement to assist in these areas…
One cellular study found that exposing human liver cells to ALA for 24 hours increased the cell's sensitivity to insulin and improved their ability to withstand damage from oxidation. The researchers suggested that ALA enhances the cell's mitochondrial function, which allows the cell to make energy more efficiently, and it supports the cell's ability to receive insulin.
When animals with metabolic syndrome were given ALA supplementation (along with a L-Carnitine) to see how these supplements influenced insulin sensitivity and anti-inflammatory markers. Researchers noticed a significant influence upon two important parameters being tested – cholesterol and adiponectin.
Taking the ALA/ L-Carnitine prevented an increase in total and LDL cholesterol. And it helped balance adiponectin levels, which are associated with inflammation, insulin resistance and type 2 diabetes.
Another study found that ALA supplementation of 100 mg of ALA per day for four weeks, lowered glucose levels and blood lipid levels in animals with metabolic syndrome. The animals showed significant reductions in their total cholesterol, fasting blood glucose, and triglyceride (lipid) levels.
So it seems, ALA provides the potential to tackle high blood sugar (hyperglycemia) as well as high cholesterol and triglyceride levels.
Body Weight
Obesity is a condition that often occurs alongside type 2 diabetes. Some researchers believe that the extra weight is a result of a blood sugar imbalance, while others think that obesity may be the cause of the high blood sugar in the first place.
Either way, shedding excess pounds can only improve your health, which is the case for all of us, diabetic or not. And research shows that ALA may be a helpful tool for losing weight as well.
One review examined the findings of 12 different studies that tested the slimming effects of ALA on participants of varying weights. Overall, they found that daily oral treatment of ALA supplementation resulted in a significant weight loss of 1.5 pounds (0.69 kg), and a reduction in body mas index (BMI) of 0.38 kg/m2.
Another review spanning 10 studies showed that ALA leads to weight loss without making any changes to the participant's diet or lifestyle habits. The researchers reported that the participants who took ALA supplements had an average weight loss of 2.8 pounds (1.27 kg) compared to the placebo group.
How does ALA contribute to weight loss?
Researchers suggest that the antioxidant activities of ALA result in better energy metabolism, lower blood lipid levels, and healthier blood sugar levels. All of which help your metabolism function at its highest capacity, leading your body to store less fat in adipose tissue and let go of those extra pounds!
Please pin, tweet or share; then keep reading!

Liver Function
One study claims that ALA has a "defensive role" against oxidative damage and that its antioxidant properties can repair liver damage and improve liver function in rats (and ultimately, humans). The researchers used nicotine to induce liver damage in the animals and then administered ALA.
Not surprisingly, the results of the ALA supplementation were positive; they saw an increase in the body's detoxifying antioxidant glutathione, a decrease in blood lipid levels, and they saw liver enzymes drop back down into normal range.
The importance of liver health is often overlooked but it is essential for blood sugar regulation, cholesterol regulation, detoxifying the body and overal energy metabolism.
Neuropathy
Neuropathy is a complication of type 2 diabetes that can make it difficult to maintain an active lifestyle. Namely because it effects nerves and produces symptoms such as numbness, tingling, burning, inability to feel heat/cold, sensitivity, muscle weakness, diminished coordination, and foot problems including ulcers – let's just say it's not a pleasant outcome.
And interestingly, when it comes to diabetic neuropathy (peripheral neuropathy and polyneuropathy), this is where ALA really exerts it's tremendous benefits.
A study on ALA and neuropathy involving 20 middle aged type 2 diabetics found that the participants reported a significant decrease in neuropathy symptoms and discomfort after supplementing ALA.
Another study featuring over 500 diabetic participants found that participants reported less pain, burning, and itching in their feet and other extremities. Although overall the results were not significant compared to other groups, a reduction in symptoms is still a positive outcome.
In a review of 15 clinical trials, 300 to 600 mg of alpha lipoic acid administered intravenously or orally was found to be a safe and effective treatment for diabetic neuropathy — improving nerve conduction, reducing overall symptoms, and improving sensation.
Researchers suggest ALA helps neuropathy in 3 ways:
It directly scavenges free radicals that promote the progression of complications and increase inflammation.
ALA regenerates other antioxidants in your body – glutathione, vitamin E, vitamin C, and coenzyme Q.
ALA has a chelating effect over metals such as copper and iron, which somehow impacts the symptoms of neuropathy.
The greatest effectiveness has been shown for intravenous administration of alpha-lipoic acid. However, studies do indicate that oral dosages are also beneficial. For treatment of diabetic neuropathy, research suggests a dosage of 600 mg (taken as one dose), or up to 800 mg (in divided doses) appears to be the suggested dose for effectiveness.
Where can you find sources of ALA?
There are some plant sources of ALA including veggies like:
Spinach
Carrots
Peas
Beets
There are also small amounts of ALA found in organ meat like beef liver.
These foods are healthy choices to incorporate into your diet, but unfortunately, most natural sources do not contain enough ALA to produce noticeable improvements. Because of this, it is best to supplement ALA in addition to these foods, to reap the benefits and rewards.
How much ALA should you take?
The research suggests that you can safely supplement 600-800 mg via oral administration of ALA on a daily basis, for at least 3 weeks. This is tolerated best when broken up into several doses throughout the day.
High doses of ALA (up to 1,800 mg) have been shown to significantly reduce diabetic neuropathy, but doses this high should always be recommended and monitored by a physician. ALA is being used intravenously by some physicians and researchers (particularly in Germany) at these higher doses with success.

Precautions to take with ALA:
It can lower blood sugar levels so if you have a history of hypoglycemia, be wary.
If you're taking medications for diabetes, alpha lipoic acid may put you at risk of hypoglycemia.
You should not take alpha lipoic acid if you take Levothyroxine, a thyroid medication.
Higher dosages above 800 mg are known to cause nausea and digestive upset in around 48% of people, which is why it's suggested to take in divided doses.
If you do decide to consider alpha lipoic acid for treatment of diabetic neuropathy, it is best to consult with your physician or healthcare team first, as is the case with all additions to your supplement, diet or lifestyle routine.
Overall though, ALA is generally considered safe, easy to access, and most importantly… according to the research, it's effective for improving the health and well-being of people with type 2 diabetes and prediabetes!
Please pin, tweet or share this info to help others. Thanks!