Whether we're talking red meat and diabetes, or just red meat and general health, you'd have to agree that red meat gets a bad rap?
It's blamed for it's high fat content, particularly it's saturated fat content.
But here's a couple of surprising random facts:
All foods that contain fat contain all three fats – saturated, monounsaturated and polyunsaturated – there are no exceptions.
Olive oil is considered one of the healthiest heart-healthy fats and it contains at least 3 times as much saturated fat as red meat (sometimes more depending on the olive oil).
There are many pervading nutrition myths that we've all come to believe are true. But the fact about red meat is it's a nutrient dense food that can fit perfectly into your diabetic diet.
Let's explore red meat and diabetes in more detail.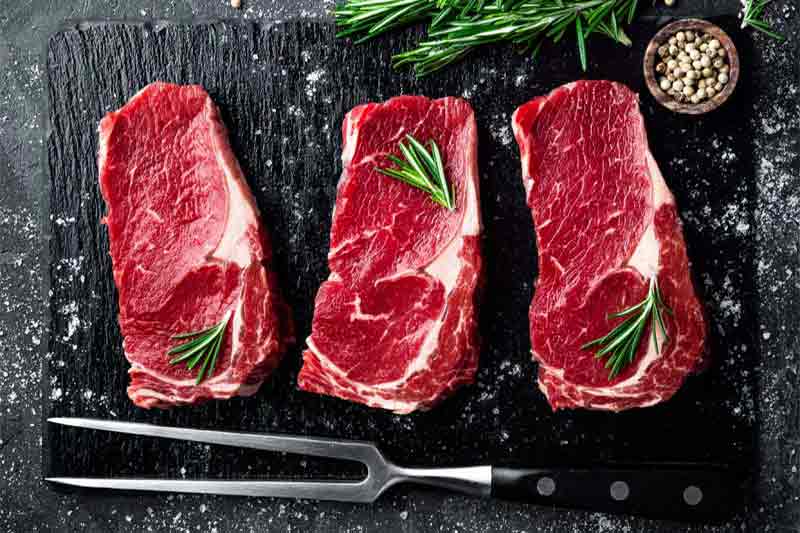 What is Red Meat?
The term "red meat" applies specifically to meats that are red when raw but turn a darker color when cooked. Non-red meats like chicken, for example, are light pink when raw and turn whiter when fully cooked.
The most popular red meats are beef, pork, and lamb.
Fish and fowl are considered white meats. And while chicken and turkey contain both "white" and "dark" cuts of meat, neither of these are considered red meat.
Red Meat Nutrition Facts
Put simply, red meat isn't any less healthy than any other kind of meat.
Like other meats, red meat is high in both protein and fat and is virtually carb-free.
This amazing combination of fat and protein sets you up for hours of blood sugar stability, plus, both protein and fat are key components to keeping you full after a meal.
In addition, filling your plate with a good helping of clean protein and healthy fats (in addition to veggies, of course) is more likely to give you stable energy and sharp focus.
But you may be thinking, hang on… isn't red meat full of fat, particularly saturated fat?
Well yes. But this isn't necessarily a bad thing.
Despite what some misguided sources might say, you really do need fat in order to function!
Dietary fat is necessary for the creation of hormones and the maintenance of body cells. You also need it to sustain energy throughout the day.
So you may be wondering, just how much fat does red meat contain?
Let's take a look at how three different red meats compare to a white meat in terms of nutrition: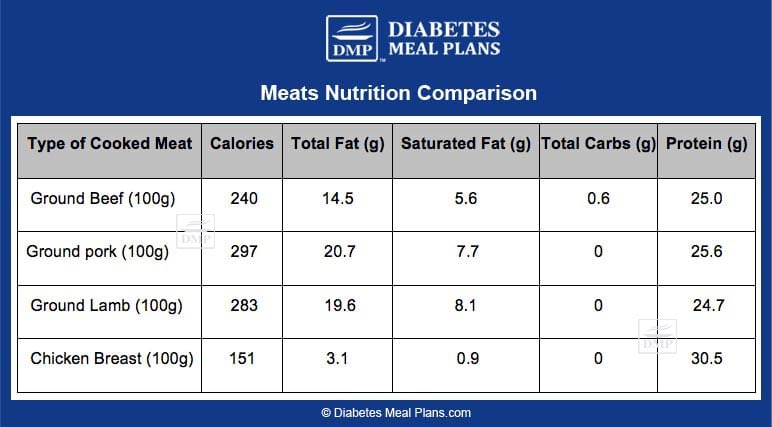 When you compare 100g (about 3.5 ounces) of beef, pork, lamb, and chicken, it's easy to see that the white meat chicken has the least amount of total fat and saturated fat. This is why protein sources like chicken and fish are often referred to as "lean" meats.
It's great to stock up on lean protein choices like fish, turkey, and chicken, but that doesn't mean that you need to cut red meat out altogether. The "dangers" of saturated fat intake have been greatly exaggerated – we'll talk more about this later.
Plus, red meats have some nutritional advantages besides their hearty fat and protein content.
Red meats also provide micronutrients that aren't readily available in many other foods, such as:
Red meat is a nutrient dense food!
What About "Grass Fed" Beef?
When it comes to beef, specifically, there is lots of debate over whether or not "grass fed beef" is healthier than conventionally raised beef.
Cows raised conventionally usually live in feed lots or factory farms where they are typically fed soy, corn, and grains to fatten them up.
On the other hand, grass fed cows typically have access to an open pasture where they rely mostly on grass for food.
Grass fed beef is thought to be higher quality, healthier meat because cows that have access to pastures are less likely to receive hormones and antibiotic injections than cows in traditional factory farms.
In addition, grass fed beef may contain more anti-inflammatory substances like omega-3 fatty acids and conjugated linoleic acid than conventional beef.
So, while grass fed beef may cost a few more dollars and it may be a little trickier to find in stores, it may be worth the investment to go grass-fed the next time you purchase red meat.
Just be aware that all different kinds of beef may come with labels that claim the meat is "organic" or that the cows were raised "free-range," but claims like these don't mean much, legally. Companies can find legal loopholes and they may advertise things that aren't necessarily true.
Because of this, look for labels that say "100% grass fed" and are certified by reliable organizations like the USDA or the AWA.
Please pin, tweet or share; then keep on reading.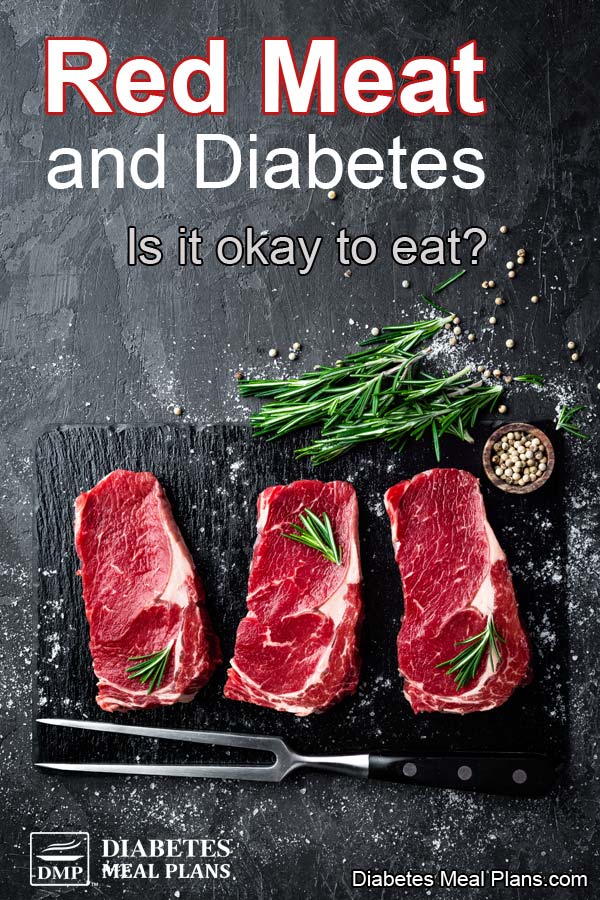 Research on Red Meat, Saturated Fat, and Diabetes
Now it's time to tackle the big myth surrounding saturated fat.
For decades, we've been taught that eating red meat and other foods high in saturated fat would greatly increase our risk for chronic diseases like cardiovascular disease.
But is this really true?
According to recent research, that old way of thinking may not be fact as much as it is fiction…
To start things off, a 2010 meta-analysis of over 300,000 subjects found no statistically significant connection between saturated fat intake and stroke, coronary heart disease, or cardiovascular disease (including hypertension and heart attack).
Similarly, a 2015 review found that saturated fats were not associated with cardiovascular disease, coronary heart disease, all-cause mortality, ischemic stroke, or type 2 diabetes. The intake of trans fats, however, were associated with all-cause mortality and cardiovascular disease.
A 2010 review presented mixed results on whether or not saturated fats had a negative effect on metabolic and cardiovascular health.
Amongst the mixed results they did find that replacing saturated fats with unsaturated fats (like omega-3s) could have a positive effect but replacing saturated fats with carbohydrates had no positive effect.
Another review (2010) tied the consumption of processed meats, but not unprocessed red meat, to higher rates of diabetes and coronary heart disease. They found that processed meat intake was associated with a 42% increased risk for coronary heart disease, while there was no such connection between red meat and heart disease.
Saturated and unsaturated fats are fine to consume but trans fats are the kind you want to stay away from.
The health risks of consuming trans fats aren't exactly breaking news to anyone, but research continues to show just how bad they really are, especially for diabetics.
Not only do trans fats from partially hydrogenated oils increase inflammation markers (such as interlukin-6, C-reactive protein, and TNF-Alpha), they also reduce insulin sensitivity and significantly increases your risk for cardiovascular disease and heart attack.
That means you'll want to skip out on that factory-made bacon and those greasy fast-food burgers.
Conclusion: Enjoy Red Meat in Moderation
Processed meats and trans fats often go together…and you should avoid them both!
Unprocessed red meat and saturated fats, on the other hand, are not the villains they've been made out to be.
There is plenty of evidence showing that red meats do not have a negative impact on your overall health, and red meats even provide benefits in terms of nutrition – vitamins, minerals, high-quality protein, and brain-fueling, appetite satisfying fats.
Red meats like pork, lamb, and beef make fine additions to a low-carb diet, just be sure to enjoy them in moderation alongside leaner choices like chicken and fish.