Derived from the fatty tissues of certain oily fish, fish oil contains the essential omega-3 fatty acids – eicosapentanoic acid (EPA) and docosahexanoic acid (DHA).
These fatty acids are well known to be essential to human health, and they have some particularly great benefits for those with type 2 diabetes and prediabetes.
Research surrounding fish oil is extremely promising – from protective effects against coronary heart disease, Alzheimer's and cancer, to aiding in diabetes management.
Among the many benefits of omega-3s, the one that stands out the most is their ability to help fight inflammation in the body. Being that diabetes is partly an inflammatory condition, you will soon find out how it helps improve various outcomes for you.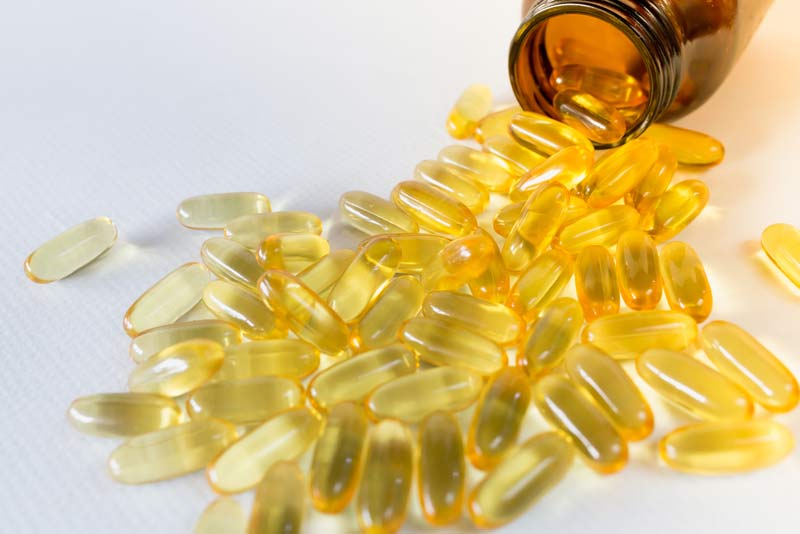 DISCLAIMER
Please note that this information is not an endorsement for fish oil. We are simply sharing the research surrounding it. You should always discuss supplementation with your doctor.
How fish oil works
As already mentioned, fish oil provides a mighty dose of omega-3 fatty acids. And one of the main functions of omega-3 fatty acids is their ability to reduce inflammation.
Inflammation is a complex process that occurs on a cellular level in your body. As a result of different stimulus, inflammatory cells are triggered in a long series of chemical reactions. These reactions involve critical immune cells that either increase or decrease the inflammation that is occuring in our bodies.
In fact, inflammation is controlled in our bodies through a balance in pro-inflammatory and anti-inflammatory molecules. And this is where omega-3 fish oil lends a helping hand.
Omega-3 fatty acids work by up-regulating (increasing) the expression (release) of the anti-inflammatory molecules. As a result this reduces inflammation in your body, which has a wide range of health benefits.
Fish oil may reduce risk of cardiovascular disease
As a diabetic, you are at higher risk of heart disease. This is due to the impact of high blood glucose on the arteries, vessels and organs – which is why it's so important to maintain good control.
Thankfully, fish oil may provide a number of benefits for reducing your risk.
In a placebo-controlled study, type 2 diabetic patients with elevated blood triglycerides were advised to consume fish oil supplements (2 g twice a day). At the end of the study, the results showed a decrease in triglycerides by 20-30%.
In another double-blind study with type 2 diabetic patients, fish oil supplementation has been shown to improve the elasticity of artery walls. This improvement within the blood vessels was directly linked with improved blood pressure. And the good news here is, healthier blood vessels prevent cholesterol/ plaque build up and artery blockages. On top of this, lower blood pressure reduces damage to the vessels as well.
At the same time, another randomized trial in 12,536 type 2 diabetics at high risk of cardiovascular disease showed no effect for risk reduction. And yet other studies have shown a potential coronary artery disease risk reduction of 10% in patients at high risk.
Though some of the results are mixed, overall, they indicate that fish oil supplementation has no harm and could aid in reducing risk of heart disease.
Fish oil may help maintain renal function
Over 40% of people with type 2 diabetes develop diabetic nephropathy (kidney disease or damage), which is one of the leading causes of end-stage renal disease.
In general, it's unfortunate to say that kidney dysfunction is a common health issue among type 2 diabetics, which requires constant monitoring – no doubt your doctor keeps a close eye on this.
One study investigating the effects of omega-3 fatty acid supplementation (4g/day), in 344 patients with diabetic nephropathy, showed a greater maintenance of renal function compared to those taking lower doses.
Fish oil may reduce insulin resistance
Where there is type 2 diabetes, there is insulin resistance – the two go hand-in-hand.
This results in higher insulin levels because there is a metabolic defect in the way your body utilizes insulin. Insulin is like a key that unlocks your cells.
But with insulin resistance, insulin receptors on cells are less responsive to insulin (the key), so the cells can't be unlocked, which means less glucose is absorbed from the bloodstream into cells, which is where it's meant to go.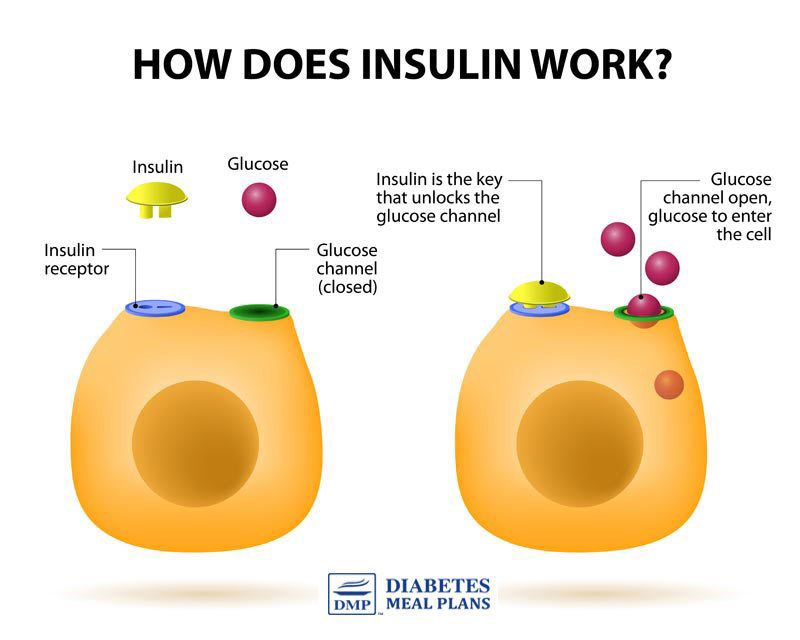 And it seems fish oil can help you in this arena as well.
One randomized controlled study gave 44 type 2 diabetic patients 4g/day of omega 3 supplementation over the course of 10 weeks. At the conclusion of the study, the researchers found that the supplemented group had significantly improved insulin sensitivity.
Another review of clinical trials also concluded that supplementation with omega-3s results in prevention and reversal of insulin resistance.
Other research
In diabetic mice, omega-3 has been shown to reduce inflammation, improve neurological function by treating nerve lesion impairments, prevents fatty liver disease, and improves vascular function.
Other human studies have shown omega-3 supplementation helps with non-alcoholic fatty liver disease, improves telomerase activity (aiding the body to more readily sense nutrients), lowers risk of diabetic neuropathy, and more.
Omega 3's are also beneficial for arthritis, asthma, irritable bowel conditions, depression, Alzheimer's and dementia.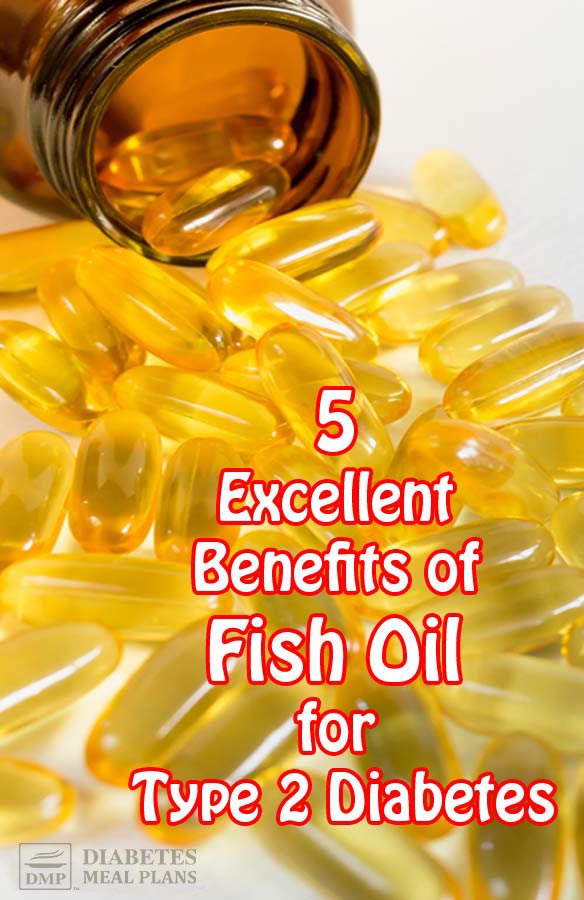 Fish oil benefits for type 2 diabetics
Overall, research shows the following benefits:
Improved blood lipid profile
Lower risk of heart disease
Improved kidney function
Reduction in insulin resistance
Reduced inflammation
And possibly more
Fish oil side effects
Although fish oil supplements improve cholesterol in majority of people, in some people it can actually raise LDL levels (the bad stuff).
Fish oil can also affect blood clotting, so people taking anticoagulant drugs, including aspirin, clopidogrel (Plavix), dalteparin (Fragmin), dipyridamole (Persantine), enoxaparin (Lovenox), heparin, ticlopidine (Ticlid), and warfarin (Coumadin), should consult with your doctor and be closely monitored.
Fish oil dosage
According to various studies, the recommended dosage ranges from 2-4g of EPA and DHA daily.
Always consult with your doctor before starting any supplementation, as dosage often differs from person to person.
Omega 3 food sources
Aside from taking fish oil supplements, you can also increase your intake of omega-3-rich foods.
Fatty fish are your best option to directly consume EPA and DHA.
Food

Serving

EPA (g)

DHA (g)

Amount Providing




1 g of EPA + DHA

Herring, Pacific

3 oz

Salmon, chinook

3 oz

Sardines, Pacific

3 oz

Salmon, Atlantic

3 oz

Oysters, Pacific

3 oz

Salmon, sockeye

3 oz

Trout, rainbow

3 oz

Tuna, canned, white

3 oz

Crab, Dungeness

3 oz

Tuna, canned, light

3 oz
Second to fish, there are also other sources of a-linolenic acid foods, which convert to EPA and DHA in the body.
| Food | Serving | α-Linolenic acid (g) |
| --- | --- | --- |
| Flaxseed oil | 1 tablespoon | |
| Chia seeds, dried | 1 oz | |
| Walnuts, English | 1 oz | |
| Flaxseeds, ground | 1 tablespoon | |
| Walnut oil | 1 tablespoon | |
| Mustard oil | 1 tablespoon | |
| Walnuts, black | 1 oz | |
| Tofu, firm | ½ cup | |
Table credits: Oregon State University.
One thing is for sure, most people do need to increase their intake of omega 3 fatty acids, simply because they just aren't getting enough.
If you struggle to do that through foods, then supplementation may be a good option for you.
Please pin, tweet or share this info to help others.