A healthy lunch is an important part of your diabetic meal plan. 
But when it comes to choosing low carb options that don't make your blood sugar levels go up dramatically, you may be stumped by what to choose. 
Salad recipes obviously seem like a good choice, and they certainly are. But if that's all you're eating, soon you could feel like a rabbit – living on nothing but chicken salad – not exactly ideal. 😉
Like most meals, there are always diabetes-friendly options. And lunch is no exception. 
In fact, we're always coming up with creative diabetes lunch ideas because our weekly meal plans include new lunches each week.
We're here today to provide you with some inspiration about your lunch options.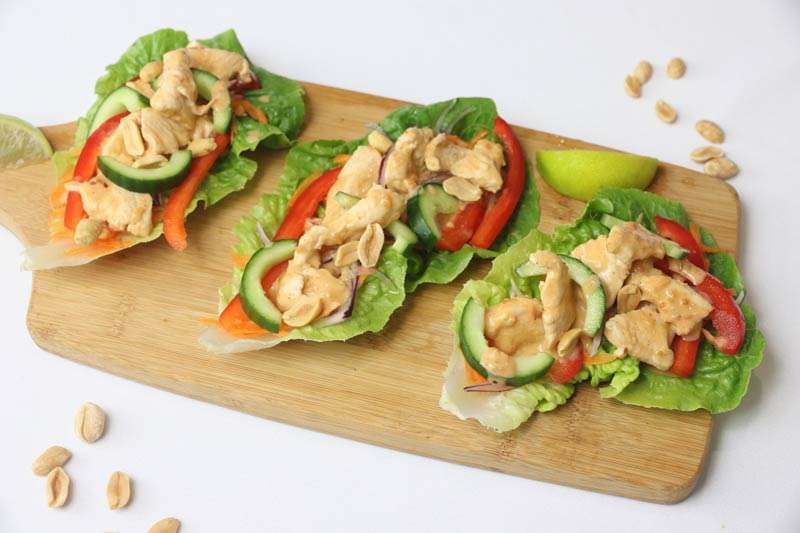 Avoid the High Carb Foods
To help you lower blood sugar levels and achieve weight loss (if you want to), we always recommend you to avoid whole-grain and whole wheat products.
Why?
Quite simply because products made with wheat are all high in carbs. The same goes for flour-based products made with rye, barley, and spelt, these are all high carb too. So, they are best kept out of your diabetic diet.
Remember, the number rule to lower blood sugar levels is: Cut out bread, rice (including brown rice), pasta, potatoes, cereals, and crackers.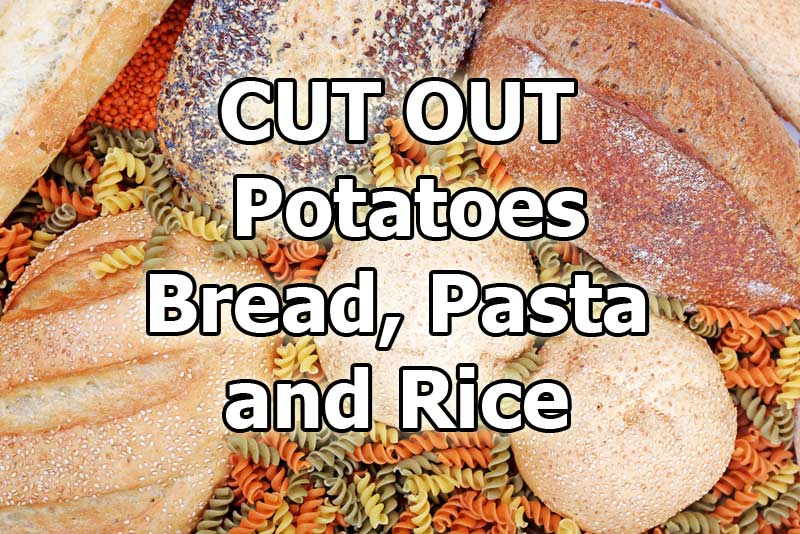 Quick-Meal Ideas
By grabbing a few ingredients from the store, you can whip up stuff pretty darn quick.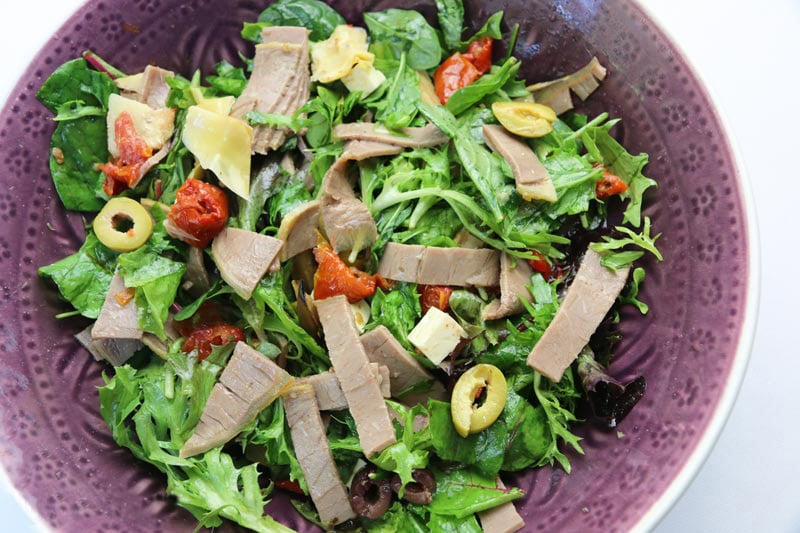 The deli section has a wide variety of deliciousness available.
For instance:
Feta cheese and other cheesy delights if you're a dairy eater
Roast eggplant
Roast capsicum
Olives of many kinds
Meats and shrimp
Smoked salmon slices
Combine those with some ready-packed salad bags such as:
Packet coleslaw
Packet stir fry veggies
Asian leafy mix
Baby spinach
Rocket
Veggie mix
Mix together with a dip such as tzatziki or pesto, some avocado, salad dressing or mayonnaise and you have an instant meal!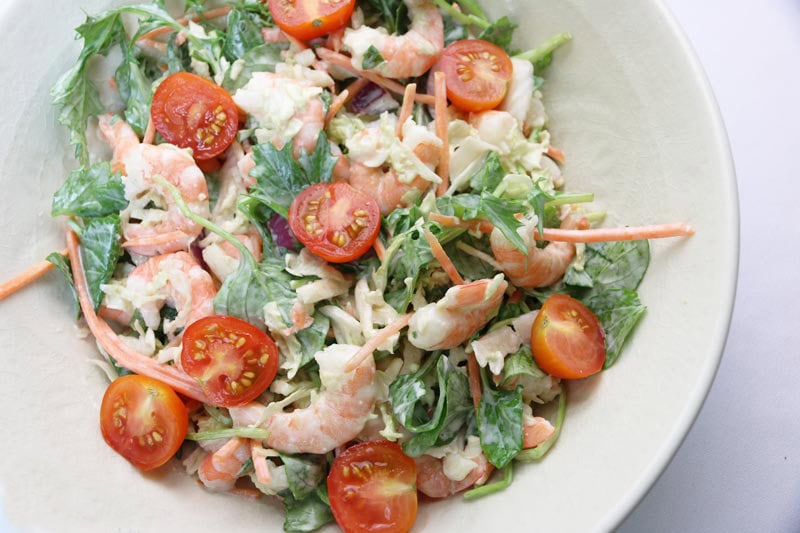 You can also add Greek yogurt for a creamy dressing and add cheeses like feta, cheddar, and cottage cheese for extra protein.
Take Out/ Fast Food Options
There are safe take out options – just skip those high carb additions when making your choices – you know, the bread sides, sandwiches, pasta dishes and so forth.
You can even stop by fast food chains and still eat low carb – that's the wonderful thing about this eating plan, it is very flexible. 
For instance, purchase a BigMac at McDonald's without the bun. You drop your carbs from 46 grams to just 7 grams.
You could also choose a Bacon Ranch Grilled Chicken Salad at just 9 grams of carbs.
Of course, eating at fast food outlets is not something we encourage you to do everyday, but the point is, there are options available to you – so no excuses!
Please pin, share or tweet this info; then keep on reading. 🙂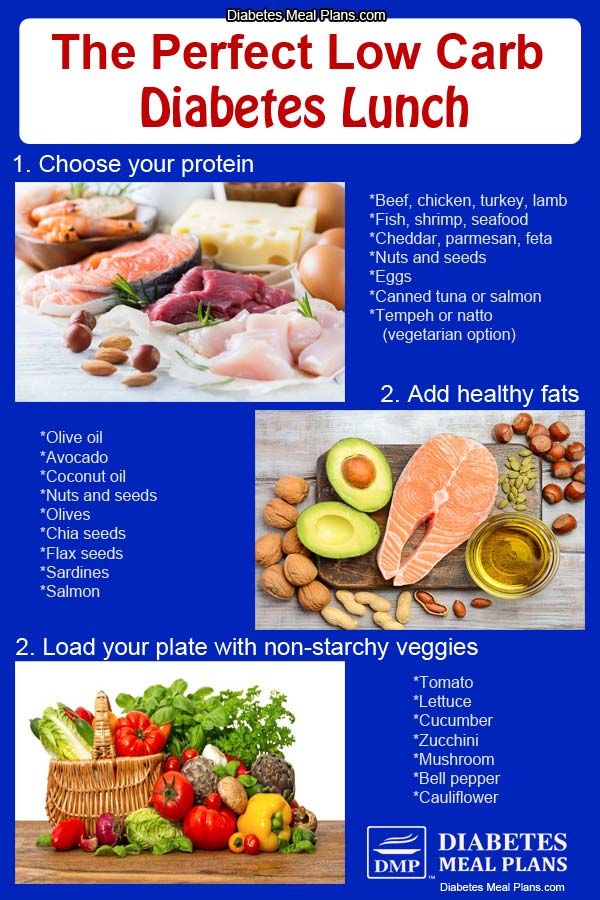 The Perfect Low Carb Diabetes Lunch
1. Choose a protein
Your options include:
Freshly cooked beef, chicken, turkey, fish, lamb etc.
Roast beef, shrimp or chicken from the deli
Cheeses such as cheddar, Parmesan, feta, mozzarella
Nuts and seeds, including nut butters like peanut butter
Eggs 
Canned tuna or salmon
Tofu, tempeh or natto (vegetarian option)
2. Choose a healthy fat
Olive oil (makes a good base for any salad dressing)
Avocado
Nuts and seeds
Olives
Flax seeds
Sardines
Salmon
NOTE: Many fats are also proteins and vice versa.
Did you know that most foods contain all 3 macronutrients – protein, fat and carbohydrate?
3. Load up on veggies
Complete your plate by loading up on as many low carb non-starchy vegetables as you please.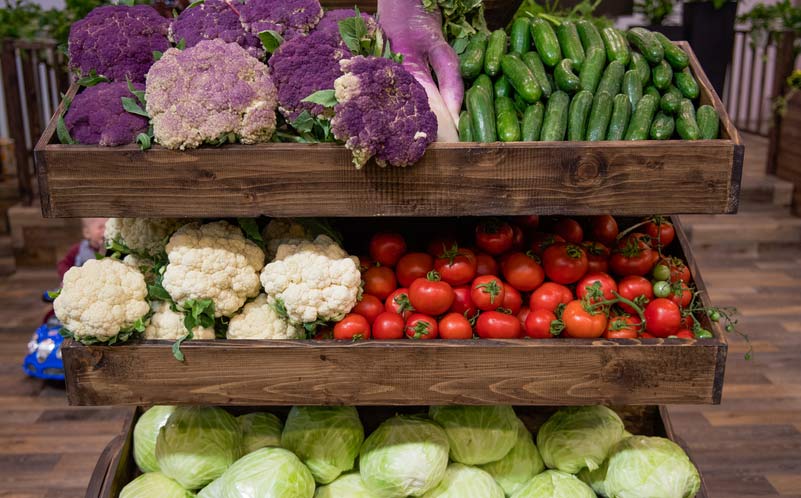 These are full of fiber, vitamins, minerals and phytonutrients that are beneficial to your health.
And they are naturally low carb so you can have a big loaded plate and eat to your hearts content. 🙂
Diabetes Lunch Ideas
To give you some ideas, here's a list of some of the lunches we include in our weekly meal plans.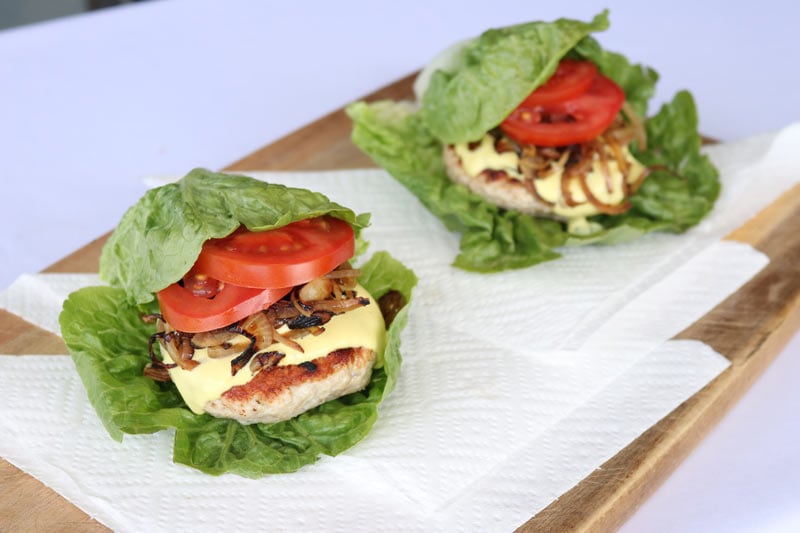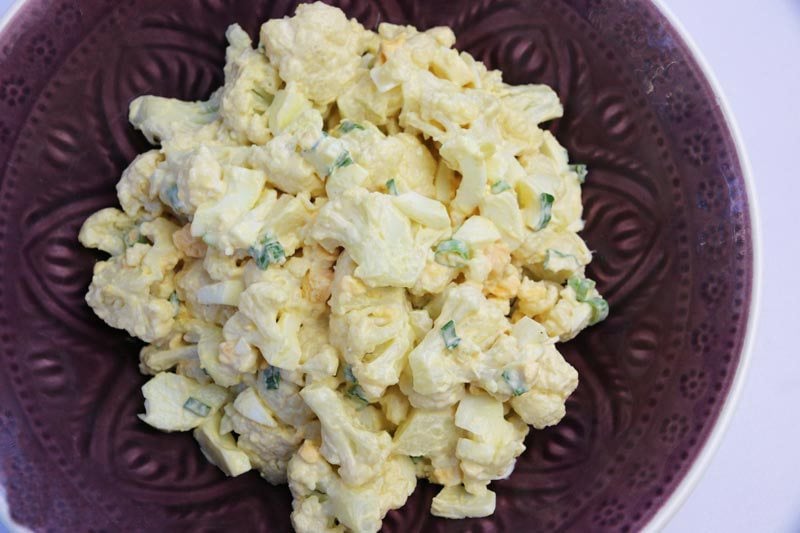 Turkey Burgers with creamy mustard dressing – using lettuce leaves for the bun
Ground Turkey Mexican Burrito Bowl
Feta-Infused Meatballs with Burst Tomato Salad
Zucchini Sundried Tomato Loaf
Taco Soup
Cheesy Stuffed Peppers
Creamy Pumpkin & Cauliflower Soup
Chicken Patty Sandwich with our 3 Minute Microwave Bun
Pan Seared Salmon Salad with Lemon Basil Dressing
Roast Veggie Toss with Pecans
Chicken Satay Lettuce Cups
Salmon Cakes with Guacamole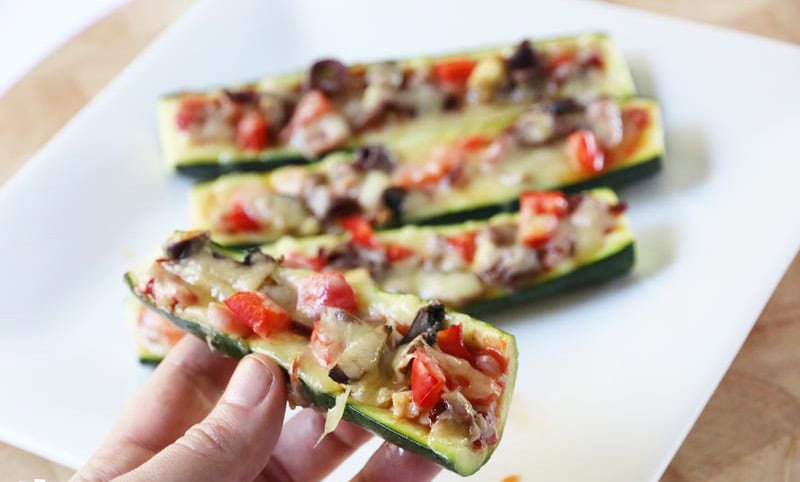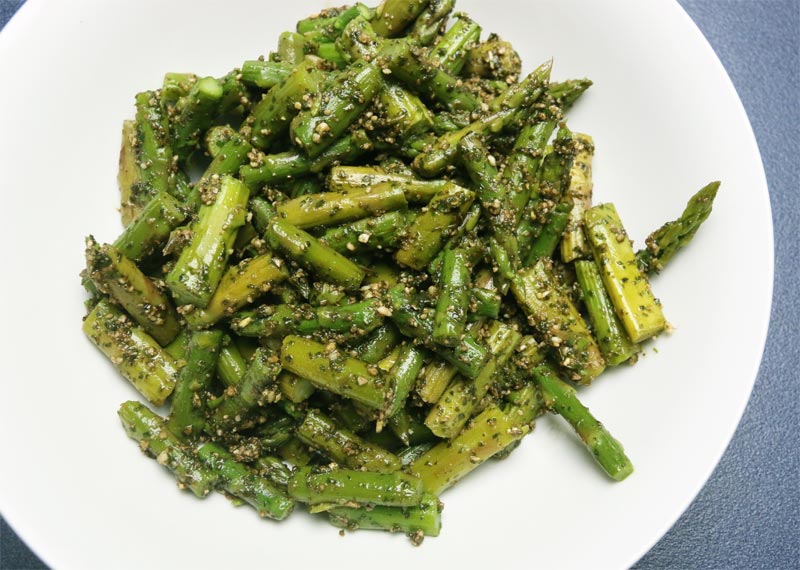 MEMBERS: Login to the members site to access your weekly meal plans and lunch menus.
Making a tasty lunch is really not that hard to do.
While you won't be reaching for the traditional sandwich or a bun-loaded hamburger, when you open your mind to the possibilities, you'll soon see that lunch can become more enjoyable than it ever has before!
Use some of the diabetes lunch ideas above to start fresh with your lunch menu – enjoy. 🙂
YOUR TASK: 21 Day

Lower Blood Sugar

Challenge

™
Re-evaluate lunch – What have you been eating for lunch? How have your 2-hour after meal blood sugar readings been? If your numbers are a little high, what could you do differently? Use the ideas above to guide you and begin creating your new lunch menu.
Run an experiment – compare your 'normal' lunch to your new lunch. Monitor in pairs: Take your blood sugar levels before lunch on the 1st day, write it down. Take your levels 2 hours after your meal (time from the first bite of food). Next day, eat a lower carb lunch using ideas from the list above. Take your blood sugar levels before lunch on the 2nd day, write it down. Take your levels 2 hours after your meal (time from the first bite of food). Compare the results. Did you notice something different?
Need extra support during the challenge? Join us as a member.
You'll receive weekly meal plans and exclusive member benefits. 

TESTIMONIAL:
Sharlene, VIP Member, says: "I've been following your plans for about a month now. My bs range was 150 to 185 (8.3-10.3) for am fasting. Now it's ranging from 105 to 140 (5.8-7.8)."
Not part of the challenge? No worries. While you're here,  make sure you download our free resources.
We'll send you our food list and blood sugar charts and we'll stay in touch with our weekly newsletter where we show you how to enjoy life more while managing blood sugar and A1c at the same time.