If you enjoy the creamy rich texture of cottage cheese but have been wondering whether it's suitable for diabetes, read on to discover the nutrition facts and health benefits.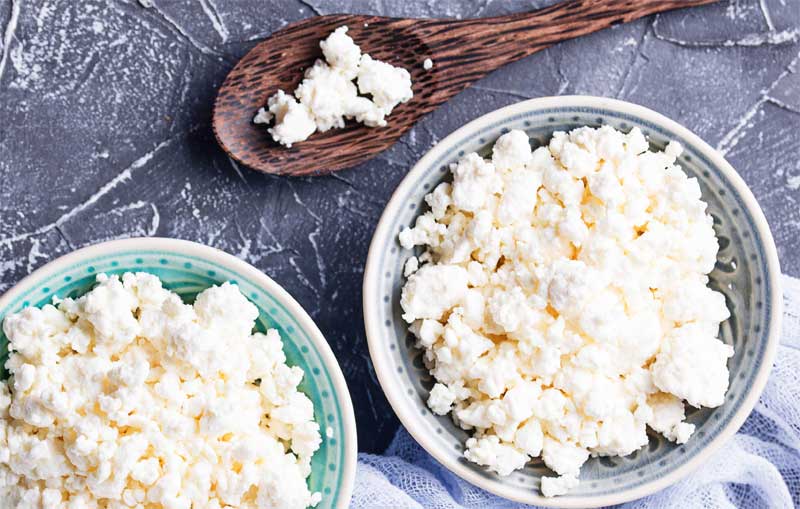 What is Cottage Cheese?
Cottage cheese is a soft, curded dairy product that you can enjoy as a protein-packed breakfast option or as a hearty pick-me-up snack to help get you through an afternoon energy slump.
Unlike other cheeses, cottage cheese is extremely versatile and it can cater to both your sweet and savory cravings. Plus, you can serve it for breakfast, lunch, or dinner!
There are many reasons why cottage cheese is a great tool for folks trying to manage their blood sugar levels. So to start off, let's look at the nutrition. What makes cottage cheese such a winning food for people with diabetes?
Cottage Cheese Nutrition Facts
Cottage cheese is somewhat of a wonder-food because of its protein-to-carbohydrate ratio.
While most dairy products contain quite a few carbs (in the form of lactose), cottage cheese is different. It has very few natural sugars and as a bonus, it's rich in protein and fat.
Cottage cheese is also a "complete protein," which means it contains all nine essential amino acids the human body needs. These amino acids are the building-blocks of bones, muscles, and internal organs, plus they have a role in regulating neurotransmitters and hormones that impact your mood and overall health.
Protein also plays a huge role in blood sugar management because it has a stabilizing effect. The point is, your body needs protein and lots of it!
Now let's talk about fat.
Even though fat has been vilified in the past for its suspected connection to heart disease, we now know that fat is less of a villain and more of a hero.
The fats found in dairy products like cottage cheeses are great blood sugar regulators because fats only create a minuscule rise in blood sugar compared to the impact that carbs have.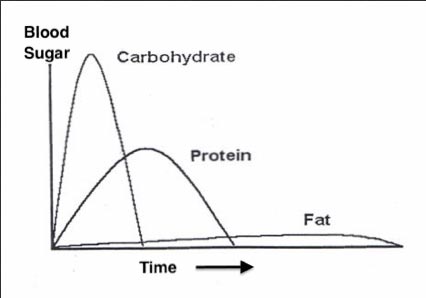 Fats are metabolized more slowly and over a longer period of time so you don't experience the sudden ups and downs that sugar causes.
Eating plenty of healthy fats (from dairy, eggs, fish, avocados, etc.) also keeps you feeling fuller for longer after a meal, so you can go for hours without heading towards the kitchen in search of food or breaking your diet by eating whatever junk food is close by. This keeps mindless snacking at bay and gives your digestion a much-needed break between large meals.
Besides being a great source of protein and fat, cottage cheese is also a good source of vitamins and minerals that play other important roles in the body.
For example, one cup of 1% fat cottage cheese contains the following nutrients (written as percentage Daily Value):
Phosphorus: 30% DV
Vitamin B12: 24% DV
Calcium: 14% DV
Selenium: 29% DV
Riboflavin (vitamin B2): 22% DV
Vitamin B6: 8% DV
Calcium and phosphorus are key minerals involved in bone formation, while selenium protects the thyroid gland, vitamin B6 helps regulate blood sugar levels, and vitamin B12 supports nerve function and helps your body sustain energy levels.
Cottage Cheese vs. Dairy Products
As we've already mentioned, a great advantage of cottage cheese is that it's lower in carbohydrates when compared to some other dairy products. Here's how it compares to yogurt, regular cow's milk, and others: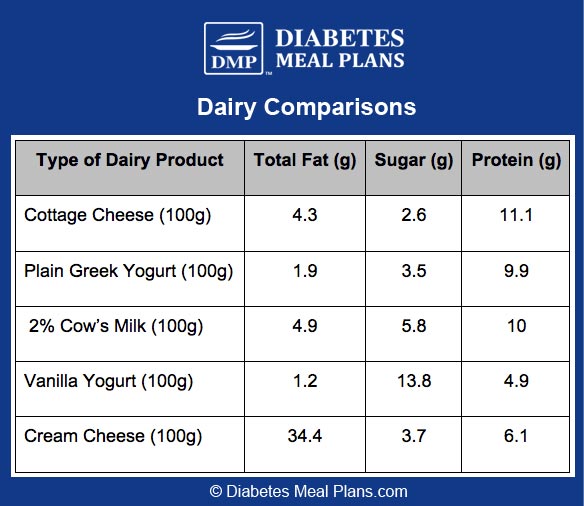 Yogurt is a popular breakfast food, but it isn't always the best choice for people with diabetes as it's often high in naturally occurring carbs from lactose, not to mention that most mainstream yogurts are also packed with more than 10+ grams of 'added' sugars.
The exception to this rule is unsweetened Greek yogurt, which can be enjoyed in moderation.
Cottage cheese, on the other hand, is higher in fat and protein but contains fewer than 3 grams of sugars per 100 gram serving.
This is a major reason why cottage cheese makes a superior breakfast food over high-carb yogurts, or worse yet, those disastrous sugar-laden breakfast cereals!
Similar to cottage cheese, there are some other low-carb dairy products you can enjoy like cheddar, feta, and mozzarella cheese, as well as butter, cream cheese, and sour cream.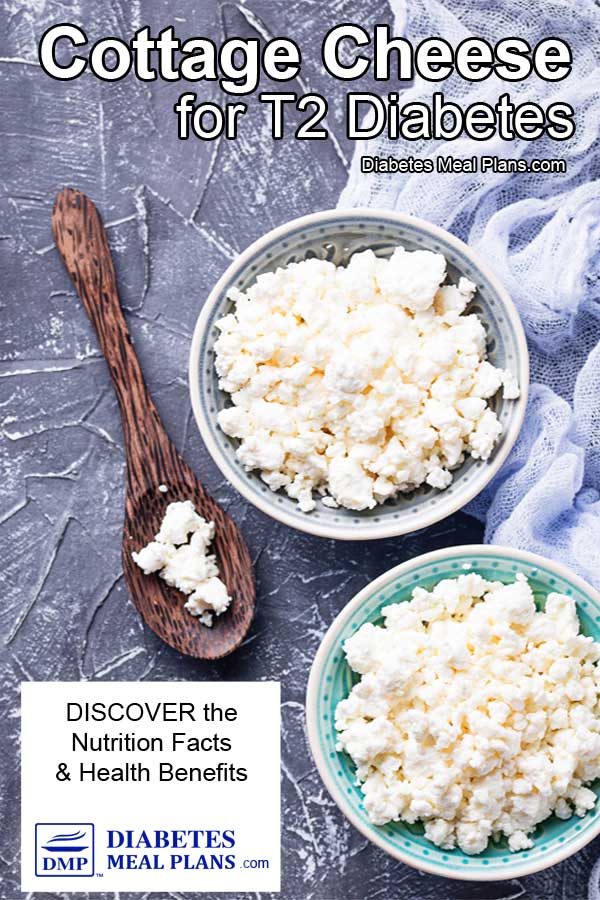 Research on Cottage Cheese and Type 2 Diabetes
Foods like cottage cheese are sometimes avoided because they contain saturated fats. After all, saturated fats are bad for you because they cause heart disease, right?
Not really!
The war against fats, particularly saturated fats, has raged for too long! It's time to bring the cultural fears about fat and cardiovascular disease into perspective and listen to what the scientific research has to say about it.
Let's start by recognizing that the case against saturated fat isn't totally unfounded.
For example, the results of a 2015 literature review showed that a reduction in saturated fat intake could result in a small decrease in a person's risk of cardiovascular disease. The implication that many people draw from this study is that saturated fat is the cause of heart disease, but this isn't necessarily true.
Studies like that one help keep the "low-fat diet" message in the public sphere, but this isn't the whole story. In fact, studies that connect dietary fat to cardiovascular disease are actually in the minority and there are many studies that debunk this old claim.
A 2012 study found no statistically significant connection between saturated fat intake and increased risk of cardiovascular disease. In fact, they found that a higher intake of saturated fat from dairy sources was associated with a lower risk of cardiovascular disease!
An even more recent study (2016) that included over 35,000 participants found that consuming dairy products high in saturated fats was not associated with a higher risk of ischemic heart disease.
Further, a 2015 study concluded that diets that include cheese as a primary source of saturated fats were less atherogenic (heart disease causing) than low-fat, high carbohydrate diets.
In this study, participants were placed on either a "high cheese diet," a "high meat diet," or a "dairy-free, low-fat, high carbohydrate diet." After a two-week period, the high-cheese diet increased HDL "good" cholesterol by 5%, it increased apo A-I concentrations by 8%, and it decreased apo B/apo A-I ratios by 5% in comparison to the dairy-free, high-carb diet. All these changes seen in the high-cheese diet group are associated with a lower risk of cardiovascular disease.
In conclusion, it's safe to say that most of the research is on the side of cheese, so don't be afraid to enjoy full-fat dairy products like cottage cheese in your diet.
The Many Ways to Enjoy Cottage Cheese!
Cottage cheese is super versatile and can be incorporated into almost any kind of dish for any time of day.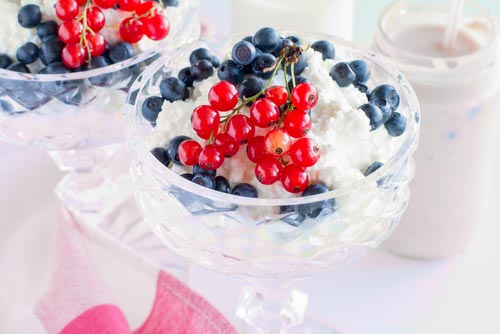 Here are 6 ideas to get you started:
Top a serving of cottage cheese with a small handful of low-carb berries and a sprinkle of stevia for sweetness. This can be a great replacement for traditional yogurts that are full of sugar.
Blend a few tablespoons of it into a green smoothie to add satiating protein and an extra creamy texture.
Cottage cheese makes a wonderful cream base for dressings, and it will add hearty fat and protein to a green salad!
It also works as a thick, creamy base for a variety of sauces that can be poured over roasted vegetables or low-carb pasta.
Mix it with eggs for a fresh take on a classic breakfast omelet.
Stir herbs and spices into cottage cheese to make a flavorful dipping sauce. Pair it with raw vegetables for a healthy and filling snack!
What about you? Do you have other ideas on how to include cottage cheese in recipes and meals?
If so, please leave your comments below – we'd love to hear them. 😉