From an elegant tray of shrimp cocktail at a party to a row of grilled shrimp at a backyard barbecue, there are so many ways for seafood lovers to enjoy this classic crustacean, even with diabetes. But be aware not all of them are good for you!
Keep reading for ideas on how to prepare shrimp in the healthiest way possible.

What is Shrimp?
Most people consider seafood to be a pretty healthy food group. And they often think of "superfoods" like salmon with all those heart-healthy omega-3 fats. But what about shellfish like shrimp? Are they just as good for you?
Like with many foods, not all types of shrimp are created equal!
Just as a greasy fish stick or a piece of fried chicken isn't healthy, a battered, deep-fried piece of shrimp isn't doing your body any favors either. The healthiness of seafood all depends on how you prepare it.
With that said, let's see which kinds of shrimp get a passing grade and which ones are best skipped over.
Nutrition Facts for Shrimp
Shrimp is super-high in protein and lower in carbs, which is ideal.
Just check out the nutrition facts for 100g (4oz) serving of plain cooked shrimp:
Calories: 99
Protein: 23.9g
Fat: 0.3g
Carbohydrates: 0.2g
Fiber: 0
High protein foods are great for diabetes because not only does protein help stabilize blood sugar, it also plays a role in satiety (feeling more full). Energy from carbs burns up quickly but proteins and fats give stable energy that will hold you over until your next meal.
Grilled shrimp or shrimp cocktail will have nutrients similar to the list above, but shrimp that have been breaded and fried like shrimp tempura, shrimp nuggets, or "popcorn shrimp" will have a lot more carbs than just 0.2g per serving.
It's best to stay away from breaded, deep-fried foods because they're higher in simple carbohydrates and bad fats. The healthy omega-3 fats from the shrimp will be overshadowed by the inflammatory, rancid vegetable oils used in fast-food joints.
When it comes to shrimp cocktail, the main pitfall to watch out for is whether or not the cocktail sauce has added sugars in it. Cocktail sauce often contains ketchup which can be quite sugary, so look for no-sugar versions of this sauce or better yet, make the cocktail sauce at home so you know what's going into it.
Shrimp & Seafood Compared 
It's hard to go wrong when choosing between seafood options, as most seafood is low in carbs and rich in protein and good fats (when we're talking about "good fats" we mean omega-3 fatty acids like EPA and DHA.)
Omega-3 fats get a lot of press these days because of their anti-inflammatory nature. Less inflammation in the body equals less pain, improved insulin sensitivity, and better overall metabolic function. No wonder we love them!
The daily minimum recommendation for omega-3 fatty acids is 0.25 to 0.5g (250 to 500mg) and there is really no upper limit – the more, the merrier!
In opposition to omega-3s are the omega-6 fatty acids found commonly in vegetable oils and processed snack foods, as well as some nuts and grains.
While omega-6 fatty acids are not inherently bad for you, Western diets tend to overflow with omega-6s while omega-3s are scarce. When the ratio between omega-6s and omega-3s gets out of whack things start to go bad and inflammation becomes rampant.
So, in most cases, you'll want to limit foods that are rich in omega-6s and stock up on omega-3 rich foods like fatty fish (as well as chia and flax seeds)!
This chart breaks down the macronutrients for five different types of seafood and highlights the amount of omega-3 fats for each food (100g is equivalent to a 4oz serving).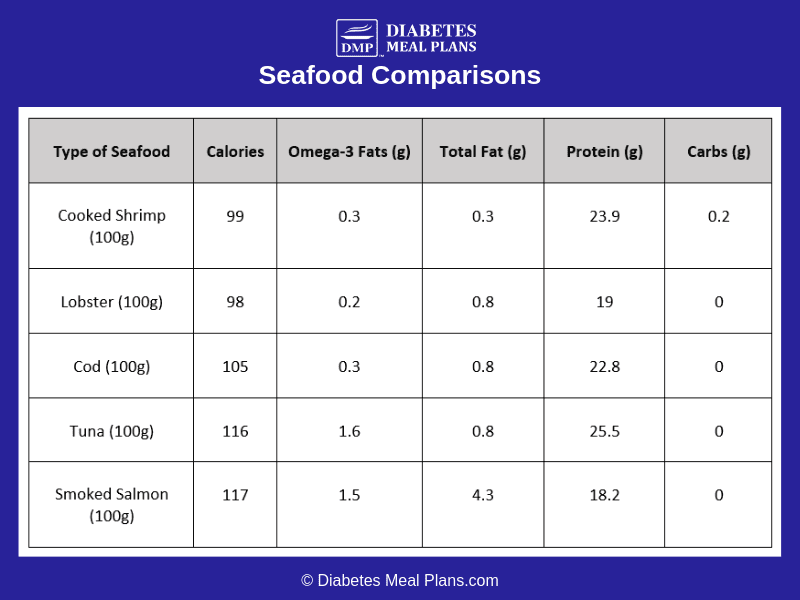 You may notice that these foods are pretty similar in protein, carbs, and calories. The main area where they differ is the amount of omega-3s they contain.
For example, 100g of shrimp provides 0.3g of total omega-3 fatty acids, broken down further into 0.2g of EPA, 0.1g of DHA and trace amounts of ALA, while the same amount of salmon provides a whopping 1.5g of omega-3s.
The rich concentration of omega-3s is why salmon has earned the title of an anti-inflammatory "superfood."
But just because salmon hits the ball way out of the park, that doesn't mean that other seafood options aren't healthy, because they are great choices as well.
Shrimp, cod, tuna, tilapia, and many others make excellent protein sources for any meal and the moderate amount of omega-3s is an extra bonus.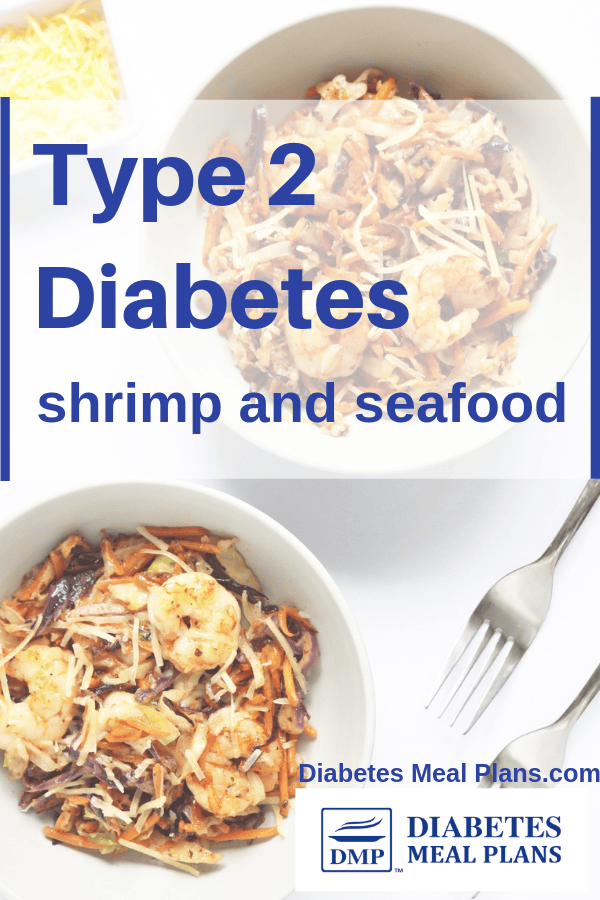 Research on Shrimp and Diabetes
There aren't many studies that look specifically at the benefits of shrimp, but there are a host of studies that sing the praises of omega-3 fats as a whole.
Firstly, studies have found that individuals with metabolic disorders like type 2 diabetes and non-alcoholic fatty liver disease tend to have decreased levels of omega-3 fatty acids in their blood. Low levels of omega-3s are also correlated with higher insulin resistance.
With that background in mind, let's look at some studies that show off the benefits of omega-3 supplementation in chronic illness.
A 2017 study found that 24 weeks of omega-3 supplementation (520mg/day) resulted in reduced waist circumference, lower glucose levels, lower HbA1c, and lower leptin levels among type 2 diabetics when compared to a placebo. The diabetics receiving treatment also had improvement in lipids, including lower triglycerides and improved atherogenic index scores.
A 2018 review concluded that omega-3 supplements were connected to improvements in cardiovascular markers among type 2 diabetic patients. They found that supplementation was associated with significant reductions in LDL cholesterol (-0.10), VLDL cholesterol (-0.26), and triglycerides (-0.39), as well as HbA1c (-0.27%) and inflammation markers TNF-alpha (-0.59) and interleukin-6 (-1.67).
Further, omega-3s have been shown to improve insulin resistance in metabolic conditions similar to diabetes such as Polycystic Ovarian Syndrome (PCOS). Although PCOS has some different features compared to diabetes, both disorders share commonalities like chronic inflammation, hormonal dysregulation, and insulin resistance.
One such study (2017) gave 68 women with insulin resistance from PCOS either a supplement of 1,000 mg omega-3 from flaxseed oil (with vitamin E) or a placebo for 12 weeks. By the end of the trial, the treatment group had significant decreases in insulin and insulin resistance (HOMA IR), but increased beta-cell function.
Conclusion
To wrap everything up, shrimp is a good food for people with type 2 diabetes to include in their menu. It's a low carb food with very few red flags to worry about in terms of nutrients.
What really matters is how you prepare the shrimp—stay away from high carb batters and unhealthy oils for frying. Other than that, shrimp can be enjoyed as shrimp cocktail, broiled, grilled, streamed, stir fried, baked, or cooked any other way you can think of.
One last thing to pay attention to is the origin of the shrimp you're buying. If available, look for shrimp that are wild-caught rather than "farm-raised," as seafood caught in the wild is likely to contain fewer toxins (such as antibiotics) compared to those raised in cramped farming conditions.
Please share this info to help inform others – thanks!