So you're newly diagnosed and completely confused on where to get started. Or perhaps you've had type 2 diabetes a while but you still can't determine the diabetic diet basics and what's best to eat to lower blood sugar and A1c.
The most important thing to recognize is that if you want to lower blood sugar levels, your eating plan plays a crucial role.
With the right choices of foods, you can regulate your blood glucose levels, keeping them within a healthy range – which means a happier you overall!
And if your goal is weight loss, of course, your diet can help there, too.
So let's delve in and explore some basics to help make this whole diabetic diet ordeal a little clearer.
First, let's go over a few different diet concepts you may have heard of. Then, we'll cover how you can start making healthier food choices and control blood sugar levels easier.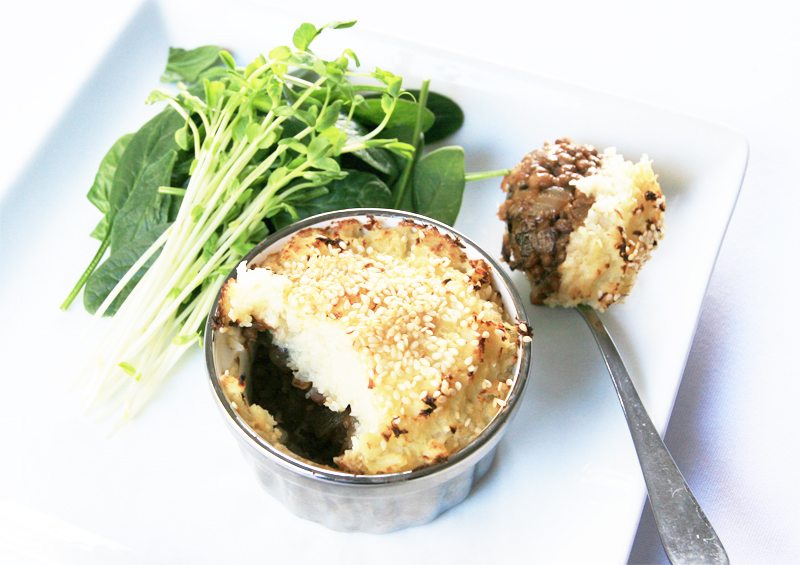 JUMP TO: Food groups | The plate method | Carb counting | Easy way to control blood sugar levels
Food Groups
In a traditional sense of the word, the choice of healthy foods has always been positioned as the "5 food groups," right? No doubt you've heard that before.
These groups are:
Vegetables (and beans and legumes)
Fruits
Grains/ cereal foods
Lean meats
Dairy products
And, perhaps you've heard or read that with diabetes you can choose from the 5 food groups as long as you eat everything in moderation.
While it is true that choosing from those groups is a great idea, IF you stick to whole food sources. There is a bit more to the story.
You see, there are really only 3 true food groups (not 5!), and these are what's known as the macronutrients:
Carbohydrates
Proteins
Fats
That's it – just 3.
So where you can instantly get in trouble with the 5 food groups is eating way too many carbs. And if you didn't know already, carbs are the macronutrient that has the greatest impact on blood sugar and A1c.
Let's look at the 5 food groups again, this time putting them into one of the 3 true food categories:
Vegetables (and beans and legumes) – Carbs
Fruits – Carbs
Grains/ cereal foods – Carbs
Lean meats – Proteins and fats
Dairy products – Proteins and fats
Sure, you may have heard that fruits are "healthy" and brown rice or whole grain bread are a "healthy" option. And while it's true, whole grains and fruits are certainly healthier options to their "white" counterparts. And for the general population they could make up part of a healthy diet. 
BUT, with diabetes and prediabetes, it's a different story.
You see, prevention of a condition and treatment of a condition are two very different things. When you have diabetes and prediabetes, these foods are not a good friend and are best kept out of your diet plan.
Quite simply because these foods are high in carbs and will make it more difficult for you to manage blood sugar effectively.
Don't take my word for it: Even the American Diabetes Association 2017 Medical Treatment Guidelines Report, states: "whole-grain consumption is not associated with improvements in glycemic control in type 2 diabetes" – or in other words, they won't help you lower blood sugar and A1c levels.
Here at DMP, we evaluate the research and give it to you straight, sharing what the evidence suggests works best. And unfortunately the food group "grains/ cereals" are nowhere in the picture. And while some fruits are okay to eat, most are again, way too high in carbs (fruit juice included).
In fact, by following the 5 food group outline, you could easily be racking up a lot of carbs and struggle to maintain a healthy blood sugar range.
So, let's explore some other options.
Plate Method
The plate method is a simple way to divide your plate that uses the visual cue of the plate to measure approximate portion sizes for various food groups.
Take a look at the following image to give you an idea how it works.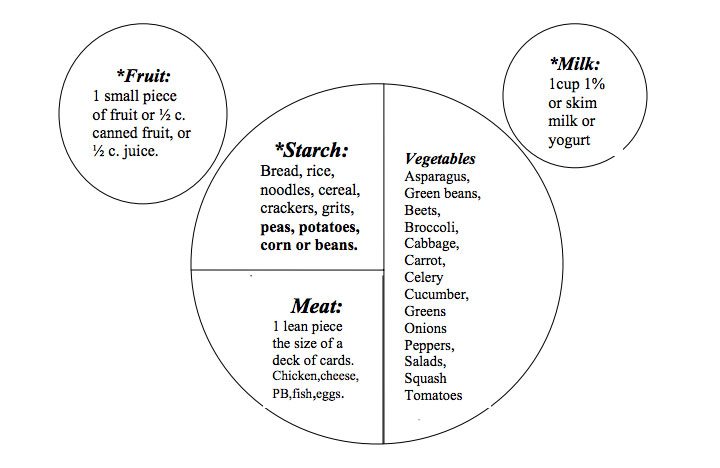 While the plate method may work for some, there is one major issue here. Again this method assumes that everything is okay in moderation. And therefore, the meal plan includes starches like bread, rice, noodles, cereals, potatoes, corn and so forth – all the very high carb foods that are not blood sugar friendly.
And as we already established above, according to research, these foods do not help with blood sugar control. So why include them in your plan?
Carbohydrate Counting
Carb counting is really the most accurate way to know exactly what you're consuming, at least in terms of carbohydrate intake.
While I won't go into detail here, you can find a carb counting tutorial here, plus detailed info about net carbs vs total carbs here.
When you look around, there is still wide debate about the amount of carbs you should be eating.
Here at DMP we encourage a low carb diet because research shows it's the best way to get results – it works! – read what our subscribers and members have to say.
What does low carb mean? 
It means staying well under 120 grams of carbs per day. We find 50-80 grams of total carbs produces great results!
If you're eating more than the above, you've got a good idea on how you can get started lowering your blood sugar naturally – start by monitoring and reducing your carbs.
Please pin, tweet or share; then keep on reading.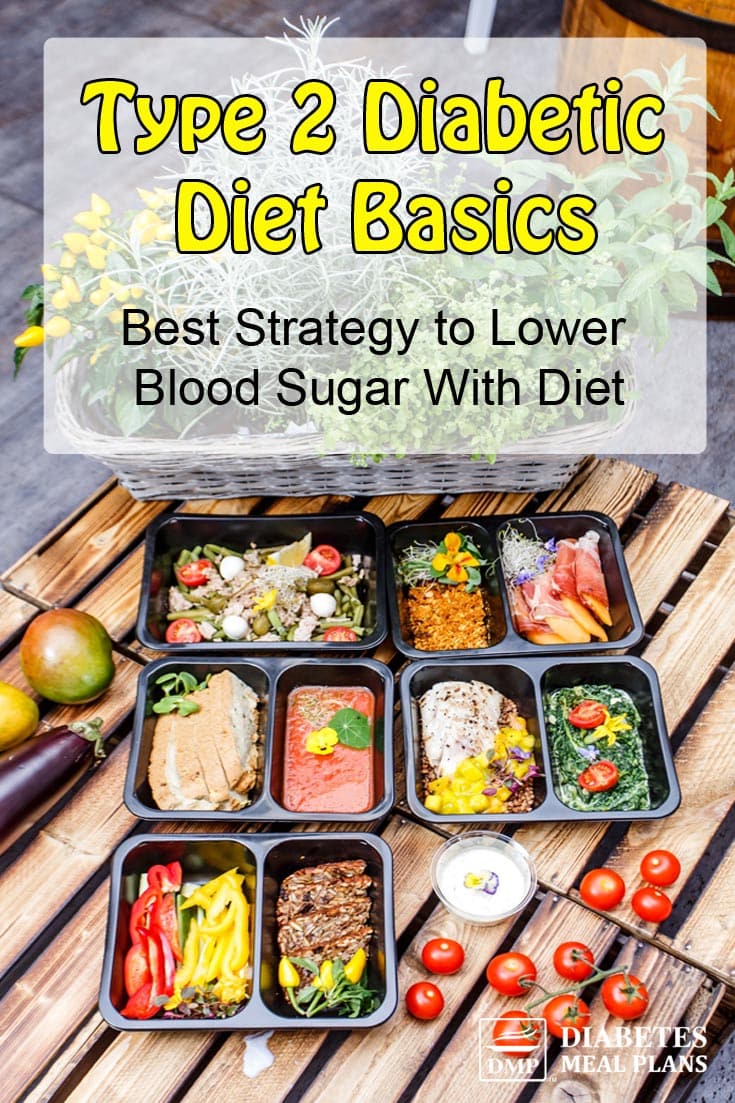 The Easy Way To Manage Blood Sugar
If all this is still confusing and you're looking to get started without getting caught up in this whole mess, then here's exactly what to do.
1. Eat REAL FOOD!
Cut out as much processed and packaged food as you possibly can and head to the fresh food section of the grocery store.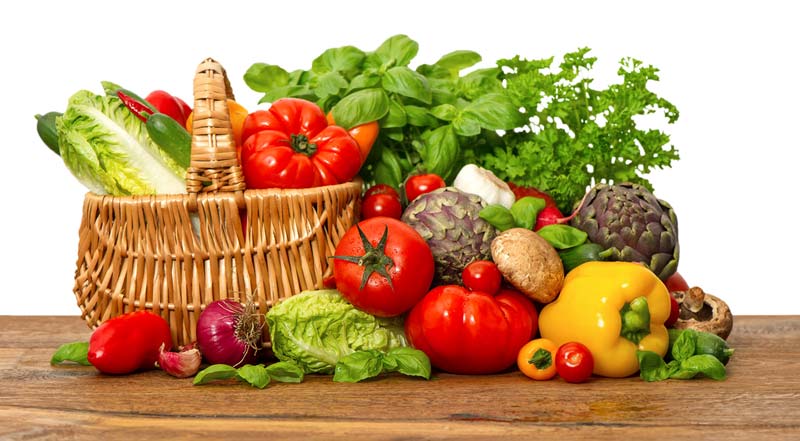 While we do encourage a low carb diet, which doesn't generally include grains, the addition of brown rice or whole grains in a diet where you're eating whole foods, is still going to be a lot better for your body than sugar-laden, artificial sweeteners, food additives, loooog list of ingredients on the food label, man-produced garbage and junk!!
As Dr. Barry Groves once said:
"Man is the only animal smart enough to make their own food; and the only ones dumb enough to eat it!"
2. Cut the big carb offenders
Work on eliminating, or at least cutting down on, the big carb offenders. These are the foods loaded with carbs that quickly send blood sugar UP and make it difficult to get A1c down, which overall means difficulty in gaining good blood sugar control.
What are these offenders you ask?
Potatoes (including sweet potatoes) – both are starchy vegetables full of carbs!
Pasta
Rice
Noodles
Cereals

3. Use our food list
If you don't have a copy of our food list already, you can click here to grab it (along with our other great freebies).
PRINT IT OUT and use it!
Refer to the food list regularly, choosing majority of your foods that are included on the list of 'YES' foods.
These foods are the type of foods that make up a healthy low carb diabetes diet.
4. Keep learning, keep applying
You don't have to know everything or be perfect. Just start somewhere and make one or two changes, then keep going forward from there.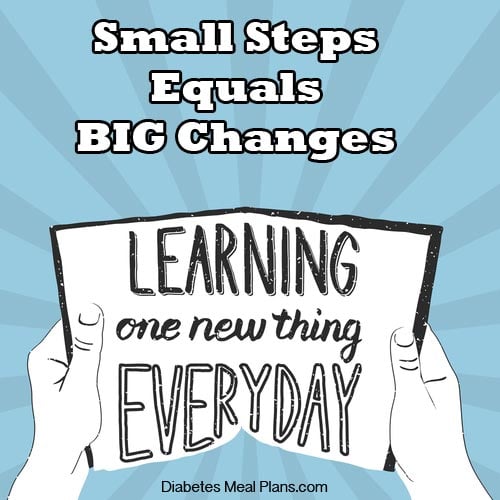 For instance, a good place to start is your breakfast eating habits.
Ditch the cereals and eat an egg-based meal. You can boil eggs, fry eggs, scramble eggs, poach eggs, make them into egg muffins, frittatas, slices and so forth.
Then once you get some ideas for breakfast, work on lunch or snacks, and so forth.
Just keep on learning. It takes consistent effort to be well and stay well. And that's the same for all of us, diabetic or not!
5. Become a meal plans member
We understand it can be a challenge to come up with a food plan, every single week – which is exactly why we created our meal planning memberships.
We do the hard work and keep you inspired and motivated with a new menu each week!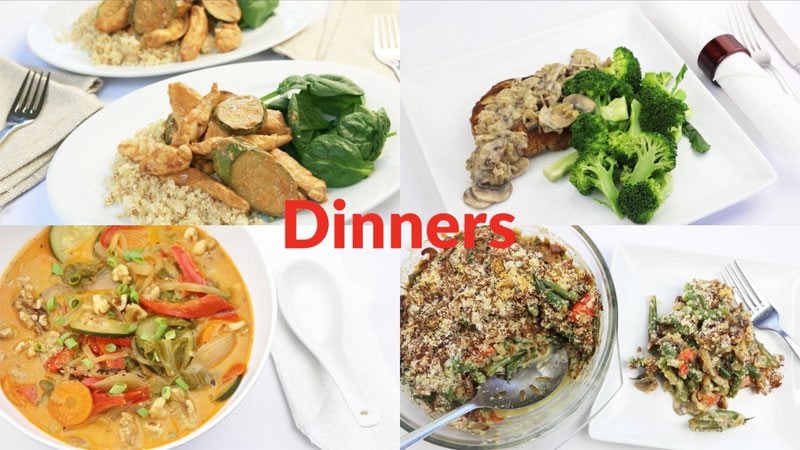 You can choose one new meal to try, or cook the entire plan. But one thing is for sure, you'll never get bored and you'll work out how to eat well with diabetes, much faster than trying to figure it all out on your own.
Plus, our members are getting great results.
Sheryl got her levels down to normal for the first time since being diagnosed in 2007, and she's maintained this for over 1 year
JoAnn has done the same, keeping her A1c at 6 for more than a year now
Leisa has lost 55 pounds (25 kg) and her levels have come down from 300 (17) to 120 (6.7)
Most importantly, they are enjoying life more!
Find out more about our meal planning memberships here.