Did you know that insulin and calcium work side-by-side to manage your blood sugar levels all day long? 
Most people aren't aware that having either too much or too little calcium in their body can have a significant impact on their blood sugar levels and their pancreatic health–this knowledge is especially important for people with type 2 diabetes to understand!
So keep reading to learn about the delicate balance of calcium your body needs in order to function at its best.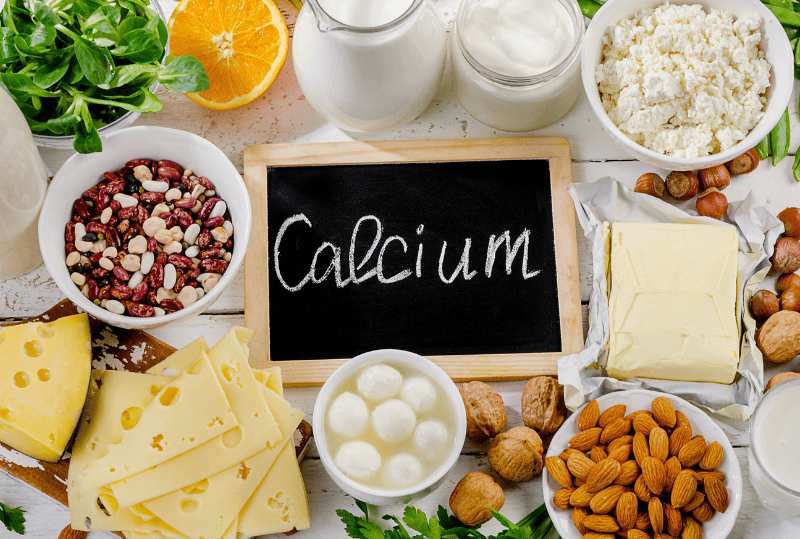 What is Calcium?
Calcium is a mineral that most of us know as being associated with healthy bones and teeth. The reason for this is that calcium is the most abundant mineral found in your body and it's primarily stored in your bones and teeth.  
A mineral is a naturally occurring substance that your body cannot break down any further; other minerals you might be familiar with are sodium, potassium and zinc.
Milk is classic example of a calcium-rich food. And you've probably heard people say they "drink milk to keep their bones strong."
While this may be true, most people don't realize how many other physical processes calcium is involved in.
Some additional functions of calcium include:
Cell signalling and metabolism

Muscle Ccontraction

Blood clotting

Nerve function
The most pertinent function in relation to our discussion today is cell signalling and metabolism.
Why?
Because diabetes is a disease of your metabolism.
In type 2 diabetes, your body is no longer able to recognize and use insulin properly, causing a rise in blood sugar levels.  
How Does Calcium Work?
Under normal circumstances, when you eat food (specifically carbohydrates) your body digests the meal and absorbs the glucose (sugar) molecules into your bloodstream.
From there, the glucose needs to exit your blood stream and travel into your cells – this is where glucose gets turned into energy.
Sugar molecules can only travel through certain cell channels; these channels are opened in the presence of insulin. If you are insulin resistant, then your cell channels are very slow to recognize insulin and open up.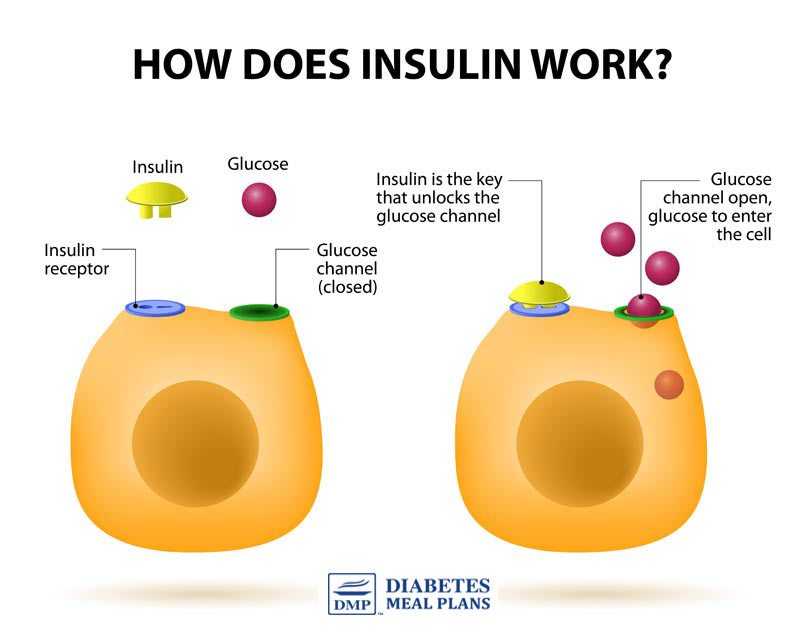 Hence insulin resistance equates to less glucose entering the cells and more glucose remaining in the bloodstream, causing high blood sugar.
In addition to insulin, calcium, is needed to open the cell channels.
Once calcium opens up the channels, the calcium then enters the cell. The influx of calcium into the cell causes your body to release more insulin to help move the glucose molecules.
If you're a bit confused trying to picture calcium working on a cellular level, then just remember that calcium is insulin's assistant.
But, there's one more catch to this cellular discussion.
Calcium concentrations must be closely regulated. Insufficient calcium levels can negatively impact insulin product. However, excessive calcium concentration may lead to pancreatic cell death.
Yes, you read that correctly.
When calcium levels are either too high or too low, the ability of your pancreatic cells to respond appropriate to glucose is diminished and blood sugar problems may arise.
What's the Right Level of Calcium?
The interesting thing about calcium is that dietary intake is not always directly correlated with levels of calcium in your blood.
This is because calcium is stored in your bones; if your diet is lacking enough calcium, then calcium will be leached from your bones to help replenish levels in your blood.
The results? Your bones are left void of calcium and at risk for deterioration, while your blood work appears normal.
If there is a concern for low calcium levels you will need to work with your doctor to interpret lab work and determine the cause of those low calcium levels.
The most important takeaway though, is that eating a healthy balanced diet is the best way to ensure you obtain adequate amounts of overall nutrients – that's why we encourage a natural, whole foods-based diet!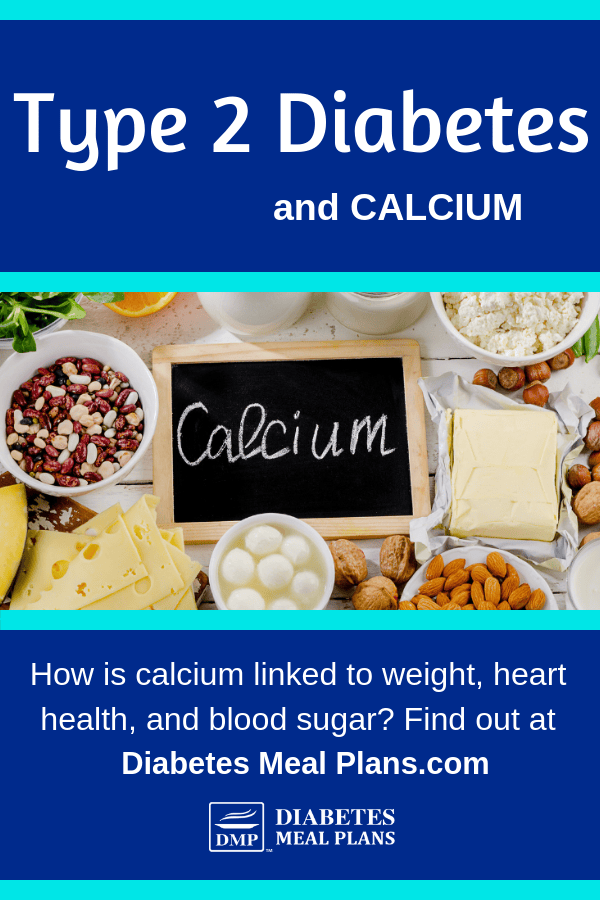 Research on Calcium and Diabetes
Diabetes
A 2011 randomized control trial researched the effect vitamin D and calcium each had independently on prediabetic glucose control.
Participants were assigned to 16 weeks of supplementing with either 4000 IU of Vitamin D (or placebo) and/or supplementing with 800 mg of calcium (or placebo.) It was concluded that only vitamin D had an impact on pancreatic cell function and HbA1c levels; calcium supplementation had no effect in this prediabetic population.
Researchers have also concluded that higher blood concentrations of calcium are linked to higher incidence of developing diabetes.
The American Diabetes Association published a study that demonstrated patients with the highest levels of calcium are at nearly a three-fold risk of developing diabetes compared to those patients with lower levels of calcium. The reiterates the need for a fine balance of calcium regulation.
What's very interesting is that new research suggests a type of blood pressure medication called Calcium Channel Blockers (CCB) may offer additional benefits to people with diabetes.
CCB work exactly how they sound – the medication prevents some of the channels from opening up and therefore less calcium enters the cells. Common examples include Amlodipine, Diltiazem and Verapamil.
A 2016 study suggests that people with diabetes who have been prescribed Verapamil have a 10 mg/dL lower fasting blood sugar compared to those on a different blood pressure medicine.
This evidence is certainly interesting. However, more research is needed surrounding calcium channel blockers to help physicians make better recommendations.
Heart Disease
Preliminary research suggests calcium reduces the risk of cardiovascular disease and hypertension (high blood pressure.)
A 2016 meta-analysis showed the DASH diet lowered systolic blood pressure (top number) by 4.26 mmHg and diastolic blood pressure (bottom number) by  2.36 mmHg. One novel feature of the DASH Diet (Dietary Approaches to Stop Hypertension) is increased calcium intake to reduce blood pressure.
Bostick and colleagues observed a lower incidence of heart disease for postmenopausal women who had higher intakes of calcium, regardless of whether it came from dietary sources or supplements.
However, as was the case with blood sugar regulation, calcium must be carefully regulated to have a positive effect on your heart health.
A 2012 British Medical Journal Study noted that overall calcium intake was associated with reduced risk of heart attack. However, of those using calcium supplements there was a significant increase in risk of developing a heart attack during the 11 year follow up.
Weight Management
Calcium also helps with weight management, possibly through a mechanism related to the absorption of dietary fat.  
Researchers found that dairy intake was inversely associated with weight status, meaning the more dairy products one ate, the less they tended to weigh.
A 2010 study observed that increasing dairy intake by just one serving per day increased the probability of weight loss by around 10 pounds/ 4.5 kg.
Booth and colleagues compared the effect calcium supplementation versus increasing dairy intake had on weight loss. Their analysis of 2900 people found neither the supplement nor dairy products had an impact on weight loss. However, dairy products did facilitate fat loss and was effective for weight loss when paired with a reduced calorie diet.
Undoubtedly calcium is crucial for glucose metabolism, insulin production, blood pressure regulation and weight management. But the key takeaway message is that too much calcium is detrimental for glucose metabolism, beta cell function, and even possibly cardiovascular function.
Food Sources
The recommended daily intake for calcium is 1000 mg per day for men, and 1200 mg per day for women. And we encourage you to consume your daily calcium through food sources.
We often underestimate the importance of getting adequate nutrition from natural sources. Some people may believe it's easier to get nutrients through a supplement.
However, nutrients work synergistically, which means in combination with each other. So, by eating foods in their natural state, your body is better equipped to metabolize and utilize nutrients.
And one key point is: you are very unlikely to have excessive calcium intake through diet alone. Eating whole food sources can prevent excess calcium from accumulating.
Some of the best sources of calcium include:
Plain Greek yogurt (8 ounces) 415 mg of calcium per serving

Mozzarella cheese (1.5 oz) 333 mg per serving

Sardines, canned in oil with bones (3 oz) 325 mg per serving

Cheddar cheese (1.5oz) 307 mg per serving

Milk (8 ounces) 299 mg per serving

Salmon (3 ounces) 181 mg per serving

Cottage cheese (1 cup) 138 mg per serving

Kale (1 cup) 94 mg serving

Cabbage (1 cup) 74 mg serving

Broccoli (½ cup) 21 mg serving
Despite commonly held assumptions, you do not have to consume dairy products to obtain adequate calcium. There are many non-dairy sources of calcium too.
1 cup of ingredient and mg calcium per serve:
Sesame seeds 1404mg
Almonds and almond milk 464mg
Collards 357mg
Spinach 272mg
Turnip greens 246mg
Brazil nuts 213mg
Shrimp 183mg
Chia seeds 179mg
Kale 172mg
Tahini 153mg
Pistachios 132mg
Hazelnuts 131mg
Seaweed 128mg
Sunflower seeds 117mg
Crab 112mg
Notice something about this list?
Greens, nuts, seeds and seafood all contain substantial amounts of calcium too – it's not just dairy products!
Supplementing Calcium
If you and your doctor determine that calcium supplementation is right for you, follow his or her recommendations for daily dosage.
Calcium supplements come in two forms: calcium carbonate and calcium citrate. Calcium carbonate is more readily available and this form should be taken with food.
Side effects of calcium supplements can include gas, bloating, or constipation. Some people find splitting their dose up throughout the day alleviates these symptoms.
Conclusion
Calcium is the most abundant mineral found in your body and most of your calcium (99%) is stored in your bones.
Insufficient calcium levels can prevent glucose from properly entering into your cells, this can contribute to high blood sugar and potentially, the development of diabetes. Plus inadequate calcium levels can also disrupt your muscle's ability to contract and your blood's ability to clot.
But, excessive calcium levels have been linked to a number of diseases including hypertension, atherosclerosis, and diabetes. Too much calcium entering your cells can wreak havoc on beta cells and cause burn out.
Therefore, the best advice is to make sure you are consuming several sources of calcium-rich foods every day to maintain sufficient calcium levels.
Please pin, tweet or share to help inform others – thanks!