Blood sugar spikes are pretty much a guarantee at some point in time when you have type 2 diabetes.
Sometimes they seem to happen out of nowhere and leave you thinking, "did I do something wrong?"
We're here to help you understand which factors influence blood sugar spikes so that you can get better control over your blood sugar levels and feel more confident in the process.
Basic blood sugar guidelines
A blood sugar spike, simply put, is when blood sugar levels go above a desirable range.
General guidelines for blood sugar levels are:
Two hours after meals
Under 180 (Ideal is under 140) mg/dl

Under 10 (Ideal is under 7.8) mmol/l
These are the guidelines, but your individual blood sugar levels goals may be different depending on what you and your doctor discuss.
DEFINITION: a spike in blood sugar is going to be a reading that is higher than your norm.
Different circumstances can contribute to this higher reading, and we'll get to these details in a minute.
But a main point before moving forward is: maintaining your blood sugar levels within a healthy range is important because prolonged high blood sugar levels can lead to serious complications.
What causes a blood sugar spike?
The most common cause of a blood sugar spike is eating meals (depending on what you ate).
Or in other words, the food you eat causes the blood sugar spike.
What food specifically can cause elevated blood sugar?
Carbohydrates.
Carbohydrates are the nutrient that has the single biggest influence on blood sugar levels, which is why we strongly recommend limiting them in your diet.
Whether a person has diabetes or not, if you sit down and eat a plate of pasta with a heaping side of garlic bread your blood sugar is going to rise quickly after that meal. All those carbs break down very quickly into glucose and then rush into your bloodstream, causing the spike in glucose levels.
In diabetes, these postprandial (or after meal) blood sugar spikes have been linked to increased risk for vascular complications, therefore, decreasing after-meal blood sugar spikes can aid in the prevention and/or management of cardiovascular disease.
How can we alter our meals to prevent a blood sugar spike?
Let's take the example we just talked about – a plate of pasta with a side of garlic bread.
You can decrease the portion of the pasta or swap out the high carb pasta for a low carb substitution with zucchini noodles or spaghetti squash (best option).

You can toss the pasta or substitute in a healthy oil or make a creamy avocado pesto sauce that incorporates fat.

Consuming fat

with a meal will help to slow down the absorption of the carbohydrates from a meal. However, while fat does help to slow down carbohydrate, keep in mind that those carbs will still end up in your blood sugar, raising blood sugar levels to some degree.

You can

incorporate protein

with the meal, which will aid in the release of insulin and speed up the clearance of carbohydrates from the blood.
KEY POINT: eating a more balanced meal will help to prevent blood sugar spikes.
Prevent blood sugar spikes with a low carb diet
One of the most effective ways to prevent blood sugar spikes is to eat a low carb diet!
A lower carb diet in the range of 50-100 grams per day can help:
Lower overall blood sugar levels

Lower A1c

Prevent blood sugar spikes from happening in the first place

Improve overall health with diabetes
We know a lower carb diet works because that's what helps our members achieve such good blood sugar control and optimal health.
TESTIMONIAL: "Super excited here. Had my A1c checked today. Are you ready for this? 5.6. After three months of Diabetes Meal Plans, without drugs or insulin, my blood sugar is normal. Thank you for your guidance and great recipes. Could not have done it without you.." ~Maria G
KEY POINT: focusing on lowering your carbohydrate intake is an effective way to gain better blood sugar control.
Exercise prevents blood sugar spikes
Incorporating regular physical activity is good for overall health, but it's also essentially "free medicine" when it comes to blood sugar management.
Any activity is going to beneficial compared to no activity.
The general goal for most people is 30 minutes per day, 5 days per week. But if you can't fit in a 30 minute block of time, that's okay, do what you can!
Try a quick walk, house cleaning, gardening, or a few squats or lunges after meals – anything you do will help get sugar out of the bloodstream and into the muscle cells faster (which may be particularly beneficial after a meal).
KEY POINT: Add regular exercise to your routine and try quick bouts of activity after-meals to help achieve better blood sugar levels.
Be aware of stress
Stress is something we all deal with on a daily basis.
When we encounter stress our body goes into a fight or flight response. This natural reaction to stress causes stored sugar in our body to be released, and therefore raises blood sugar levels.
Even if you are diligent with monitoring your carbohydrate intake and doing regular physical activity, high levels of daily stress this could be causing blood sugars to go up.
Stress can also make it hard to stick to a schedule, which makes it harder to eat well and maintain other healthy life practices.
For instance, you have a stressful work day, so you stop and get fast food so you don't have to cook when you get home. You also skip your evening walk and maybe you're so frustrated from work that you go straight to bed, forgetting to take your diabetes medication.
This all affects your blood sugar readings…and not in a positive way!
Try simple stress-relieving techniques such as meditation, gentle exercise, playing with a pet, or taking a relaxing bath.
KEY POINT: finding ways to decrease your stress and/or deal with it will aid in decreasing spikes in blood sugar.
Improve your sleep quality
When it comes to managing your blood sugar, there is a major connection between your sleep and blood sugar spikes.
Both the quality of sleep and the amount your get are important factors.
Research shows sleep deprivation aggravates insulin resistance and raises blood sugar levels.
Chronically high blood sugar levels are also a potential contributing factor to poor sleep quality, which means it can be a vicious cycle.
KEY POINT: Aim for 7 hours of sleep each night, and if you're not getting enough, ask yourself why and try to implement strategies to get more sleep and improve your sleep quality.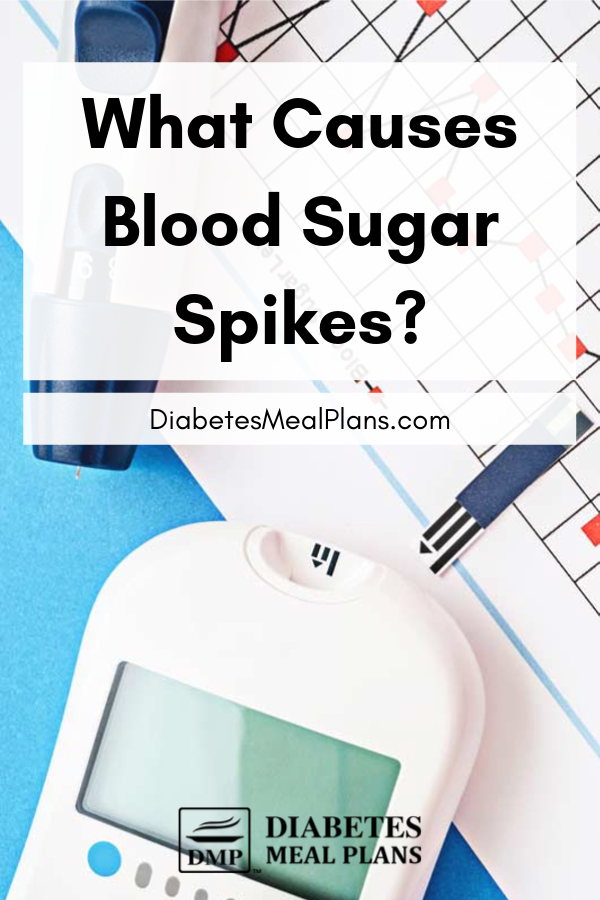 Medications can cause blood sugar spikes
Certain medications could cause blood sugar spikes, the most common medications being:
Fluoroquinolones

Beta blockers

Thiazide and thiazide-like diuretics

Second-generation antipsychotics

Corticosteroids

Calcineurin inhibitors

Protease inhibitors
Also, some over the counter cold and flu medications that contain pseudoephedrine and cough syrups can cause elevations in blood sugar.
If you're concerned about a medication, your doctor or pharmacist should be able to answer any questions you may have.
KEY POINT: if you're taking medications, ask your doctor or pharmacist if they might raise blood sugar levels.
Conclusion
As you can see there are many things that can cause blood sugar spikes, but there are also many things you can do to reduce them.
The most important thing is your diet, which mostly comes down to reducing carbohydrates. This alone can have a dramatic effect on after-meal and overall blood sugar levels.
It's also important to be in tune with yourself and figure out what other factors in your life could be causing these spikes and then be proactive in trying to resolve those things.
We understand it can be frustrating at times, but keep at it! It does get easier to identify why these spikes may occur and take action to fix them.