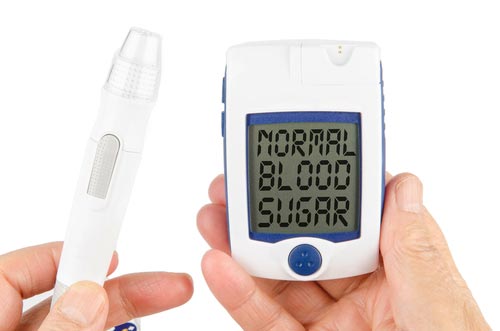 I was talking to one of my clients recently about the importance of getting blood sugar levels under control.
So before sharing the diabetes blood sugar levels chart, I want to OVER EMPHASIZE the importance of you gaining the best control of your blood sugar levels as you possibly can. Just taking medication and doing nothing else is really not enough.
You see, I just don't think many people are fully informed by their doctors that it is crucial to do this because if you already have a diabetes diagnosis then you are already at high risk for heart disease and other vascular problems.
Maybe you've been better informed by your doctor but many people I come across haven't. So if that's you, it's important to know that during your pre-diabetic period, there is a lot of damage that is already done to the vascular system so you want to prevent any of the nasty complications.
Truly, ask anyone having to live with complications and they'll tell you it's the pits!
You DO NOT want it to happen to you if you can avoid it.
Like I said, just taking medication and doing nothing is really not enough! Yet I know many diabetics who do this.
Why is it not enough even if your blood sugars seem reasonably under control?
Well, one common research observation in diabetics is there is a slow and declining progression of blood sugar control and symptoms. Meaning over time your ability to regulate sugars and keep healthy gets harder. If you take medication you will likely have to take more and more.
BUT, if you empower yourself with the right nutrition and lifestyle advice and put them into practice, then you can prevent, or at least slow down, this gradual decline. What that means for you is a happier healthier life overall and I'm sure you want that right?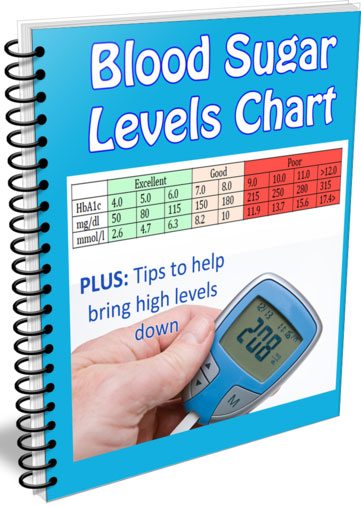 FREE DOWNLOAD
 Printable Blood Sugar Levels Chart
PLUS: Tips to bring down high morning levels
Blood Sugar/Blood Glucose = Same/Same
You might see some charts or read some articles that say blood sugar and others say blood glucose. Just in case you are confused these both mean the same thing. The words sugar and glucose are often used interchangeably.
So now let's go over some numbers.
Let's Crunch Some Numbers
I'll give it to you in a written, chart, and visual format because it will make sense to you depending how you read it.
Normal Blood Sugar Levels
Fasting glucose – 70-100 mg/dl or 4-6 mmol/l
Pre-diabetes – also called impaired fasting glucose or impaired glucose tolerance
Fasting glucose – 101-125 mg/dl or 6.1-6.9 mmol/l
2 hours glucose level – 140-200 mg/ dl or 7.8-11.0 mmol/l
Diabetes
Fasting glucose – More than 126 mg/dl or equivalent to or more than 7.0 mmol/l
2 hours glucose level – More than 200 mg/dl equivalent to or more than 11.1 mmol/l
Blood Sugar Levels Chart
Category
Fasting value
Post prandial / aka post meal
 
Minimum
Maximum
2 hours after meal
Normal
70 mg/dl
100 mg/dl
Less than 140 mg/dl
 
4 mmol/l
6 mmol/l
Less than 7.8 mmol/l
Pre-diabetes
101 mg/dl
125 mg/dl
140-200 mg/dl
 
6.1 mmol/l
6.9 mmol/l
7.8-11.1 mmol/l
Diabetes
More than 126 mg/dl
 
More than 200
 
More than 7 mmol/l
 
More than 11.1 mmol/l
Diabetes Blood Sugar Level Goals
| | | |
| --- | --- | --- |
| Time to Check | mg/dl | mmol/l |
| Upon waking before breakfast (Fasting) | 70-130 (Ideal under 110) | 4-7.2 (Ideal under under 6.1) |
| Two hours after meals | Under 180 (Ideal is under 140) | Under 10 (Ideal is under 7.8) |
| Bedtime | 90-150 | 5-8.3 |
 The Visual Version 🙂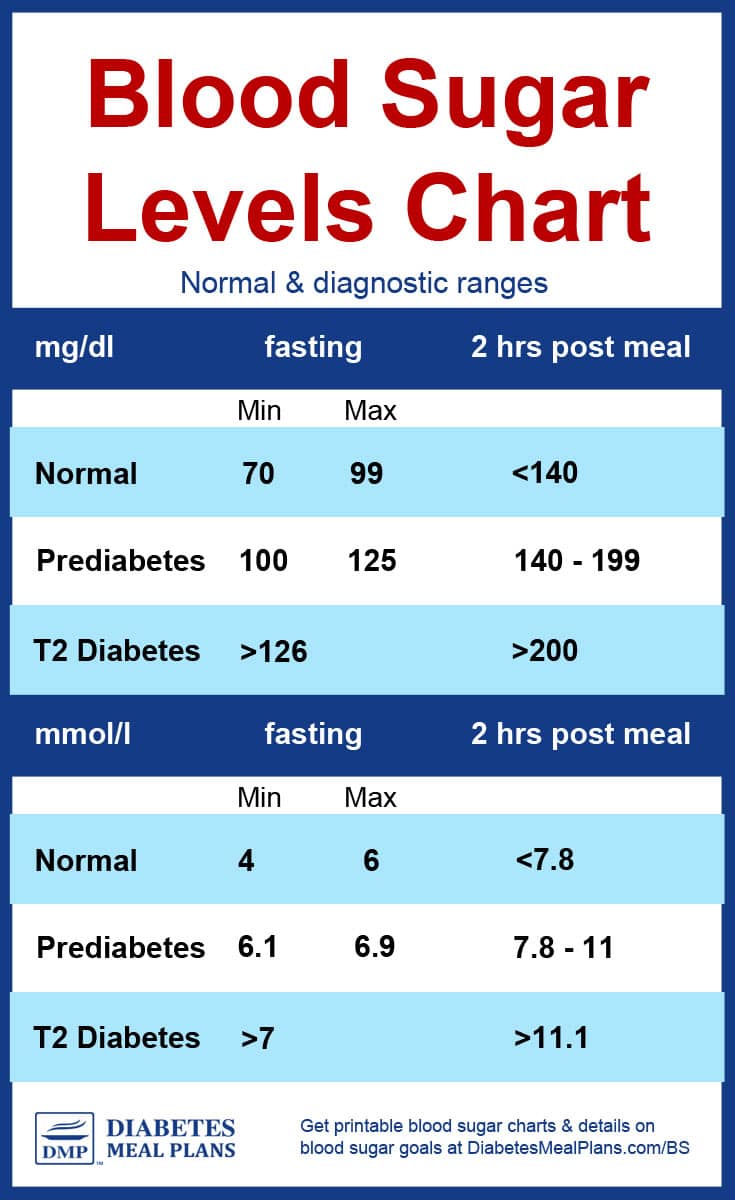 Well there you have it. Hope you find it helpful and if you do please pin it, and share it around 🙂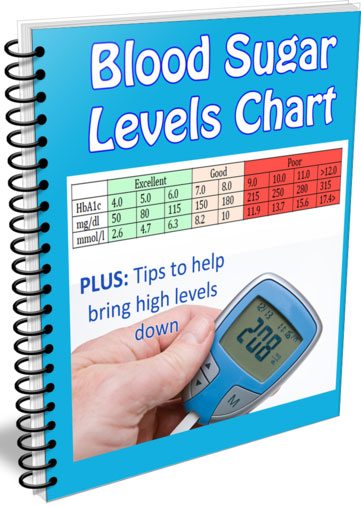 FREE DOWNLOAD
Printable Blood Sugar Levels Chart
PLUS: Tips to bring down high morning levels
References
http://www.lillydiabetes.com/Pages/blood-sugar-goals-and-targets.aspx
http://www.joslin.org/info/goals_for_blood_glucose_control.html
http://www.medindia.net/patients/calculators/bloodsugar_chart_result.asp
http://www.webmd.com/diabetes/blood-glucose?page=3
http://www.diabetes.org/living-with-diabetes/treatment-and-care/blood-glucose-control/checking-your-blood-glucose.html#sthash.TE96fEWJ.dpuf
Save
Save