Table of Contents

[Hide]

[Show]
If you had to name the perfect side dish to a spicy mug of chili or a steaming bowl of soup – what would it be? Did you say cornbread?
If so, you're not alone. Cornbread pairs perfectly with soups, stews, and chilis, and it's not hard to see why. It's sweet and dense and buttery…almost irresistible!
But is this American Southern staple off limits to those with diabetes, or is there a way to turn this high-carb side dish into a blood sugar friendly one?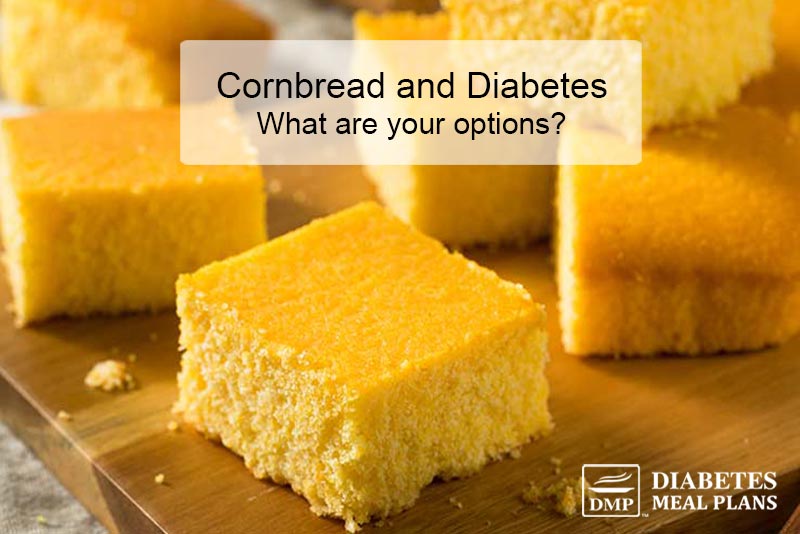 What is Cornbread?
Cornbread is practically a stable among southern states in the U.S. where it originated, but this golden colored bread is enjoyed all over the world. It's cheap, easy to make, and delicious.
The ingredients in a basic cornbread are pretty simple. All you need are: all-purpose flour, cornmeal, eggs, milk, butter, baking powder, salt, and white sugar.
Now, if you're familiar with counting carbs then two particular ingredients in that list may have stuck out like a sore thumb—flour and white sugar. Oh no!
Grain-based flour and white sugar are two of the big "no no's" when it comes to low carb living, because they are basically pure carbohydrates with no added nutrition. Ingredients like these will cause your blood sugar to rise very quickly, which is the opposite of what you want if you have diabetes.
And that is the big drawback of traditionally-made cornbread. It just contains too many carbs and not enough fiber, vitamins, or other nutrients.
Luckily, there are some easy swaps that can transform your average cornbread into a low carb delight that won't disappoint your tastebuds or send your blood sugar levels shooting upward – look for the recipe at the bottom of this post.
Cornbread Nutrition Facts
Let's take a look at just how carb-heavy some traditionally prepared cornbreads can be. The options listed below are all store-bought mixes but most traditionally homemade options will have similar nutrients.
And keep in mind that a typical baked portion of cornbread (usually 30-50g by weight) is about a 2×2 inch square, or one regular sized muffin.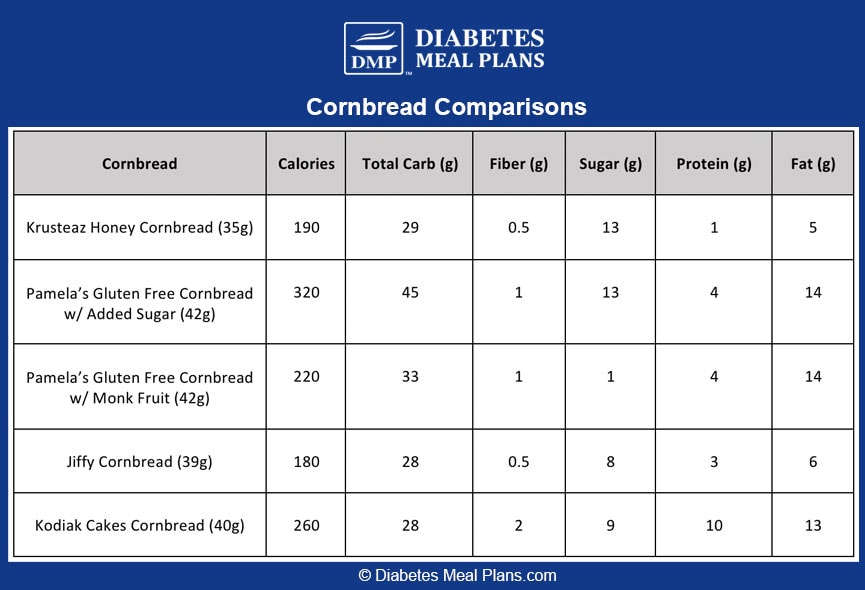 These mixes have varying amounts of fat, protein, and calories, but what they all have in common is…too many carbs!
Our daily recommendation is that you max out at 50-80g of carbs, or a maximum of 100g.
That would mean that just one serving of any of these cornbreads would eat up close to half of your daily carb allowance (and that's not counting any additional honey that might be poured over top of the cornbread)!
All of the listed cornbread mixes included added sugar, except the Pamela's Gluten Free Cornbread Mix. This mix did not come with added sugar, but the instructions suggest adding half a cup of sugar or honey. In a situation like this, you can shave off 12g of added sugar (carbs) by using a sugar free sweetener like monk fruit in place of the sugar.
However, that option still leaves you with 33g of carbs from the cornbread mix itself, which is still too much.
A better way to enjoy blood sugar-safe cornbread is to make a low carb version for yourself.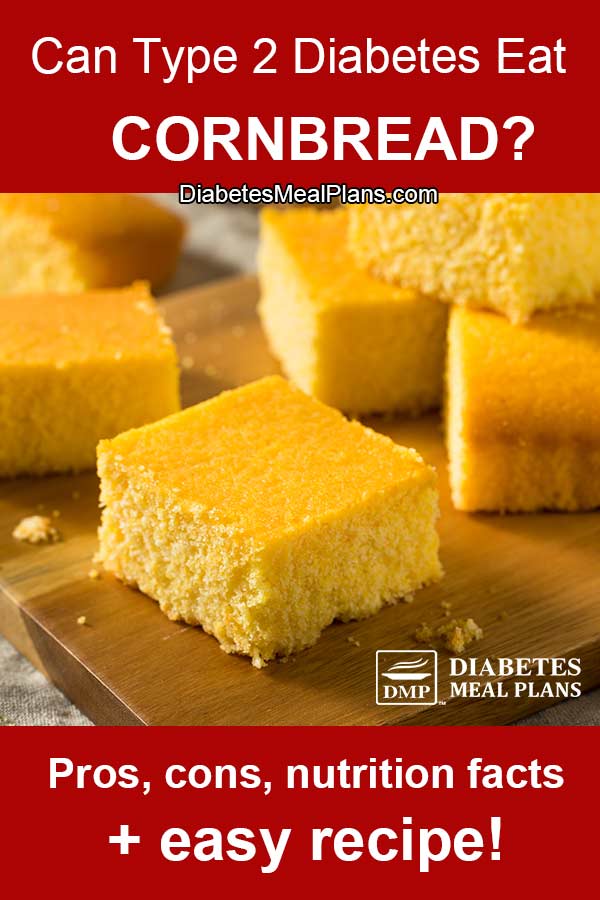 Homemade Low Carb Cornbread Recipe
If you'd like a lazy option, consider ordering a pack of low carb cornbread from Amazon. Whip it up via the instructions and you'll be on your way.
Alternatively, with just a few simple swaps, we can turn a classic cornbread recipe into a homemade low carb delight.
The two big swaps we're making are:
replacing the regular flour and corn meal with almond flour and sweet corn extract (for flavoring)
replacing the white sugar or honey with a low carb sweetener like monk fruit
This recipe yields 16 servings at 8g total carbs/4g net carbs per slice.
Ingredients:
5 cups blanched almond flour
1 tbsp baking powder
1/3 cup monk fruit or alternative sweetener
1 tsp sea salt
2/3 cup melted butter
2/3 cup unsweetened almond milk or other milk
6 large eggs
1 tbsp sweet corn extract
Prep & Baking Directions:
Preheat the oven to 400 degrees F (204 degrees C). Grease a 10-inch cast iron skillet with butter.
In a large bowl, stir together the flour, baking powder, sweetener, and sea salt.
Stir in the melted butter, almond milk and eggs, until smooth. Stir in the sweet corn extract.
Transfer the batter into the skillet and smooth the top with a spatula. Bake for 35-40 mins, until an inserted toothpick comes out clean and the top is golden brown.
**Download our food list below to learn more about the best foods to eat!