If you're newly diagnosed with type 2 diabetes, it can all feel very overwhelming.
Then you get online and start looking for info and it can all get even more confusing because one place says this and another says that – there's so much conflicting information!
We understand. We've been helping people with type 2 diabetes for a long time and we know how confusing and overwhelming it can be at first. So let us help you get started on the right track.
What to focus on first?
The first place to focus on is improving your diet/nutrition.
The food you eat is very powerful, as it can help you reverse your diabetes so your body is functioning normally – normal blood sugar, cholesterol, liver function, blood pressure, digestive function – yes, all these things can be improved as they are all connected!
The thing is, while medication can be helpful, depending on medication alone is not a great option because if you have to take more and more medication, it indicates your diabetes is getting worse.
On the other hand, if you focus on improving your diet/nutrition, you can stop your diabetes getting worse, reduce or eliminate your medication, and live your best life!
Retha (VIP Member) said: "This way of eating works. Sugar numbers are down and Dr. has taken me off one of my medicines for 3 months to see how I will do."
But diet/nutrition is a big topic so let's drill it down one more step…
Focus on the carbohydrates in your diet
Focus on learning everything you can about carbohydrates because this is the nutrient that influences blood sugar and A1c the most, as you can see in the picture below.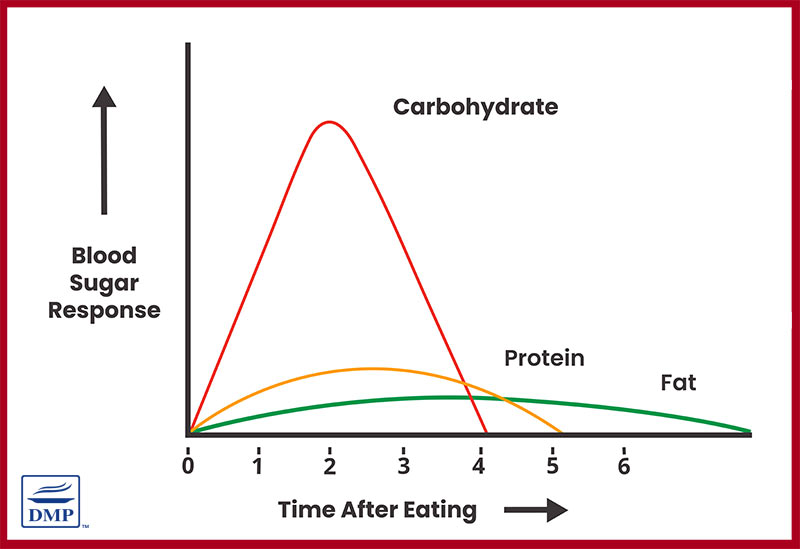 Very high carb foods are called 'starches' and include things like pasta, noodles, rice, bread, and starchy vegetables like potatoes, sweet potatoes and corn. If you can start by reducing these foods you will be well on your way to improving your blood sugar levels.
At first this might sound like you will be able to eat nothing. Please don't feel that way.
Believe us when we say there are PLENTY of things to eat. You've just got to get to know a new way of eating, and anyone can do it – even you!
Elizabeth (VIP Member) said: "The information, the recipes, the support – I don't feel so hopeless. I love the fact that it all reminds me that I can still eat! I just love how much clear, understandable information is available. I appreciate the very quick responses I have received from my emails. Excellent resource! Thank you so much!!"
And just one other point: Calories are not so important as the quality of the foods you eat – focus on fresh natural foods and work on cutting out all the processed stuff.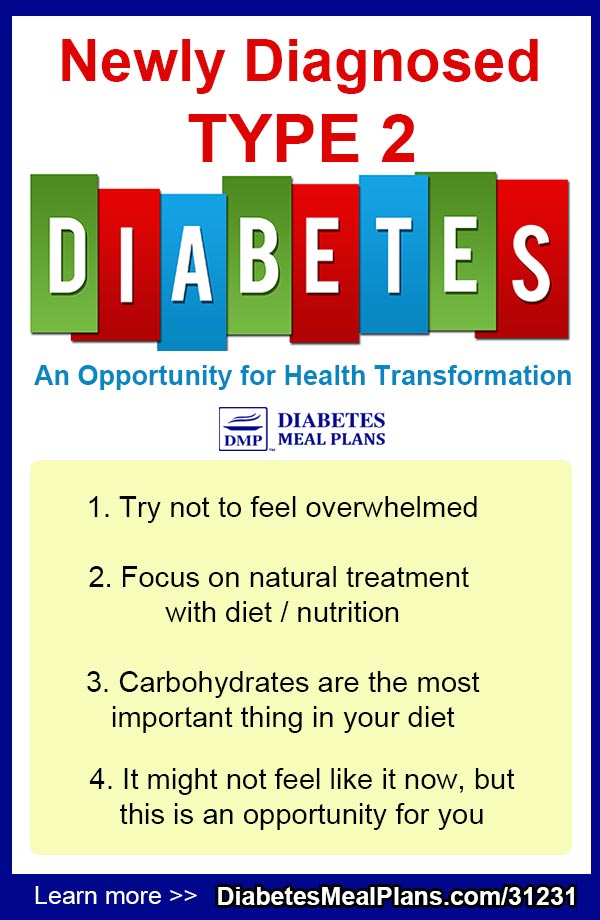 Think about your diagnosis as an opportunity!
It might be overwhelming now, but it won't be – you can do this! Like many people before you.
Taking care of your health will give you so much freedom in the world, so that you can continue doing all the things that you want to do in this life. This is an opportunity for you to transform your health and get to a place where you've never felt better – how good will that be?!
The other thing that's great about being newly diagnosed, is that research shows this is the best time to take charge of your health and avoid diabetes complications – that is really important because some of them can be awful, even life-threatening.
Please don't feel overwhelmed. Be patient with yourself, but know YOU CAN DO THIS. This is your opportunity for a health transformation so embrace it and enjoy it!
Importantly, the best advice is to start from where you are and just work on something. It's even worse if you get stuck and do nothing.
Totally confused by everything?
Take Dr Jedha's clinically proven T2Diet Program.
The 16-week online program will guide you step-by-step on exactly what to eat to lower blood sugar and A1c, lose weight if you need to, and reduce medication.