You may have already heard about the hormone "cortisol" and its relation to stress. When you're stressed out, your body naturally produces more cortisol.
But you're probably wondering…how does this relate to type 2 diabetes? 
Well, surprising or not, there is a connection between cortisol levels, blood sugar levels, and long-term diabetic complications.
So keep reading along to get informed and learn how your can better manage your stress, lower your cortisol levels, and improve your health.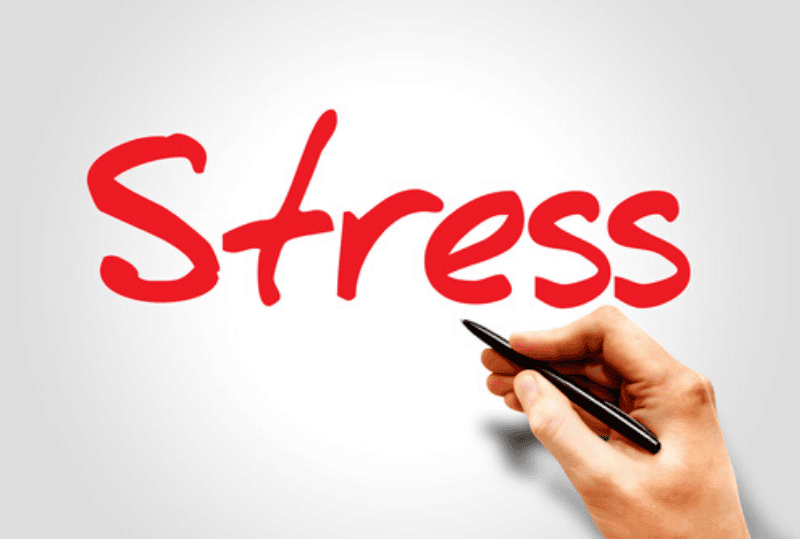 What is Cortisol?
Cortisol is a steroid hormone that is made in our adrenal glands, which are located on top of the kidneys.
Cortisol helps to:
Regulate metabolism
Reduce inflammation
Assist with memory formation
Control the balance of salt and water
Control blood pressure and blood sugar
Cushing Syndrome, a chronic disease, is characterized by high cortisol levels.
People with Cushing's can experience weight gain in the face, abdomen and chest, a flushed face, high blood pressure, osteoporosis and mood swings.
Low levels of cortisol, on the other hand, can cause an autoimmune disease called primary adrenal insufficiency, also known as Addison disease. This causes damage to the adrenal glands. Symptoms can include fatigue, muscle loss and mood swings.
You may know cortisol best as the "stress hormone."
During times of "fight or flight" stress hormones make sure our bodies have energy to deal with the stressful situation. They also help to increase your concentration, your ability to react, and your physical strength. Heart rate and blood pressure also increases in times of stress.
Once the stress is dealt with your body returns to normal.
The Effects of Stress on the Body
If you are experiencing a constant state of stress, then your body will be in constant high alert. Elevated levels of cortisol for longer periods of time can damage your health.
Some of the consequences of long-term elevated cortisol are:
Increased appetite
Weakened immune system
Anxiety
Depression
Loss of sleep
Memory problems
Increased blood pressure
Increased heart rate
Increased fats in the blood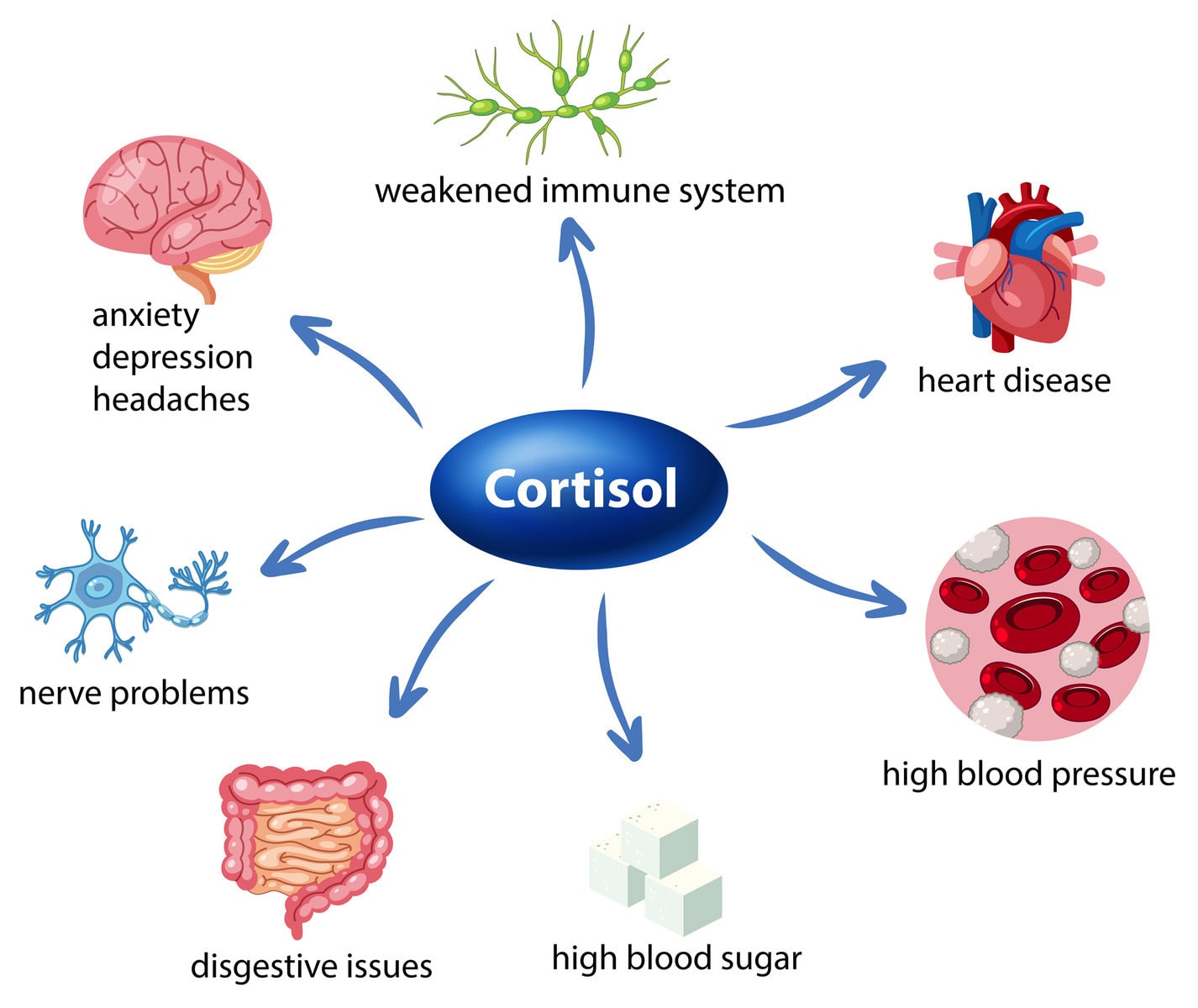 Stress Hormones and Blood Sugar Regulation
Elevated levels of stress hormones also cause changes in sugar metabolism, including:
Increase in production of sugar in the liver (gluconeogenesis)
Decrease in sugar uptake in muscles and fat cells
Decrease in insulin secretion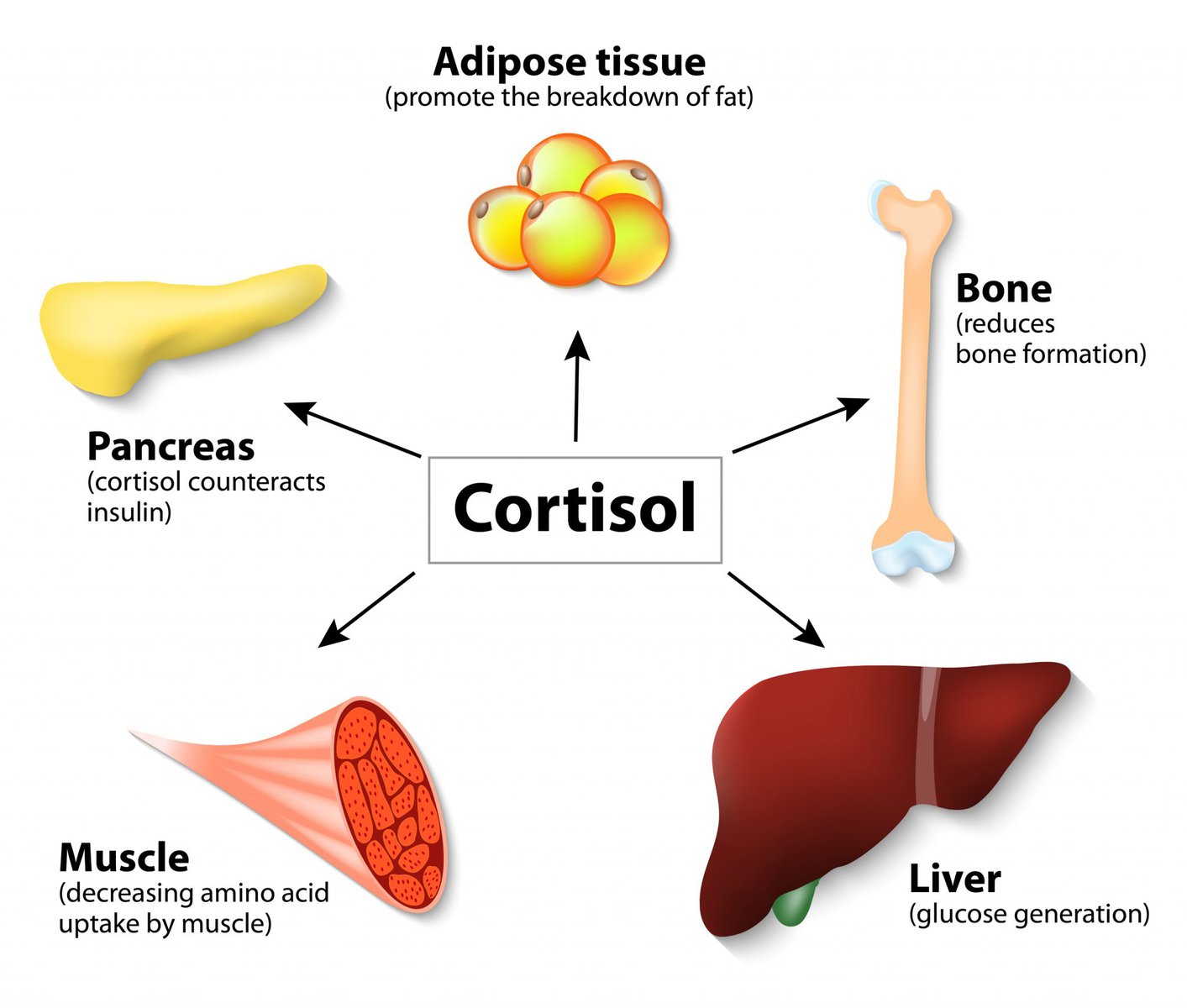 The Cortisol-Diabetes Connection
It has been suggested in those with type 2 diabetes that there may be a possible link between steroid hormone release, insulin resistance, and metabolic syndrome.
Higher cortisol levels have been associated with a decrease in beta cell function in the pancreas and increased levels of hemoglobin A1c. If you have insulin resistance, which many people with type 2 diabetes do, this could mean you have elevated cortisol levels, which may worsen with age.  
Diabetes complications could also be related to higher levels of cortisol.
The reason for this is unexplained and it is not known whether increase in cortisol causes worsening control of diabetes and insulin sensitivity, which leads to the increase in complications; or if people with chronic complications experience chronic stress, which in turn increased cortisol release.
It likely works both ways and becomes a viscous cycle.
Since stress is a critical factor for cortisol release, a recent study looked at occupational stress and its impact on cortisol, blood sugar, and A1c levels of those without diabetes.
Researchers examined the perceived stress scale of police constables and compared that with their lab values. They found a positive correlation between perceived stress, increase in cortisol, blood sugar, and A1c compared to a control group.
Decreasing Stress: is it Possible?
In response to the negative health outcomes of stress, there have been studies that look at how a person can attempt to decrease stress. Overall there are two methods that are proven to work: meditation and getting good quality sleep.
Meditation
Meditation was found to aid in decreasing fasting and after-meal blood sugar levels compared to those who did not practice meditation, and long-term practitioners have seen decreases in cortisol levels.
Good quality sleep
Another common stressor is changing sleep patterns. Whether that is changing shifts at work or not being able to sleep well through the night, lack of quality sleep influences cortisol levels and your overall health.
It is normal for cortisol levels to vary throughout the day, but a typical day includes an spike of cortisol when waking and slowly decreases throughout the day.
When the sleep schedule is interrupted, cortisol levels can peak at the wrong time and set your body clock out of whack, disturbing your circadian rhythm (natural body clock).
Cortisol levels and rhythm are partly responsible for normal variation in glucose tolerance.
This change in circadian rhythm has been shown to produce a decrease in glucose tolerance, which is a risk factor for type 2 diabetes. Alterations in timing of cortisol may also be associated with decrease in overall health.
The message here is that you should always try to improve your sleep quality. Your body and your blood sugar levels will thank you!
Exercise
Another way to decrease stress is by incorporating regular exercise which could help reduce cortisol levels. Exercise produces endorphins and increases growth hormone, both of which can aid in lowering cortisol levels.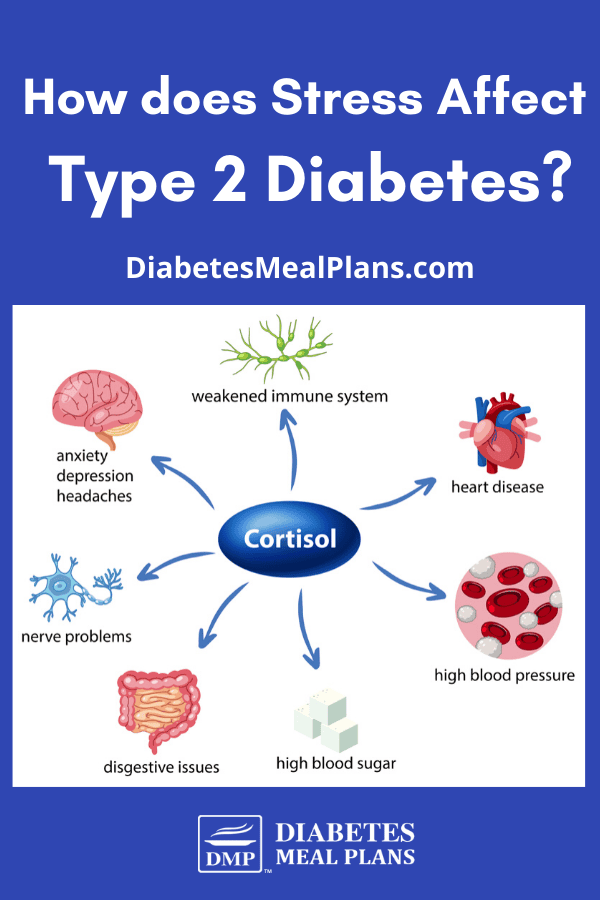 Can we Control Cortisol Levels through Diet?
There has been the question of whether the food we eat effects cortisol levels.
Interestingly, a 2010 study did show cortisol levels decreasing after protein or fat intake when compared to carbohydrate intake.
However, another study (2011) found that cortisol levels did not differ between groups that were fed either a high protein or high carbohydrate diet regardless of stress levels. So, there are no firm conclusions here.
Other studies (2012) suggest that there is a relationship between A1c level and low quality food choices that may be caused by cortisol levels, but again, there is no definite answer or recommendation when it comes to food choices to affect cortisol levels.
What we do know is that making low quality food choices (aka. processed foods) and consuming too many carbohydrates will negatively affect your blood sugar levels and your overall health, so a low carb diet is still the best way to go!
Conclusion: Cortisol and Diabetes
Diabetes is a hormonal condition and cortisol is a hormone so there is naturally a connection.
Since cortisol is a stress hormone, it seems the best way to manage cortisol and possibly aid in better blood sugar control is to manage stress and avoid long-term stressors.
Eat well, sleep well, exercise regularly and incorporate practices such as yoga or meditation.
Plus, laughter and joy are no doubt a way to ease the pressures of stress, too!