There's nothing quite like a beautifully glazed spiral ham for a festive dinner or a sweet-yet-savory ham and tomato sandwich at a picnic lunch.
You can dress it up or dress it down, and it still tastes just as great. It's got all the protein of other meats plus a hint of smokey sweetness. No wonder ham is the most popular deli meat in the world!
So, can you include ham in your diet with type 2 diabetes or prediabetes?
The answer may surprise you…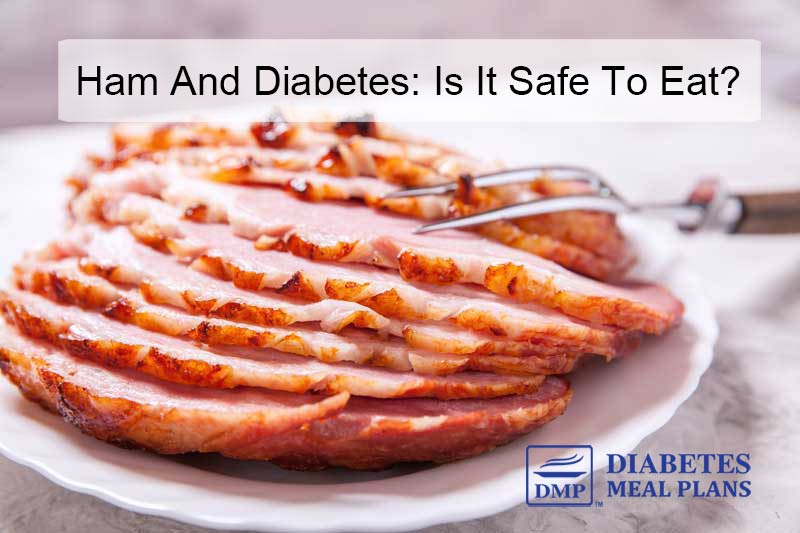 Ham Nutrition Facts
Ham is a specific cut of pork (taken from the hind leg) that has been cured and seasoned to culinary perfection.
It is considered processed red meat, in a similar category to other crave-able meats like bacon, sausage, pepperoni, salami, hot dogs, deli meats, bologna, and beef jerky.
Processed meats are ultra-palatable due to a variety of additives. Unfortunately, the ingredients that make processed meats taste "oh so great" are the same ones most people need to reduce in their diet.
Ham's unique flavor is mostly due to the sodium (salt) used in the curing process, plus whatever spices and sweeteners they use to up the flavor. Some hams also contain additional preservatives, food dyes, and artificial flavorings.
That being said, there is still quite a range between lightly processed "cleaner" ham products and the ultra-processed stuff that's packed to the brim with excess salt, nitrites, and sweeteners like honey, brown sugar, and corn syrup.
Let's take a closer look at something in the middle of this spectrum.
Here are the nutrition facts for a 3oz (85g) serving of standard hickory-smoked, honey-glazed spiral ham:
Calories: 170
Carbohydrates: 4g
Added Sugar: 4g
Protein: 13g
Fat: 10g
Sodium: 890mg
What sticks out to you in these numbers? Is it the amount of sodium?
Because of the curing methods, ham is very rich in salt.
The general recommendation for daily sodium is under 2,300mg/day and it's very easy to go over that limit when consuming a lot of processed foods, including processed meats like ham.
Most hams also contain added sugars, in this case, 4g of added sugar per serving.
That extra salt and sugar doesn't mean ham is totally off limits, but hopefully you're able to see why processed meats are considered a "sometimes" food rather than an "all the time" staple.
Comparing Ham Deli Meats
Within the category of "ham," there are many different cuts and curing methods. To keep things simple we will stick to just deli lunch meats for this comparison.
Deli/lunch meat slices of ham tend to be lighter in fat, sodium, and overall calories when compared to a heartier slab of bone-in ham or Canadian bacon. Less fat and fewer calories may sound like a better bargain, but that all depends on your dietary goals.
Some people want that stabilizing energy that animal fat provides, while others may want to focus on protein instead and reduce overall calories.
With your own goals in mind, take a look at the chart below that compares 2oz servings (usually 2-4 slices) of different ham slices.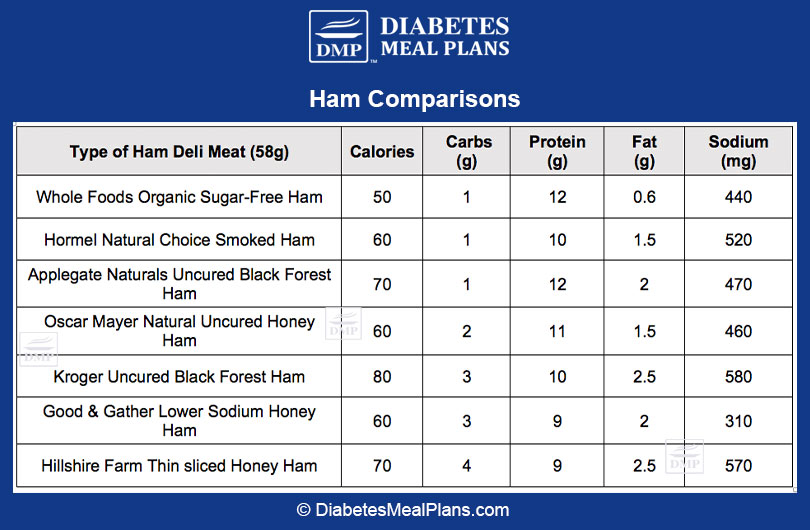 The biggest differences are in the number of carbs (sugars) and the amount of sodium between brands.
Which option would you choose at the grocery store?
Research on Processed Meat & Diabetes
Now, we can't mention the topic of "processed meats" without sharing a bit of research on why we recommend limiting them.
Studies have found that consuming processed meats may increase your risk for a variety of different cancers, including: non-Hodgkin lymphoma, bladder, breast, colorectal, esophageal, gastric, oral, and prostate cancers.
Other research has found associations between processed meat consumption and an increased risk of coronary heart disease (42% increased risk) and diabetes (19% increased risk).
Many of these studies found "dose-dependent" relationships between processed meat and certain health risks. That means that the health risks increase as you increase your intake of processed meat. Enjoying meats like ham every once in a while is fine, but indulging in processed foods at every meal may increase your risk for chronic diseases.
It's safe to say that those who have known metabolic conditions should take extra care to limit the intake of processed meats in their diets.
It's also worth noting that the risks found in these studies applied to processed red meats specifically, while unprocessed meats (including red meat) have a neutral effect on heart health and aren't anything to worry about.
One of the biggest players in processed meats is the excess sodium. Is that something to worry about?
Most people with type 2 diabetes don't need to drastically reduce their sodium intake or adhere to a low-salt diet.
However, some people with specific conditions like high blood pressure or chronic kidney disease may want to watch their salt intake and reduce processed foods as much as possible.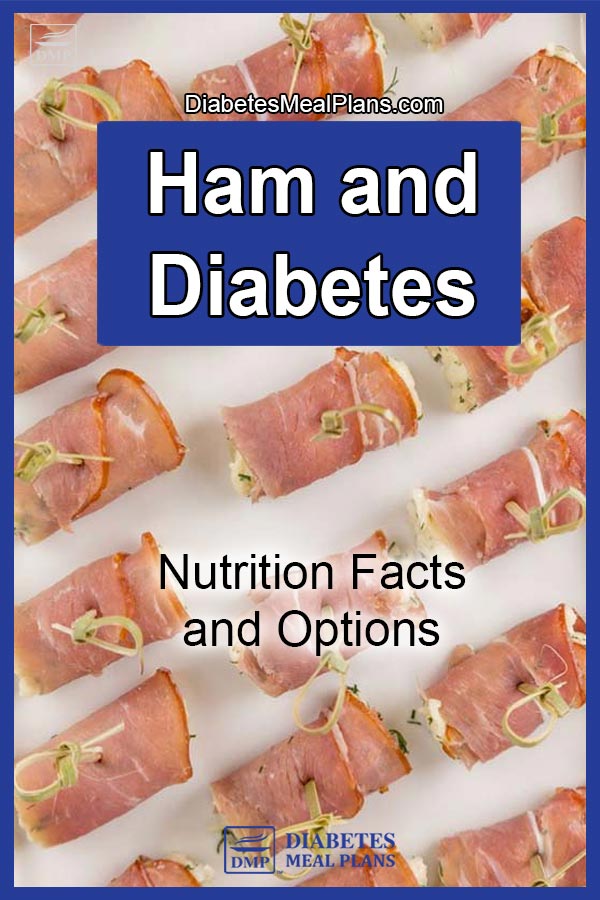 Guidelines for Ham & Type 2 Diabetes
You may be surprised to hear this, but we do think ham can be included in a low carb diet!
Most folks with diabetes can enjoy processed foods from time to time, just be sure to stick within these guidelines:
Enjoy in Moderation
Ham is a processed meat and should be treated accordingly.
Don't rely on processed meats as a source of fuel for your body. Yes, you can indulge in a nice slice of ham or a few strips of bacon here and there, but limit your intake to a few times a week at maximum.
A healthy low carb diet derives most of its protein from clean sources like unprocessed meats, eggs, and dairy, as well as nuts, seeds, and seafood.
Go "All-Natural"
While the word "natural" is an unregulated term and can sometimes be a marketing gimmick, that doesn't mean you can't use this term to shop smarter and save time.
When shopping for deli meats, you may want to start your search by looking at the options advertised as "natural" first.
Yes, all processed meats are "unnatural" by definition, but the "natural" label may indicate that a deli meat contains fewer preservatives and less added sugar. This isn't a foolproof method, but it can be a good starting place for anyone who's overwhelmed by the huge selection of deli meats at their local market.
Look for Low Sugar
This one may be obvious, but a key strategy to eating low carb is to cut out unnecessary added sugars from your everyday food choices.
Lunch meat is a great area where you can trim things down, opting for a brand that contains 2g of carbs (or less) per serving. Remember: the less added sugar, the better!
**Download our food list below to learn more about the best foods to eat!