You can roast a sizzling sausage around a peaceful campfire or snack on a hearty bratwurst in the hustle and bustle of a thriving German festival. Sausages are a versatile and well-loved way to eat meat.
So many cultures enjoy sausage in their own unique ways, but when it comes to diabetes and your health…does sausage make the list of acceptable meats?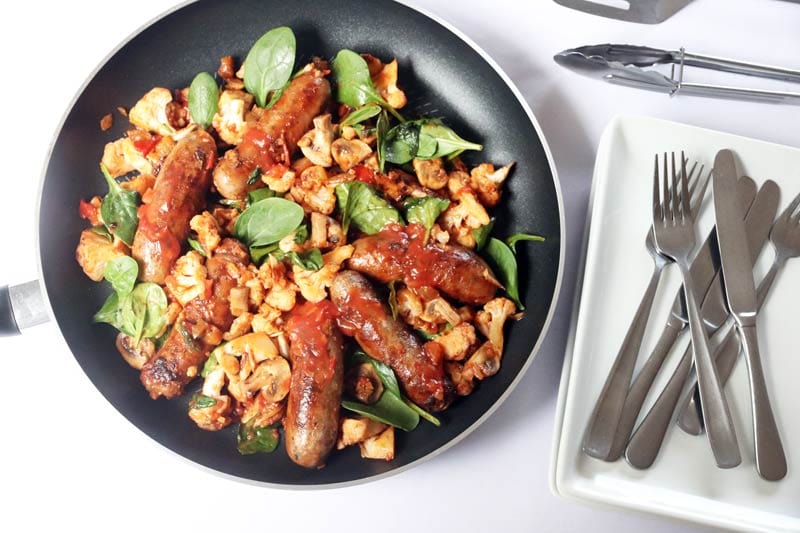 What is Sausage?
Sausages come in many different shapes, sizes, and flavors, but in general they are made from ground meat that has been shaped into a cylindrical casing.
Pork, beef, and chicken are popular sausage meats.
Sausage flavors vary from spicy Cajun sausages, to sweet breakfast links, to savory German Bratwursts.
Beyond just flavor, there are so many types of sausages out there…smoked salami, Mexican chorizo, Polish Keilbassa, Italian sausage, and the list goes on!
But can a person with diabetes eat sausage? Let's take a look at what's actually inside a sausage.
Sausage Nutrition Facts
Sausage isn't inherently bad for you, but the way many sausages are prepared makes them one of the less-healthy ways to consume meat.
Often cured with plenty of salt, sugar, and preservatives, most sausages are considered processed foods. The amount of processing that goes into each brand of sausage will vary, but most options found in a typical market won't be too healthy.
But let's break down the contents of a basic chicken sausage from a relatively clean grocery store brand.
In 100 grams of an Aidells brand smoked chicken breakfast sausage, you'll find:
Calories: 196
Total carbs: 3.5g
Sugar: 1.7g
Total fat: 12.5g
Saturated fat: 3.6g
Fiber: 0
Protein: 19.6
Sodium: 876mg
Like most sausages, this example is heavy in fat and protein and it doesn't contain too many carbohydrates.
Because this specific sausage is from a pretty clean brand, it only contains 1.7g of actual sugar in the form of maple syrup for a touch of sweetness.
Ideally, you would choose a sausage with zero added sugars, but that isn't always possible.
Sausages do contain some saturated fat as well, but this shouldn't be your concern as long as you're not scarfing down a dozen Bratwursts every day!
You really want to keep an eye on the hidden sugars that continue to sneak their way into oh-so-many meat products these days.
You'll also want to watchful of all the salt in these processed foods. According to the FDA, we should be limiting our daily sodium intake to around 2,300mg (that's only about 1 teaspoon of salt) but most people do go over the limit – it's difficult to stay within with so many processed foods around us!
The main culprit that's responsible for all this added salt? Once again, it comes down to food processing.
Considering that the sample sausage listed above contained almost 900mg of salt, you can see how easy it would be to blow right past that salt limit by indulging in a second or third helping.
It's worth noting that not all salt is bad, in fact we need it to survive, but excess salt intake is something to keep in mind when you're planning healthy meals.
Comparing Sausage Types and Brands
The carb count of different sausages varies depending on the type of sausage as well as the brand.
While some brands fall on the "cleaner" side of the spectrum with their ingredients, others are notorious for packing their products with as many sugars as possible in order to amp up the flavor.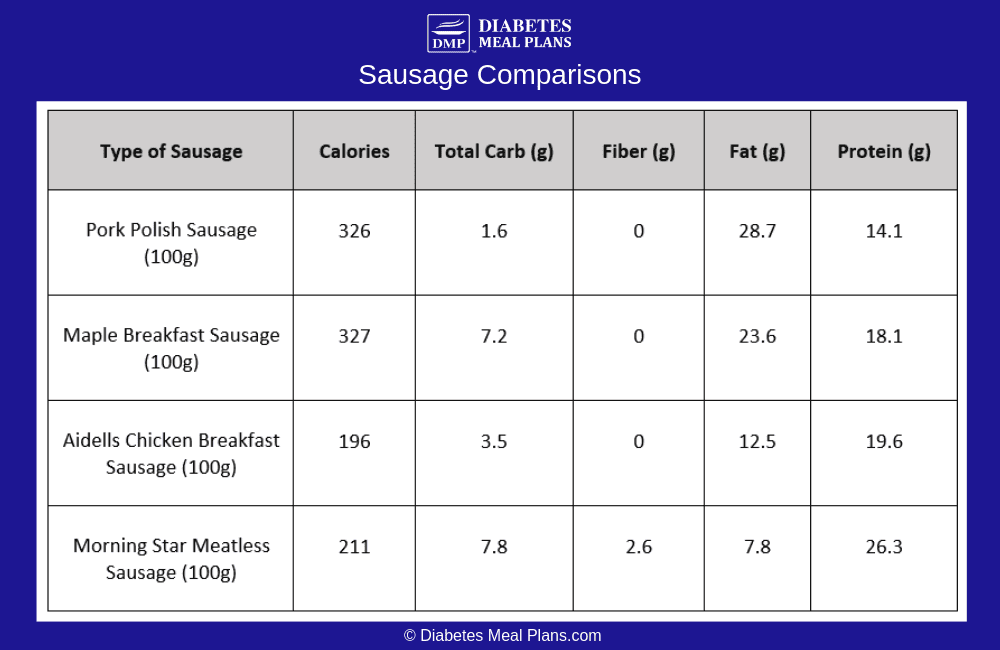 When it comes to unnecessary sugars, the pre-cooked sausages found in the freezer section of the grocery store are the worst of the worst.
The maple breakfast sausage shown in the chart (made by the Johnsonville brand) contains five different types of sugar: brown sugar, white sugar, honey, dextrose, and molasses.
Yes, they drowned those sausages five different types of sweeteners! It sounds crazy but it explains why a 100g serving racks up 7.2g of sugar.
Another high-carb offender is the "meatless meat" option (Morning Star brand in this example) that contains 7.8g of carbs. And while it may seem appealing because it contains some fiber, all those processed carbs don't make the 2.6g of fiber worth it.
If quality fiber is what you're looking for, we encourage you to load up on the fresh veggies and fruits rather than snack on meat substitutes that only have a sprinkling of real nutrition.
Plus, fake meats are about as far away from a "whole food" as you can get. They are ultra-processed and not worth your bite!
But back to real meat sausages…
A good way to score a less processed sausage option is to look for short ingredients lists that have few added sugars and preservatives listed.
Another option is to ask local butchers and grocers for recommendations on finding clean meats. Sometimes the best way to get quality food is to go directly to the source.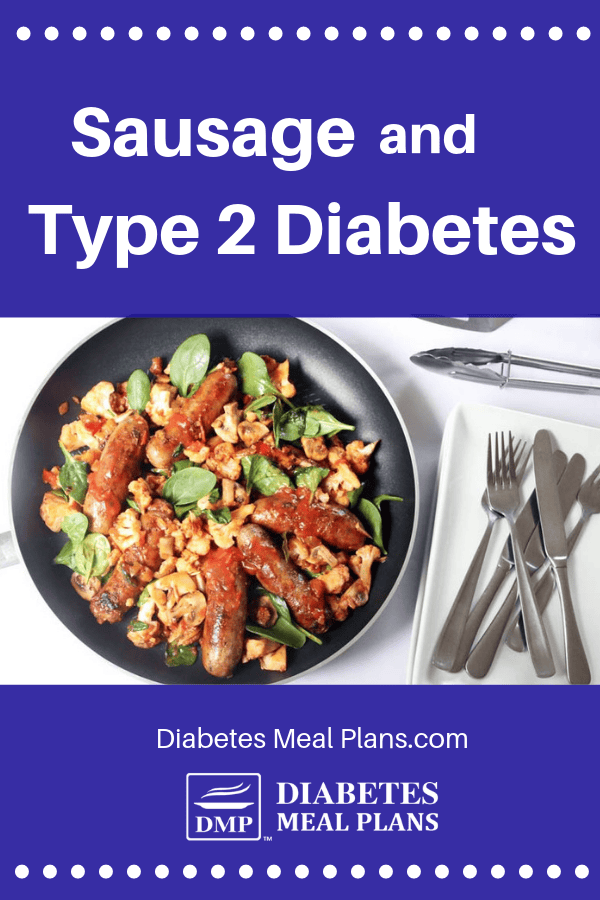 Research on Sausages and Diabetes
One of the main concerns surrounding sausages is the excess salt, as salt intake is a common concern for many people with diabetes, especially if you have hypertension (high blood pressure).
As mentioned earlier, most people already consume way too much salt and sausages tend to be high in salt as well…does this mean you should avoid them altogether?
Not necessarily.
While salt-reduced diets like the DASH diet have been shown to improve hypertension to an extent, this doesn't mean that you should avoid salt entirely.
Many healthy foods naturally contain salt, but it is wise to avoid added salts as often as possible. "Added salts" such as table salt have been stripped of most other minerals.
This mineral balance is important for maintaining healthy blood pressure levels, so if you are going to add salt to home-cooked foods, it's best to use unrefined salt such as pink Himalayan salt or Celtic sea salt.
But since sausages are mostly cured and seasoned with poor quality salt, you'll want to eat them sparingly if you're struggling to manage your high blood pressure.
Another concern about eating sausages is that most of them fall under the category of processed meats.
Processed meats, especially processed red meats like pork and beef, have earned themselves a bad name and rightly so.
As shown in a 2017 study, the consumption of processed red meats were associated with increased inflammation and metabolic markers. 
Processed meats also have a long-standing association with an increased risk for certain cancers including colorectal cancer, which may be related to increased inflammation levels.
This doesn't necessarily mean that you should avoid red meat altogether, though.
New research actually confirms that a high-protein diet (that includes meat) is beneficial for diabetes and meats can be an important part of a healthy low carb diet.
Just try to make the majority of your protein sources "clean" meats that are lightly processed and you'll be good to go.
Conclusion: Can People with Diabetes Eat Sausage?
Yes. Unsweetened sausage is a low carb food, so you can feel OK about including it your diet (in moderation, of course).
Just keep in mind that many mainstream options are highly processed, loaded with salt, and sweetened with sugar, it's best to be a little picky. 
Starting your day with a high protein breakfast is awesome, just make sure the sausage isn't a high-carb sugary mess in disguise.
And if you're enjoying a hearty bratwurst for dinner feel free to go all out with toppings like tangy sauerkraut and spicy Dijon mustard (just be sure to skip the bun)!
Please pin, share or tweet this info to help others – thanks!