Lunch meat, deli meat, sandwich meat, cold-cuts…these pre-sliced packaged meats make throwing a salad or sandwich together as simple as it gets.
Are these easy-to-use meats as healthy as they are convenient? Should people with type 2 diabetes or prediabetes eat them?
These answers and more, coming up below.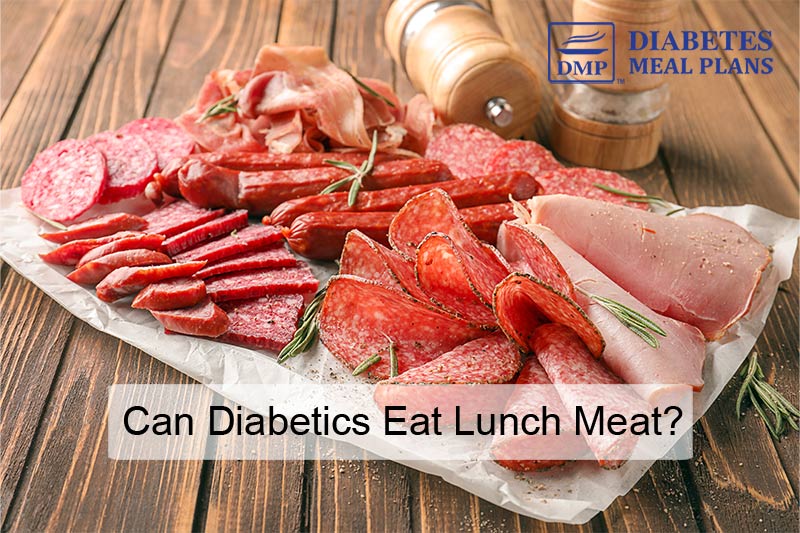 What is Lunch Meat?
There are a variety of different names for "lunch meat," but we use the terms "lunch meat" and "deli meat" interchangeably.
Regardless of the name, you know what this stuff looks like when you see it: thin-sliced, seasoned, and pre-packaged meats found in the refrigerated section of the grocery store or sold by the pound from behind the deli counter.
So, what makes lunch meat different than a regular slice of turkey, ham, or beef?
Lunch meat is pre-cooked, smoked, or cured, so you can eat it right out of the package, serving it hot or cold in sandwiches, salads, and wraps.
While the amount of processing that goes into deli meats depends on the type of meat (as well as the brand), all deli meats are still considered "processed" meats.
Some deli meats are heavily salted to maintain their long shelf life, while others are roasted or smoked and bathed in preservatives, sweeteners, spices, and additional flavorings.
A good handful of deli meats are preserved using synthetic nitrates but some use "natural" preservatives like celery powder (rich in naturally occurring nitrates) instead.
Lunch Meat Nutrition Facts
Here's what you'll find in a standard 2oz (56g) serving of Applegate Oven Roasted Turkey lunch meat:
Calories: 70
Carbohydrates: 1g
Protein: 11g
Fat: 0g
Fiber: 0g
We chose a "cleaner" brand with very few ingredients and no added sugar for this example, to show you what an ideal lunch meat may look like.
Here's the ingredient list: Turkey Breast, Water. Less than 2% of: Sea Salt, Potato Starch, Turkey Broth, Rosemary Extract.
It's just meat, salt, and a few other additives for flavor. This is about as clean as it gets.
How does this stellar example compare to a more conventionally-made lunch meat? Is there really that much of a difference between brands?
Comparing Lunch Meats
We've compared five popular lunch meats from a "cleaner" brand (Applegate) and a conventional brand (Hillshire Farm) to see how they differ.
Take a look at each paring of roast beef, salami, turkey breast, chicken, and ham. Are there any obvious differences?
You may notice that in general, the more "natural" or "cleaner" brand, Applegate, contains fewer carbs than its conventional counterpart.
The amount of added sugar (in the form of corn syrup, maple syrup, brown sugar, honey, etc.) varies a lot between brands. This is something you may want to look out for when purchasing deli meat.
An easy way to check for added sugar is to look at the nutrition facts label on the back of the package. Glance over the "total carbohydrates" and "added sugars" sections for a snapshot of just how much sugar a food contains.
You may also notice the difference in sodium levels between the different varietites of lunch meat. The oven-roasted turkey breast of either brand contains less than half the amount of sodium when compared to the salami.
Those trying to monitor their salt intake may want to stay away from processed meats that are preserved or cured with loads of salt. Meats like ham, salami, pepperoni, and pastrami are richer in salt than turkey, chicken, and roast beef.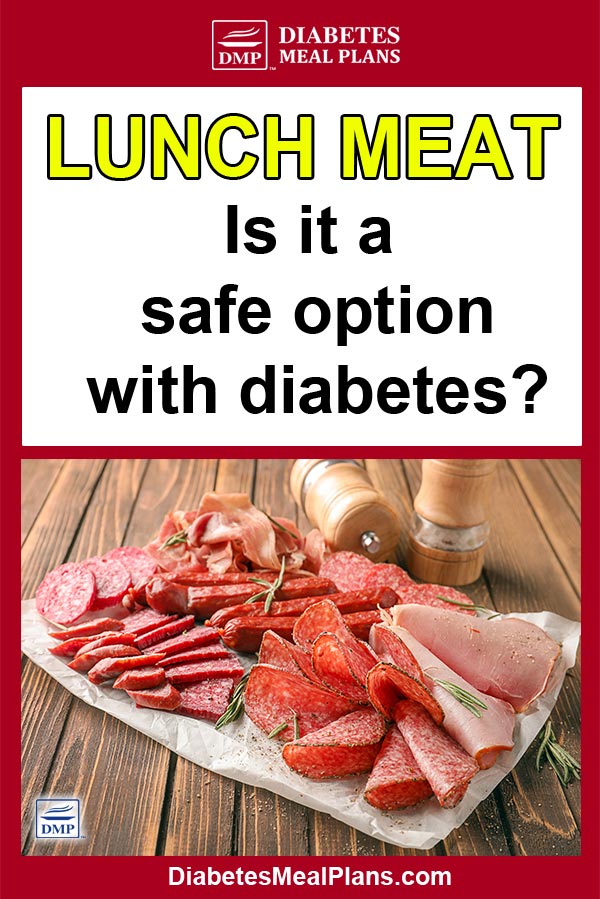 Guidelines for Lunch Meat & Diabetes
Here are some guidelines to help you consume them wisely.
Limit Processed Meat
As we've already mentioned, lunch meats are processed meats.
And while the jury is still out on just how often it's "safe" to eat processed meat, we know that the less you eat it, the better off you are.
There's no harm in enjoying processed meats like deli meat, bacon, or sausages from time to time, but chowing down on processed foods every day isn't the best way to fuel your body and bring down your blood sugar levels.
Try to limit your intake of processed meats to just a few times a week at maximum.
Stick with low carb classics like unprocessed turkey and chicken, beef, pork, eggs, nuts, fish and seafood for the majority of your protein sources.
Go Low-Sugar
Reducing added sugar in your diet is a great way to cut down on the carbs. This can lead to a reduction in your blood sugar and A1c!
Not all carbs need to be cut, but the excess sugars should be the first thing to go.
Healthy vegetables and fruits do contain carbs, but they're also bursting with nourishing vitamins, minerals, antioxidants, and fiber!
Deli meats soaked in sugar may taste a little more palatable, but those carbs aren't doing anything for your health.
Generally, the "cleaner" meat brands with fewer ingredients and preservatives will also have less sugar. This isn't a guarantee, but looking for more natural brands is a good place to start.
Balance your meals
Balance is key when it comes to enjoying processed foods in moderation.
Think about eating a few strips of bacon at breakfast, a deli meat ham sandwich for lunch, and a pepperoni pizza for dinner.
Just keep in mind that eating too many processed foods (even if they're "low carb") won't provide your body with the nutrients it needs to thrive.
If you have processed meat at one meal, try to make your other food choices that day as natural and unprocessed as possible. Focus on eating clean proteins and getting lots fiber in the form of green veggies.
Gravitating toward whole foods will ensure you have the correct macro and micronutrients to support stable energy throughout the day, and keep you as healthy as possible!