Reader question:
"I stopped using white sugar and bought brown ones is it ok?"
The short answer is: No. Brown sugar is not better than white sugar. Sugar is sugar, period!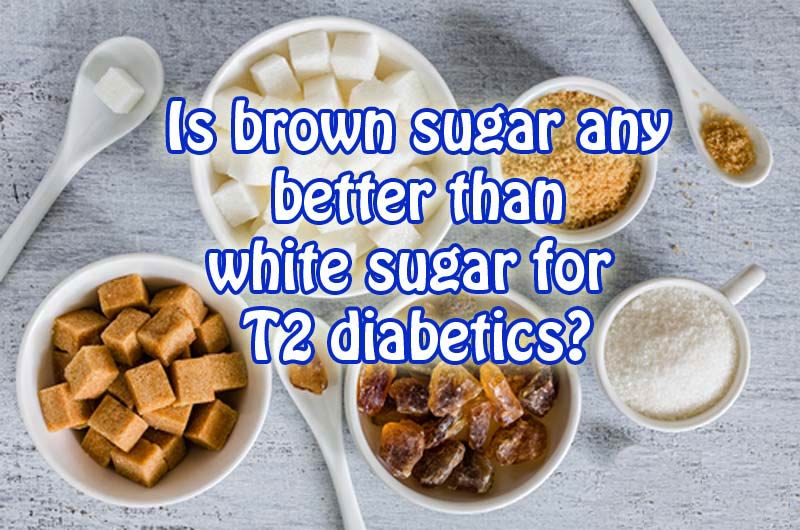 But I'm sure you're interested in more of an explanation and some more details on the different types of sugars. So let's take a closer look at them.
Current dietary guidelines from the World Health Organization are to eat no more than 25 g or 6 teaspoons added sugar per day.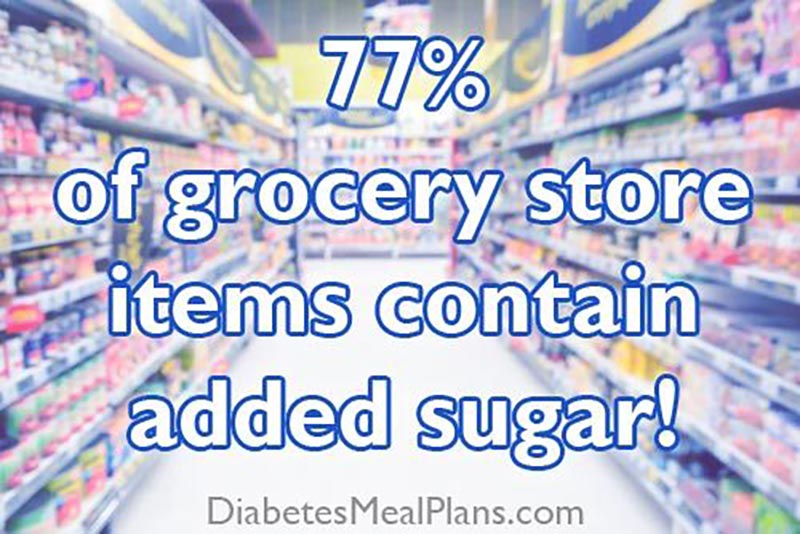 This can be difficult for us to do with the state of our current food supply. According to the Institute of Responsible Nutrition, around 77% of grocery store items contain added sugar – which is just crazy, right?
That means many people eat way more than 6 teaspoons per day, simply because they are not aware of all the different foods that contain sugar. Always read the labels.
Sugar, Diabetes and Metabolic Issues
Sugar just happens to be half glucose / half fructose.
Although foods may have similar calories, according to Dr DiNicolantonio: "Different types of calories have different metabolic effects in the body."
In Dr James DiNicolantonio research they compared different types of sugars – sugar (50% glucose/50% fructose), glucose, and starch. What they found was that fructose is more harmful to metabolic issues than other carbohydrates.
As a diabetic you have metabolic issues. What this means is that your metabolism is not working correctly. For example, your body does not metabolize carbohydrates effectively. You may also have issues with weight, cholesterol, or blood pressure. These are all types of metabolic issues.
So what Dr DiNicolantonio's research shows is that sugar, because of it's fructose content, is particularly harmful to people like you who have type 2 diabetes.
In fact, Dr DiNicolantonio goes as far as saying: "It's clear from our review that type 2 diabetes is driven by added sugar – 'refined sugars, added sugars'." And further suggests that: "The current recommendations from some institutions are putting the population at risk of major health issues."
I know he's not the only researcher to find such results.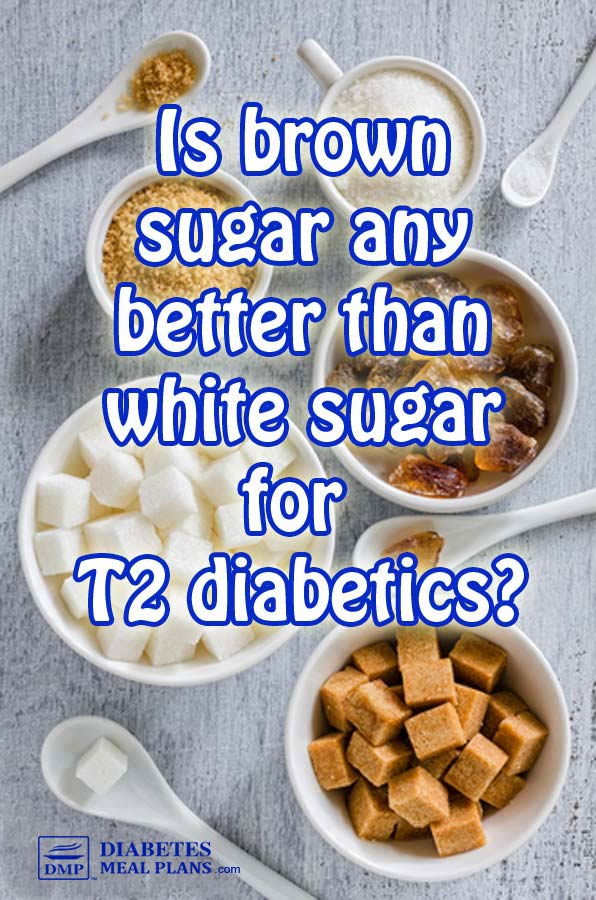 Sugar Nutrition Facts
Now let's take a look at the comparison of different sugars.
For 1 Tablespoon of each item

White sugar – 48 cal, 12.6 g carbs/sugar, 0 nutrients, GI: 54-84.
Brown sugar – 51 cal, 13.5 g carbs/sugar, 3 mg sodium, 18 mg potassium, 0 nutrients, GI: 54-84 .
Raw sugar – 45 cal, 12 g carbs/sugar, 0 nutrients, GI: 54-84.
Molasses – 58 cal, 15 g carb/sugar, 7 mg sodium, 41 mg calcium, 0.94 mg iron, 293 mg potassium, 0.134 mg niacin, GI: 55.
Blackstrap molasses – 47 cal, 12 g carb/sugar, 172 mg calcium, 3.5 mg iron, 43 mg magnesium, 8 mg phosphorus, 498 mg potassium, 11 mg sodium, 3.6 mcg selenium, 0.216 mg niacin, GI: 55.
Rapadura sugar – 45 cal, 12 g carb/sugar, 5.7 g iron, 3.6 g vitamin C, GI: 65.

Coconut sugar – 45 cal, 12 g carbs/sugar, 0 nutrients, GI: 35.
Raw honey – 70 cal, 17 g carb/sugar, 11 mg potassium, antibacterial and antiviral, GI: 50.
Brown rice syrup – 21 cal, 15 g carb/sugar, 4.8 mg calcium, 49.4 mg magnesium, 1.9 mg manganese, 14.8 mg phosphorus, 2.8 mg, vit B6, GI: 25.
Maple syrup – 52 cal, 13-14 g carb/sugar, 4 mg phosphorus, 42 mg potassium, 2 mg sodium, 1 g calcium, GI: 54.
As you can see, most forms of sugar contain the similar amounts of carbs/ sugars. As a diabetic the thing that influences blood sugar the most is the amount of carbs you have.
Your best option out of all of them is coconut sugar and brown rice syrup, because of their lower glycemic index load. Brown rice syrup contains no fructose.
What kind of sweetener should you eat?
Well it does depend because everyone is different. But we use stevia or erythritol in our diabetic desserts and sweets – read more about best sweetener options over here.
These have zero carbs and sugars and don't impact blood sugar at all in most people. The odd person does still get blood sugar spikes from stevia.
The best bet is to test, test, test. Only your glucose monitor can really tell you what types of foods you're most sensitive too. People with diabetes have a carbohydrate intolerance, but everyone's tolerance is different.
What sweetener do you use? And, will you be trying something different now? Leave your comments below.
Please share, pin, or tweet this post.
Stuck for Sugar Free Dessert Inspiration?
100% diabetic friendly, low carb, sugar free, DELICIOUS desserts!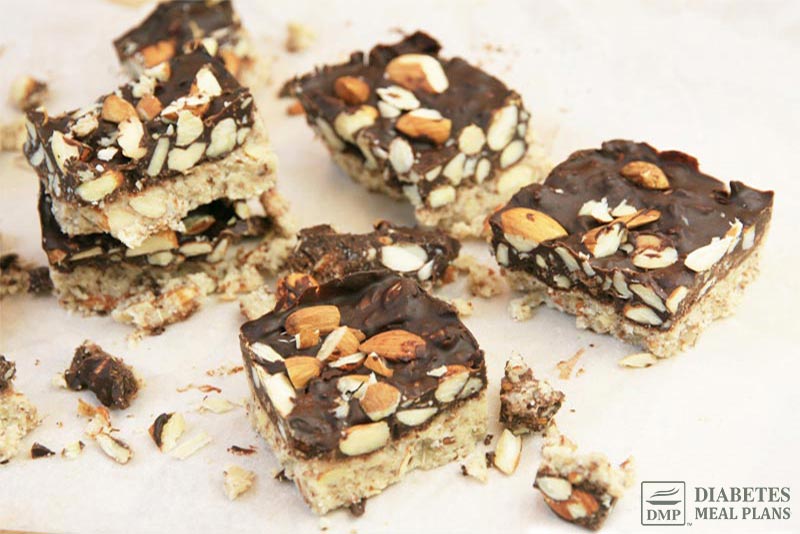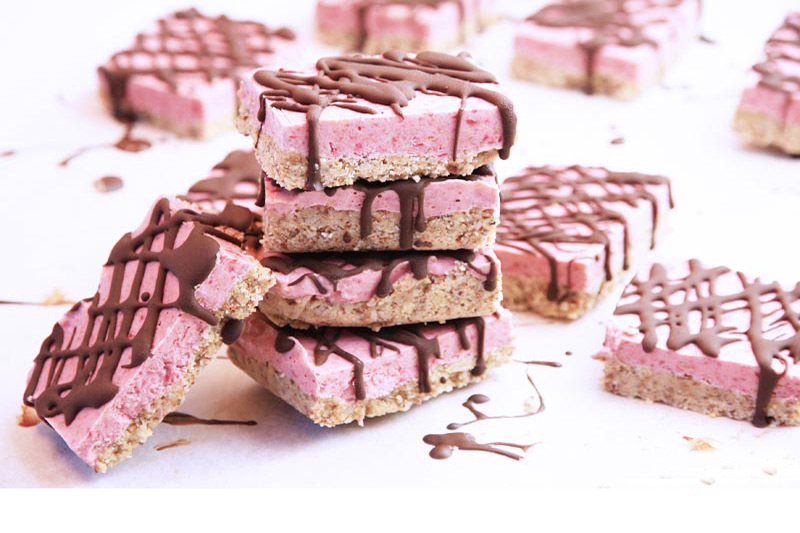 Look good don't they? That's because they are, and that's just 2 of the tasty desserts you'll find in the menu.