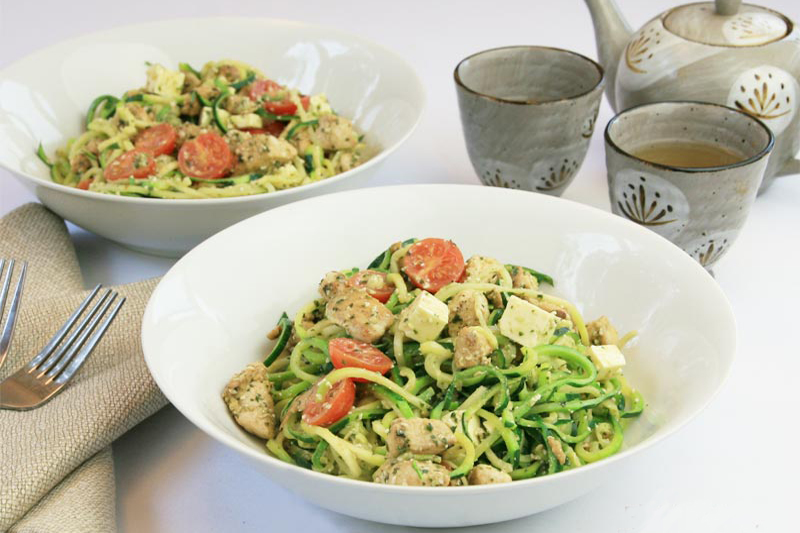 When it comes to eating pasta or noodles dishes as a diabetic, you really need to choose low carb pasta alternatives, or things like konjac noodles.
Or like this awesomely tasty dish, we've used zoodles (aka zucchini noodles). Owning a handy gadget like the Paderno Veggie Spiralizer is a big help for making these noodles. But if you don't have a veggie spiralizer, you can use a regular vegetable peeler and make zucchini strip noodles.
We recently shared a super easy homemade basil pesto recipe, so if you're keen to make your own, which is highly recommended, then give it a shot. The recipe has never failed to please the crowd. 🙂
I call this chicken pesto zoodle recipe a salad because eating it cold is the way it was originally designed. But my partner heated his up in the microwave for 1.5 minutes and he loved it just the same. I also have a a slightly different recipe for a hot pesto chicken, which is also why I named this a salad. But given that my partner liked it hot, it would work equally well for a hot dinner meal as well.
Remember you don't want to over cook the chicken because you want it super tender.
Hope you enjoy it.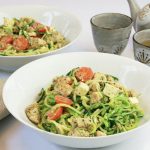 Pin Recipe
Chicken Pesto Zoodles Salad
Ingredients
The pesto
1

cup

fresh basil leaves

1/2

cup

pine nuts

1/4

cup

olive oil

Squeeze

lemon juice
The salad
3

zucchini

1

teaspoon

olive oil

9.8

oz

chicken breast

– or tofu – diced

2

teaspoon

tamari – wheat free soy sauce

12

cherry tomatoes

– halved

2.1

oz

feta

– diced (optional)
Instructions
To make the pesto, add all the ingredients except the lemon juice to a food processor, and blend until smooth. You often need to stop mid way, and scrape down the edges, then blend again.

Add a little squeeze of lemon juice and blend again.

Place in the fridge overnight. When freshly made the pesto often tastes bitter. It needs time for the sweetness of the basil and nuts to combine so is best left for 24 hours before use.

To make the zucchini noodles use a vegetable spiralizer, or if you don't have one of those, you can use a vegetable peeler, and peel the zucchini into strips instead – it will work just the same.

Add the zucchini noodles to a steamer, and once the steamer is boiling, steam for 3 minutes, then remove from the heat.

In a fry pan, heat the olive oil over a high heat, add the chicken and cook for 1-2 minutes, stirring occasionally.

Add 1 tablespoon of pesto, and 2 teaspoons tamari to the pan with the chicken and cook for a further 1-minute, stirring to coat the chicken in the sauces. If using tofu, use exactly the same method.

Add the zucchini noodles into a large bowl.

Add 2 tablespoons pesto and using some tongs or two spoons lift the noodles up and down from the bowl to stir in the pesto.

Once it's well coated, add the rest of the ingredients into the bowl, then stir to combine.

Serve into 2 bowls and enjoy.
Share by Email
Share on Facebook
Share on Twitter
Pin Recipe
Please pin, share, or tweet this post to share the foodie love around!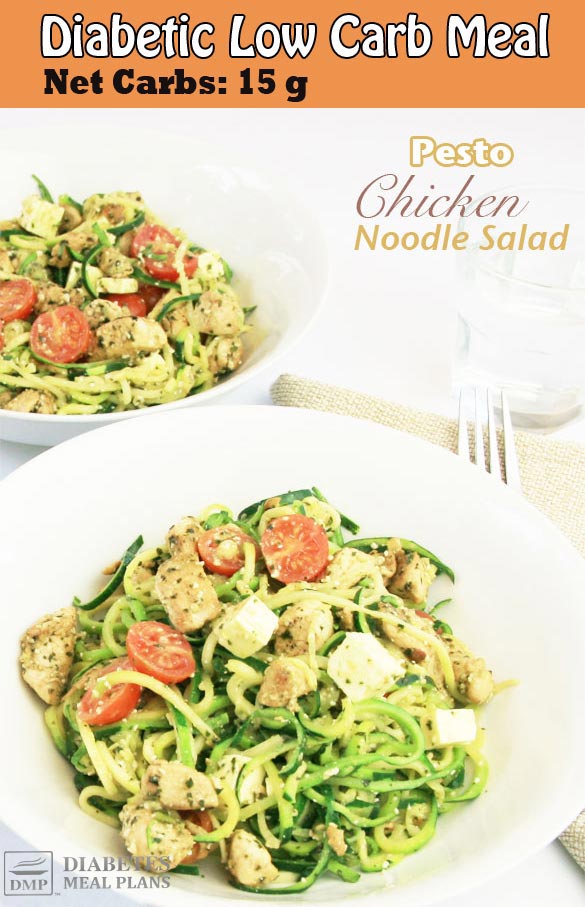 Subscribe for Weekly Nutrition Tips & Recipes