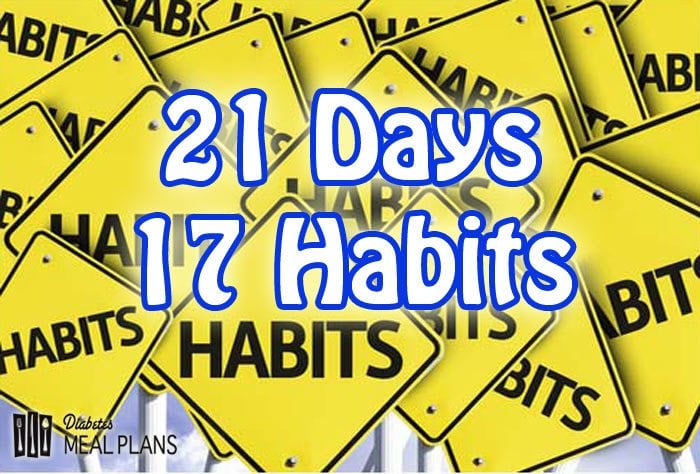 Have you gone into nearly every single year with a list of things you'd like to change only to end up in exactly the same place at the end of the year if not worse?
You're not alone – soooo many people find it hard to change habits. We really are habitual creatures and most of the actions we take day in and day out all happens on autopilot.
Then, when we try to change our habits we do have the very best intentions. BUT we often try to change too many things at once and this usually leads to failure because we're unprepared and it's all too overwhelming.
But it is possible to change your habits so I'd like to share a method and strategy you can use to help you do that.
Now I'm not here to share how you can achieve 17 habits in 21 days – like I just said, that would be incredibly demanding, overwhelming and almost impossible – I'm sure someone has done it but it's certainly not the majority of us, right?
I'm here to share how you can implement 17 new positive habits every year.
Imagine what your life would be like if you could implement 17 Habits each and every year! It would be awesome, right?
So let's talk about a practical strategy for habit change that includes a 21 day cycle and is bound to get you started on the road to reaching your goals and getting the results you deserve.
The Power Behind the 21 Days; 17 Habits Method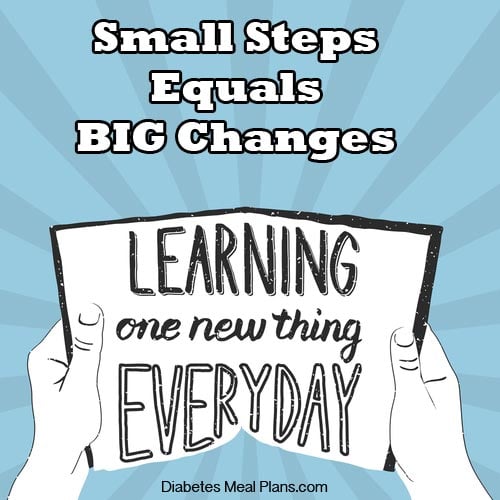 This is a method I came up with a couple of years back when a client of mine Rebecca said she had been struggling to get into any type of routine and really wanted to change some of her habits. So I was sitting in my office one day trying to find a creative solution to help my clients achieve their goals – then; this strategy suddenly arrived!
I told Rebecca about this 21 day method and it really resonated with her. She decided to put it into action and a few months later she was making great progress with using it. It may sound small but a few months later she had implemented (and maintained) 3 new habits. She was getting up a bit earlier in the morning and going for a walk, she was drinking her daily water intake, and she was doing some stretching at night.
Like I said, these sound small but for someone who had been going around in circles for a very long time, these were huge wins. And, she felt empowered to keep implementing small changes.
I always say small steps add up to BIG things. It's taking those small steps that really matters.
Because if it works for Rebecca, it might just work for you too. So let's dig in and share how you can use the method.
The 21 Days; 17 Habits Method
First I want you to reflect on some of the habits you've been thinking about changing, some of the habits you've been trying to change, where you're at right now, and how tired you are of going around in circles. I know it's easy to want to make the changes but 1 month passes, 1 year passes, and still no changes.
Next I want you to future pace a little. If you could obtain 17 simple new habits in one year, imagine how different your life would look.
Imagine how different your life might be with 17 new positive habits in place a year from now. Imagine what a difference that would make by comparing the last year or last years of no action, to a year where you put 17 new things in place.
Imagine how energetic, how confident, and how empowered you will feel.
And, imagine how many other people you will inspired along the way, including friends, family, and colleagues.
How great is that going to feel?
It is going to feel awesome!
So now that you've had a reality check on where you are now and we've future paced to realize how awesome your life will be with all of these new habits. Let's dig in to the simple steps you need to take to bring more awesomeness into your life.
The 3 Step Action Plan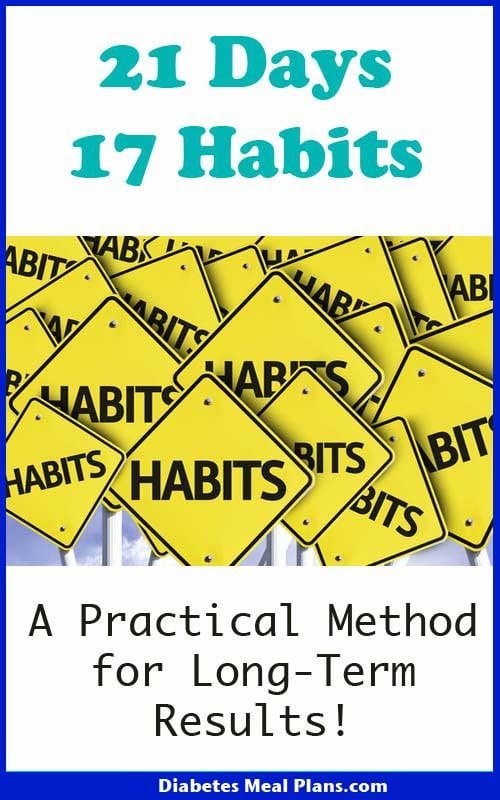 Step 1: Chunk it down
Changing our lives is a process made up of many different goals and habits so the first place we need to start is by chunking it down. One of the reasons many people fail is because they take on way too much too fast. This method uses smaller, simpler steps because this method is all about long-term habit change, long-term success.
So here's what to do first.
Take a piece of paper and list down all the things that you would like to change, this can do with your health but it could also be things do with your finances, your relationship or whatever you like. We're going to use the example of health and nutrition goals here because that's what Diabetes Meal Plans is all about. But just know that you can take these principles and apply them to any aspect of your life.
On your piece of paper you'll have a list of all the things you want to change.
Here are some examples of what your list might contain.
It might include things like:
I want to lose 10 pounds
I need to do more exercise
I think I eat too much sugar
I'm addicted to coffee
I get a sore back from sitting at the office all day so I need to stretch
I don't drink enough water
I want to eat better
I need to get to bed earlier
I need to schedule relax time
It will also include bad habits that you are well aware of.
For example:
I need to change my chocolate munch after dinner
I don't want to spend so much time watching TV
I need to skip those muffins at mid morning lunch
The idea is to write down as many things as you can on the list, things you don't like, want to change, feel negative about, but also be aware that you can add and subtract things off the list as much as you like. This is a working list, so to speak, because it's going to be a list you can draw from as each 21-day period clocks over.
Step 2. Choose the Easiest Thing First
Once you have your list the idea is to pick something easy.
When you look at the list what is the easiest thing that you could do first?
The idea here is that as we begin to implement things and stick to them, we also begin to build confidence in ourselves, we build confidence in our ability to succeed instead of fail, we build confidence in knowing we can do it.
Pick the easiest thing, work out how and what you are going to do and then just do that for the next 21 days. You don't have to do everything, change every habit, take on everything at once, all you have to do is do one thing.
Let's take a couple of things from the list we just shared earlier, things that I might think would be easy to implement.
The 3 things from that list would probably be the exact same things my client chose first, exercise, drinking more water, and stretching. So when can you fit in just 10 minutes of exercise to begin with?
I know my client Rebecca chose first thing in the morning, so when might that be for you. Then get up tomorrow and follow your plan, do your 10 minutes of exercise and just go about your usual business.
You'll do that for 21 days and by the 7th day you'll probably find you might be exercising for 15 minutes and by the 21st day you might have built yourself up to 20 minutes because you've found you enjoy it. But even if you're still doing just 10 minutes, you've made it through to 21 days and continued to do your new habit every day.
Step 3: Repeat Every 21 days
Next you choose your 2nd goal. You decide you need to drink more water. So you fill up 2 bottles first thing in the morning because that's the amount you want to get through every day.
So you keep doing your exercise and actually you take one of your water bottles with you and almost drink the whole thing while you're out walking. And over the day you get through the rest. Now you do that for 21 days, so now you're doing your exercise and drinking more water every day. You're starting to feel a bit better and have more confidence that you can stick to your goals.
After 21 days you decide it's time to stop your chocolate munching habit after dinner. So you sit down and work out what you will do instead. You decide that you will replace it with eating an apple instead. So after dinner the next day instead of having chocolate you have an apple.
Now you are doing some exercise, drinking more water and eating half an apple after dinner instead of chocolate. Cool, you're making great progress.
After 21 days you decide that you could still watch TV but instead of just sitting on the couch you could get down on the floor and do some stretching while you watch TV. Now you're doing some exercise, drinking more water, eating a carrot with peanut butter after dinner, and stretching to ease your sore back.
Yes, you're up to 4 new habits and although these habits might seem small, you're starting to feel a real difference. So you keep doing those things and start habit number 5.
I think you get the picture of how this 21-Day Method works, right?
Can you see how powerful this is?
Can you see how you will get to the end of the year and make noticeable changes in your life?
Can you also see how simple and achievable it is when we chunk it down like this?
You can do this method to achieve 17 new habits each and every year.
Can you imagine what your life might look like in a few years if you start using this method?
I'm sure you will agree it will look a lot different.
This 21 Day Method is a totally achievable and practical method you can use to bring about change.
Sure, you still have to make the commitment to try this method by following these steps but if you dare to take on the challenge I bet it will work for you.
Give it a go, you've got nothing to lose by trying it.
You can give this method a try starting today, starting any time of the year, and begin implementing new habits to transform your health and transform your life.
And one amazing thing you could do for a friend, family member, or colleague, is share this strategy with them because it might be the thing that transforms their life, too. Imagine how grateful they would be if you help them find a way to achieve 17 new positive habits!
I look forward to hearing about your habit change success!
P.S. GRAB THIS SUPER SPECIAL: Right now you can save $50 when you join our VIP Members Club on a 12 month plan. Just use the coupon code "SVp#99" at checkout.
CLICK HERE to Join the VIP Members Club.
Please share, pin, or tweet this post.
CLICK HERE
to subscribe and stay in the loop. There's always loads of great tips, info, and delicious recipes too.