When it comes to type 2 diabetes, you may hear lots of things, myths, and stories, one of which is whether diabetes is reversible.
With so much conflicting information, that often means, you don't know what to believe! Here at Diabetes Meal Plans we bust myths and cut through the confusion so you have the facts and can make more informed decisions.
One of my favorite diabetes books is 'The Blood Sugar Solution' written by Dr Mark Hyman. Have you read it?
One of the chapters inside covers 7 myths around diabetes, including answering the question: is diabetes reversible – it's a question that comes up a lot!
I've taken that chapter and condensed it here for you now, covering 6 of the common myths around diabetes, along with recent research that shows diabetes is in fact, reversible.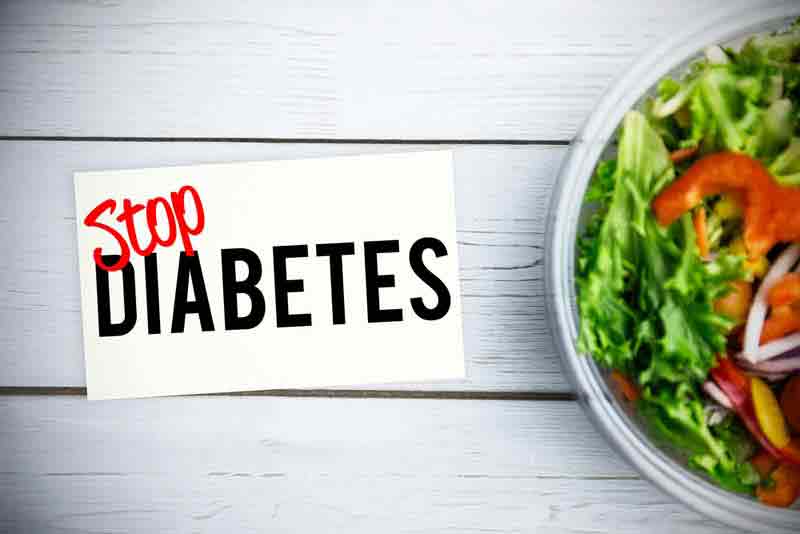 Myth #1: Diabetes Is Genetic
While it is true that we can inherit certain genes that may put us at higher risk for health conditions, this isn't an automatic life sentence and doesn't mean you will develop the disease. As individuals we do have lots of control over what genes get turned on or off through the information we give our body.
This may sound strange but it's called 'epigenetics.'
Food is information. Exercise is information. Stress is information. Our lifestyle is information.
And all of this information can either switch on, or switch off certain genes.
So while you might have slightly higher genetic risk, type 2 diabetes is a direct outcome of dietary, lifestyle, and environmental factors turning the wrong genes on. So if you change the information, you can influence the genes.
Myth #2: Diabetes is Not Reversible
Dr. Hyman's book suggests that if you catch your diabetes early and treat it aggressively through lifestyle intervention and a healthy diet (sometimes diabetes medications) – yes you can 'reverse' it.
Even later stages of diabetes can be treated with intensive lifestyle change, supplements, and the help of medications – yes you can 'reverse' it.
Take Sheryl, one of our VIP Members, as an example. She is a heart attack patient with type 2 diabetes. Following our diet and meal plans she has 'reversed' her diabetes – she lowered A1c and BMI to normal for the first time since 2007, and reduced her medications. She has maintained her results and good health for 2 years now. Sheryl is living a normal happy life!
Studies also show type 2 diabetes is reversible.
In the past two years, more and more research has shown people can in fact, reverse their diabetes and get back to 'normal' blood sugar levels and health, predominantly through 3 different methods.
A very low calorie diet – Professor Roy Taylor from Newcastle University in the United Kingdom, has now conducted a number of studies that show a very low calorie diet, under 800 calories a day, leads to diabetes reversal. You should not attempt to follow a very low calorie diet without guidance from your doctor. And long term, this type of diet is difficult to maintain.
Bariatric surgery – this really is a last resort as the surgery has it's own side effects that you have to live with for the rest of your life.
Low-carb diets – we encourage people to follow a low carb diet and we know it gets results – read our member testimonials and stories. A low carb diet is easy to follow and very flexible, so overall it's the best long-term strategy.
We've seen plenty of people completely turn their life around, get off insulin, get off meds!
Sure it does take work but considering the complications that can occur because of diabetes, it's well worth the effort.
Myth #3: PreDiabetes Isn't A Problem Until It's Full Blown Diabetes
This is perhaps one of the BIGGEST misconceptions because it's during this "pre" stage that lots of the damage is done to the vascular system and organs.
During prediabetes, blood glucose levels are higher than normal due to insulin resistance. And this "pre" stage is the stage driving heart attacks, strokes, cancer, dementia, and other health problems. So being "pre" diabetic is definitely something to be concerned about.
The risk of heart attack increases with any increase in blood sugar levels, even if you don't have diabetes.
Myth #4: Once You Start Insulin Injections You Can't To Go Back
Though sometimes necessary, insulin is not always a great solution because it leads to increased weight gain, blood pressure, and cholesterol.
Even though insulin helps blood sugar, it increases appetite, and increases inflammation. So it should be a last resort and taken at as low a dosage as possible.
Diet and lifestyle intervention can prevent you going on insulin and can also reverse insulin therapy, meaning you CAN get off insulin if you take the right steps. We've seen many members decrease their dosage significantly.
Please pin, share or tweet; then keep on reading.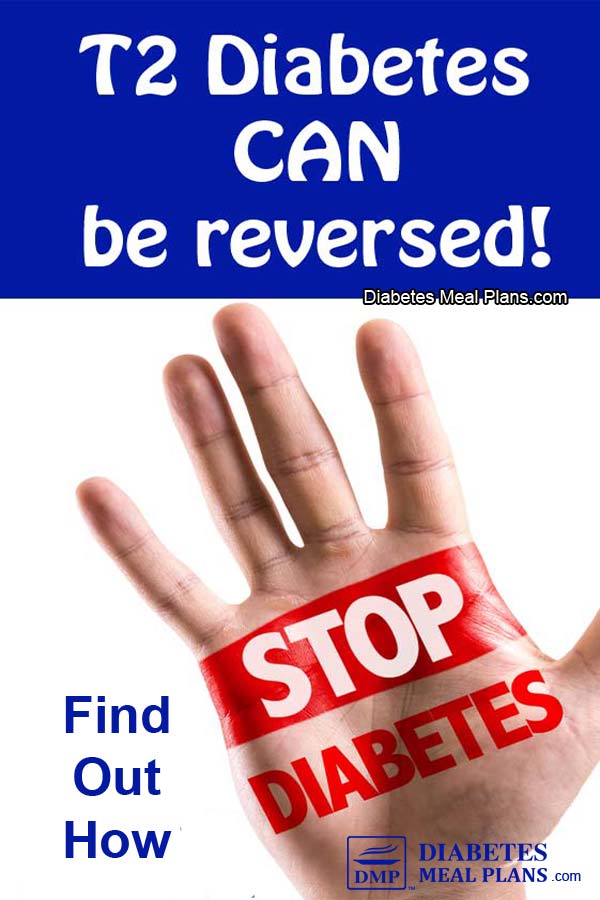 Myth #5: Lowering Blood Sugar With Medications Prevents Heart Attack Or Death
Clinical trials have demonstrated that drugs that 'supposedly' target risk factors like high blood sugar or high cholesterol DO NOT prevent heart attacks or death.
Chronic disease is not a drug deficiency
What he means by this is that trying to address "symptoms" by popping a pill doesn't address the cause. And in many cases leads you down a slippery slope to more medication and health decline.
Throwing pills at symptoms won't help – you need to change your diet and lifestyle. But the sad fact is that no one really profits from lifestyle or nutrition intervention.
Conspiracy? What do you think?
There is great power in the food you eat!
When you eat a healthy diet, full of foods that promote good blood sugar, you can often reduce or eliminate medications – we've seen it happen with our members all the time!
Myth #6: Weight Loss Is Necessary To Reverse Diabetes
Gastric bypass surgery is now promoted as a solution to obesity and diabetes. While it does shows some benefit in some people, the truth is that although people do experience rapid weight loss, they usually gain most of it back.
And although losing weight does help reverse diabetes it's not absolutely necessary. Even without weight loss, diet and lifestyle interventions have a rapid effect on blood sugar and other associated symptoms.
How? It's because of those genes we talked about earlier being switched on or off – there is great power in the food you eat!
The Most Important Thing
When it comes down to the crunch, the most important thing is the QUALITY of the food you eat.
Calories don't really matter because there is a big difference between 200 calories of junk and 200 calories of healthy eating.
The junk you eat will switch on your negative gene gearing, while eating healthy foods will switch on your positive genes.
Carbs also matter because carbohydrates are the food that influence your blood sugar the most. But there is a big difference between getting your carbs from sugar or pasta than getting your carbs from non-starchy vegetables. Choosing the right type of carbs is very important!
So you see, it's all about food quality because the food you eat is information. The food you eat drives your gene function, metabolism, and overall health.
And with changes to diet alone, we've seen miraculous things happen:
Gloria lowered her A1c by 1.3% in one month
Susan lowered A1c by 1.2% in 6 months
Leisa lowered blood sugar from 300s to normal, in 30 days!
Sheryl lowered her A1c to normal for the first time since 2007
Let us help you with your weekly meal planning – join us as a member today.

P.S. Need help with your diet?
Join us as a member – we're proud to say we are helping people reverse their diabetes!