If you've struggled to lose weight, diabetes weight loss surgery may have crossed your mind, or even suggested by your doctor.
Bariatric surgery is a relatively new weight loss treatment that has grown substantially in the past 30 or so years. In addition to weight loss, benefits include: reduction in type 2 diabetes, cholesterol levels, blood pressure and sleep apnea as well as improvement in mental health (ie depression).
Most procedures are minimally invasive using laparoscopic techniques (very small cuts are made and cameras/instruments are inserted) rather than openly (in which a large incision is made and cavities exposed–this increases risk for infection and complications as well as prolonging healing time).
By undergoing surgery, weight loss is achieved through several techniques:
Food restriction

– gut size is reduced and able to hold less

Malabsorption –

areas of the intestine effective at absorbing calories are restricted or removed

Altering hormone production

– enhancing production of 'fullness' hormones and reducing production of 'hunger' hormones
There are 3 main types of bariatric procedures used today, each with advantages and disadvantages.

Image Credit: National Institute of Diabetes and Digestive and Kidney Disorders
Roux-en-Y/Gastric Bypass
Procedure: This is often considered the "gold standard" of bariatric surgeries and was the first to be used. With Roux-en-Y, the stomach size is reduced to 30 mL (about 2 T) capacity and the first part of the intestinal tract (the duodenum and sometimes part of the jejunum) is removed. The small stomach pouch is then reattached to the existing part of the intestine. This procedure both reduces stomach size AND reduces absorption of calories. There may be an added benefit of altered gut hormones as well.
Advantages: Highest rates of weight loss (estimating 60-80% of body weight loss), feeling fuller more quickly due to smaller stomach size, increased satiety, and maintenance of weight loss for many.
Disadvantages: Greater complexity (not fully reversible and more invasive than sleeve or band), higher rates of complications including nutrient deficiency (not only are calories poorly absorbed, but also vitamins and minerals), lifelong adherence to strict dietary and supplement regimen.
Lab Band
Procedure: This procedure involves the placement of an inflatable band around the top part of the stomach (separating the top from the bottom). Since it's inflatable, it can be adjusted to create greater or lesser restriction. The greater the restriction, the smaller the pouch and the fuller one feels after eating.
Advantages: People feel fuller with less food, moderate weight loss of 40-50% excess body weight, not as complex or invasive as Roux-en-Y (nothing is cut or eliminated in terms of stomach and intestine), it's reversible and adjustable, low rates of major complications and micronutrient deficiencies.
Disadvantages: Weight loss is slower than other procedures, higher rates of minor complications (band slipping or erosion), highest rates of re-operation, requires a foreign objects to remain in the body.
Sleeve Gastrectomy
Advantages: With the gastric sleeve, about 80% of the stomach is vertically removed, leaving a smaller long pouch still connected to the intestines. Not only is stomach size reduced, but due to the portion of the stomach being removed, it also results in hormonal changes, which help to reduce hunger, increase satiety and improve glucose control.
Disadvantages: Some risk for minor complications, not reversible (part of the stomach is completely/fully removed).
Advantages: Restricts the amount of food the stomach can hold, results in significant weight loss (comparable to Roux-en-Y, but less complex/invasive), no malabsorption so reduced risk for nutrient deficiency, no foreign objects in the body (as in the lap band).
Biliopancreatic Diversion with Duodenal Switch
Try to say that three times fast!
This procedure is used less often than the others. It has similarities to the Roux-en-Y in that part of the stomach is removed and part of the intestines are bypassed. What makes it unique is that the duodenum (first part of the small intestine) is divided–the end part is reconnected to the new stomach pouch whereas the first three quarters or so (which does not have food going through it–it's bypassed) is reconnected to the last part of the small intestine (the ileum).
This bypassed section, which carries bile and pancreatic enzymes to help with digestion, is therefore still used. This procedure effectively restricts food, but over times, this effect is gradually overridden. Because the enzymes are working further down the intestine
Advantages: Highest rates of weight loss (60-70%) including maintenance of loss up to 5 years follow up, normalization of meal size over time, reduction of fat absorption up to 70%, improvements in gut hormone regulation causing reduced hunger and greater satiety, most effective against diabetes.
Disadvantages: Highest complication rate, longer hospital stay, greater risk for micronutrient deficiencies, strict lifelong adherence to diet and supplements.  
The Research
A large study followed over 4,000 participants in weight loss surgery for several years found greater weight loss, more physical activity, reduced risk of heart disease and lower caloric intake than the control group. Weight loss was maximal at 6 months to 1 year, but there is often a gradual regain after that point.
A systematic review of bariatric surgery including 136 studies found similar weight loss rates  of 60-70% among methods, complete resolution of diabetes in 77% of patients and improvement in glucose control in 86%. Sleep apnea was resolved in 86%, hyperlipidemia in 70% and hypertension in 62% of patients.
Similarly, this meta-analysis including 621 studies and 135,000 patients found a 78% complete resolution of diabetes and improvement in glucose control by 87% of patients undergoing surgery. Insulin levels, HbA1c, and fasting glucose were all markedly improved.
A study of obese diabetic individuals comparing bariatric surgery with diet alone found that those who underwent the surgery were more likely to achieve an HbA1c of 6.0 or less after 12 months (went down by an average of 2.9 points compared with 1.4 points in the diet alone category) and reduced risk for complications.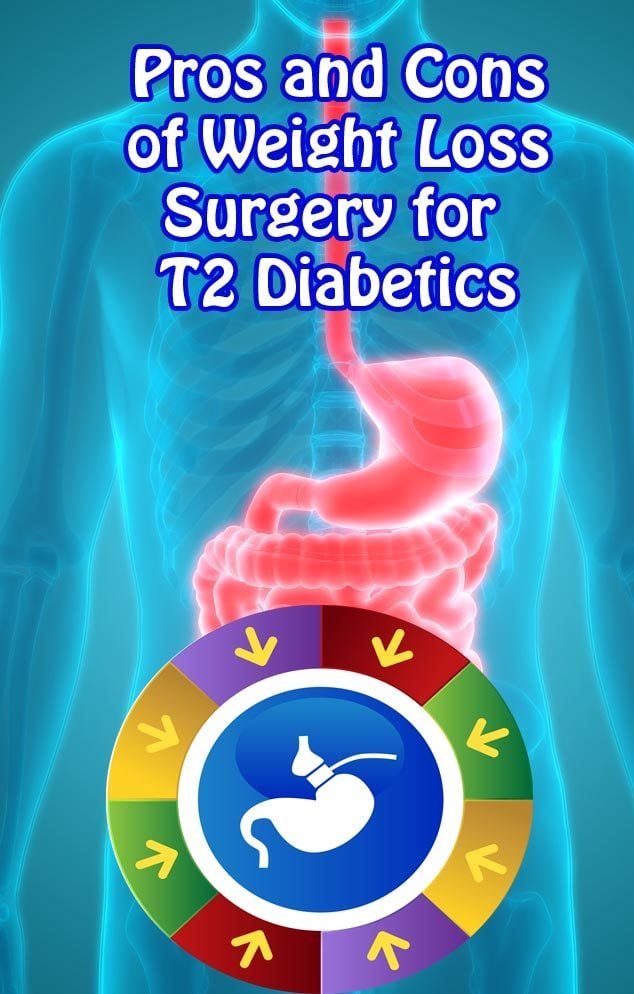 Take Home Points
Should you consider diabetes weight loss surgery?
Well, here's a few big-picture things to think about:
First, check to see if you are a candidate.
Most surgeons will only operate on people who meet certain qualifications – namely excessive obesity and previous failed attempts at weight loss. If you haven't exerted sufficient effort in making diet changes on your own, this is not a good next step.
Second, check the cost and your insurance coverage.
Many insurances will cover the procedure, but they are very expensive, so if not, you may have to start saving up.
Third, consider the emotional, psychological and social toll this will take on you.
Do you start a diet, then need to cave because you need sugar or carbs?
Well you may need to think about the fact that you'll have no 'out' in this case–how will you cope emotionally with what you'd previously turned to food for?
Consider the practical changes–if, right now, you think healthy eating takes too much time and rely on convenience foods, that is only going to become a greater challenge when you have to eat at specified times and consume specific foods and amounts. Too much you might vomit, too little you might become malnourished, the wrong thing, you might end up with dumping syndrome.
Fourth, take into account your past medical history and whether you are up to something like a major surgery, which has risks.
Are you physically strong enough? Does your doctor feel it's a good next step? What about your family or friends?
Your support team will be crucial. Picture mornings or evenings sipping on your 2 oz protein shake while everyone else indulges in your favorites: biscuits and gravy with bacon, Italian smells of pasta and tomato sauce or decadent desserts. That can obviously be very hard.
Finally, weigh out the costs and benefits.
It's always helpful to talk with someone who's had the procedure done, preferably for some time, to get a gauge on what to expect. Ask them if they'd recommend it and if they'd do it again given the opportunity.
Consider your quality of life and if you feel it would be worth it. Remember in all of this, weight loss surgery is only and simply a tool. Just like our blog, or a medication, or a diet plan or anything else–it only works if used properly and as a component of permanent lifestyle change.
I've known many people personally and professionally who have had the surgery and gained all their weight back and more. This is not easy nor is it a quick fix.
Studies show great outcomes, but only in those who adhere to healthy diet guidelines long term, which you can do on your own anyway.

Save
Save
Save