By Beth Michaels, in-house Dietitian
In this article we're going to do a comparison of insulin pumps and provide information to help you make a decision about what might work best for you.
Insulin pumps are small computerized devices that serve to deliver short or rapid acting insulin to the body incrementally throughout the day. They work through an infusion set, which is changed every 3 days or so, in which a catheter is inserted under the skin and left covered and sealed.
This catheter then extends through a tubing, which is connected with a reservoir of insulin that is released according to the pumps programming. The reservoir has a sort of plunger or 'pump' that must be told what to do by the wearer.
For example, if a person consumes 15 grams of carbohydrates, the pump doesn't 'know' this unless the person enters that information or the amount of insulin they require based on that information.

Insulin Pumps: Factors to Consider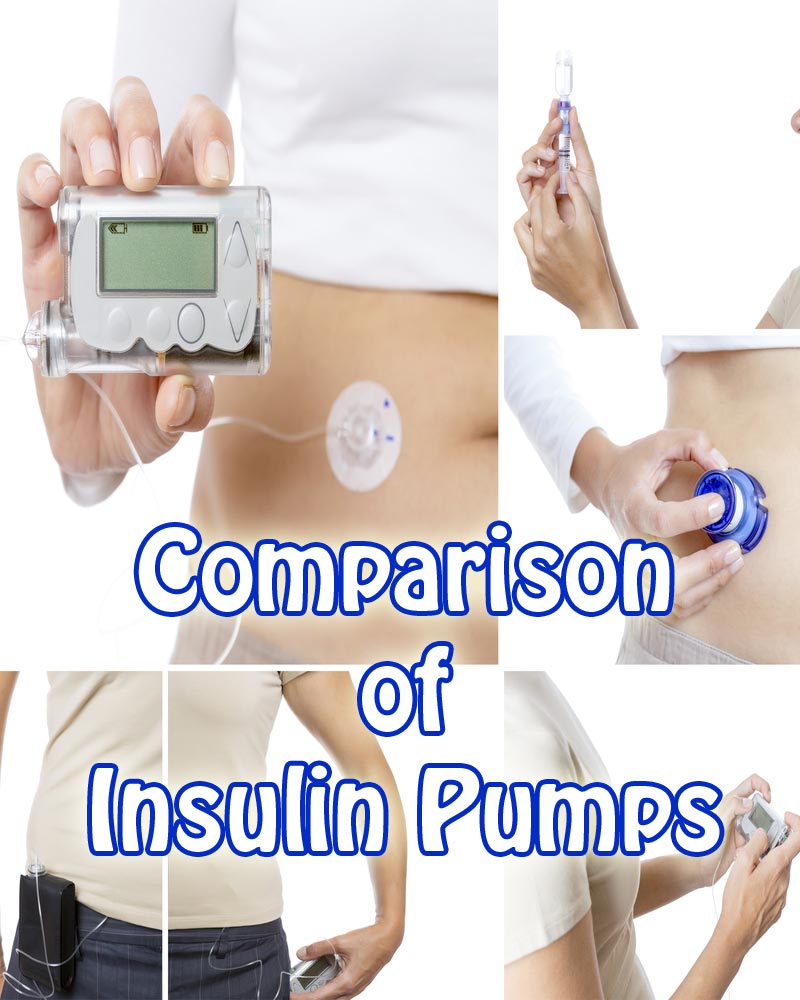 There are many different kinds of insulin pumps available and just like when choosing a house, a vehicle, or clothing items, there is no one 'best kind' for everyone as they all have different advantages and disadvantages. Some of these are more important to certain people than others, so it's important to consider the factors that are most important to you.
Here are some variations to compare as you consider the pump that will be best for you:
Cost
Health insurance may cover much of the cost, but there are often co-pays and deductibles.
Size, weight, appearance
No pump-wearer is trying to make a fashion statement, but for some, having a bulky or obvious pump is more troublesome than a small, discreet or even cool-looking pump.
Ease of use
Some features make pumps more user-friendly than others. Playing around with buttons, screens, menu items and so forth, can give you a better feel for simplicity in day-to-day use.
Battery type and life
Pumps have different charging options and duration between charges.
Infusion sets and tubing
Most pumps have tubing that connects the reservoir to the pump. Patches or pods are tubeless and offer a tangle free option and stay stuck to the site until it is changed.
Reservoir size
Those who are highly insulin resistant or use more than 60 units/day will want to ensure they have sufficient reservoirs to avoid having to change cartridges on a daily basis.
Flexible dosing
The ability to set multiple dosing and variable rates is very beneficial, especially in those who use large amounts of insulin and are more 'brittle.'
Basal range, delivery, and increment
People who are extremely sensitive to insulin may require doses of less than 1 full unit.
CGM and meter integration
If a pump integrates data from glucose meters or CGMs this eliminates the need to manually enter glucose values and ensures a correct reading. Some pumps have meters integrated into the remote controls that program the pump.
Alarms
Pumps have alarm systems for obstruction, over-delivery, near-delivery, and many other factors. Volume and intensity of vibrations are points of consideration.
Warranty
Sometimes it's hard to know whether your pump is right for you until you've actually used it for a time. Many pump manufacturers offer a 30 day money-back guarantee, but check before purchasing.
Memory and reporting
All meters have different data managing systems and generated reports–some are more helpful and understandable than others; most are compatible with Windows and Mac.
Special features (colors, software download, waterproof etc)
Several other bells and whistles offered by pumps should be taken into consideration when making a decision based on what is most important.
Realistically, most people end up with the pump their insurance company covers.
5 Popular Insulin Pumps
While there are far too many pumps and features to cover in a single article, five of the most popular pumps and highlighted features are as follows:
Medtronic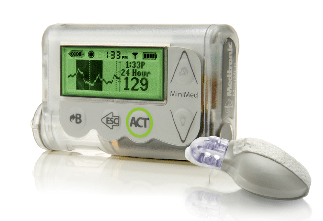 | | |
| --- | --- |
| ADVANTAGES | DRAWBACKS |
| Long-established, large reputable company | Not water tight |
| Industry leader | Low contrast LCD screen |
| Integrated Enlite CGM system (data display on pump screen) | CGM system must be purchased with pump ($) |
| Connect feature for sharing CGM data (even on smartphones) | On-board insulin only subtracted from correction bolus |
| Quick and easy bolus programming | Slow bolus delivery |
| Easily downloadable to online program | Customer service complaints |
| Very specific Insulin to Carb ratios (.1 g increments) | No food database available |
| Generates insulin/carb/BG statistics | Alerts difficult to hear |
Animas Vibe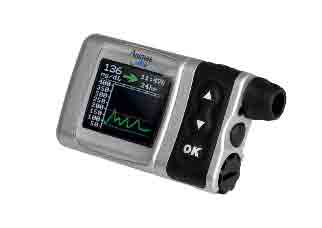 | | |
| --- | --- |
| ADVANTAGES | DRAWBACKS |
| Syncs with Dexcom G4 (CGM) integrates with web-based software | No data averages or statistics generated on screen |
| Water-tight | Re-priming with battery change |
| Very bright full color screen; easy to read | Insulin to carb ratios whole numbers only |
| Highly customizable | 200 unit cartridge limit |
| AA Batteries; last 6-8 weeks | Cursor screen complicated |
| Cartridges easy to fill | Extra button presses when programming |
| No air bubbles | Does not sync to meter |
| Strong metal clip | On-board insulin not subtracted from bolus |
Omnipod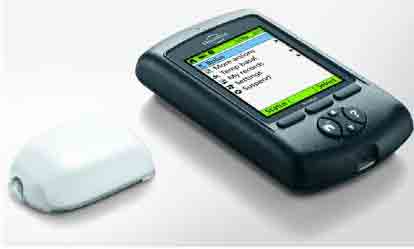 | | |
| --- | --- |
| ADVANTAGES | DRAWBACKS |
| Reduced up-front costs | Bulky programmer and pod 'bulge' on skin |
| Discrete size (smaller than other pumps) | Cannot program while bolus is delivering |
| No tubing (more freedom to move around, no 'lost' insulin) | Cannot enter boluses or make setting changes without programmer |
| Fully watertight | Max reservoir 200 u |
| Temp basal and boluses can be customized | Dislodged cannula or disconnection requires complete reservoir replacement |
| Freestyle meter built into programmer | Not covered by 3rd party payers |
| Large color screen with full-sentence text | Insulin to carb ratios whole numbers only |
| Graphing/charting capability | Only one cannula type |
| Automated cannula insertion minimizes pain and lipodystrophy | Must suspend when changing basal settings |
Tandem (t-slim)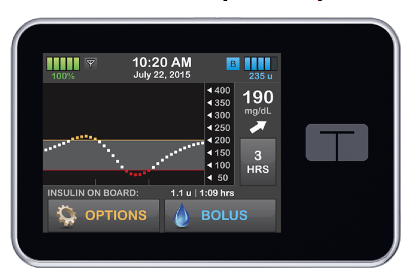 | | |
| --- | --- |
| ADVANTAGES | DRAWBACKS |
| Bright full color TOUCH screen | Small buttons…difficult to navigate |
| Modern, "techy" appearance; compact | Unlock procedure required to perform programming |
| Graphic on-screen history display | No integrated clip |
| Carb counting calculator | Tubing connector unattractive |
| Web-based downloadable software | No meter link option |
| Calculate bolus up to 50-60 units | New manufacturer |
| Cartridges hold 300-480 units | Charging required 1-2x/week |
| Highly customizable | No in-warranty upgrade policy |
Roche Accu-Chek Combo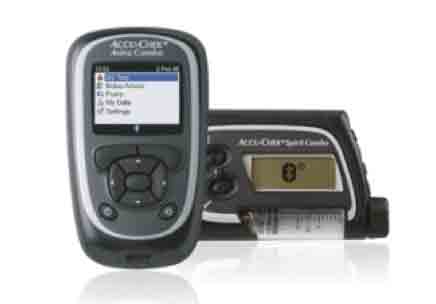 | | |
| --- | --- |
| ADVANTAGES | DRAWBACKS |
| Full pump programming via linked meter/remote via bluetooth | Must use linked meter to check BG and perform bolus calculations (cannot enter manually) |
| Bolus adjustments in percentages | Need computer software to change certain temp basal parameters |
| Bright full color meter screen | Bulky |
| Smart scrolling speeds | No clip (must use case) |
| 3 programming options (based on user capability) | Cartridges challenging to fill without bubbles |
| Holds 315 units insulin | Must stop pump to change cartridge |
| Sensitive occlusion detection | Can only link 1 meter per pump |
| History displayed as graphic reports on meter screen | Bolus calculations complicated to set up |
| Can use rechargeable batteries | Must enter cartridge fill amount manually |
You can also find a more detailed side by side comparison here.
One last point–word of mouth may be one of your best assets.
If you know anyone who has a pump or has had one, or even better, has tried multiple types, set a date to meet up with them and ask some questions.
To provide a comparison of insulin pumps, much of the information available is from the manufacturer, which is obviously a bit biased. We all know some things look better 'on paper' than they are able to deliver 'in practice.'
Your doctor and/or diabetes educator likely has experience with patients using several of these as well so be sure to ask them too!