Green beans are one of the few widely accepted non-starchy vegetables that fit extremely well into a low carb diet.
While they come from the same family as starchy beans (pinto, kidney, great northern, chickpeas), they are picked earlier while still in their pods and before the starchy insides grow and form, so they end up with less calorie, carbohydrates and protein.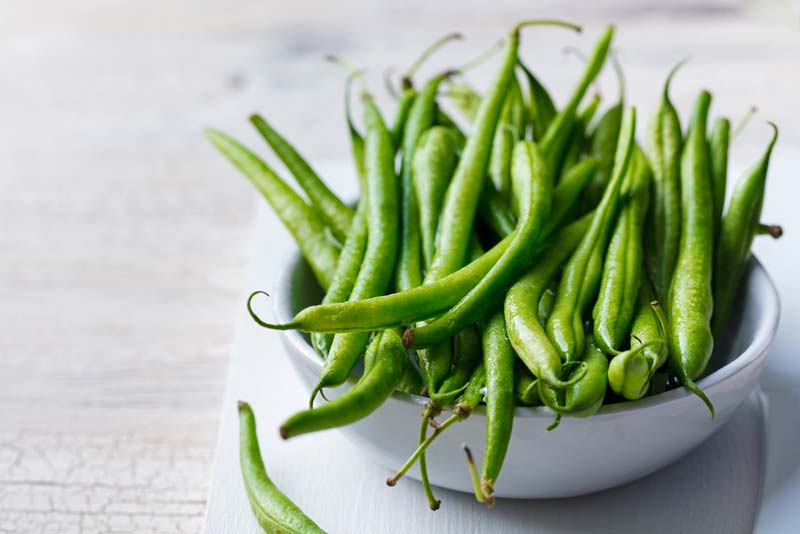 Green Beans Nutrition Facts
Green beans are low in calories, only 44 calories per cup cooked
Green beans are an excellent source of vitamin K
Green beans provide 18% DV for manganese
Surprisingly green beans are a good source of vitamin C
Green beans are low in carbohydrates, only 9 grams per serving, 4 of which are fiber
Green beans actually contain a very small amount of omega-3 fatty acids
Health Benefits of Green Beans
Vitamin K is essential for blood clotting, bone health and heart function
Manganese and vitamin C are both important antioxidants that help protect the body from free radical damage
Omega-3 fatty acids help with mood stability, brain health and prevention of cognitive conditions such as dementia
Fiber is needed for healthy bowel function and helps with blood sugar regulation
Research on Green Beans Specific to T2 Diabetes
Green beans can help prevent atherosclerosis, the dangerous artery damage that occurs in those with heart disease and which those with diabetes are at risk for.
Antioxidants in green beans help protect against free radical damage, which occurs at a higher rate in diabetes.
Rats injected with a certain component found in green beans had reduced glucose levels, triglycerides, total cholesterol and LDL cholesterol.
Green beans contain chlorophyll, which along with antioxidants, may reduce cancer risk.
Folate and omega-3 fatty acids are both proven effective in reducing depression.
Green beans contain phenolic compounds and flavonoids both of which reduce risk of diabetes and obesity.
Points for Consideration
The only concern with green beans is to consider the total amount of vitamin K you are consuming if you happen to be on blood thinners (coumadin or warfarin), as vitamin K can interfere with absorption. This doesn't mean you should avoid green beans, simply try to keep your vitamin K levels consistent from day to day.
Green Beans and Diabetes Conclusion
Green beans aren't often touted as a super-food, but they are a very nice low calorie addition to any diet, adding flavor and stretching meals without breaking your carb budget. We include green beans in our list of 20 all-you-can-eat veggies!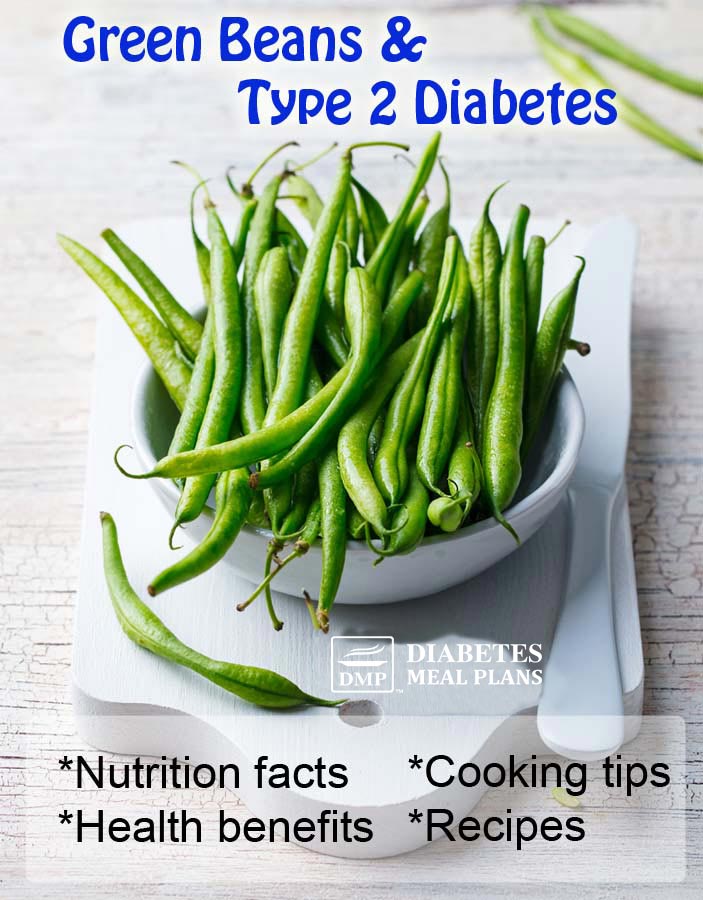 Green Beans in the Kitchen
Selection
If choosing fresh green beans, look for smooth beans with bright color. The texture should be firm and they should snap when bent. Frozen and canned green beans are available as well and provide a good option when storage or perishability is a challenge. Frozen green beans retain most of their nutrition. Be sure to check the expiration date on cans.
Storage
Store fresh green beans in a plastic bag in the refrigerator crisper. Left unwashed until ready to use, they should last about a week. If using canned green beans, be sure to rinse them off to reduce sodium content.
Uses
Green beans can be simply cooked and served as a side dish, tossed into a salad, used as a key ingredient in stir-fries, added to soups such as minestrone, or noshed on raw with some hummus or guacamole.
Cooking
Steam green beans 5 minutes until crisp-tender.
Saute green beans 3-5 minutes (note: green beans are often briefly boiled a couple minutes prior to sauteing as a bit of water helps soften them).
Boil green beans 3-4 minutes until crisp-tender.
Raw fresh green beans can also be eaten just as they are.
Cutting Techniques
Green beans don't actually have to be cut–you can simply snap the ends off. This can be a fun job for kids and an opportunity for others to help in the kitchen. Alternatively, you can cut the tips off or cut the beans into smaller pieces if desired.
Green Beans Recipes
Onion Chili Green Beans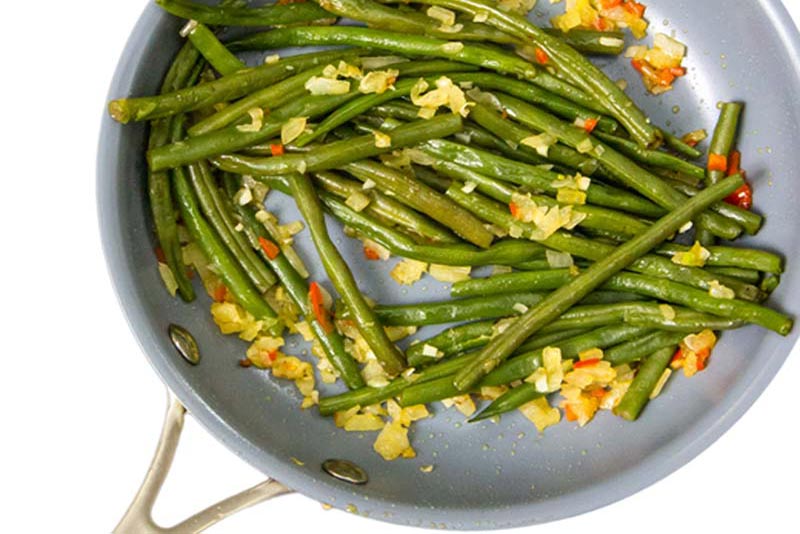 Onion Chili Green Beans recipe
Chicken Chorizo Gumbo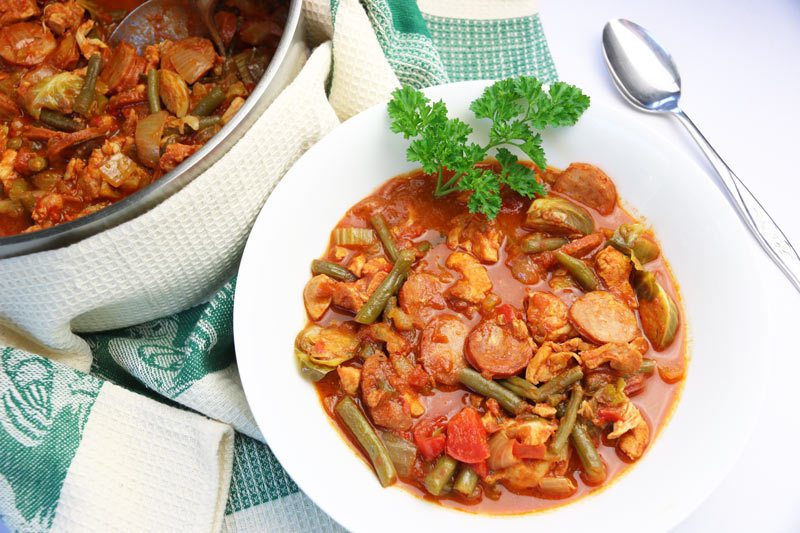 Slow Cooker Chicken Cacciatore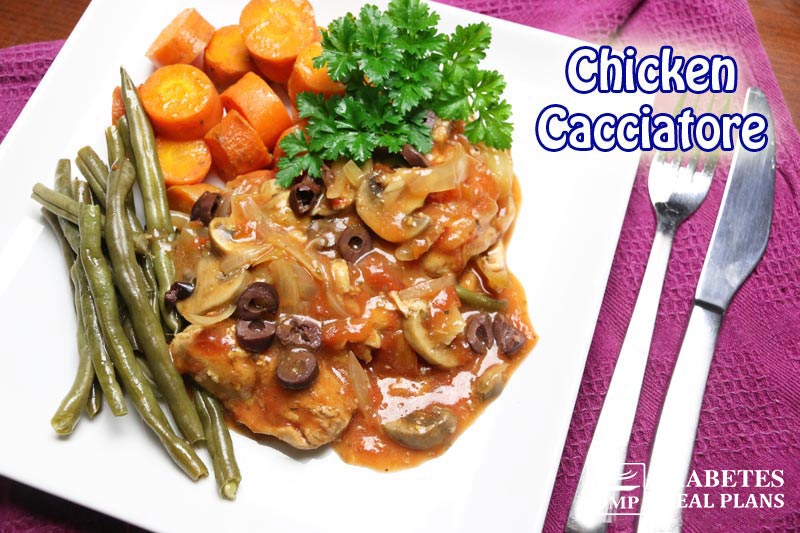 Slow Cooker Chicken Cacciatore recipe
HAPPY Green Bean EATING!