Morning blood sugar levels. It's a topic we always get questions around.
Namely, why on earth are my morning levels so HIGH when I've eaten nothing since yesterday. Surely they are meant to be their lowest first thing in the morning?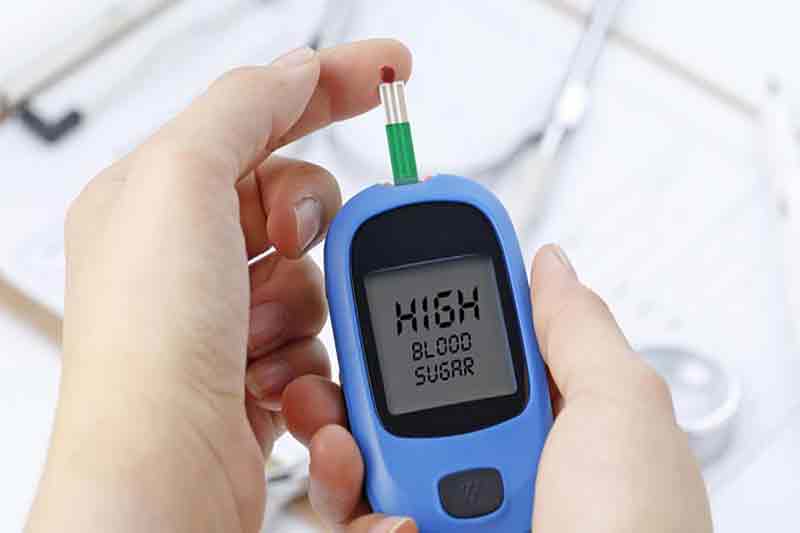 While it's easy to assume that this would be the case, there's more to the picture than you know.
In particular with type 2 diabetes, there are two factors that raise blood sugar overnight. These are known as the Dawn Phenomenon and the Somogyi Effect.
By the time you finish reading this, you should have a much better understanding of why these morning highs occur.
Glucose Happens 24/7
As you may (or may not) be aware of, the body's cells need fuel to function and that fuel is mainly glucose. Glucose fuels the cells in your organs, in the brain and in the muscles and tissues. And they need fuel 24/7.
While you're sleeping or if you were to fast, your organs still need to function so the body has other ways it can produce glucose, other than via the direct food you eat.
Glycogenolysis

– some of the excess carbs you eat gets stored in the muscles and liver as glycogen. When these stores are needed, the process of g

lycogenolysis

occurs, breaking the stores down so that more glucose is circulated in the blood to fuel the body.
Gluconeogenesis – your body is also capable of creating glucose from non-carbohydrate sources such as amino acids in a process called gluconeogenesis.
The body will always try to maintain blood glucose within a certain range in the body. This happens in both diabetics and non diabetics alike. With both kinds of glucose production mentioned above, the result will be more circulating glucose. Although, in diabetics there is often a much higher level of production occurring.
The Dawn Phenomenon
Around 3-4 am (average time 3:41) each morning, there are a collection of counter regulatory hormones that are signaled in your body: glucagon, epinephrine, growth hormone, and cortisol, which result in a rise in blood sugar. This happens to non diabetics, too. It occurs to help wake us up and get us out of bed every morning.
The difference between non diabetics and those that have type 2 diabetes is that in diabetics the malfunction/ deficiency of pancreatic beta cells/ insulin and/or the presence of insulin resistance makes your body unable to counteract the effects of this blood glucose rise – that's why it's called the Dawn Phenomenon.
The average rise suggested by studies is an average 20 mg/dL (1.1 mmol/l).
The Dawn Phenomenon effects people of various ages. And if you find that your levels are still high after breakfast, this is what researchers call 'Extended Dawn Phenomenon,' which they suggest is a result of the liver still producing glucose internally.
Researchers have discovered that sleep quality affects the severity of the Dawn Phenomenon. So focusing on getting better quality sleep is a great goal to have.
Can you predict the Dawn Phenomenon and control it?
Many healthcare providers fail to address the Dawn Phenomenon as something that needs to be addressed in the management of type 2 diabetes. It's likely because so far there has been no way to measure if it will occur, or what to do about it.
Being that it does effect around 40% of people and can influence A1C levels by an average 0.4%, researchers did investigate if there was a way to predict the rise.
While there is still research going into this, they did discover that there could be a way.
Here's how to do the calculation:
Take your pre-breakfast, pre-lunch and pre-dinner glucose readings.
Take an average of the pre-lunch and pre-dinner readings.
Calculate the difference between the pre-breakfast and the average of pre-lunch and pre-dinner readings.
The difference +15 is the general rise you can expect during the Dawn Phenomenon.
All this is fairly complicated so it's not likely that you will do it on a regular basis. And as I said, this is very new research so we don't yet know just how accurate it is. But it's very interesting.
I believe in time researchers will have a definitive answer to this. And perhaps a solution as well.
For now, the best way to control morning levels is to gain good control of your levels on an every day basis.
Just to recap: the optimal fasting range is between 70-100 mg/dL or 4-5.6 mmol/l. This can differ slightly in some cases where your healthcare practitioner may be more lenient, but those are the optimal goals.
Please pin, tweet or share; then keep on reading.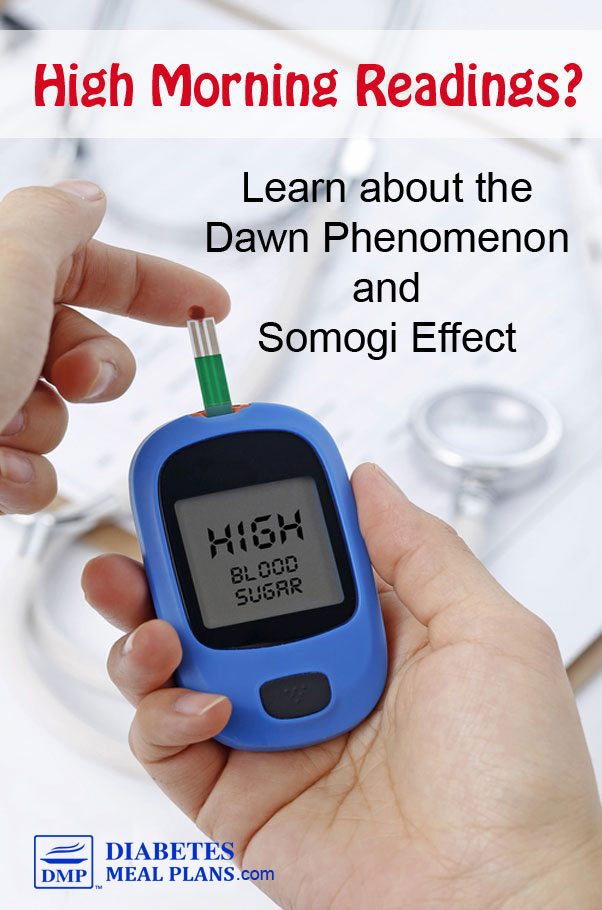 The Somogyi Effect
The second reason morning levels rise is due to a boomerang effect called the "Somogyi Effect" or "rebound hyperglycemia."
The Somogyi effect is more common in diabetics who are insulin dependent. It's when your body's glucose levels decrease quite significantly overnight (nocturnal hypoglycemia) and as a result your emergency system is activated. This sends messages to your hormones and organs to stimulate more glucose production to help raise your levels.
In a boomerang-like effect, the result can be that blood sugar levels increase quite dramatically. Some people taking insulin choose to get a continuous glucose monitor, which allows for easier detection of nocturnal hypoglycemia.
Hopefully now you understand why those high bounces occur in the morning. Overall, the best strategy to correct high morning levels is to gain very tight control over your blood sugar levels. The more you are in control of your levels on an every day basis, the better your morning levels will likely be as well.
Also be sure to include regular exercise, as it increases insulin sensitivity. Along with getting good quality sleep as it helps calm down those hormones.
Please pin, tweet or share this info to help others. Thanks!