I find it truly amazing that most doctors don't automatically send people for a blood test for insulin resistance.
Why am I amazed?
Because insulin resistance is a precursor for the development of type 2 diabetes and it's often present for up to 10 years before an 'official' diagnosis. Now that's a long time you could do something about it if only you knew!
Insulin resistance is also known as prediabetes, they are both considered the same thing, just in case you didn't know.
A couple of common tests your doctor might have ordered are the fasting glucose or oral glucose test, which is still important because having elevated blood glucose is also a risk factor and indicator.
But it is not uncommon to have a normal blood glucose and high insulin resistance. In fact, one of my clients recently came back with blood sugar levels in normal range but an insulin level of 16, putting her in the 'moderate to severe insulin resistance' range and heading on a trajectory toward type 2 diabetes!
So in my eyes testing for insulin resistance is very important. If you know your own individual status, you can work on your lifestyle habits so you don't develop type 2 diabetes, why wouldn't anyone want that right?!
You can ask your doctor for a test so let's talk about what to ask for.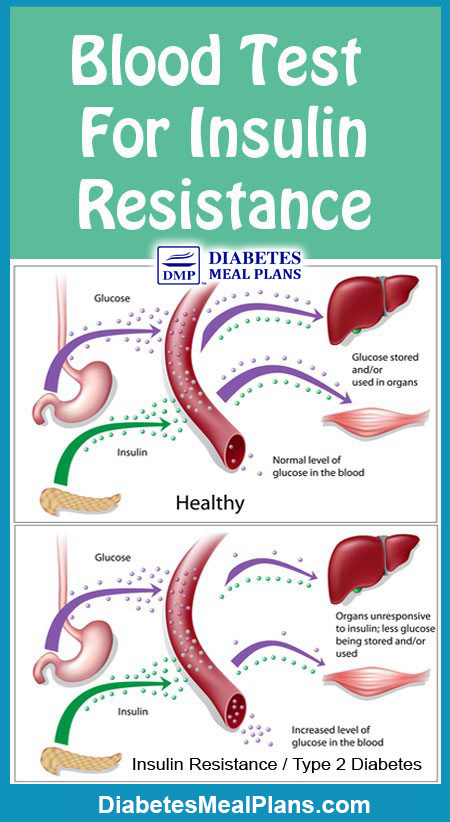 Blood Test for Insulin Resistance / Prediabetes
Ask your doctor for:
A fasting blood glucose test
And a fasting insulin test
With the results from the two tests you can calculate your insulin resistance status using Homeostasis Model Assessment (HOMA) Index.
The HOMA-IR test was developed from "the concept that fasting plasma insulin and glucose levels were determined, in part, by a hepatic-beta cell feedback loop". Source
So essentially it calculates the balance between pancreatic beta cell function, glucose, and insulin sensitivity.
You may find that you have to pay for a fasting insulin test out of your own pocket, but it's not overly expensive and well worth it to discover your own health status.
Fasting Insulin Test
If you use the fasting insulin test on it's own you can still get a rough indication of your level of insulin resistance
Here are the indicator levels of you insulin resistance status:
Between 10U/L- 14U/L indicates mild insulin resistance
Above 14U/L indicates moderate to severe insulin resistance
The upper limit for normal fasting insulin is 20U/L
This is the standard measurement that your doctor will likely use but this is not as accurate as the HOMA calculation because it doesn't compensate for falling insulin and rising blood glucose, the HOMA-IR test does.
Interpreting HOMA-IR Results
So let's take it one step further to get a more accurate calculation.
Once you have:
Your fasting glucose numbers
Your fasting insulin numbers
Here's how to calculate the HOMA-IR and your level of insulin resistance.
If glucose is measured in mmol/L use this calculation (1):
Fasting insulin mIU/L x fasting glucose mmol/L divided by 22.5
The insulin resistance range:
Normal <2.0
Borderline 2.0-2.2
Moderate IR 2.2-3.0
Severe IR >3.0
If glucose is measured in mg/dL use this calculation:
Fasting insulin mIU/L x fasting glucose ug/dL divided by 405
The insulin resistance range:
Normal <3
Borderline 3-5
Severe IR >5

Source
Are You At High Risk For Developing Insulin Resistance?
Here are some of the risk factors:
BMI >25
Age >40 years
Waist circumference >40 inches (101 cm) (male)
Waist circumference >35 inches (88 cm) (female)
High blood pressure, high triglycerides, low high density lipoprotein cholesterol (HDL-C)
Latino, African American, Native American, or Asian American heritage
Family history of diabetes mellitus, high blood pressure, or atherosclerosis
History of gestational diabetes
Polycystic ovarian disease
Acanthosis nigricans

Source
If you have any of these risk factors or suspect insulin resistance, get a test!
It is better to know so you can do something about it because making some changes in that arena can help you avoid a diabetes diagnosis.
The same client I was talking about above is working with me and doing something about it! She has lost 8.8 pounds (4 kg) in 6 weeks, she is exercising, eating right and taking supplements to help. So I'm sure once we get her tested again, she is going to have lower levels of insulin resistance, and that is a VERY good thing!
Don't leave it to chance, get the test!
You may also like to read:
Insulin and insulin resistance
Newly Diagnosed? Tips to help you out
References
Australian Doctor and The Royal College of Pathologists of Australasia. 2002. Commonsense Pathology: Insulin Resistance.