Remember High School algebra? Problem after problem wondering, when am I EVER going to use this? I sure remember thinking that on more than one occasion.
Well, it turns out math does have more practical application than balancing your checkbook, keeping a budget, and calculating tips for servers. If you have type 2 diabetes, simple math may be crucial to keeping blood glucose under control.
Why? As it turns out, the total amount of carbohydrates is the single most significant factor in maintaining blood glucose control.
While many other factors play a role – such as meal timing, quality of food choices, balance of food groups etc – consistently maintaining the proper number of carbohydrates at meal times is most significant.
Foods Really Matter
This means it is not only key to choose complex carbohydrate (not simple sugars) whole foods sources, but also to be conscientious of the amount of carbohydrates you regularly consume. The amount of carbohydrates to eat per day is a hot issue of debate, with recommendations ranging from 20 to 200+ grams per day!
In most cases 200 grams is way too much for a diabetic, research indicating that a lower carb diet is best for glucose control.
Still, what is best for you will depend on many factors including your height, weight, age, physical activity level, and how your body responds to carbs. Some people are much more sensitive than others. For example, some people can eat brown rice and oatmeal, while in many cases people find it difficult to control their blood glucose while still eating these high carb foods.
It will take working with a team of trusted professionals and probably some trial and error to find out what works best for you as an individual.
In theory, the more consistent your carbohydrate consumption is (all other factors remaining the same), the more consistent your blood glucose will be. For this reason, it is wise for anyone with diabetes to count their carbs, but counting carbs is especially important for those who take insulin.
How Insulin Works
Why? Well if you remember how insulin works, it brings blood sugar down. The type of insulin (rapid acting, short acting etc) will determine the degree to which it brings sugar down, the rapidity at which it starts working, and the length of time it remains in the body.
For the purpose of this article we will be discussing rapid acting insulin (or mealtime insulin), as the other types are generally given independent of carbohydrate intake.
Ok, so here's where you need to put on your thinking cap:
How many units of insulin does a person need to inject at a given meal to compensate for the elevation in blood glucose that will result?
That's where Insulin to Carb (I:C) ratios come in handy.
What many physicians will do (especially if patients aren't willing to count their carbs), is advise them to either inject a set amount at each meal or follow something called a 'sliding scale,' where they would inject a certain amount of insulin based on what their blood sugar level currently is.
The problem with each of these is that they don't account for the makeup of the meal….remember that the most important factor in determining blood sugar elevation is the total number of carbohydrates – aka, the more carbohydrates you consume at one meal, the higher your blood sugar levels will rise.
Let's say you give yourself 10 units on Monday (when you had fruit and yogurt – carbs), this would cover the meal perfectly. But, when you give yourself that same 10 units on Tuesday (when you had bacon and eggs – proteins), you will bottom out!
And practically speaking, people don't eat the same foods or same exact number of carbs at every meal.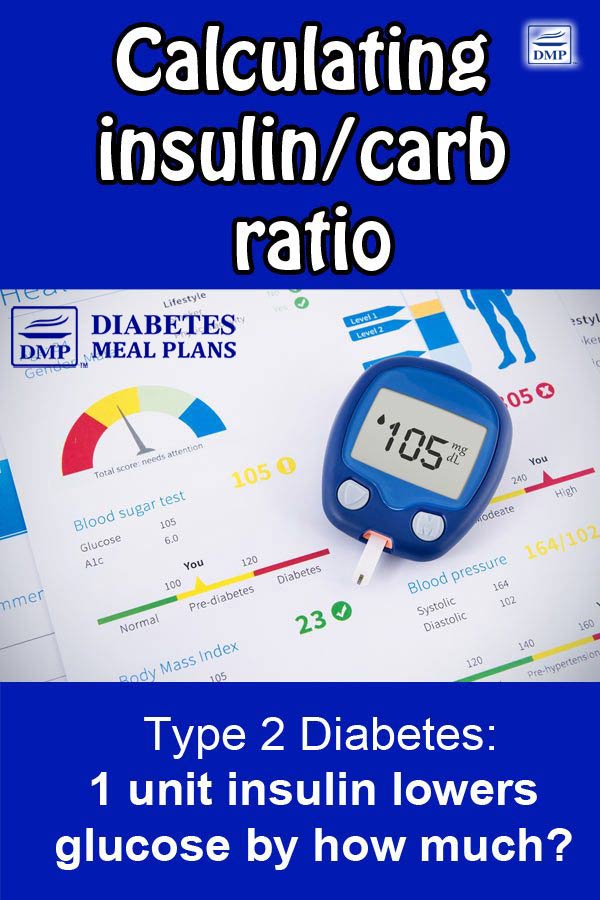 What is Insulin to Carb Ratio?
So what is the solution?
Something called an Insulin to Carb Ratio: the number of grams of carbohydrates covered by 1 unit of rapid acting insulin.
This is different for different people–those who are more sensitive to insulin will have very high ratios – a small amount of insulin will cover a lot of carbs. Whereas those who are more insulin resistant will have lower ratios – the same amount of insulin will cover fewer carbs. So it's important to know how many carbs a certain amount of insulin will cover for you.
In this example, we need to know how many carbs you ate Monday (in which we had good results) and establish a ratio based on that. So let's say you ate 30 grams of carbohydrates.
That would give us: 10 units for every 30 grams, therefore a 1:3 ratio. In other words, 1 unit of insulin for every 3 grams of carbs.
Now once you know this ratio, you can adapt/modify it for varying amounts of carbohydrates at meals. For example, if you ate 9 grams of carbohydrates, you'd give yourself 3 units (9/3=3), if you ate 21 grams of carbs, 7 units (21/3=7) and so on.
Now to complicate this even further, you may need to add a sliding scale to this….this accounts for an already elevated blood sugar that needs to be corrected.
For example, if your I:C ratio was as above, that would be the perfect amount of insulin to give if your blood sugar was already in range. However, if your blood sugar was high, say 325 (18), you need to do more to account for a high level.
While sliding scales are becoming a thing of the past, they are still often used and prescribed. It is important that you and your physician have a clear understanding of your plan. This is not really something you should work out on your own.

Calculating Insulin to Carb Ratio?
So how do you figure this all out?
Again, this is not something you ought to attempt to do alone, but always discuss with your physician and diabetes educator.
However, a general starting place is often 2.8x body weight (in pounds) divided by your current daily dose.
For example, if a 160 pound person were taking 50 units of insulin daily: 2.8 x 160 / 50 = 9.
In other words, it's estimated that 1 unit of insulin would cover 9 grams of carbohydrates.
Now again, remember this is an estimated starting point, from here, you'd tweak as needed based on your blood sugar log, which you are diligently keeping right???

Why it's Important to Keep a Daily Log
This is one of the reasons it's important to keep a daily log that details your blood sugar readings, insulin given, and carbs eaten at meals and snacks, as well as moods, illness, anxiety/stress etc–all of which can play a very important role in blood sugar control.
Apart from this, we don't have any data to work with and it will be difficult to tell if what you are currently doing is working. The best way to establish how well your I:C ratio is covering your meals is to use a time when your pre-meal blood glucose is in goal range.
So let's say before breakfast, your blood sugar is 100 (5.6). That's great! Now be very diligent about the number of carbs you eat, and follow your estimated or physician ordered I:C ratio (let's say for this example, it is 1:10).
Check your blood sugar 2 hours after the first bite of that meal and that number should be very telling as to whether your ratio is on or off. If it is in goal range (say 124 (6.9), your ratio is probably spot on; if it is elevated (say 160 (8.9), it may mean you need to lower the ratio (say 1:9); whereas if you come near to bottoming out (say 82 (4.6), chances are you are more sensitive to insulin (which is a good thing!) and you may need to increase the ratio (maybe 1:15).
You may also find over time that you respond differently at different meals (which isn't all that common, but is the case in some) and with different meal composition.
For example, 45 grams of fruit, toast and juice will raise your blood sugar very rapidly, then likely drop quickly, whereas 45 grams of slow cooked steel cut oats with peanut butter and plain yogurt will (in most cases) be a much more slow, steady rise (and fall), leaving you with greater satiety due to the complex carbs, added protein and fat. And again, an even lower carb meal of 15-20 grams will give you an even steadier rise and fall.
When calculating insulin/ carb ratio, it's always best to err on the side of caution, estimating lower rather than higher to avoid hypoglycemia.
And just to re-iterate, all of this planning should be done under physician supervision and with the assistance of health experts. Please do not attempt to make any changes to your health care plan apart from their knowledge and advice. This info is just here to help you understand how it all works. 🙂

Feel free to leave your questions and comments below.