Hemoglobin A1c levels, sometimes referred to as A1c or HbA1c, is an often confusing topic for many. And that's exactly why we're going to cover a bunch of questions in the discussion below.
If you have questions of your own, please leave them at the bottom and join the discussion.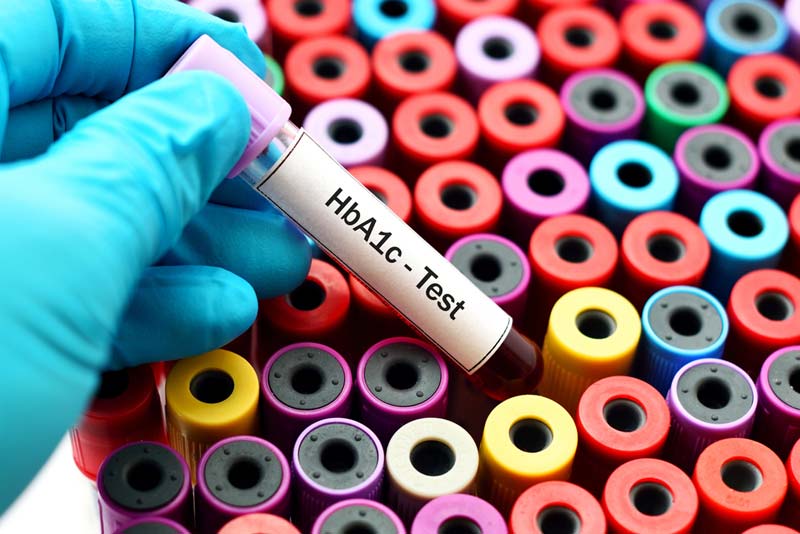 What does A1c mean and how is it calculated?
Hemoglobin A1c is "glycated hemoglobin."
Hemoglobin is a protein found in red blood cells whose job is to carry oxygen to the cells. As it does so, it comes in contact with other components in the bloodstream, including sugar (glucose). When sugar gets attached to a protein, it's called "glycation."
The greater the glycation, the more reflective that is of sugar content in the bloodstream. Because red blood cells turn over every 3 months, measuring HbA1c gives us a 3 month average of blood sugar control. The A1c is a percentage whereas the number you get when monitoring at home is a numeric value (mg/dL or mmol/L).
QUICK ANSWER: A1c is an average measure of glucose in your bloodstream from the previous 3 month period. The normal range is between 4-6% but your individual goal may be set higher initially or long term, depending on a few factors – keep reading to learn more.
My blood readings range 5-7 (90-126), always. I understand that but so often the literature talks about your A1C readings. How do I get that and what is it?
The HbA1c is a percentage whereas the value you get with daily testing is a number expressed in mmol/L or mg/dL.
Your daily levels change on an ongoing basis whereas A1c provides a 3 month average.
A1c/ Blood Sugar Conversation Table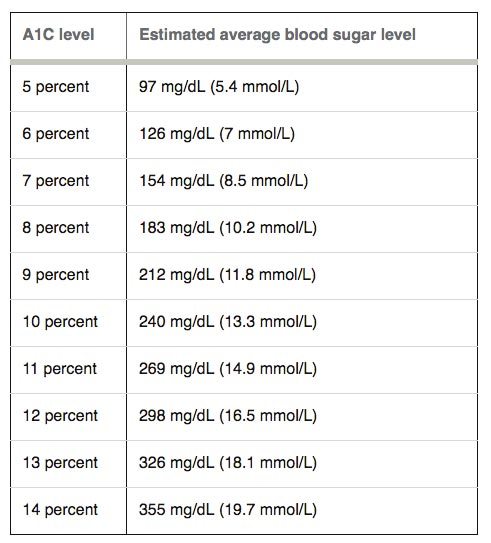 For example, if your A1c is 6%, your blood sugar has been running 7 mmol/L or 126 mg/dL on average.
Both numbers are important as an indicator of blood sugar control. But one important thing to point out is we can't make the reverse assumption. For example, you can't look at the daily reading of 7 (126) and assume your A1c is 6% because you only know what your glucose level is the time you check it, not as it fluctuates throughout the day or overnight.
An A1c test must be performed at a physician's office or lab. If you don't know your A1c, schedule an appointment with your doctor to have it drawn or call to request it.
QUICK ANSWER: Your A1c is a blood test measurement that is ordered by a physician 1-4 times per year. It is an indicator of blood glucose control.
I'm approaching borderline of A1C. I've already lost 30 lbs (13.6 kg). Would losing the additional 40 lbs (18 kg) be enough to remedy the A1C levels?
While there are no guarantees, if you have 40 pounds to lose to approach a healthy weight range, the only way we'll know is if you do it!
If it doesn't improve A1c (which would be surprising as I highly suspect it will), worst case scenario is you end up feeling better, looking better and with a better A1c than had you not lost the 40 pounds.
Unfortunately, there are many factors that impact A1c, some of which are controllable and some of which are not. Weight is a big one, but not the only one. For instance, your diet, your level of insulin resistance, the amount of exercise you do, and other factors – can all influence A1c levels.
QUICK ANSWER: Weight loss can help lower A1c but it's not the only factor – diet, lifestyle, insulin resistance and other factors may also influence your numbers.
What is the quickest way to lower my A1c without using prescription drugs or insulin by diet changes?
That's a great question and pretty much the essence of our site here at Diabetes Meal Plans!
The quickest and best way to lower your A1c is through your diet – what you eat on an everyday basis; and lifestyle changes.
I'd encourage you to check out this link to our top 10 essentials, including diet guidelines, healthy foods, explanation on carbs and amounts, and much more – including a plethora of recipes to help you get started!
QUICK ANSWER: The quickest and best way to lower your A1c is through your diet – what you eat on an everyday basis; and lifestyle changes.
What type of things can I do to keep the A1C going south and what is a good number to hit?
Weight loss if overweight, following a healthy carb-controlled diet (see above for links), managing stress, sleeping well, and taking medication if needed, are all key to reducing your A1c.
As far as your number goal is concerned, that should be individualized between you and your doctor based on a lot of factors such as how long you've had diabetes, what your current control is, your age, whether you are taking insulin, and so forth.
A great goal would be less than 6.5% (under diabetic range) and if you can reduce it to under 5.7%, that would put you even out of pre-diabetes range.
However, for most people who have had diabetes for any significant length of time, 7% may be a more realistic goal to help minimize complications.
That said, those who have had poorly controlled or brittle diabetes for many years, the elderly, and those taking insulin may have a more liberal goal like 8%, simply because they may not be able to realistically achieve a lower goal without risking hypogylcemia.
QUICK ANSWER: Diet is one of the best ways to lower A1c. Although a normal A1c range is 4-6%, your individual A1c goal should be decided with your physician because it can be dependent on a few different factors.
Q: A1c readings. Can you figure this on your own beside the doctor doing it?
No, you can't figure this out on your own. To know your HbA1c accurately, you need to have that particular blood test run by a lab and it has to be ordered by a physician. It cannot be performed on a home meter. It is a test done 1-4 times per year in those with, or at risk for diabetes.
QUICK ANSWER: You can't figure out an A1c measurement on your own. It is a blood test ordered by a physician.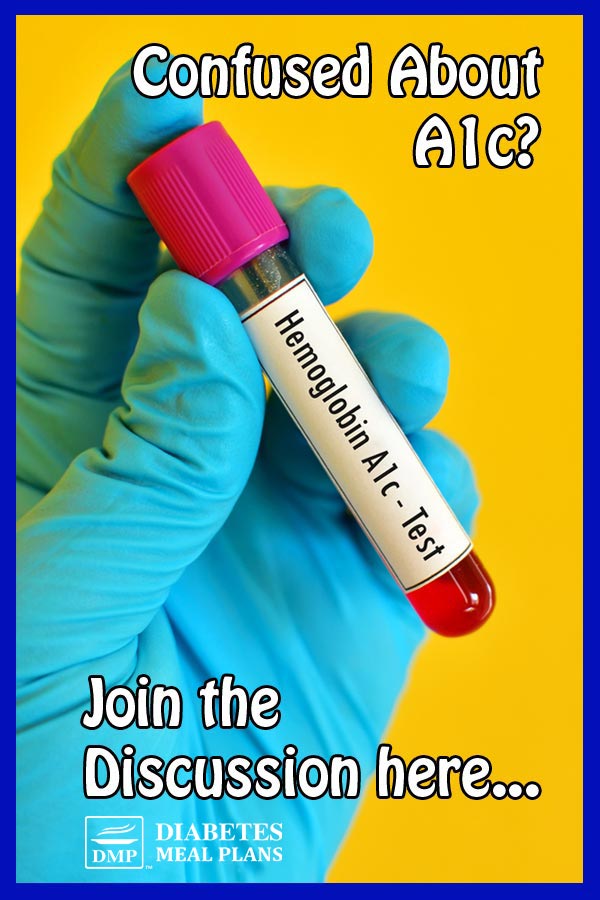 I want to get myself off Metformin ASAP. If my A1C drops from 7.4 by a couple points, do you think I should have to continue taking Metformin?
That is completely between you and your ordering physician. I would question why you want to get off of metformin asap.
If you are having symptoms like diarrhea, you may want to discuss trying a different medication. If you aren't experiencing symptoms, I would encourage you to discuss your concerns with your doctor.
In terms of medications, metformin is a generally a safe and effective medication and helps the body put less sugar out into the bloodstream.
In saying that, if your A1c drops a couple of points (ie: from 7.4 to 5.4), there would likely be no need to take metformin as you would be out of even pre-diabetes range. However, if you mean fractions of points like 7.4 to 7.2, you are still out of goal range and at risk for diabetic complications.
QUICK ANSWER: If you can lower your A1c within normal range, there would be no need to take metformin.
My A1c is 10 now. I am always craving to eat sugar. I can't control sugar eating. Please help.
Ten percent is very concerning for an A1c. It indicates your blood sugar levels have been running 240 (13 mmol/L) on average.
This puts you at pretty high risk for diabetic complications. Ideally, you need to be aiming for 7% or less as a good initial goal.
Sugar cravings can be very challenging. We have a great article here with some tips and ideas.
You'll also be surprised that as your levels lower and you gain better control, your cravings will reduce as well.
If you truly feel way out of control, you may consider getting professional help by way of counseling. Everyone experiences cravings, but true addictions are a bit more difficult and something you may not be able to battle alone.
QUICK ANSWER: Dealing with cravings can be a challenge but a high A1c level puts you at substantial risk of complications. Therefore, it's worth managing cravings and getting your levels lower.
If you have A1c questions of your own, please leave them below and I'll do my best to answer them.
Please pin, tweet or share this post. Thanks!