There are few things that scream 'summer' more than freshly picked raspberries. And incredibly, there are actually over 200 different species of raspberries themselves!
They can be largely divided into three categories: black, purple, and red (the most common variety).
Scientists don't know much about the origins of raspberries, but we do know that they've been around for about 2000 years, and they're among the most popular berries worldwide today!
Because of their super high fiber content and reasonable sugar content, raspberries are actually some of the absolute best fruits for diabetes. Here we'll dive deep into the long list of what makes these tiny berry jewels so delicious and nutritious.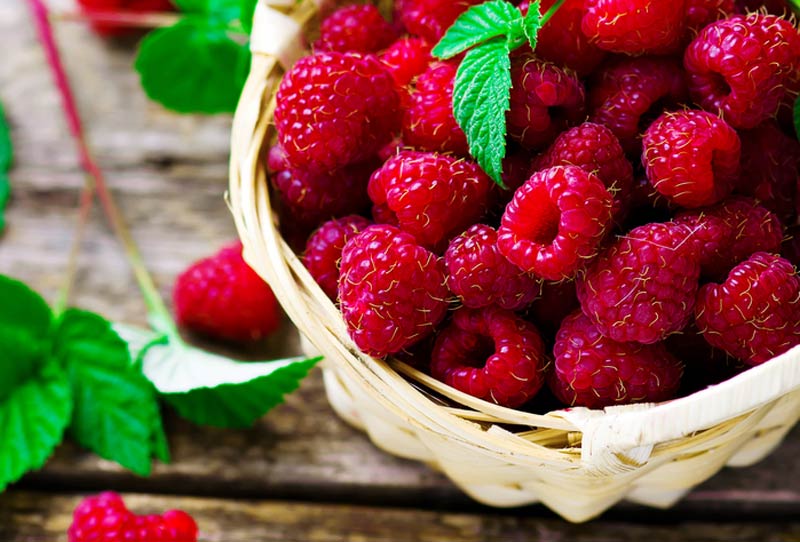 Raspberries Nutrition Facts
As fruits go, raspberries are low in calories and fairly low in sugar and carbohydrates. Half a cup of the berries contains 32 calories, 7 grams of carbohydrates, and 2.7 grams of naturally-occurring sugar.
They contain a ton of fiber – much more than most other fruits do. Half a cup will give you 4 grams fiber!
Raspberries are a great source of vitamin C and manganese. They're also a good source of copper, vitamin K, pantothenic acid, biotin, vitamin E, magnesium, folate, and potassium.
They contain tons of powerful antioxidants, including anthocyanins, flavonols, and tannins.
Raspberries have a low glycemic index of 26.
Health Benefits of Raspberries
Vitamin C: This antioxidant plays an essential role in immune system support, preventing oxidative stress, and may provide assistance to help lower blood sugar and cholesterol levels.
Fiber: Helps keep you satisfied for longer and feeds gut bacteria so they can do their job keeping you healthy. Fiber also supports improved blood sugar regulation.
Manganese: May play a key role in glucose regulation and kidney function.
Vitamin K: Can improve bone health and prevent fractures. Vitamin K helps your body absorb calcium, and may even reduce insulin resistance in older adults.
Anthocyanins: These antioxidants help prevent cardiovascular disease, as well as eye-related complications of diabetes. They work by reducing chronic inflammation associated with the development of disease.
Ellagitannins (ellagic acid): A potent polyphenol with powerful anti-inflammatory and antioxidant powers that can help improve liver function and has been shown to work on the pancreatic beta-cells, increasing their size and number and enhancing their activity to help stimulate insulin secretion and decrease glucose intolerance.
Research on Raspberries and Diabetes
Animal studies have uncovered that the polyphenols and fiber in red raspberries can reduce oxidative stress in obese diabetics.
One study in women with gestational diabetes found they may be able to reduce the amount of insulin they require by consuming raspberry leaf, suggesting the compounds in raspberry assist with improved glucose uptake.
Another fascinating study found that black raspberries have the ability to help control blood sugar and reduce inflammation in prediabetic patients.
In general, red raspberries also seem to play a significant role in reducing the risk of many different metabolically-based chronic diseases including type 2 diabetes, cardiovascular disease, obesity, and Alzheimer's disease.
The Korean black raspberry has been shown to have protective effects on the liver. Black raspberries have a significant cholesterol-lowering effect, and they may be a great nutritional treatment for elevated lipids and the associated decline in immune response.
Raspberries can also reduce bone loss in diabetic osteoporosis.
Points for Consideration
If you are taking blood-thinner medications such as warfarin, it's important to be aware of raspberries' moderately high vitamin K content.
This is because vitamin K is involved in blood clotting, and suddenly consuming considerably more or considerably less vitamin K can affect your medication's efficacy.
Raspberries and Diabetes Conclusion
Raspberries are one of the best fruits you can eat with diabetes – they are low in overall carbs and high in fiber.
Most people can have about half a cup per serve but remember to pair fruits with a protein or fat to help control blood sugar further.
Of course serving sizes of all fruits can vary per person. The only true way to know how your body reacts to fruit, or to any food, is to carefully test your blood sugar before and after eating.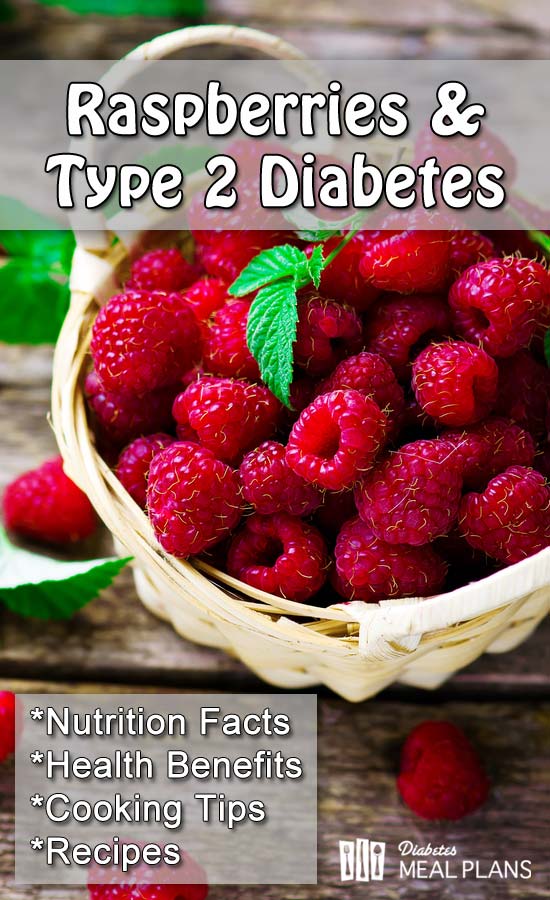 Raspberries in the Kitchen
Selection
The best raspberries are firm, plump, and intensely colorful – not mushy or moldy.
Raspberries are typically in season from mid summer through fall.
But, you can also purchase frozen raspberries, which are just as delicious!
Storage
Raspberries are highly perishable, so store them in your fridge for up to two days and do not wash them until you're ready to eat them.
They also freeze very well (and taste great frozen in smoothies!) for up to a year, either in a freezer bag or on a cookie sheet.
Uses
Raspberries taste fantastic in smoothies, on top of yogurt, pancakes, or low carb cereal, as an addition to salads, and they make the perfect match for any low carb dessert.
It might sound weird, but they also taste amazing drizzled in a small amount of balsamic vinegar!
Raspberry Recipes
Mixed Berry Smoothie
Swap out any berry and replace with raspberries instead.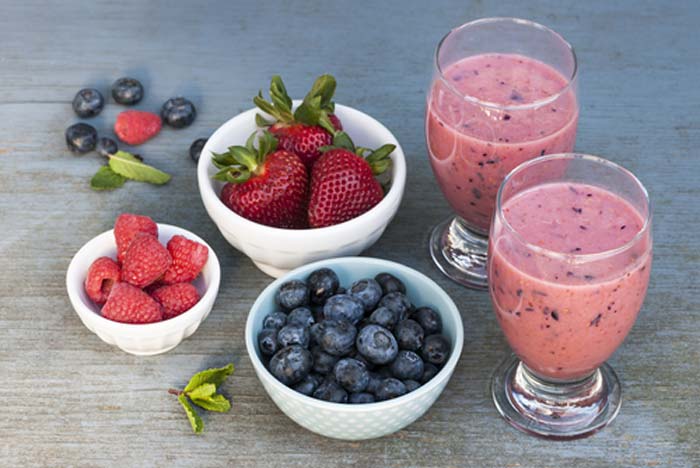 Click here for the full recipe.
Roasted Nut Muesli
Swap out the strawberries and serve this muesli with a side of raspberries.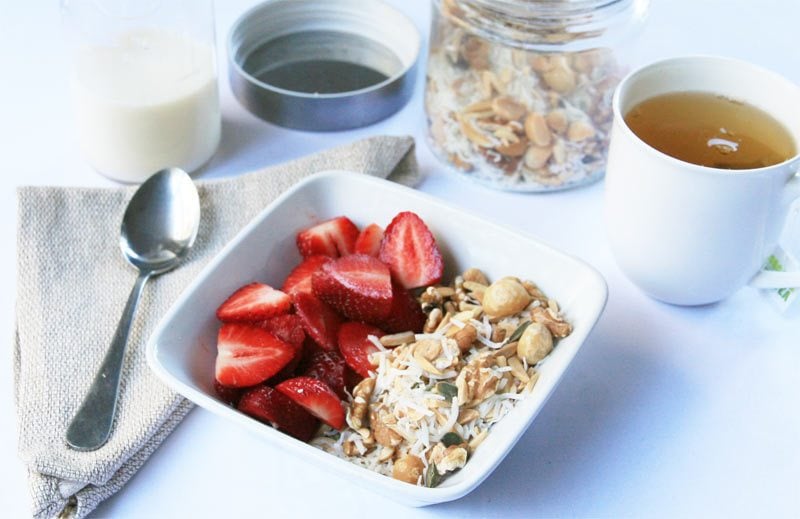 Click here for the full recipe.
Bircher Muesli
Another divine breakfast option with a sweet-berry topping.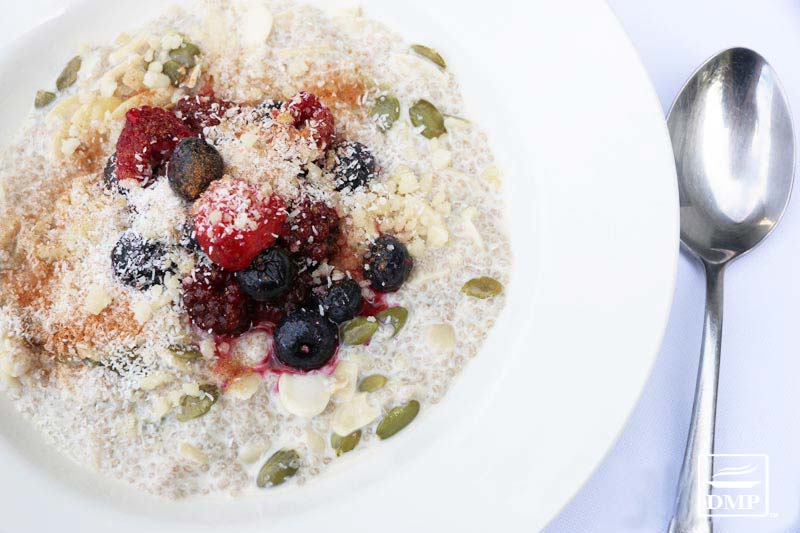 Click here for the full recipe.
Please pin, tweet or share this info to help others. Thanks!