Calories and carbohydrates are two words that get thrown around quite frequently when talking about nutrition and diabetes.
A question we often hear is: "What is more important to manage my diabetes: low carb or low calories?"
Trying to navigate between counting calories and counting carbohydrates can feel cumbersome, and the good news is, you don't have to.
So to clear up any confusions, first we'll look at the difference between the two diet approaches. Then, we'll turn to the research to find out what science tells us is most important for treating prediabetes and type 2 diabetes.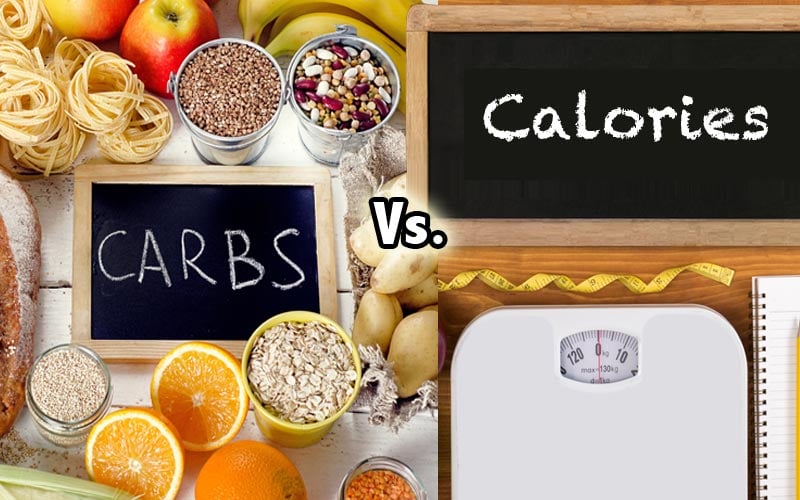 JUMP TO: General calorie recommendations | A low calorie approach | A low carb approach | Research: Low fat vs low carb | Research: Very low calorie diets | Carbs vs calories: Which is best? | Conclusion
General Calorie Recommendations
The recommendations below are general guidelines from the Dietary Guidelines 2015- 2020.
The recommendations listed are for a moderately active individual. If you live an active lifestyle, add an additional 200 calories per day. If you live a sedentary lifestyle, subtract 200 calories per day.

In our opinion, these caloric goals are a little high. We'd be more inclined to subtract 200-300 calories off these as a starting point, depending on individual circumstances, of course. 
A Low Calorie Approach for Diabetes
Calories are units of energy, energy that you consume in the form of foods or beverages.
Calories can be burned or stored. Everyday activities burn (use) calories, and on the other hand, excess calories are stored as fat.
A lower calorie diet will restrict your calorie intake so that you burn body fat for energy.
Limiting caloric intake often means significantly decreasing your fat intake. This is because when compared gram to gram, eating one gram of carbohydrate or protein yields 4 calories, whereas one gram of fat yields 9 calories.
Considering how calorically dense fats are, most low calorie diets end up being very low fat diets. So if you're thinking in terms of volume, you will be able to consume a higher volume of carbs and protein versus fat.
A Low Carb Approach for Diabetes
A low carbohydrate diet generally limits grains, starchy vegetables, breads, and sweets. And of course, the focus is on fresh foods over packaged and processed foods.
While low carbohydrate intake does increase your fat intake, this is still different from a ketogenic diet, which recommends an even lower carbohydrate and higher fat consumption.
Here are some general guidelines for how each diet is classified in terms of carb intake, based on a 2000 calorie diet:
Very low carb/ ketogenic diet: 20-50 g per day. Below 10% total energy intake.

Low carbohydrate diet: Below 130 g per day. Below 26% total energy intake.

Moderate carbohydrate diet: 26-45% total energy intake.

High carbohydrate diet (low fat): Above 45% total energy intake.
We encourage a low carb diet below 130 g per day, but on the lower side: 50-80 g per day seems to be a sweet spot for most people to comfortably follow.
This gives you ample room to include variety of carbs such as veggies and lower carb fruits, and still get great results with blood sugar and A1c control.
Research: Low Carb vs Low Fat Diets
Research has demonstrated that a low carb (~58 g per day), unrestricted calorie diet has the ability to improve A1c (0.6%) and reduce medication usage by as much as 44%, compared to only a 11% reduction for those following a low fat-calorie restricted diet (500 calories under calculated maintenance needs), and a 0% improvement in A1c levels. 
Furthermore, regardless of calorie intake, when participants are instructed to follow a low carbohydrate diet (<130 g/day), research has shown they achieve a significantly lower body mass index (BMI) compared to those on a low fat-calorie restricted diet.
Some advocates of a low fat diet have made arguments for cardiovascular health, but research supports the point that low carbohydrate diets are equally, if not more effective than low fat diets, at preventing vascular complications in type 2 diabetes.
Recently we covered diabetes and heart health, speaking to Cardiologist Dr. Adam Splaver about some of the low fat diet myths.
A large research review found low carb, low glycemic index, Mediterranean, and high protein diets are the most effective diets for type 2 diabetes, when compared to control. NOTE: Control diets varied among studies but included low-fat and mimicked the American Diabetes Association recommendations (also low fat). In particular, those in the low carb or Mediterranean achieved greater weight loss.
An interesting point about the mechanisms behind all of this, is that lower carbohydrate diets are thought to be so effective because of the higher fat content, which helps with satiety (feeling full). This means on a low carb-high fat diet, your stomach (and brain) will remain satisfied longer, so you can go longer between meals or without snacking, which interestingly, ultimately helps to lower your calorie intake.
However, don't totally dismiss calories yet!
Please pin, tweet or share; then keep reading.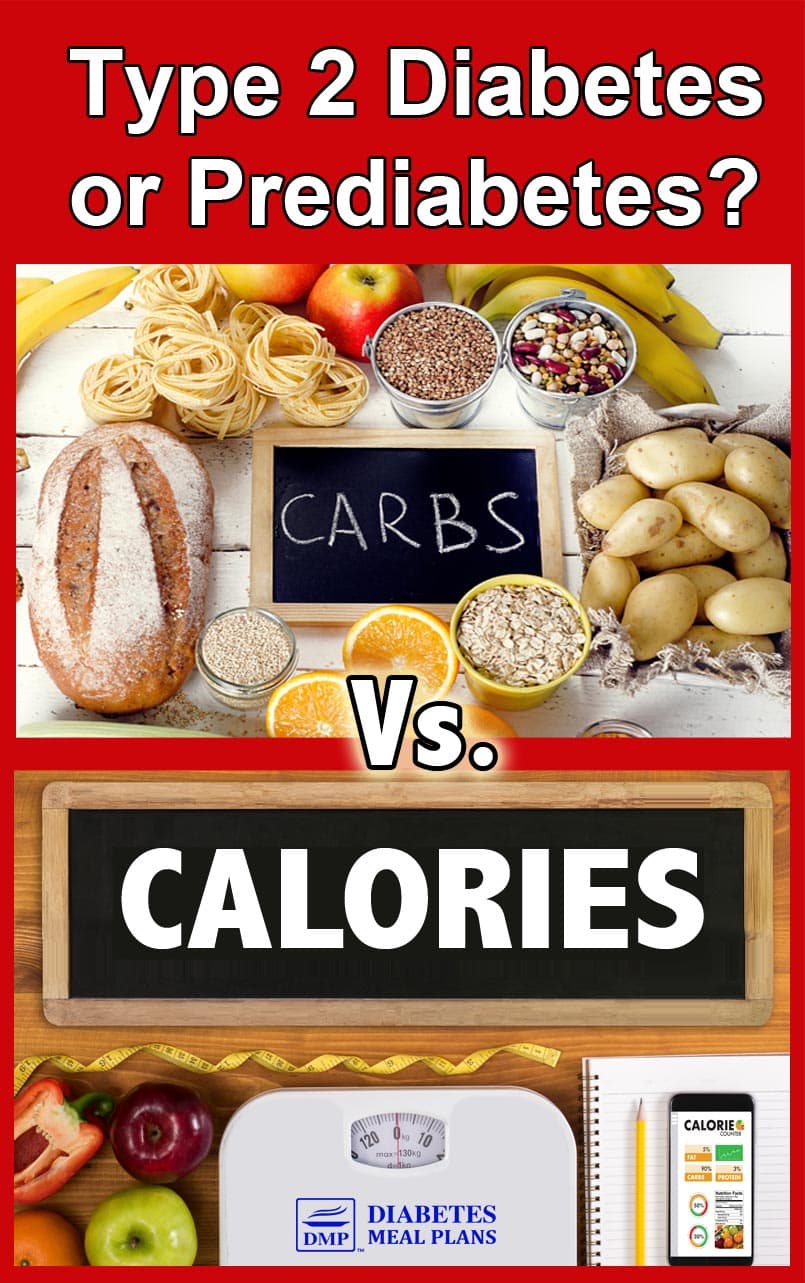 Research on VERY Low Calorie Diets
Research shows that caloric restriction (and we're talking very low calorie diets varying between 600-800 calories per day) can help people with type 2 diabetes achieve non-diabetic glucose levels.
One 8-week very low calorie diet study, found that 87% of patients having diabetes <4 years and 50% of patients having diabetes >8 years, saw clinical improvements in fasting blood sugar levels, with a 50% chance of eliminating all diabetes therapies, including medication.  
A 2017 clinical trial, randomized people with type 2 diabetes to follow either the standard diabetes diet or a very low calorie diet (around 850 calories per day) for 12 to 20 weeks.
The results of the study showed a large percentage of the calorie restricted group lost over 30 pounds/15 kg, and 46% achieved complete diabetes remission.
An important thing to note is that the low calorie diet was also a low carbohydrate diet, containing between 122 to 126 grams of carbs per day. Even the diet recommended to participants after the study, was… you guessed it – low carb!
While the results for very low calorie diets are very impressive, you must have clinical guidance to follow a diet so low in calories (600-800 calories a day).
Beyond needing clinical guidance, very low calorie diets are not sustainable long term. And restricting calories that low will inevitably lead to fatigue, along with the potential for vitamin and mineral deficiencies.
The good news is that low carb diets are equally effective for achieving diabetes remission, without the need to restrict calories so low!
Calories vs Carbs: Which is Better?
The bottom line is that the treatment of prediabetes or type 2 diabetes is not one single thing "to do."
It's important to keep your caloric intake within the recommended range given your age and activity level. But, more importantly, especially in regards to prediabetes and type 2 diabetes, is your carbohydrate intake.  
Carbohydrates have the single biggest influence on blood sugar and A1c levels. So you could follow a low calorie diet, but still be consuming 1200 calories of junk and too many carbs, guess what?
Neither your blood sugar, nor your body will be very happy with you.
While both calories and carbs matter. Carbs are really the biggest issue because as we've seen, low carb studies where calories are unrestricted still come out on top of low fat diets that limit calories.
That's not to say eat all you want, whenever you want. 
At the end of the day, you could be eating all the right things, but if you're significantly overeating all the time, and you have a sedentary lifestyle to match, well, those excess calories will still be stored as fat.
A lot of managing this process comes down to the quality of the food you are eating. When you're primarily consuming whole foods and lots of vegetables, you don't really need to count every single calorie going into your mouth.
And keep in mind, carbs promote higher appetite, so does lack of blood sugar regulation. So as your body adjusts to a lower carb intake, your blood sugar regulates, your hormones balance and hunger and appetite often balance themselves naturally as a result. 
Conclusion
Counting calories can be boring, and without a doubt, so is counting carbs. But in terms of carbs vs calories for counting, choose to count carbs because zoning in on carbs is what will bring you the best blood sugar and A1c results.
Typically if you're consuming unprocessed, real food you won't need to count calories. However, if you find you're struggling to lose weight, it may be worthwhile to evaluate your caloric intake and reconsider portion size.  
When you stick to eating blood sugar friendly foods, and delicious low carb meals, these help you achieve both calorie and carbohydrate goals, often without the need to count either, especially when you get your head around what's what.
Please pin, tweet or share this info to help others – thanks!