When it comes to the whole dairy group of foods, it can also be another area you can get stuck if you've got diabetes.
Do I eat low fat? Is it okay to eat cheese? And is milk okay?
Well, hopefully by the time you're done reading this you'll have a whole new perspective on diabetes and dairy.
Low Fat vs. High Fat Compared
We've all been so used to choosing low fat options but let's look at some low fat yogurt.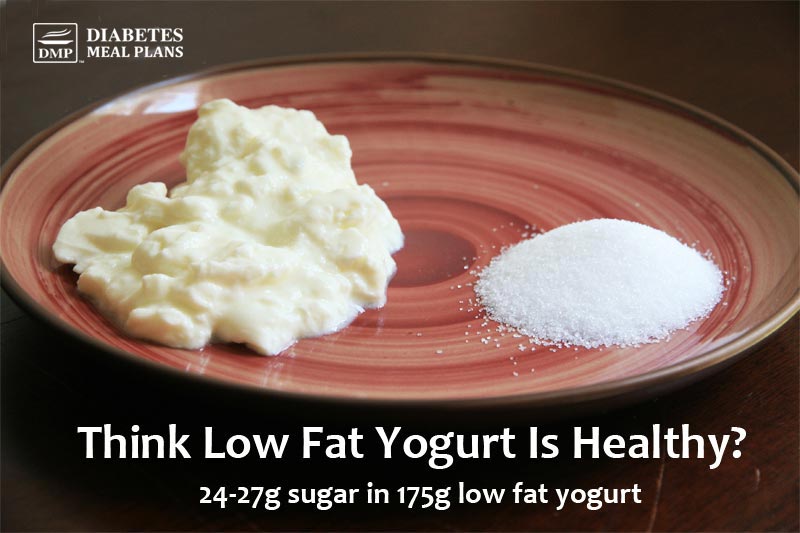 Full fat Greek yogurt has far less carbohydrates/ sugar than a low fat option, coming in at around 6 g per serve.
As a diabetic, one of the most important things for lowering blood sugar and A1C levels is monitoring carbohydrate intake, so don't exclude monitoring (some) dairy from this list (see more on this below).
The Research on Diabetes And Dairy
In the past 12 months we have seen new science emerge showing that full fat products are not an issue.
As Time magazine clearly puts it:
"A recent review published in the European Journal of Nutrition of the existing research on dairy fat came to some surprising conclusions: People who eat full-fat dairy are no more likely to develop cardiovascular disease and type 2 diabetes than people who stick to low-fat dairy. When it comes to weight gain, full-fat dairy may actually be better for you, the review found."
Keeping fatty red meats in lower proportion is a good idea, but full fat dairy is better than low fat.
Quoted from Independent, Dr Ulrika Ericson, from Lund University, Sweden said:
"Those who ate the most high-fat dairy products had a 23 percent lower risk of developing type 2 diabetes than those who ate the least."
Ericson's study looked at almost 27,000 people to see what dietary fat food sources might lead to increased rates of type 2 diabetes. What they found was that those consuming more high-fat dairy products, particularly cream, yogurt, and cheese, had a decreased risk of diabetes, while low-fat dairy showed an increased risk.
The conclusion is that eating high fat dairy may be protective against type 2 diabetes.
Despite new research, organizations such as the American Diabetes Association are still recommending low fat, high sugar products.
As Dr Sarah Hallberg says: "Managing your diabetes starts when you ignore the "recommended dietary guidelines" – sad but true.
The fact is that all of the new research we have around nutrition simply isn't getting through to the public.
Dairy Products Nutrition List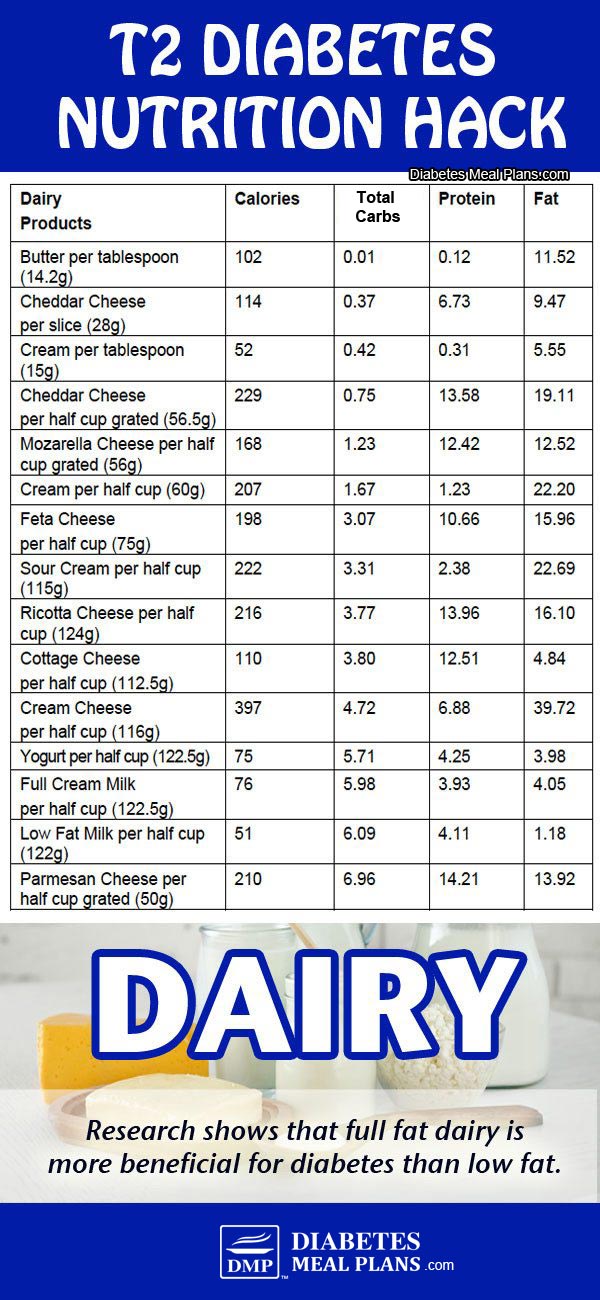 Here's the list of dairy products from lowest to highest in carbs.
Why are some dairy products high in carbs and others aren't? It all has to do with the lactose content.
Lactose is a form of sugar/ carbs. And things like milk and yogurt have a high level of lactose, whereas something like cheddar cheese has none. The more lactose in a dairy food, the higher the carb count will be, plain and simple.
What Are The Best Dairy Products To Eat?
As you can see from that nutrition list above, your best choices are going to be:
BEST – lowest carb
Cheddar cheese
Mozarella cheese
Cream
Butter
Next best – can stil eat regularly
Feta cheese
Ricotta cheese
Cottage cheese
Sour cream
All full fat options of course.
You can still have some yogurt and milk but just know that these are higher in carbs so you'll need to have them in small portions.
Easy Diabetic Breakfast Idea
Take this diabetic breakfast recipe as an example.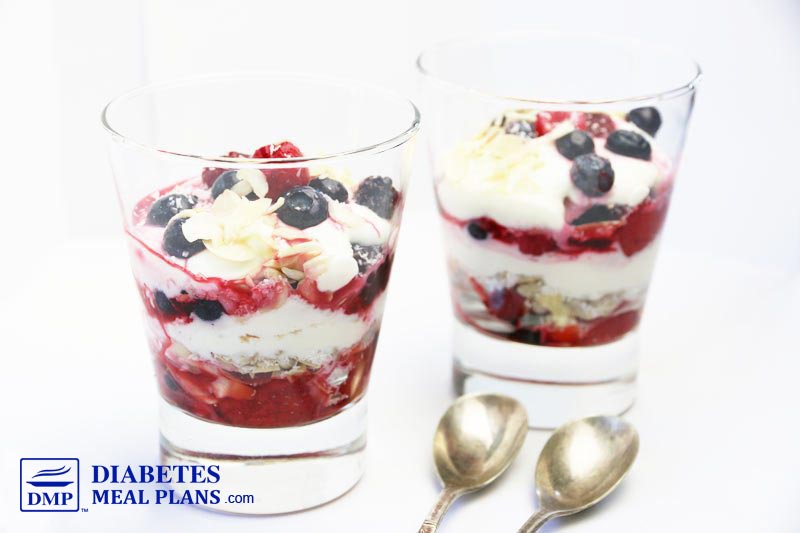 It's one of the recipes from our Bountiful Breakfast Menu – which includes 45 other awesome breakfast recipes.
This breakfast contains a little more carbs than some of our recipes, at 18 g net carbs. That's because we use both berries and some yogurt in this recipe, and even keeping the yogurt at just 1/4 cup per serve still boosts up the carb count.
18 g net carbs isn't that high, but it's just an example of how certain types of dairy have to be moderated.
Give that delicious Berry Parfait a try. Here's the recipe.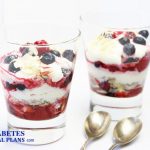 Pin Recipe
Easy Diabetic Breakfast: Mixed Berry Parfait
Ingredients
3.7

oz

frozen mixed berries

- equiv. 3/4 cup - defrosted

1/2

cup

greek yogurt

1/4

cup

flaked almonds

2

Tablespoon

desiccated coconut

1/4

teaspoon

ground cinnamon

2

Tablespoon

sunflower seeds

5-7

drops

liquid stevia extract

- optional
Instructions
If you want to parfait a bit sweeter, stir the liquid stevia into the yogurt.

Layer the ingredients into 2 glasses starting with the berries, a little almonds, sunflower seeds, and coconut, a sprinkle of cinnamon, a thin layer of yogurt; then repeat until you use all the ingredients.
Notes
Can be made ahead of time the night before and will also store in the fridge for a couple of days.
Want some added fiber? Add a couple of teaspoons of chia seeds to each one.
Haven't got almonds? Use any kind of nuts or seeds you have on hand.
Want to lower the carb count? Use cottage cheese instead and add a bit more stevia to make it sweet.
Share by Email
Share on Facebook
Share on Twitter
Pin Recipe
So if you've been worried about eating dairy, don't be. Dairy products are a natural whole food with lots of nutritional benefits!
Please share, pin, or tweet this post. Thanks. 🙂