Salt. We've all heard that too much salt is 'bad.' And with prediabetes or type 2 diabetes, perhaps you've heard it's even worse for your health.
The truth is, there's always a bit more to the story.
Let's explore salt in more depth so you can get past the myths and understand the truth about salt for diabetes.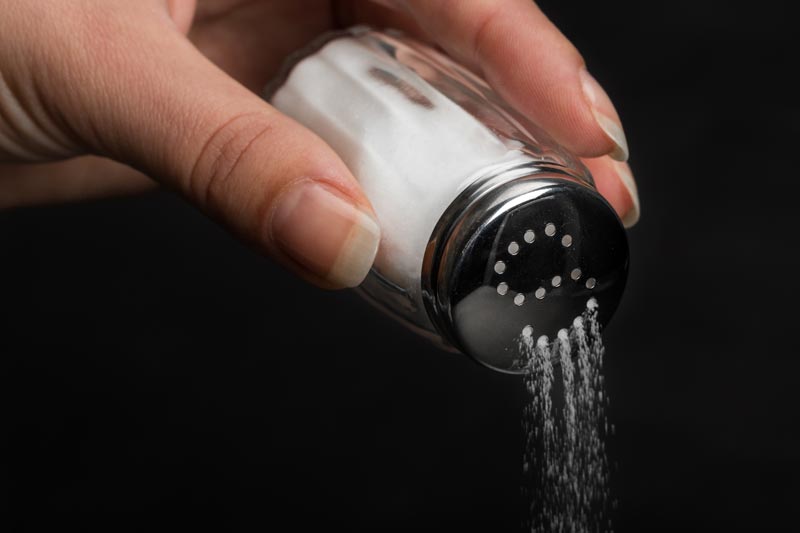 JUMP TO: What is salt | Why does salt get a bad rap | Recommended salt intake | The problem with processed foods | Food salt comparisons | 5 common questions about salt | Salt and a low carb diet | Is salt bad for diabetes?
What is Salt?
Chemically speaking 'salt' is any substance in which two minerals bind together.
Probably the most well known salt, table salt, is a combination of sodium and chloride that bind together to flavor, and in some cases preserve food.
Salt, or more specifically 'sodium,' is needed for many functions in the body:
nerve signalling

muscle contraction

fluid balance

maintenance of cell membranes
nutrient absorption
Too little salt in your diet and you would not be able to survive.
So then… why does salt always seem to get a bad rap?
Several studies, including research from the DASH (Dietary Approaches to Stop Hypertension) Trial, concluded that lowering one's salt intake can reduce blood pressure.
Considering that high blood pressure is a direct risk factor for stroke and heart attack, it has become well accepted that a low salt diet can help reduce one's risk of such incidences.
Having diabetes, and more specifically uncontrolled diabetes (consistent high blood sugar), puts you at an increased risk for cardiovascular disease and stroke. And for that reason, you may have been told you need to follow a low salt diet.
We know too little or too much salt can be linked to negative health consequences.
But… there is one more piece to this salt puzzle: potassium.
Sodium and potassium work together to regulate fluid balance, control your blood pressure, and predict heart health.
Some research neglects to explore the intricate balance these two minerals have. In fact, a major element of the DASH diet is increased fruit and vegetable consumption, and consuming a diet rich in fruits and vegetables increases your potassium intake.
Salt is primarily a problem when it's consumed in disproportionate amounts to potassium.
Recommended Salt Intake
Most health organizations recommend you keep your sodium intake between 1500 mg and 2300 mg per day.
Those at high risk of cardiovascular disease, including African Americans, those over the age of 50, and those with diabetes, kidney disease or hypertension may benefit from sticking to the lower end of that range.
For reference, 1 teaspoon of salt contains about 2400 mg of sodium.
Statistics tell us most people are consuming 3-4 times more salt than the recommended amount; average intake is between 9000 mg – 12,000 mg per day, depending on person and country.
This trend of high salt intake is most obvious in people who consume lots of processed foods; in fact, it's estimated that around 75–80% of all sodium intake comes from 'added' salt in processed foods!
The Problem with Processed Foods
When you think about foods high in salt, your mind should picture items like canned soups, frozen pizzas, and potato chips – all of which are highly processed! In these types of food salt acts as a preservative to help keep foods fresher longer and it acts as a flavor enhancer to make them addictive.
In general these are not the types of foods we encourage you to consume. Not only are they high in sodium and low in potassium, but they are also high in carbohydrates, trans fats, chemicals, and calories.
In fact, a 2018 study demonstrated that caloric intake was the strongest predictor of sodium intake. This means people who were consuming foods high in calories were also the ones most exceeding their daily salt recommendations.
When you consume primarily fresh, unprocessed foods such as potassium-rich vegetables, fruit, and healthy sources of protein you no longer need to worry about salt (or calories for that matter.)
Please pin, share or tweet; then keep reading – thanks!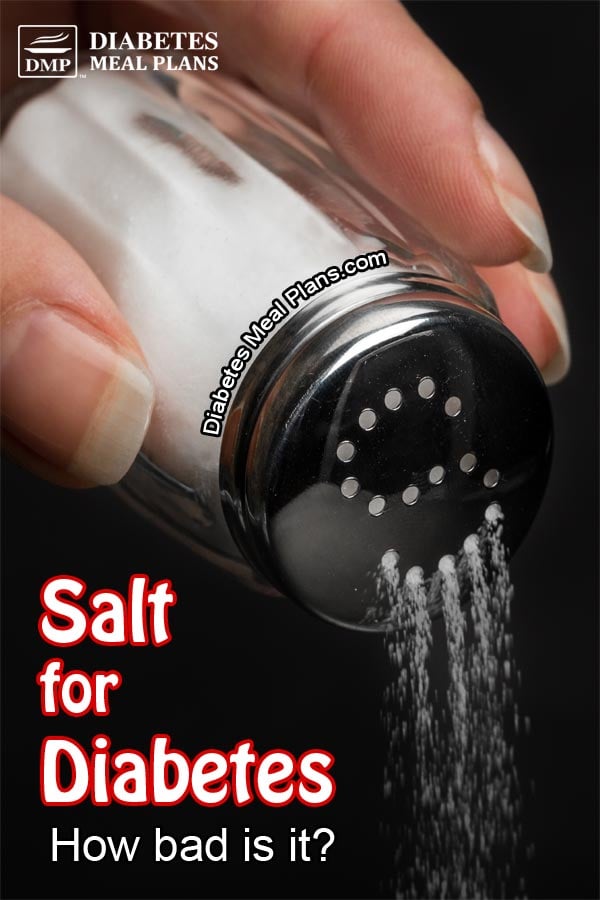 Food Comparisons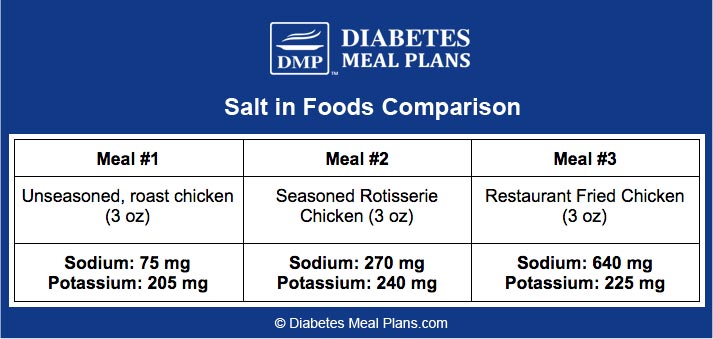 In the example above it's evident that not all chicken is created equal.
Without any seasoning or marinade, chicken in and of itself is a very low sodium food. In fact, if you were to only eat unseasoned meat, vegetables, eggs, and unsalted nuts you would actually come up short on your sodium intake!
And that is a very important point if you are following a low carb diet – which is what we encourage you to do.
Assuming your diet is very low in processed foods, it often becomes necessary to add some salt to your meals to help balance out all the potassium you're consuming.
We encourage you to keep your intake to a maximum of 1 teaspoon of 'added' salt daily. But by adding a pinch of salt to flavor your food you are more likely to want to eat more of these healthy, unprocessed foods.
The moral of the story is: salt is not some evil being! 
The problem is really with processed food and an imbalance of sodium and potassium in the average diet.
Take a look at the following comparison between processed foods and whole foods.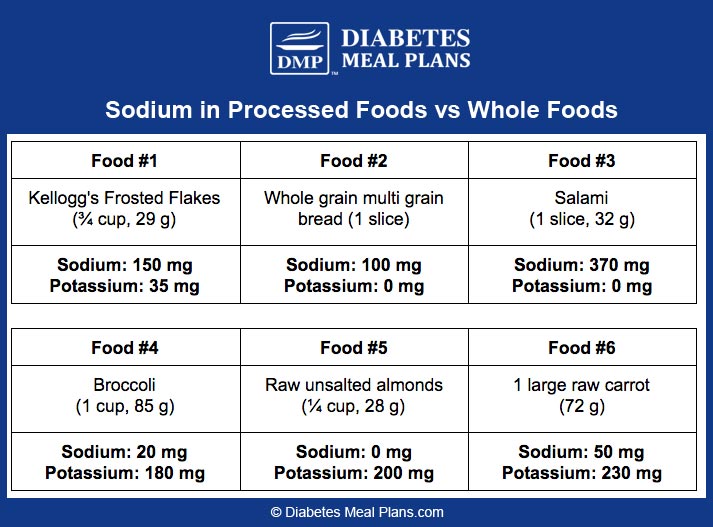 You can see that the processed foods contain much higher amounts of sodium, often in the form of 'added' salt. This is coupled with low amounts of potassium.
Whereas, whole foods are lower in sodium but balance themselves out with higher amounts of potassium.
Restaurant and takeout food is notoriously high in salt as well, so make sure to keep that in mind as well.
Stick to natural whole foods and you really can't go wrong!
4 Common Questions About Salt and Diabetes
#1: What is the best salt for me to use?
Sea salt is preferred over table salt because it contains a better balance of other minerals such as potassium, iron, and zinc. Table salt is processed to remove such minerals, and sometimes contains an additive to prevent clumping.
Another popular salt option is Himalayan Pink Salt. Like sea salt, this colorful salt will also contain a more diverse mineral profile. Sometimes touted to have superior health benefits, research comes up short with actual evidence to support these claims. However, pink salt is comparable to sea salt and either can be used to season food.
In terms of nutrition, sea salt, table salt, and pink salt all contain relatively the same amount of sodium per teaspoon. If you're looking for a lower sodium option, consider a 'salt substitute.'
#2: Is 500 mg of sodium too much?
The answer is, it depends.
If a processed or packaged food contains over 400 mg per serving, you can assume it contains lots of 'added' salt. So in this case you want to put the item back on the shelf and choose a lower-salt alternative.
However, natural whole foods also contain sodium and that's where it can get a bit confusing.
For instance, a meal of 3 oz shrimp (94 mg), 1 cup swiss chard (313 mg), 1 cup frozen carrots (189 mg), 1/2 cup tomato puree (35 mg), all with no added salt, would contain 631 mg of sodium, and yet, it is a meal made of natural whole foods only. So is the sodium amount of 631 mg a problem here?
No.
Because you'll also be consuming higher amounts of potassium, magnesium, calcium and other vitamins and minerals.
Remember, the healthiest foods (fresh meats and vegetables) are often the ones that do not have nutrition facts. It is perfectly fine to eat plenty of natural whole foods throughout the day without having to worry about counting milligrams of 'added' salt, or even sodium for that matter.
#3: I've heard certain vegetables contain salt, do I need to worry about those?
No. Sodium is a mineral, and we already know that vegetables are chock full of vitamins and minerals including potassium, magnesium and some sodium.
For instance, 1 cup of chopped swiss chard, boiled and drained without salt contains 331 mg sodium – that seems quite a lot right?
It also contains 961 mg of potassium, 150 mg magnesium, 102 mg calcium and other minerals and vitamins too!
To re-emphasize what we already talked about above, sodium that is naturally-occurring in whole foods is less problematic that added, processed salt.
And remember earlier we pointed out that a high potassium diet helps with blood pressure regulation? Well, most vegetables such as spinach, broccoli, eggplant and leafy greens are excellent sources of potassium.
#4: Are "Low Sodium" Products Healthy?
This depends on the product.
Low salt potato chips are still high in carbs and highly processed, so this is not a good choice for several reasons.
On the other hand, looking for a light salted nut mix or a low sodium chicken broth can help ensure you stay within a healthy sodium range, especially considering that 'added' salt problem.
Here is a list of other foods that could be purchased low salt when possible:
Broth and stocks (or make your own!)

Nuts

Pickles

Most cheeses

Processed/deli meats

Canned meats

Canned vegetables (when necessary)

Soy sauce

Most condiments including ketchup (or make your own!)
Salt and a Low Carb Diet
Something to be aware of is that on a low carb diet you may need to add extra salt to your diet.
As you decrease your carb intake, your blood sugar levels reduce and so too does insulin. Insulin also acts as a regulator of sodium in the kidneys so when insulin is reduced, you can excrete more electrolytes via urination, mainly sodium, but also potassium and magnesium.
What this means is eating a low carb diet can speed up the amount of sodium lost from your body. So, it's not uncommon for people to require additional salt in their low carb diet.
If you get any of the following symptoms on a low carb diet, they could be related to low electrolytes:
headaches
lightheadedness/ dizziness
fatigue
constipation
muscle cramps
Oftentimes, adding a bit of extra salt back to your low carb diet will help relieve these symptoms. However, in some cases you may also need magnesium, especially when muscle cramps are present.
Is Salt Bad For Diabetes?
Salt isn't "bad" for diabetes, nor does salt cause diabetes. However, it is in your best interest to consider sources of salt in your diet.
If you are seasoning your eggs in the morning or making a homemade salad dressing with a pinch of sea salt, then you do not need to be concerned with your salt intake.
On the other hand, if you are consuming a lot of processed food or are eating out daily, then you may need to cut back. And not only because of the salt, but likely those foods are causing you elevated blood sugar as well.
Overall the best rule for a healthy diet is to focus on eating an abundance of whole foods – healthy proteins like meats, chicken, turkey; healthy fats like olive oil, nuts and avocado; and lots of vegetables!
If you do that, you can add some seasoning here and there and it is unlikely to ever be a problem. 🙂
Please pin, share or tweet this info to help others – thanks!