The word "pumpernickel" roughly translates to "hard to digest," and if you've ever had a slice of authentic pumpernickel bread, this description may not surprise you!
Pumpernickel is known for its dense feel, dark color, and uniquely coarse texture.
So, is this Bavarian bread A-OK for those with type 2 diabetes to eat?
What is Pumpernickel Bread?
Pumpernickel bread is a type of rye bread originating from Germany.
Unlike standard rye bread, pumpernickel is made from whole rye berries that are coarsely ground. Traditional pumpernickel bread also uses a fermented sourdough starter to make the bread rise without leavening agents.
In contrast to fluffier, lighter bread like white or whole wheat bread, pumpernickel is dark, heavy, and rich, with a touch of sweet flavor.
Traditional German pumpernickel is a simple recipe with just a few ingredients, but Americanized versions of pumpernickel may contain other ingredients like yeast, sweeteners, and other additives.
Rye bread (including pumpernickel), sourdough bread, and bread made from sprouted grains (like Ezekiel bread) are generally considered to be the healthiest bread options due to their high fiber content and low glycemic index.
However, what is considered to be "generally healthy" for the masses may not always be ideal for people with type 2 diabetes and insulin resistance.
So, where does pumpernickel bread fall on the "diabetes-friendly" spectrum?
Let's take a look.
Pumpernickel Bread Nutrition Facts
One slice (32g) of Pepperidge Farm pumpernickel bread contains:
Calories: 80
Carbohydrates: 15g
Fiber: 2g
Protein: 2g
Fat: 1g
Added Sugar: <1g
Now, these nutrition facts are for pumpernickel bread made by an American commercial brand. This product contains a combination of rye and whole wheat to create a lighter, smoother product.
A loaf of pumpernickel made from freshly ground rye in a small shop may contain more fiber and fewer carbs than the example above.
Pumpernickel Bread vs Other Bread
Pumpernickel is relatively low in carbs and high in fiber compared to many selections of whole wheat, multigrain, white, and even traditional rye bread.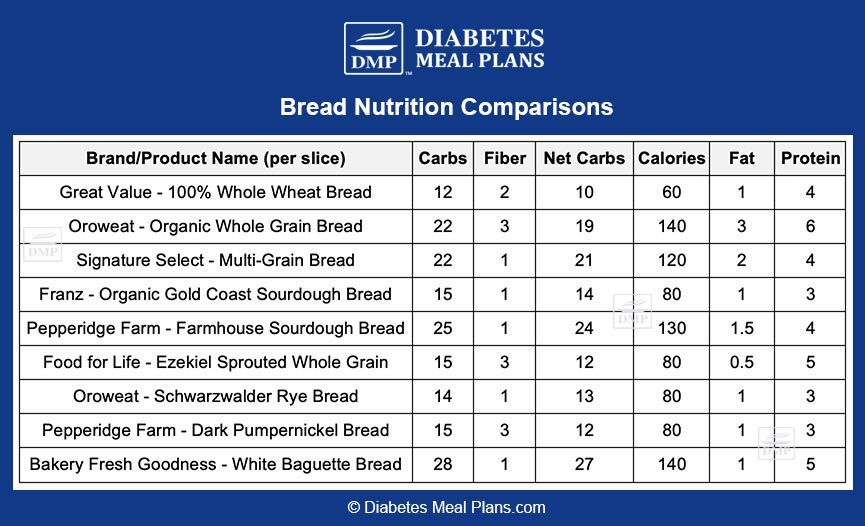 You can see on the nutrition chart above that when compared to other types of bread, pumpernickel falls on the better end of things.
But why settle for just "better" when you can aim for the "best"?
For most people with type 2 diabetes, the best option is to pass on bread altogether.
Research on Bread and Type 2 Diabetes
Strong research shows that a low carb diet is an optimal way to improve type 2 diabetes and insulin resistance naturally.
Low-carb diets have been associated with health benefits like:
Improved cholesterol
Sustained weight loss
Lower fasting blood sugar levels
Lower A1c
Improved blood pressure levels
Reduced need for diabetes medication
Reduced inflammation
Research does suggest that rye-based bread can have some benefits for people with metabolic diseases (especially when compared to other types of bread):
One study compared white bread, whole wheat bread, whole grain bread, and pumpernickel to see which bread was more favorable for participants with type 2 diabetes. They found that pumpernickel bread had a reduced glucose peak and insulin response compared to the other breads.
Another study found that male participants with elevated cholesterol had a reduction in total cholesterol levels and LDL cholesterol levels after 4 weeks of incorporating rye bread into their daily diet. Female participants in the study did not see a significant improvement in their cholesterol levels.
These favorable results were most likely due to high levels of fiber and resistant starch; dark rye breads contain up to 8x more resistant starch than standard wheat-based breads do.
Together, fiber and resistant starch blunt the absorption of glucose into the blood stream, reducing blood sugar spikes. High fiber diets are also associated with improved cholesterol levels.
The good news is, you don't have to eat grain-based breads to get enough fiber in your diet. Check out these low carb fiber sources instead!
Guidelines for Pumpernickel bread and Type 2 Diabetes
As healthy as pumpernickel bread may seem, we still don't recommend it to folks trying to manage their blood sugar and A1c.
If you still want to treat yourself to a single slice of pumpernickel, be sure to test your blood sugar to see how it affects you. It's also wise to pair your pumpernickel with plenty of fat, protein, and fiber to mitigate some of the effects of the carbs.
Some people with type 2 diabetes may be able to tolerate pumpernickel bread in small amounts, but many will flourish on diet that doesn't include traditional bread at all!
What can you eat instead?
You can either find (or bake) low-carb breads that fit within your daily carb goal or you can skip bread altogether and focus your diet on healthy fats, protein, and low carb fiber.
Both ways of eating are equally diverse and delicious!
You don't have to settle for plain chicken salads at every meal. We've got meal plans that include cheesy pizza, pasta, and sweet treats for dessert – all your favorites, made low-carb!
Still love bread and need a low carb substitute? Download our breads cheat sheet for a list of some great options!