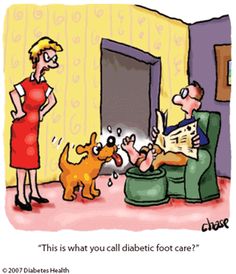 Diabetes Meal Plans is predominantly a foodie site, but we also like to share important health tips that can help you too. Proper foot care in diabetes is critical!
There are multiple complications associated with diabetes, none of us really like to talk about these things. But we really need to because many of them can be avoided and prevented – such as foot problems that can lead to very serious consequences.
The information below will provide more education about diabetes foot treatment so you can take care of yourself.
Diabetic Foot Problems
Did you know that diabetes is the leading cause of lower limb amputations?
With diabetes, lower extremity conditions such as peripheral arterial disease, peripheral neuropathy, foot ulceration, and lower amputations are some of the most common and serious complication with diabetes. 
Foot ulcers account for 30-50% of amputations, which is why we are going to go over a foot care routine because foot ulcers can be monitored and caught early if they do develop.
The reason why foot ulcers are such a problem is they often lead to infection, deeper development of the ulcer, gangrene and then finally amputation. No, it's not a pretty picture but researchers agree that the key is to prevent foot ulcers.
Foot ulcers often develop due to peripheral neuropathy. Peripheral neuropathy occurs when there is some type of damage or dysfunction to the nerves that provide sensation to our limbs and send messages back and forth throughout our body. We have nerves everywhere that connect to the spinal cord and brain, the network of nerves is how our body communicates signals.
With diabetes, people often experience numbness, tingling or pain in their feet or lower limbs when this occurs in the lower region.
When you lose sensory awareness in your foot, pressure on different areas of the foot can cause a bit of wear and tear that damages the skin and then leads to an ulcer. Nicks, cuts, scratches, and other things can also lead to ulcers, so you really need to be aware of this and do your foot checks.
Diabetic Footcare
The good thing is that researchers have discovered that regular monitoring by you and a podiatrist or doctor can reduce the rate of amputations by 75%. That's well worth the effort, which is why we wanted to share this info with you.
What you need to do is develop a footcare routine for yourself.
This should involve simple daily checks, a more detailed weekly check, and a 3-6 month check up with your doctor or podiatrist. Get them to check your feet for you as well, just so you don't miss anything.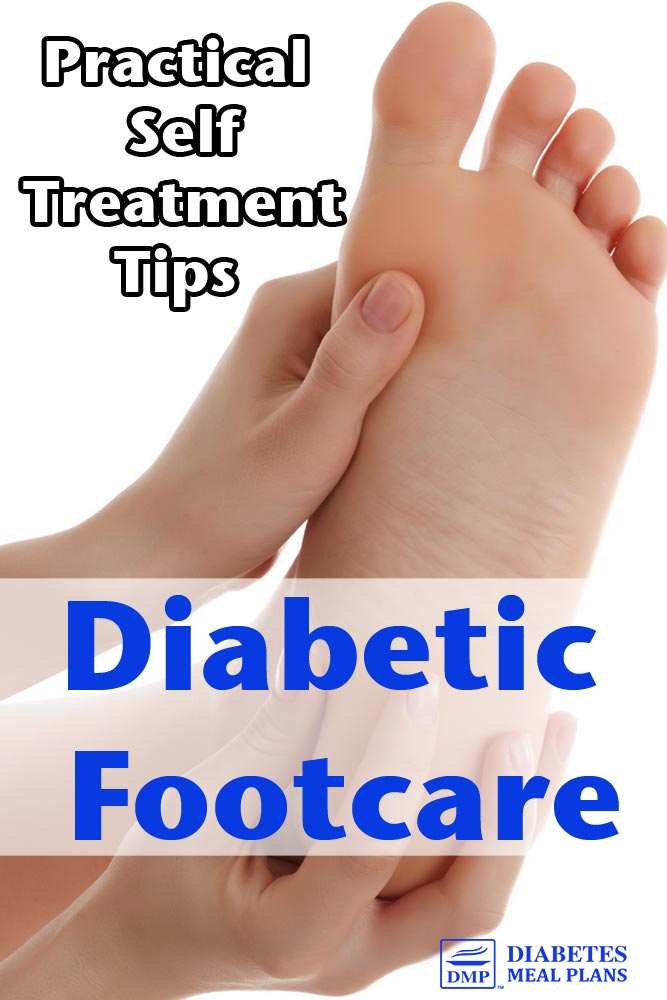 Diabetic Foot Care Guidelines
To protect yourself from diabetic foot disease, there are certain things to look out for and a routine you can do.
Here's a checklist of things that you and your health care practitioner should look out for:
calluses or deformities
claw toes
poor feeling
decreased blood flow
reflexes
bunions
hammer toes
calluses
corns
cracks
infections
nail condition – look out for fungal infections, changes in the color or odor of nails
ingrown toenails
dry skin
any prominent veins that might appear
cuts, splits, sores, blisters, or any breaks in the skin
swelling, pain, or redness
unusual discoloration
Take notice of all and any changes in your feet.
Basic Footcare Items
Mirror
Footcare cream
Foot bath
Nail clippers
Footcare Guidelines
Position yourself in an area where there is plenty of light.
Use the checklist above to examine both feet carefully, start from the top of your foot and look at the toes, between the toes, and the borders of your feet.
Use your mirror and examine the soles of the feet, behind the heel, and the underside of the toes and between the toes – carefully looking out for any abnormalities or even anything that might be slightly different than usual.
You should conduct this detailed footcare routine at least once per week.
You do need to clip the toenails on a regular basis, as long toenails can pierce the skin.
It's important to use nail clippers to cut your toenails as they are safer than scissors. With scissors it's easier to slip and cause small cuts in the skin that can lead to infection. Nail clippers are less likely to do this. But if you have difficulty reaching your feet, or have concerns about clipping them yourself, then visit a podiatrist on a regular basis and have them done professionally.
You need a footbath to wash and clean your feet every day using warm water and a specialized solution or antibacterial soap, then thoroughly dry the feet. Make sure you dry between the toes and pat the skin rather than rub it.
You also want to avoid cracks, particularly in the heels of the feet, so applying foot cream on a daily basis is also a good idea – it helps to keep the skin moist.
Think of this as a pamper session rather than a chore!
FREE DOWNLOAD
CLICK HERE to download a copy of this daily routine and checklist so you can keep it handy for reference.
Diabetic Foot Care Products
Mirror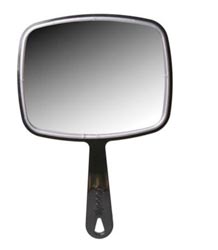 A simple handheld mirror is all you need to use to do your checks.
Or if you struggle to reach your feet or want a closer look, try something like the Floxite LED Lit Mirror with 10 x magnification. You can just put it on the floor, it has built in lighting, and gives you that extra magnification for a closer look. It's also a handy travel design so you can take it with you everywhere you go.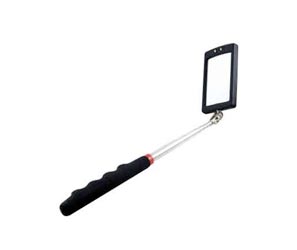 Or a telescopic mirror with a retractable handle can be a great option for looking more closely at those hard to reach places.
Foot Bath
You can just get a simple foot soak bucket so you can gently wash your feet in warm water every day.
Or if you prefer, you can get a comfy foot spa. Personally I prefer the foot bucket, it's easier to clean and you really don't need all the bells and whistles.
The most important thing is that you have something your feet fit into, not just a small bucket that's awkward to use.
Nail Clippers
Try a pair of clippers with a magnifier for that bit of extra help. And if you're unsure how to cut your nails properly, ask your podiatrist to give you a demonstration. Perhaps I can get my son to make us a video sometime.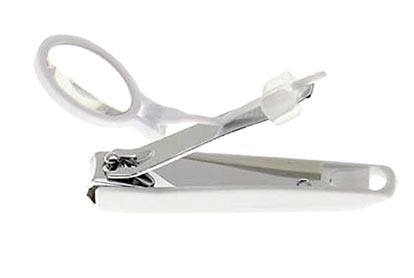 Foot Cleaning
When you clean your feet every day you can use a specialized foot soak solution.
Or, use a tea tree soap. Tea tree is a natural antiseptic and anti-fungal and will do the job just fine.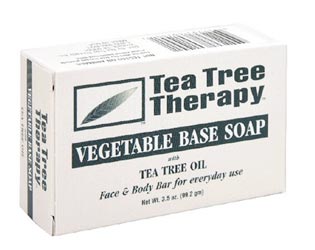 Diabetic Foot Cream
Go for a specially designed footcare cream that is fragrance free for your daily applications. There are lots of them on the market ranging from $4-10.
If you find you have dry skin, use a repair cream that helps with deep hydration because avoiding dry cracked skin is very important.
Keep your eyes out for a multi-pupose footcare pack that includes a foot soak, power, and moisturiser. You'll often save some money when you buy them like this.
Diabetic Footwear
Another thing to consider is your footwear.
You want comfortable shoes that are wide fit and don't cut into your feet in any way.
You also want to wear shoes at all times, especially when you are outside the house. Don't go barefoot, it just puts you at risk for nicks, cuts, and abrasions.
Also be careful with the type of open shoes you wear. Flip flops aren't a good choice, while a comfortable, half enclosed sandal is a better choice.
And if you find you do have any foot issues. Go to a podiatrist for the best recommendations on orthotics and footwear inserts. It's best not to try to guess this stuff yourself when your feet are such an important issue.
Foot Cramps and Diabetes
Foot cramps can be quite common in diabetes. Often this is due to a magnesium deficiency or even dehydration.
It's been shown that getting adequate magnesium can help with diabetic neuropathy, a common problem with feet – so that might be your first line of action. Start by including more magnesium rich foods and perhaps a supplement – read this post for more info about that.
Muscle fatigue and stress is also another cause, which is why you want to wear comfortable shoes. And after your daily foot soak, give your feet a gentle massage while you apply your foot care cream. Massaging the soles of the feet helps loosen up the muscles – particularly the plantar fascia muscle that runs along the arch of your foot from your heel to your toes.
Make sure you drink enough water. We need water to distribute electrolytes and nutrients to the muscles, lubricate joints, and reduce inflammation.
Good Blood Sugar Control
Most importantly, don't forget to focus on lowering blood sugar levels and controlling them over the long term. High blood sugar is what contributes most to complications occurring in the first place.
So eat a healthy diet, focus on eating the right type of carbohydrates, and do at least 15 minutes of exercise every day.
So there you have it. There's lots of great diabetes foot treatment tips there. The most important thing is to do those checks every day or at the very least, every week.
Please share, pin, or tweet this post to help others.