Do you struggle with understanding what types of carbs to eat?
Confused about the best options?
Don't know what to swap high carb foods with?
Struggle with carb/ sugar cravings?
I can tell you right now that you're not alone.
You probably already know (or have heard) that when it comes to diabetes and carbohydrates, you have to know what they are and monitor them. Or you might have been told by your doctor not to eat rice, pasta, or potatoes. Then you're left to go on your merry way and figure it out.
I know when I go browsing to find information about carbs, the stuff I find is quite general, so I can understand that you might still be left confused and wondering what to eat – there's lots of different carbs so it is quite confusing.
So I thought one of the best things that could help you was to provide a detailed 'Carb Course', where we can really dig into this stuff together.
What you will learn in this Carb Course:
What all the different types of carbs are
What are the best ones to eat
Lots of food ideas and alternatives for swapping out high carb foods
Delicious recipes and meals to try
*THE CARB COURSE IS NOW ONLY AVAILABLE TO MEMBERS
This Carb Course series will run for about 2 weeks, giving you loads of options, alternatives and inspiration.
Disclosure
I'll tell you right up front that I will be sharing some links to affiliate products and things you could purchase throughout the course. That doesn't mean you have to, but if you do decide to purchase something from any of the links in this course, we (being my partner and I) will earn a small commission at no extra cost to you.
In all honesty we don't run a big business here. In fact, we're just a startup and are actually losing money right now on this site/business (we're only 4 months old). This blog, sharing info, and creating meal plans and programs is my day job right now (mostly unpaid) – I'm that passionate about helping people with diabetes because I just think there's not enough great info out there. So I've made a commitment to help people be healthier.
So unless I have a way to earn some income, I simply won't be able to keep the blog and mission going in the long term.
I'm all about providing high quality info, not just selling. If you've become a reader and follower you'll know that already.
If you do decide to purchase anything using the links we share, or if you buy any of our meal plans, menus, programs, or join as a VIP member, I thank you gratefully for supporting us to continue helping you and others too.
What We'll Cover In This Carb Course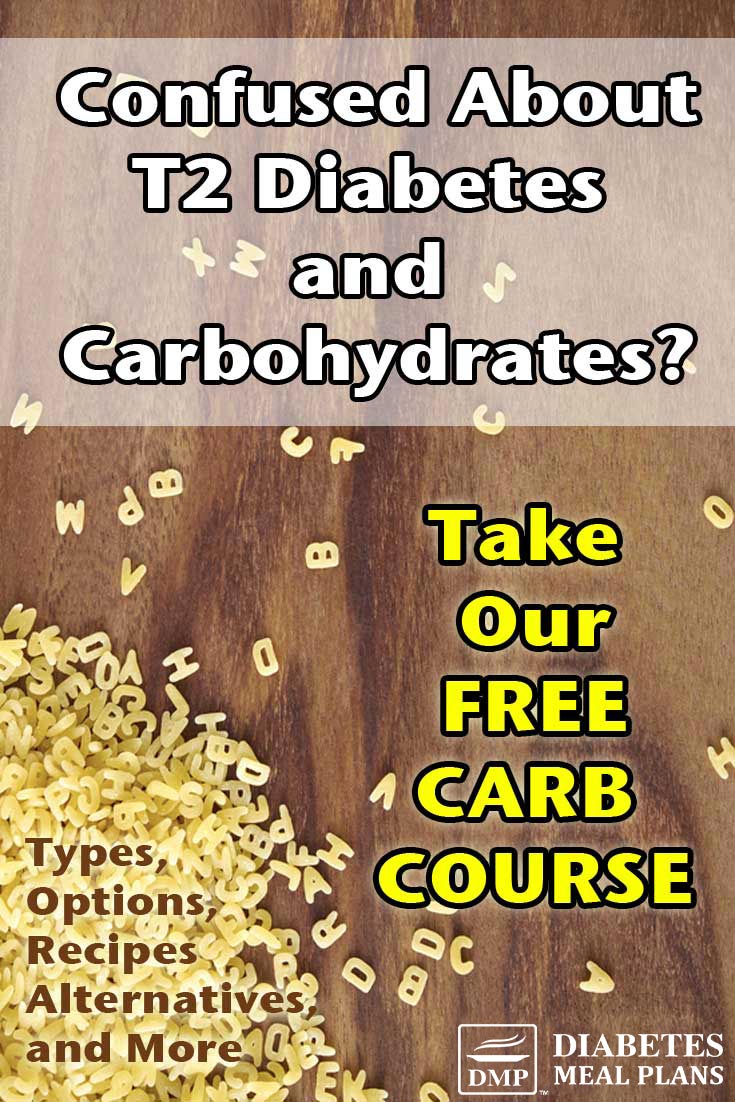 How to Lower Blood Sugar Naturally Through Diet
Simple and Complex Carbohydrates 101
Carb Counting Methods Explained
How Many Carbs Per Day Should You Eat?
Sugar, Fructose and Diabetes
Diabetes and Dairy
Root Vegetables and Diabetes
Best Vegetables for Diabetes
Whole Grains and Diabetes
Diabetic Pasta Options + 3 Recipes
Potatoes and Diabetes + Low Carb Alternatives + Recipe
Diabetic Low Carb Rice Alternatives + Recipe
Cereal Alternatives + Recipe
5 Steps To Putting A Low Carb Diabetic Diet Into Practice
There's lots more we could cover but with what we share here it should be enough to kick you off and give you loads of ideas and alternatives.
I don't know if we'll cover the topics in that exact order because I might interweave them with recipes so you have plenty of tasty things to try as we go along.
Which brings me to the next important thing…
Apply What You Learn
It's no use learning things unless you apply them, so as we go through, think about the types of foods in your diet and try the recipes we have to share.
Think about your own diet right now and the types of foods you eat and how you might begin to swap and change things. Don't worry, I'll share lots of ideas.
Changing your diet is always a process so you just have to start somewhere. And if you need more ideas, just ask, I've always got plenty of them!
You can leave your comments, thoughts and questions at the end of any posts, and I hope you do because I love hearing from you.
Is This Course For Type 1 or Type 2 Diabetics?
The research provided in this course is directed to type 2 diabetics, that's our specialty here.
In saying that, there is a lot of info type 1s can learn from this course too, so feel free to follow along. Just don't get offended if there's no research specifically directed at type 1.
An Important Word Of Caution
If you are type 1 diabetic or are type 2 insulin dependent, you may need help with adjusting your medications/insulin as you change your diet and reduce carbohydrates. So it's recommended you talk to your doctor or health practitioner.
I will share my opinions and any current research on foods and diet but the information provided on this website and in this carb course is for general informational purposes only and is not intended to be treated as medical advice and should not under any circumstances be used to replace professional medical diagnosis, treatment, or advice.
Please share, pin, or tweet this post