We often have the same repetitive questions arise around blood sugar, so we've collected a range of them and put together some short answers below.
1. What should my fasting blood sugar levels after exercise be?
Firstly, you may be a little confused here, because your fasting blood sugar is a measurement taken 8-10 hours after you've eaten, for example, when you first wake up in the morning. It's strongly recommended that you eat something before you exercise – if you don't you won't have enough energy to exercise and you also put yourself at risk for hypoglycemia – low blood sugar.
Healthy fasting blood glucose levels are between 70-100 (3.9-5.6). Some guidelines say 70-110 (3.9-6.1) and more liberal goals for those who've had diabetes longer are sometimes slightly higher at 70-130 (3.9-7.2). The aim for blood glucose after meals, including after exercise, is below 140 (7.8). Anything below 70 should be treated as hypoglycemia.
When it comes to exercise, always check your blood sugar prior to exercising. If it is lower than usual for you or lower than 100 (5.6), have a small snack. If you feel dizzy or shaky after exercise, again, it's important to check your sugar levels. You may just be tired from a good workout, but if blood sugar is low, it is important to treat.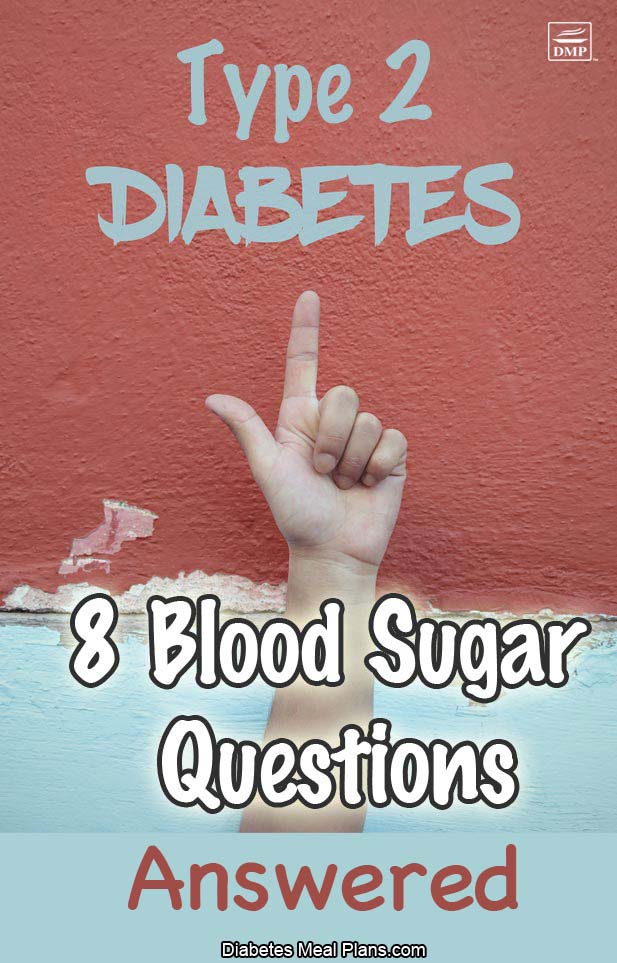 2. My doctor says I have normal A1C but high blood sugar. What does that mean?
It's hard to know without seeing your specific numbers. There are several tests to consider when it comes to diabetes. I suspect that your 3 month average A1C may be in range, but you're having high and low daily readings. Unlike daily blood sugar readings, A1C is not really something that needs to be measured each day as it takes time for dietary and lifestyle changes to reflect in the results, which is why a 3 month average is normally taken.
On the other hand, your daily blood glucose home testing is more like walking through the forest, examining all the trees and wildlife and day to day variation. This value is continually changing based on what you eat, when you exercise, how well you've slept, whether you're stressed, and so forth. Just to reiterate your targets for healthy fasting blood glucose levels are between 70-100 (or 110 in some cases) (3.9-5.6 – or up to 6.1) and after meals, including after exercise, below 140 (7.8).
Think of it this way, if your body temperature is 100 degrees half the time and 95 the other half, the average is 97.5. Now 97.5 is a healthy temperature, but it's not good for your temperature to be either 95 or 100. If you're uncertain or confused about what your doctor means, make a point to ask him/her to clarify it. Don't be afraid to ask questions.

3. What do I do when high blood sugars won't go down?
There are a lot of treatment options for dealing with high blood glucose readings, we've covered those before so be sure to check out the details.

Figuring out the source of high sugar levels is key. Here are a few important things to consider – are you eating excess carbs, the wrong kinds of carbs, drinking sugary drinks, experiencing high levels of stress, have lack of activity, poor sleep, current infections, or are you a smoker – all these things impact blood sugar levels.
The best way to identify the source is to keep a food and lifestyle log so you can detect patterns and contact your physician if you've ruled out the obvious.

4. What is considered extremely high blood sugar?
While "extremely high blood sugar" is not a defined term and can be interpreted subjectively, fasting values above 126 (7) and post prandial (after meals) values above 140 (7.8) increase your risk for diabetic complications.
The higher these values, the more frequent those high readings are, and the longer they stay this high, the greater the risk. So your aim is to keep blood glucose within the normal range and always below 126 (7) fasting, and 140 (7.8) after meals.
To highlight the increased risk, for ever 1 point drop in HbA1c, there is a 45% decrease in risk for cardiovascular disease and 40% decrease in eye, nerve and kidney disease – pretty impressive!
For more on blood sugar goal ranges, check out our printable blood sugar chart.
5. Do antibiotics affect blood sugar?
Antibiotics don't have a direct effect on blood sugar, but infections (for which you are likely taking antibiotics) sure do!
Antibiotics are one of the most over-prescribed medications and resistance can cause complications if taken very often; however, if you have a legitimate bacterial infection, antibiotics will help to reduce it.
6. What are low blood sugar symptoms?
Hypoglycemia, also known as, low blood sugar, has the following symptoms – increased heart rate, fatigue, shakiness, sweaty palms, weakness, pale skin, irritability, a tingling sensation, and increased hunger.
It's very important to eat at regular mealtimes, consume a good balance of slow carbs, protein and healthy fats, and check your blood sugar regularly to prevent hypoglycemia in the first place. Always check your blood sugar before treating because some of the symptoms of hypoglycemia can be indicative of other problems.
Check out more information about hypoglyemia and treatment here.
7. My blood sugar is higher one hour after eating, is that normal?
Absolutely yes! In fact, if it wasn't it would be surprising.
There are different goal ranges before and after eating. Fasting glucose levels should be in the 70-100 (3.9-5.6) range, whereas 2 hours after meals levels should be 140 (7.8) or less. Though some do check one hour after, and it can give an indication of how much some foods influence blood sugar, there isn't an essential need to check it at this interval as there hasn't been sufficient time for insulin to reduce levels to a recommended goal range. The most regular intervals tested are fasting and 2 hours after meals.

8. Blood sugar levels taking metformin: Should they be lower?
Metformin is a medication that helps improve glucose control by reducing extra glucose output from the liver and muscle, improving insulin resistance, and increasing satiety (your feeling of fullness).
The goal with metformin is to lower blood glucose levels and in most cases they are effective in addressing those underlying causes, so you should begin seeing results. However, don't just rely on medications because lifestyle choices – diet, exercise, and so forth – still play a very significant role. Check here for a fuller explanation on how metformin works.
Well, hope you find those answers handy! If you've got more blood sugar questions, just leave them below in the comments.
Please share, pin, or tweet this post. 🙂