When you have type 2 diabetes, one of the most difficult dietary challenges is avoidance of certain foods you love…namely starches – pasta, bread, rolls, rice, and potatoes.
One of the things we try to do here at Diabetes Meal Plans, is provide healthy alternatives to foods you already love and miss. These may not have the same exact taste and texture as the originals, they can be wonderful substitutes. And the greatest benefit is, they won't compromise your health and spike blood sugar levels in the way that white flour and sugar surely will.
Enter cauliflower – a cruciferous vegetable, part of the brassica family of vegetables, which includes broccoli, Brussels sprouts, cabbage, kale and others.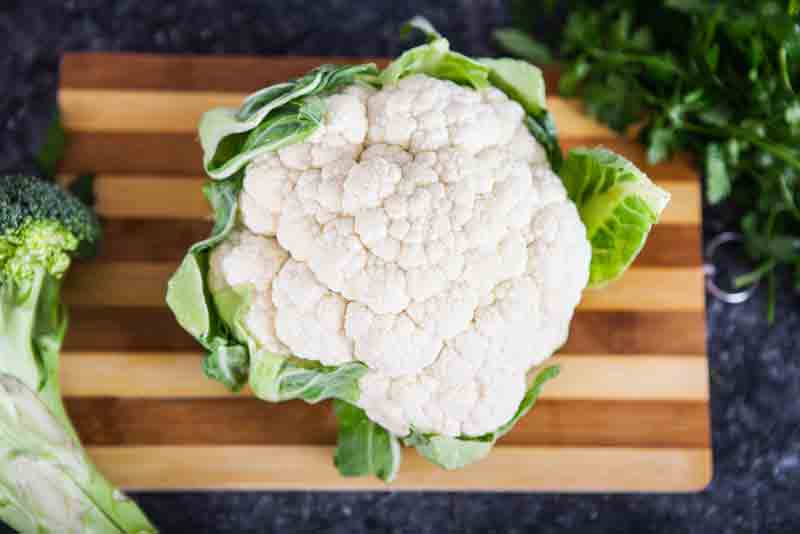 As a diabetic, you may have heard the expression: "Stay away from white foods?"
Cauliflower is the exception!
Not only is it a low calorie, low carb vegetable, but it can be manipulated to provide some great alternatives to the starchy foods you so miss.
White cauliflower is most commonly used, but there are also green, orange and even purple cauliflower varieties available as well.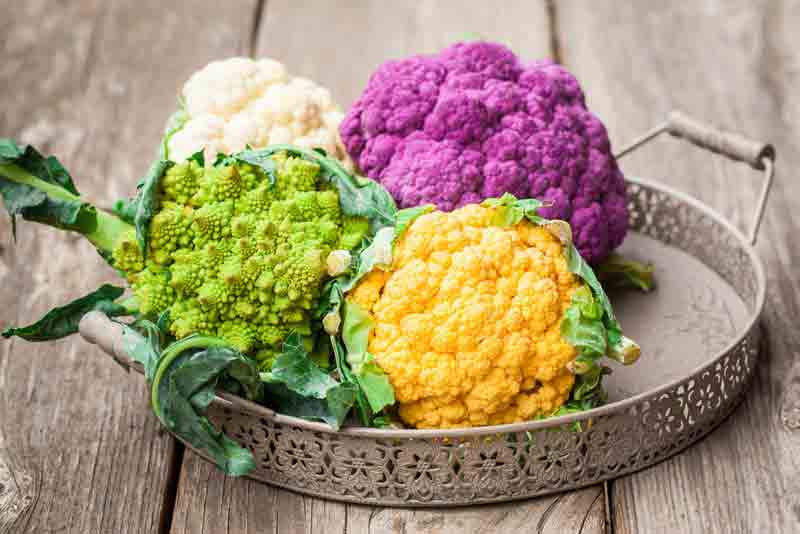 Cauliflower Nutrition Facts
Cauliflower is very low in calories at only 29 per 1 cup cooked
Cauliflower has a very low glycemic index of 15 or less
Cauliflower is an excellent source of vitamin C, providing 73% of recommended daily value in a serving
Cauliflower is a good source of vitamin K (19% of daily recommendation) and many other vitamins and minerals
Cauliflower provides a unique group of phytochemicals called "glucosinolates"
Cauliflower is a rich source of a multitude of antioxidants
Cauliflower (1 cup raw, 107 g)
Nutrition Facts
Calories: 27 | Total Fat: 0.30 g | Sat Fat: 0.139 g | Poly: 0.033 g | Mono: 0.036 g | Total Carbs: 5.32 g | Fiber: 2.1 g | Net Carbs: 3.22 g | Protein: 2.05 g
Minerals
Calcium: 24 mg | Iron: 0.45 mg | Magnesium: 16 mg | Phosphorus: 47 mg | Potassium: 320 mg | Zinc: 0.29 mg
Vitamins
Vitamin C: 51.6 mg | Thiamin: 0.054 mg | Riboflavin: 0.064 mg | Niacin: 0.542 mg | Vit B6: 0.197 mg | Folate: 61 ug | Vit B12: 0 mg | Vit A: 0 IU | Vit E: 0.09 mg | Vit D: 0 IU | Vit K: 16.6 ug
Cauliflower (1 cup cooked, boiled, drained, without salt, 124 g)
Nutrition Facts
Calories: 29 | Total Fat: 0.56 g | Sat Fat: 0.087 g | Poly: 0.269 g | Mono: 0.040 g | Total Carbs: 5.10 g | Fiber: 2.9 g | Net Carbs: 2.2 g | Protein: 2.28 g
Minerals
Calcium: 20 mg | Iron: 0.40 mg | Magnesium: 11 mg | Phosphorus: 40 mg | Potassium: 176 mg | Zinc: 0.21 mg
Vitamins
Vitamin C: 54.9 mg | Thiamin: 0.052 mg | Riboflavin: 0.064 mg | Niacin: 0.508 mg | Vit B6: 0.215 mg | Folate: 55 ug | Vit B12: 0 mg | Vit A: 15 IU | Vit E: 0.09 mg | Vit D: 0 IU | Vit K: 17.1 ug
Health Benefits of Cauliflower
Vitamin C acts as an antioxidant, combating cell damage and supports healthy skin and immune system. It is also a key element in brain health, providing nourishment to neurotransmitters that regulate thoughts, feelings and moods.
Vitamin K is crucial for blood clotting and bone health.
Glucosinolates have been shown to provide cardiovascular, digestive, immune, inflammatory, and detoxification benefits.
Additional antioxidants are beneficial in fighting cell damage.
Research on Cauliflower Specific to T2 Diabetes
Cauliflower has been shown to decrease risk of cancer as well as reduce risk of cardiovascular disease by way of improving blood cholesterol. This is good news for diabetics, as there is a much higher risk of cardiovascular disease.
Cauliflower has also been linked with reduced obesity in middle aged women.
You'll also be excited to learn that several studies have also shown a glucose lowering effect with the addition of brassica vegetables.
While certain nutrients are lost in cooking, others become more bioavailable – meaning your body can absorb them more. Therefore it is a good idea to consume cauliflower both in cooked and raw form to gain all the benefits!
Points for Consideration
While cauliflower is perfectly healthy, it is a cruciferous vegetable – along with cabbage, kale, Brussels sprouts, broccoli etc. These are sulfur-containing vegetables and though allergies are very rare, some people may be sensitive to it.
Additionally, sulfurous vegetables can be gas and/or odor producing (yes, we're talking smelly farts here!) – so if you're increasing your intake, ease your way in and apologize in advance to loved ones. 🙂
Cauliflower and Diabetes Conclusion
Cauliflower is a very nutrient dense vegetable with a huge array of health benefits for a minimal amount of calories and carbohydrates.
Include it freely in your diet but if you're prone to gas, introduce smaller amounts gradually, rotating other vegetables into the mix as well.
Cauliflower in the Kitchen
Selection
Look for cauliflower that has a creamy consistent color and firm spongy texture. Avoid those with blemished areas or soft, mushy spots. Thick green leaves still surrounding the cauliflower will help to protect and preserve freshness.
Storage
Cauliflower should be covered and refrigerated stem-side down until ready to use.
Uses
Cauliflower can be cooked (see recipes below) in a variety of ways and simply utilized as a side dish.
It can be eaten raw with ranch veggie dip or guacamole.
It can be used as a potato or rice substitute (see recipes below). AND when cooked and drained, it can actually serve as a base for a bread or pizza crust!
Cooking
Steam cauliflower by placing chopped chunks into steamer over boiling water until crisp/tender about 5-7 minutes.
Boil cauliflower in hot water until soft/tender. Note though, many of the nutrients will be destroyed with very high heat or lost in the water. Adding the cooking water to your dish will help add some back in.
Bake or roast cauliflower in the oven at high heat 350-400°F (150-200°C) with a bit of olive oil, salt and pepper for 20-40 minutes until browned and caramelized.
Saute cauliflower into a dish (such as a chili or stir fry) toward the end of cooking.
Cutting Techniques
Cauliflower is relatively easy to cut. It isn't so soft that it is likely to get smooshed or destroyed, but also not really hard to get into with a knife – like spaghetti squash can be.
Simply tear off the outer green leaves (don't eat them) and cut in half, then quarters. At this point you can easily cut out the core (similar to an apple). And simply chop the rest up into bite sized pieces.
Or, you can cut off the florets for use as you need them and store the rest of the cauliflower in the fridge.
Here's a short video of a chef cutting the cauliflower into florets.
Cauliflower Recipes
Simply Baked Cauliflower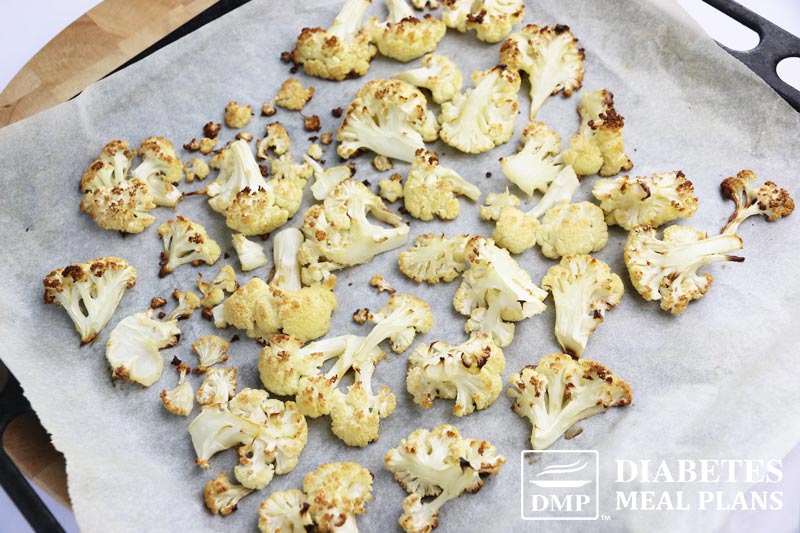 CLICK HERE for the Baked Cauliflower recipe
Cauliflower Mashed "Potatoes"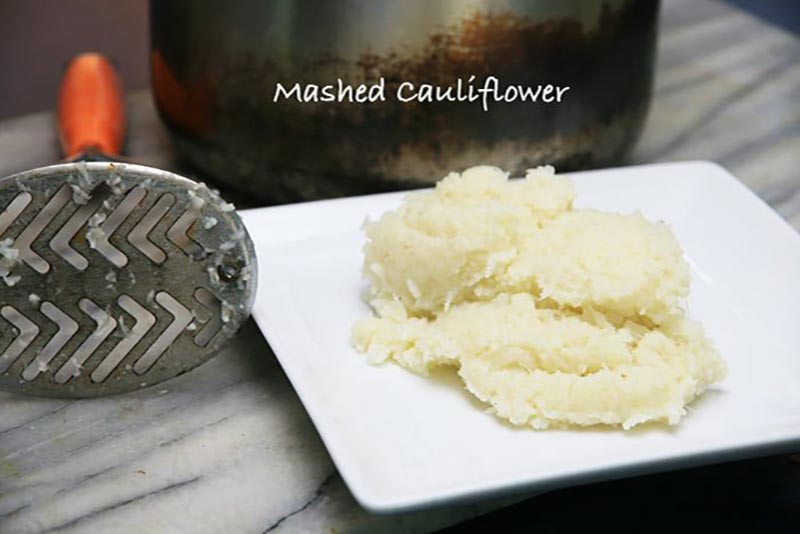 CLICK HERE for the cauliflower Mashed "Potatoes"
Cauliflower Rice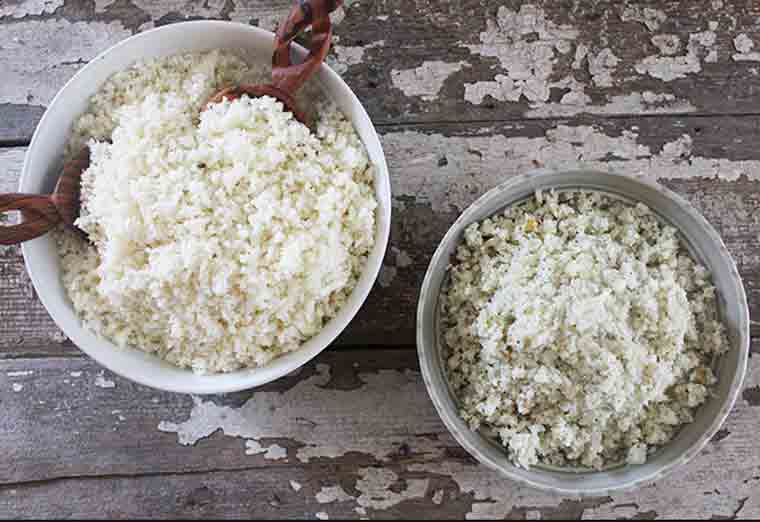 CLICK HERE for the Cauliflower Rice
Cauliflower Pizza Crust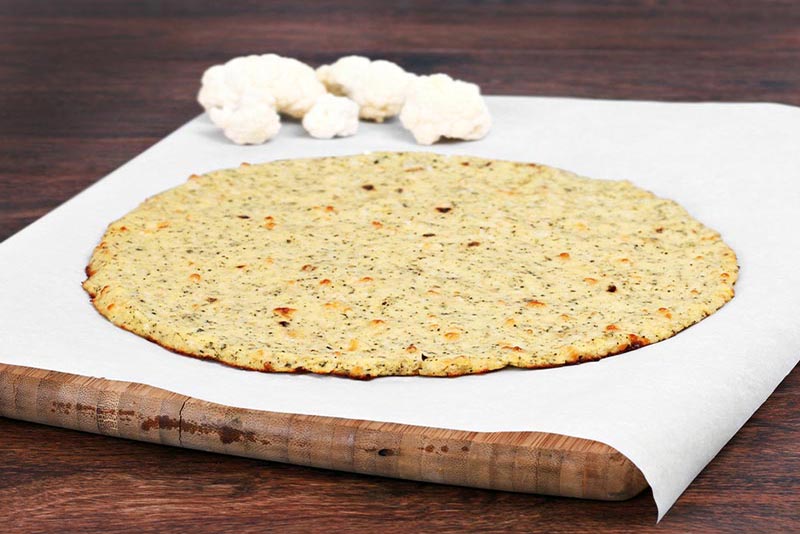 CLICK HERE for the Cauliflower Pizza Crust
Slow Cooker Chicken Cauliflower Soup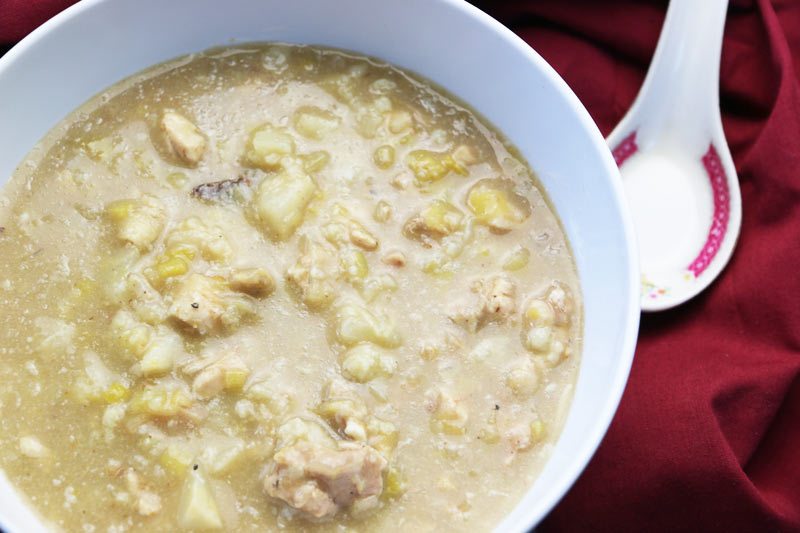 CLICK HERE for Slow Cooker Chicken Cauliflower Soup recipe