While I discussed the more common "milk kefir in a previous post, we're here today to talk about water kefir and diabetes. Water kefir, also called "tibicos," is a different type of probiotic beverage with a multitude of reported health benefits.
Let's take a closer look…
What is Water Kefir?

Water kefir is cultured using sugar water, fruit juice or coconut water. Since the fermentation requires sugar, it isn't possible to make a completely sugar free version.
"Grains" are placed in the sweetened solution and they work to ferment the sugar, changing it into lactic acid, alcohol (small amounts) and CO2 (carbonation). This process takes around 24-48 hours. The "grains" are not true grains, but a living matrix of bacteria and yeast, that's what causes the fermentation and 'culturing' of the solution.
In comparison with milk kefir grains, water kefir grains are more translucent and crystal-appearing. As with the milk kefir grains, they can be used again and again so long as they're handled properly, kept healthy and thriving.
Water kefir can also be flavored by adding low carb fruit, herbs or herbal tea bags to infuse it with unique essence.
Water Kefir Nutrition Facts
The nutrition of water kefir does vary because it will depend on the recipe used and the amount of sugars fermented.
The basic recipe is about 1 T sugar (12 grams) for every 1 cup kefir, which equates to 48 calories and 12 grams carbs. If made with juice, you're looking at double the amount – 112 calories and 24 grams carbs. And 1 cup coconut water has 45 calories and 9 grams carbs.
Fermentation will gobble up some of that sugar. For instance, the longer it ferments, the more sour and less sweet it will taste and the fewer calories it will have. But it will still contain sugar regardless.
With the exception of coconut water, which has a trace amount of fat, the only macronutrient in water kefir is carbohydrate and that is in the form of sugar. Therefore, it is a sugar-filled beverage.
Water kefir can have anywhere from 0.02-2% alcohol depending on how long it ferments. And while water kefir has fewer probiotic strains than milk kefir, it generally has more than yogurt.
Water Kefir Calorie and Carb Comparisons

Let's take a look at water kefir vs milk kefir vs soda.
Note that, while water kefir is lower in overall calories and carbs, it is also lower in protein, fat and many other nutrients compared to milk kefir. Additionally, not reflected in the nutrition facts, water kefir is lower in probiotics – meaning overall it doesn't contain as many health properties.
As a slightly sweet carbonated beverage it obviously surpasses soda in terms of benefits per calorie. It only contains 1 gram sugar compared to the 46 grams you'll find in soda. Even though water kefir does contain sugar, it is unlikely to cause any blood glucose problems, metabolic issues or weight gain. On the other hand, drinking soda has been linked to many health issues.
With that all said, let's look at some numbers:
Servings:  1/2 cup (4 oz)

| | | | |
| --- | --- | --- | --- |
| Calories | 5 | Sodium | 0 mg |
| Total Fat | 0 g | Potassium | 0 mg |
| Saturated | 0 g | Total Carbs | 1 g |
| Polyunsaturated | 0 g | Dietary Fiber | 0 g |
| Monounsaturated | 0 g | Sugars | 0 g |
| Trans | 0 g | Protein | 0 g |
| Cholesterol | 0 mg |   |   |
Servings:  1 cup (8 oz)
| | | | |
| --- | --- | --- | --- |
| Calories | 120 | Sodium | 120 mg |
| Total Fat | 5 g | Potassium | 400 mg |
| Saturated | 3 g | Total Carbs | 12 g |
| Polyunsaturated | 0 g | Dietary Fiber | 0 g |
| Monounsaturated | 0 g | Sugars | 12 g |
| Trans | 0 g | Protein | 11 g |
| Cholesterol | 10 mg |   |   |
| Vitamin A | 10% | Calcium | 30% |
| Vitamin C | 0% | Iron | 0% |
Servings:  1 can
| | | | |
| --- | --- | --- | --- |
| Calories | 170 | Sodium | 35 mg |
| Total Fat | 0 g | Potassium | 0 mg |
| Saturated | 0 g | Total Carbs | 46 g |
| Polyunsaturated | 0 g | Dietary Fiber | 0 g |
| Monounsaturated | 0 g | Sugars | 46 g |
| Trans | 0 g | Protein | 0 g |
| Cholesterol | 0 mg |   |   |
| Vitamin A | 0% | Calcium | 0% |
| Vitamin C | 0% | Iron | 0% |
Myths and Truths about Water Kefir
Like snowflakes, no two water kefir cultures are exactly the same, which is why it is impossible to describe their exact properties or guarantee the effects or health benefits.
While water kefir and milk kefir grains appear somewhat similar and play the same general role, they are not completely interchangeable. The grains in milk kefir are nourished by lactose while those in water kefir require sucrose.
And just a word of warning: Water kefir CAN explode!
No, this is not a challenge 😉 …unless you want to clean up a big mess.
Any fermented product (that produces CO2) that is enclosed has the potential to build up enough gas to explode the container. Therefore, they need to be 'burped' on occasion to reduce gas buildup – this can be achieved by lifting the lid and letting a little air out.
Water kefir can be made with alternative sugars like honey, brown sugar, molasses, maple syrup and so forth, but because the grains need sugar to feed on, it cannot be made sugar free or with artificial sweeteners or stevia.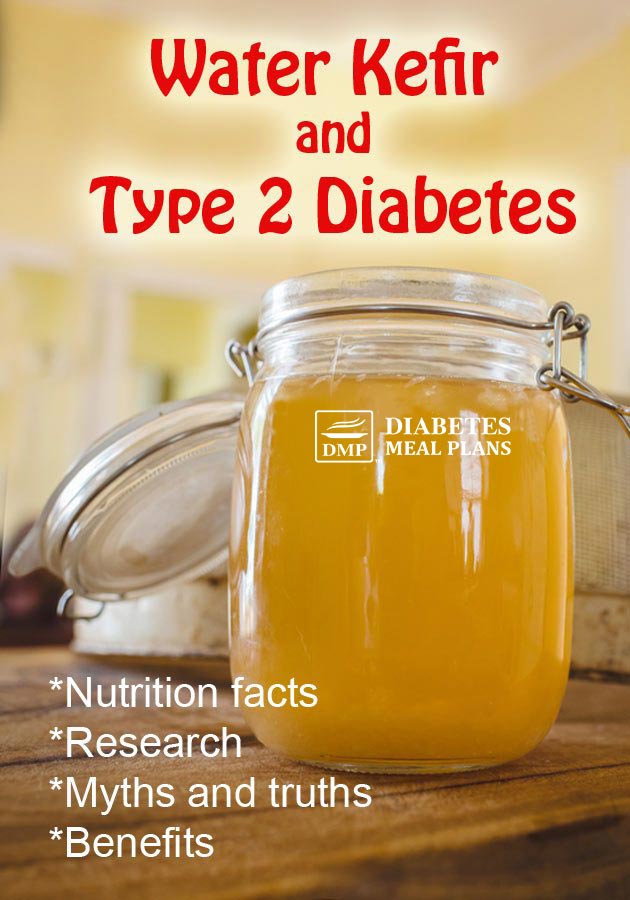 Research on Water Kefir
While there is much less research than other products, water kefir may reduce insulin resistance and inflammation in type 2 diabetes and the microbial make up may help prevent or alleviate  digestive problems.
So is Water Kefir Okay for Diabetics?

In short, water kefir might be a fun lower calorie alternative to soda or diet soda, providing a unique carbonated beverage that has some probiotic health benefits, especially for those who are unable to tolerate dairy.
However, remember this IS still a sweetened beverage and something to be used with caution in diabetes. Since the impact on glucose levels is less predictable than other foods, if you choose to include it in your diet, be sure to check your sugar levels regularly to monitor the effect it has. Just because it has 'health benefits' doesn't mean you should drink a lot of it. A half to one cup a day is likely a reasonable amount.
It's important to use spring or filtered water when preparing water kefir as fluoride and other components in tap water may damage the culture.
And just be aware that some people may feel worse after drinking kefir due to the strength of the probiotics. Because good probiotics kill bad bacteria, this can result in a herxheimer reaction, which can produce symptoms like headache, diarrhea or flu-like symptoms.
Whenever trying something new, it's important to take it slow and keep a close on on how it affects you.
Have you tried water kefir?
Please pin, tweet or share this info with others.
Save
Save