What comes to mind when you think of lettuce? Rabbit food? Salads? Diets?
Lettuce seems to have an interesting reputation, but it really is a fascinating vegetable. There are hundreds of varieties of lettuce and they range in color from green to yellow to red to purple…and even blue!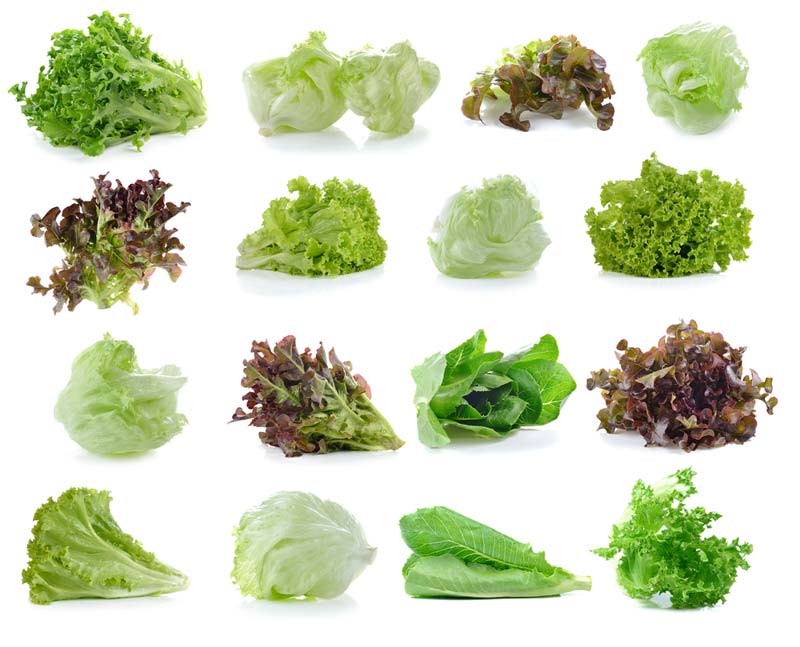 The most common varieties of lettuce include: leaf, romaine, iceberg (notoriously lowest in nutrition), and butterhead. Try to incorporate a variety of lettuce into your dishes for a balance of both nutrients and flavors.
Lettuce Nutrition Facts
Lettuce is one of the lowest calorie foods in the world – both by weight and by volume. There are only 10-20 calories in 2 cups of lettuce.
Lettuce is a virtually fat free food and is an excellent source of fiber and water.
Most lettuce varieties are rich sources of vitamins A (~50% DV) and K (>100% DV) and provide some vitamin C as well.
Lettuce is also a good source of folate and iron.
Health Benefits of Lettuce
Fiber supports normal bowel movements and helps lower cholesterol levels.
Vitamin K is essential for blood clotting, heart health, and building strong bones.
Vitamins A and C are both antioxidants, which help prevent cell damage from free radicals.
Vitamin A also helps with vision while vitamin C strengthens the immune system and supports healthy skin.
Folate is a key coenzyme to hundreds of metabolic processes and is required for cell division.
Iron is a key component of hemoglobin, which delivers oxygen to tissues. Deficiency can cause anemia
Research on Lettuce Specific to T2 Diabetes
Certain components in lettuce have been shown to be effective at reducing hyperglycemia in rats with diabetes.
It also seems to help improve glucose metabolism and reduce fatty liver in the obese.
Lettuce is rich in antioxidants, which are useful in protecting against oxidative damage. This is great because when you have type 2 diabetes, increased production of free radicals causing oxidative damage can occur.
Interestingly, lettuce helps reduce insomnia, and we all know how important sleep is for proper hormonal and blood sugar regulation in diabetes.
Finally, lettuce reduces inflammation, another underlying precursor to diabetes.
Points for Consideration
Lettuce can harbor a host of bacteria, viruses, or parasites and there have been unfortunate outbreaks of illness of E. Coli or Salmonella from contaminated lettuce. Be watchful of where you get your lettuce sources and be sure to clean it well before consuming.
Check food recalls regularly and remember to report any symptoms you feel may be related to foodborne illness.
Lettuce and Diabetes Conclusion
Lettuce is a wonderful addition to a healthy balanced diet and does not add much by way of calories or carbohydrates. We wholeheartedly endorse lettuce as one of the 20 all-you-can eat vegetables!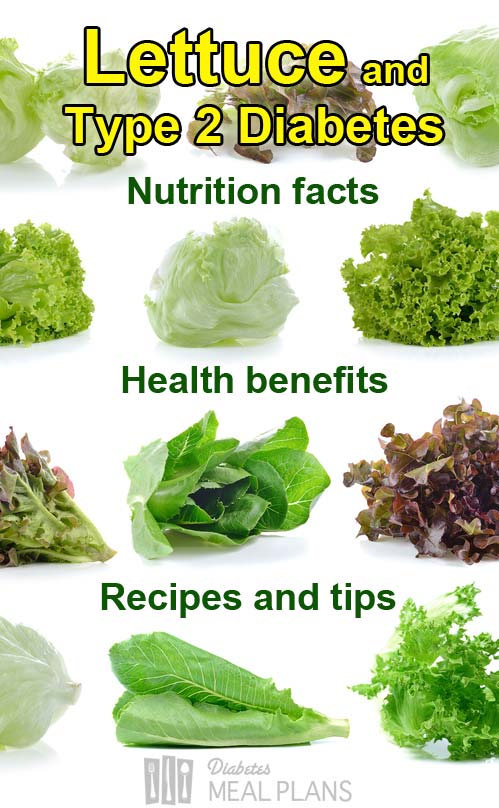 Lettuce in the Kitchen
Selection
Choose lettuce with crisp, unwilted leaves, avoiding bunches with discolored or slimy spots.
Consider planting a few lettuce patches this year as it is a rather easy vegetable to grow.
Storage
Lettuce should be stored in the refrigerator crisper in a plastic bag or damp cloth. It will usually last about a week. Wash lettuce in cold water shaking to remove any dirt or grit and dry before using–a salad spinner helps.
Uses
Lettuce is most commonly used in salads and salads can be very versatile–the only limits are your imagination!
Lettuce also makes a great "bread/wrap" substitute for low carb sandwiches, added to soups, stir-fries, casseroles or garnishes. Lettuce is generally a very mild vegetable and can be added to almost any dish.
It can also be used for low carb taco shells and served as a low carb base to replace noodles or rice.
Cooking
Majority of people don't cook lettuce, but just like any other green vegetable, it can be chopped and added to any dish.
Cutting Techniques
An alternative preferred by some is to tear lettuce rather than cutting it, which may make the leaves less likely to brown. To do this, simply cut off the root/end of the plant and tear leaves to your preferred size.
To cut it, use a large, sharp knife and simply cut off the ends and tips, then chop roughly into bite-sized pieces. Some people discard the outer leaves, which can be more bitter and blemished.


Here's a couple of videos with different cutting techniques… really though, just cut it no fuss!/p>
Lettuce Recipes
Here's a few lettuce dishes to tantalize your taste buds. And remember, most type of lettuce can be replaced by the type you prefer. For instance, if a recipe uses iceberg, you can easily replace it with romaine.
Chicken Lettuce Wrap
Instead of bread, use lettuce to wrap your lunch ingredients. You'll be pleasantly surprised how well this works.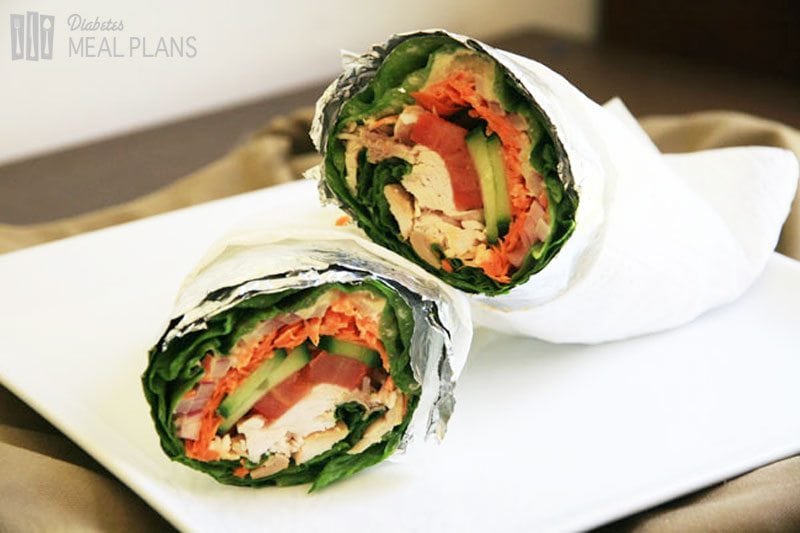 Low Carb Chicken Lettuce Wrap recipe
Chicken Taco Salad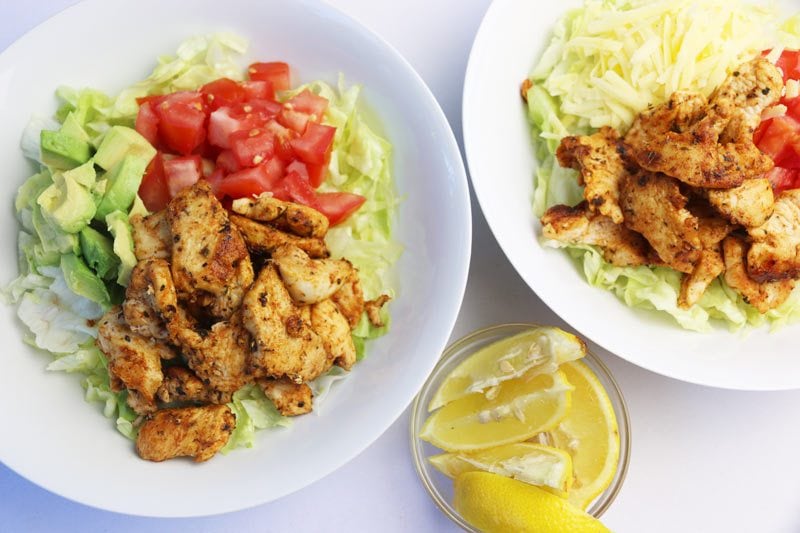 Spicy Beef Fajitas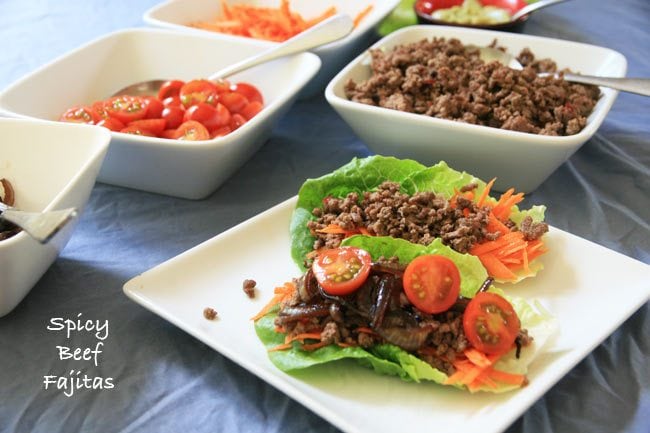 Enjoy your lettuce!
CLICK HERE
to subscribe and stay in the loop. There's always loads of great tips, info, and delicious recipes, too.