If you're wondering if protein powder fits into a diabetic diet, the answer is yes. Protein powder makes a great addition to baked goods such as cakes. It also makes a great addition to shakes, can be taken as a meal replacement, and even consumed as a liquid snack.
But like most foods, all protein powders aren't created equal. Some are poor quality and won't provide health benefits, while others with high quality ingredients can help with weight loss and making foods taste great. And when you're looking for sugar free options, which are a must with diabetes, there are a few extra things to be aware of.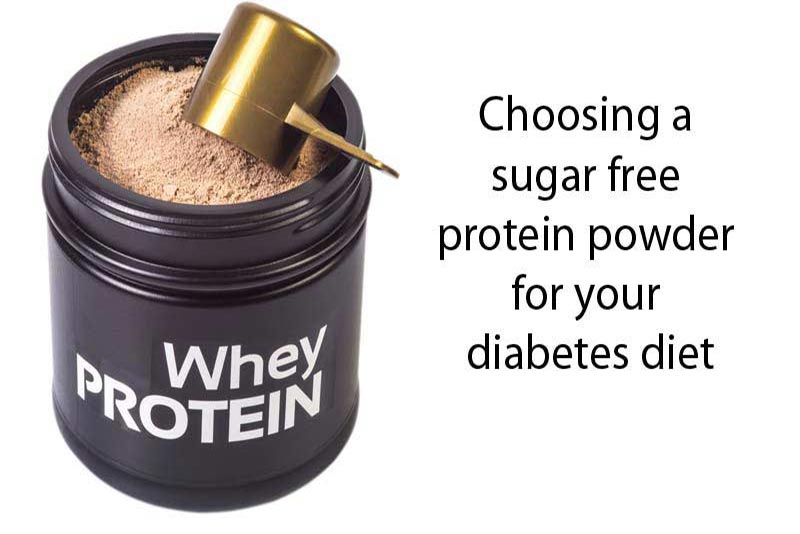 Ingredients
It goes without saying that whenever you buy a food that is packaged – always read the label!
If a product has an ingredient list as long as your arm or contains many ingredients you can't pronounce or recognize, then it's not a good quality product. Make sure the protein powder you purchase doesn't contain any more that 7-10 ingredients, even less is better.
Sugar/ sweeteners
Be sure to check what type of sugar or sweeteners the product uses. Steer clear of products that contain sugar and fructose. And be aware that many protein powders contain artificial sweeteners such as aspartame and these are not good for diabetics to eat, or anyone for that matter.
We recommend monk fruit or stevia based protein powders, or second to that, erythritol or xylitol.
Proprietary blends
When a supplement company claims their product is a "proprietary blend" that offers benefits above and beyond other products, don't believe it. Often they won't list the ingredients of their "proprietary blend" on the label, which means you really have no idea what's in the product.
Also, when they make claims that certain ingredients are included in their "proprietary blend," often they are not at a dose that provides any benefit anyway.
Protein type
While there are soy proteins, rice proteins and pea proteins, the best protein powder by far is whey protein, as it contains super high quality amino acids. Whey is one of two proteins found in milk, the other being casein.
Interestingly, it's also been shown that eating a small amount of whey protein before meals (50 grams in 8.5 ounces/ 250 mL water), may lower post meal blood sugar levels by as much as 28%.
On top of this, a study in the World Journal of Diabetes reports whey protein has been shown to provide a number of additional benefits for type 2 diabetics.
Whey protein:
Slows gastric emptying
Stimulates gut hormones
Suppresses appetite
Stimulates insulin
And lowers post meal glucose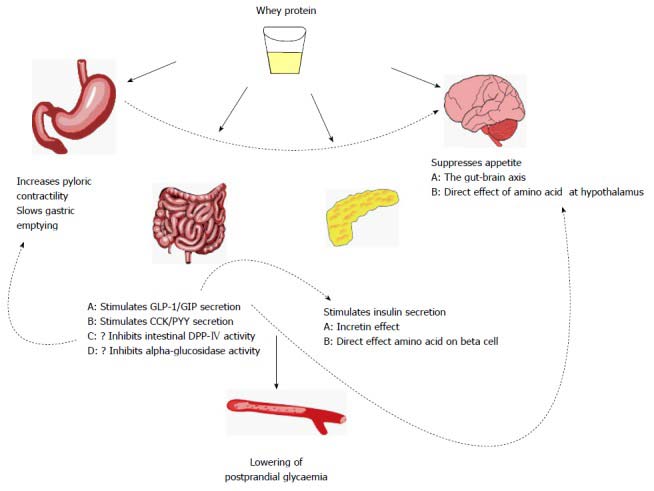 Whey protein concentrate contains around 35%-80% protein, and fat, lactose and minerals make up the remainder of it's contents. This type of whey is absorbed at a moderate pace.
Whey protein isolate contains 85%-90% protein and very little fat or lactose. This type of whey is more rapidly absorbed and is often the type athletes or body builders take after a workout. But of course, you can consume it anytime.
There is a third type of whey called hydrolysate. You generally won't find this type on it's own but in blends. For instance, often all three types – concentrate, isolate, hydrolysate – are combined together in one product.
For you as a type 2 diabetic, both concentrate and isolate on their own are fine to consume as overall there is very little difference in the outcome. And if you find quality blends, these are fine, too.
As long as you follow all these tips, you should find a good quality protein powder you can feel confident to enjoy. Below we've collected a few that we'd recommend.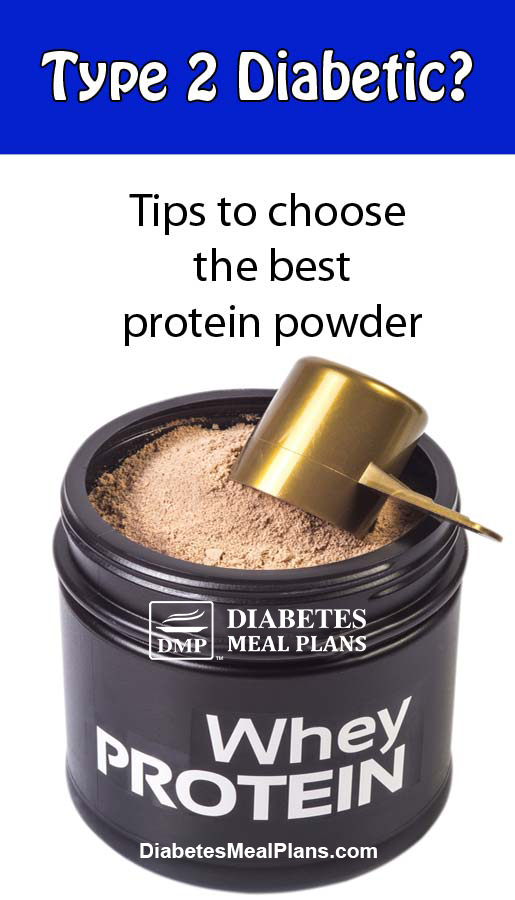 Whey Proteins
Bodylogix Natural Whey
First up is a great quality product from Bodylogix – grass fed whey, sweetened with stevia and contains no artificial ingredients, colors or flavors. Grass fed means the product comes from grass fed cows and overall that increases the quality of the nutrients it contains. It comes in both vanilla and chocolate.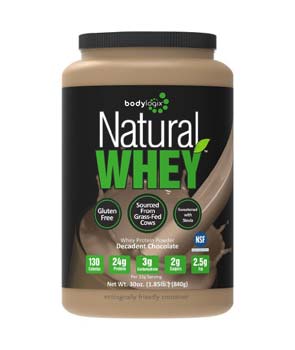 Chocolate ingredients: Protein Blend – 31.05 mg (Whey protein concentrate, whey protein isolate, whey protein hydrolysate) (Bos taurus) (milk). Natural flavors, cocoa powder, soy lecithin, stevia leaf extract, xanthan gum.
And like most protein powders it is low carb at just 3 grams per serve with 120 calories and 24 grams protein. Cost for the 1.85 pound tub is under $25, offering 27 serves per tub.
Bluebonnet Nutrition
Another great quality product made with grass fed whey and sweetened with stevia. Bluebonnet Nutrition offers both vanilla whey isolate and chocolate whey isolate, along with a dual action protein.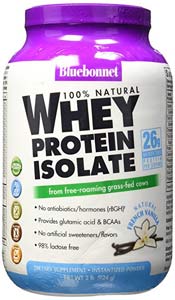 For one serve it is 125 calories, 3 grams of carbs and 26 grams of protein. The cost of the tub is $51, offering 28 serves, so around $1.80 per serve.
SDC Nutrition
This About Time Whey Protein Isolate product contains just 4 ingredients – whey, stevia, natural flavor and xantham gum. It contains virtually no carbs <1 gram per serve, with 100 calories and 25 grams protein. Cost for a 2 pound tub is $31.79, offering 32 serves per tub.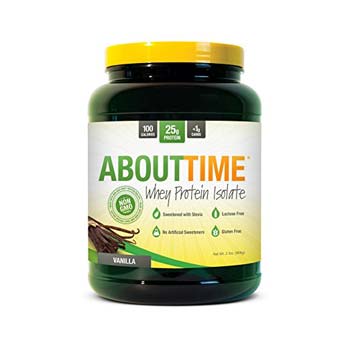 Legion Whey Isolate
Legion provides another high quality whey isolate protein with just 5 ingredients. Coming in at just 3 grams carbs, 100 calories and 22 grams protein. It costs $37.95 for 30 serves.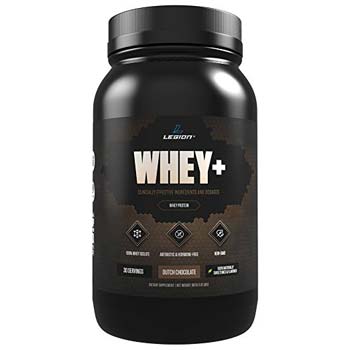 tera's: Certified Organic
For a fully certified organic product of high quality, go for tera's: Organic Certified Whey Protein. At 4 grams carbs per serve, 110 calories and 21 grams protein, it contains just 4 fully organic ingredients. Being organic, the cost is a little higher at $24.95 for 12 serves.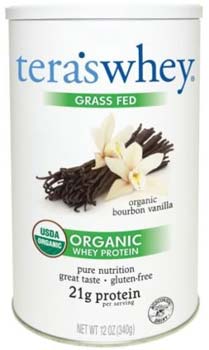 All of the above options are high quality, sugar free protein powders that are perfectly diabetes friendly.
How to use protein powders
The simplest way to use protein powders is to mix the powder in water. But of course, we do like things a little more fancy than that. 🙂
And for an amazing snack, make these incredible peanut butter protein balls – which use vanilla protein powder.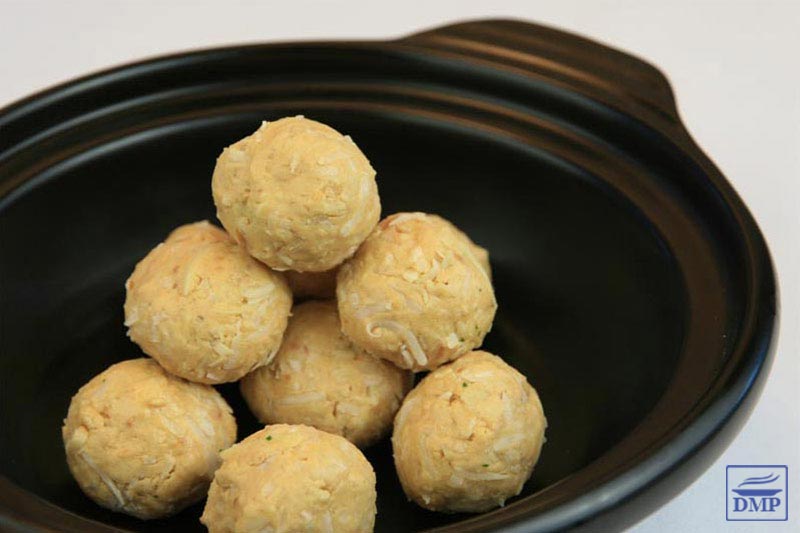 Please pin, tweet or share this info to help others.